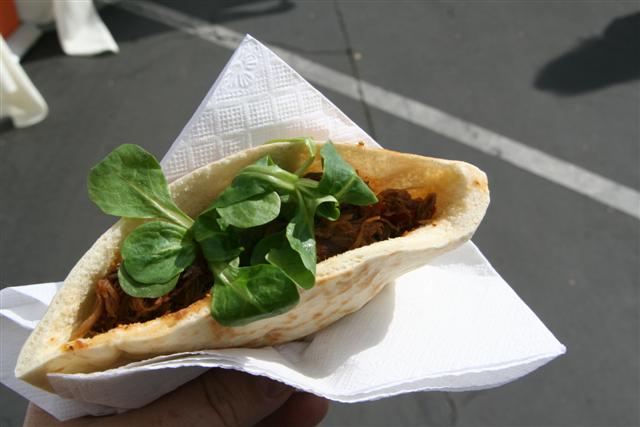 1. The first offering I came across at the Great Chefs of LA event taking place in the backlot of CBS was Momed's duck shawarma. Momed, in Beverly Hills, is a contraction of "Modern Mediterranean". The pita looked awfully generous for someone who knows she is going to be faced with a wealth of tempting food that day. Still, I ate the entire thing (maybe scarfed it down is a more accurate description, but doesn't sound quite so professional). Rich, delicious and sweet, the duck meat was offset with an intense sauce. A perfect start for the day.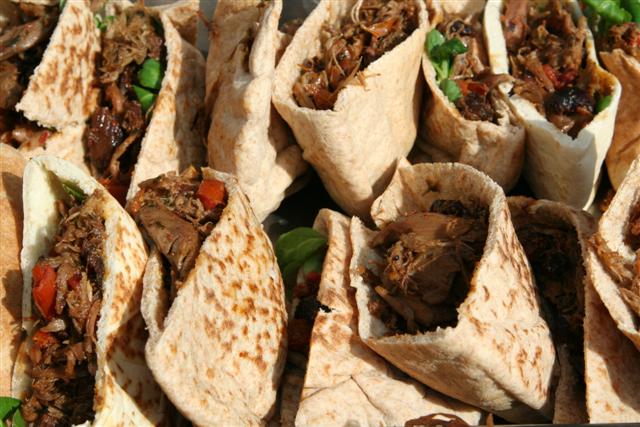 2.  Frozen lollipops. Liquid nitrogen has opened a Willie Wonka world of gastronomy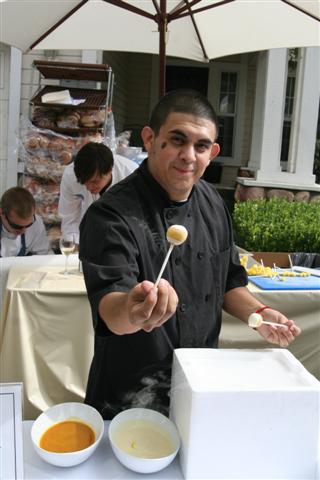 Stefan Richter and Leo Bongarra offered dipped pineapple in liquid nitrogen, then made a layer of vanilla ice cream and mango sorbet. They were fun and delicious, even if the layers melted at different intervals and Stefan Richter wasn't there in person. Just wait until the lollipop stops steaming or you will have a very unpleasant experience.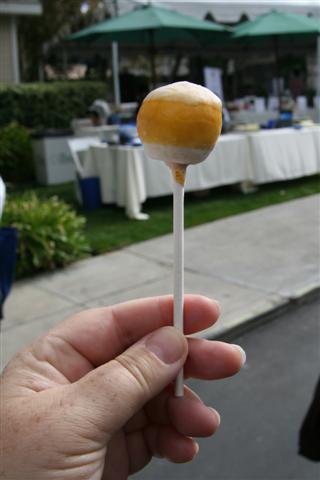 3. The Border Grill Truck, staffed by Mary Sue Milliken, served up Yucatan Pork Tacos – roasted achiote pork, pickled onion, and orange salsa along with churro tots. I was trying to watch my alcohol and sugar consumption, but I would have jumped all over those churros had I known they were filled with dulce de leche.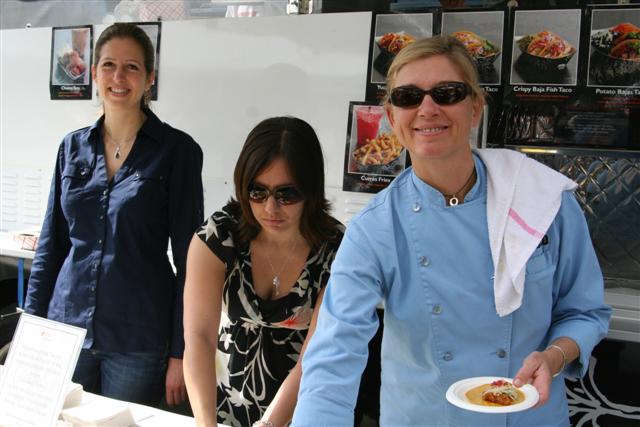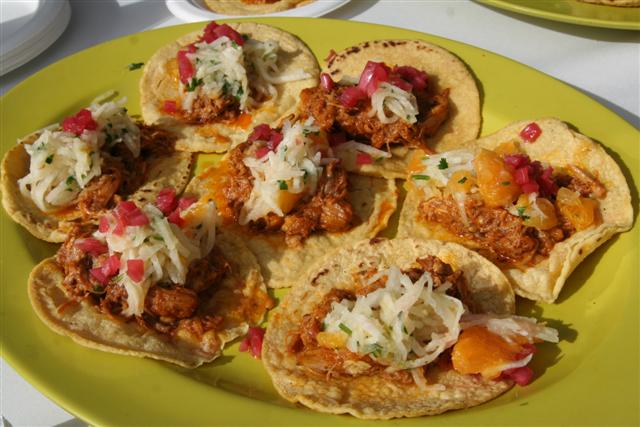 4. The Loteria Grill fried homemade mushroom empenadas with epazote , potato, chorizo and cheesequesedillas and roasted poblano quesedillas, although they were as thick as empenadas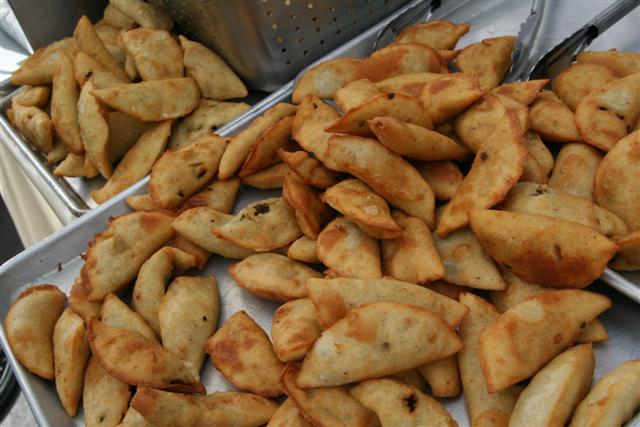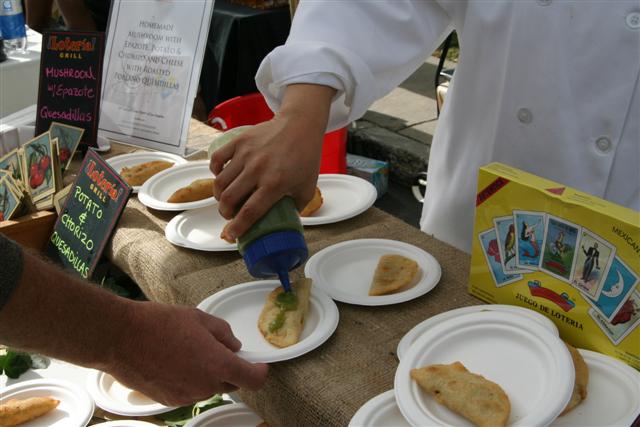 5. Jonathan Burrows of Mr Cecils California ribs offered St Louis ribs, but blew me away with these heavily spiced New Orleans pork cracklins 
6. Ian Gresik of Drago Centro's celery root panna cotta, pancetta and basil. It was light and refreshing after all of the heavy meats, even with the pancetta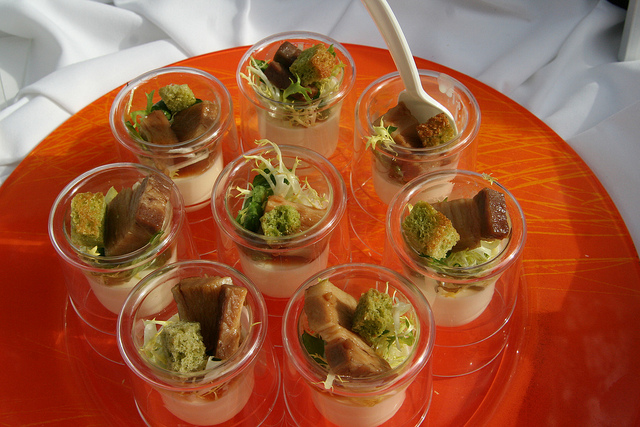 7. Shigefumi Tachibe's free range chicken liver mousse with organic fruit jam. I am not normally a fan of chicken livers, but the quality mousse and excess jam made the dish taste very similar to foie gras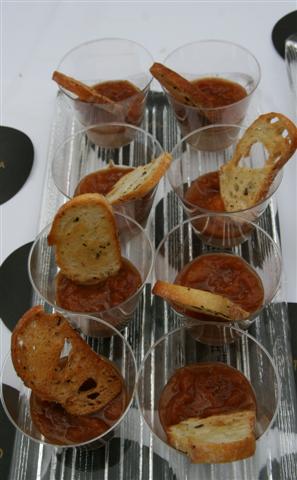 8. Lago's Riso al Salto con Midollo. Risotto cakes with sweet bone marrow.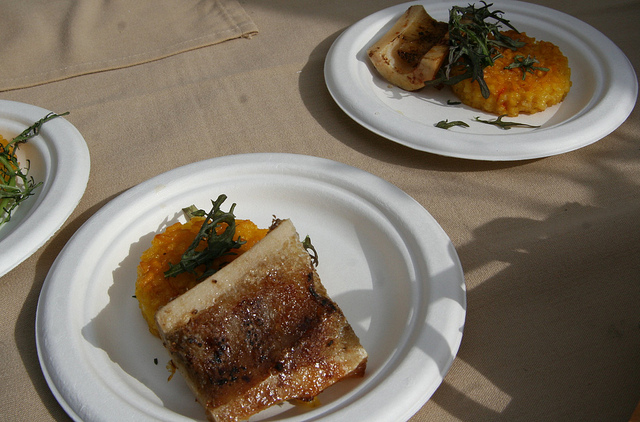 9. Onil Chibas of Elements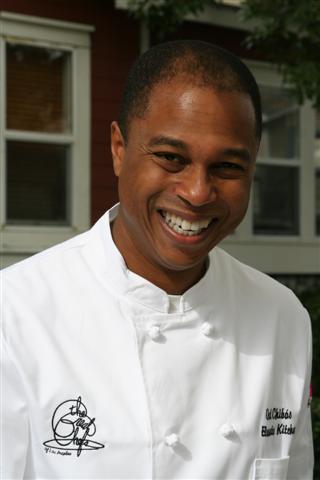 Onil Chibas' marinated flank steak and kimchee tacos. The kimchee was very mild. 
10. Chef Adam Horton of the Saddle Peak Lodge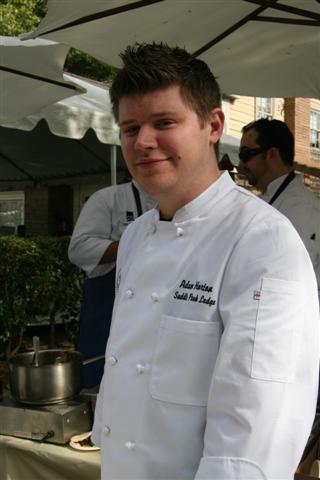 Saddle Peak Lodge offered wild boar with leek soubise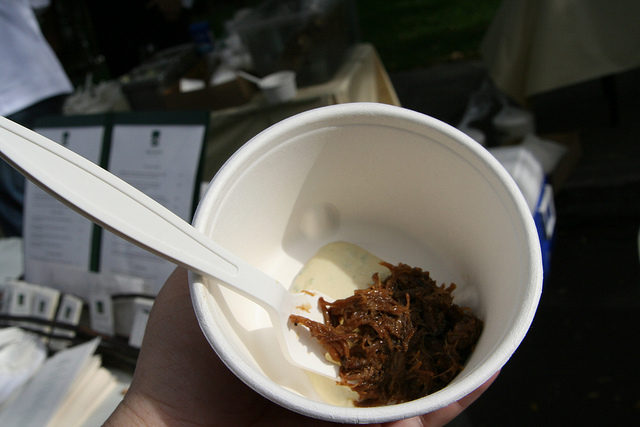 11. Drago's little piggie was not going anywhere. Except in my tummy.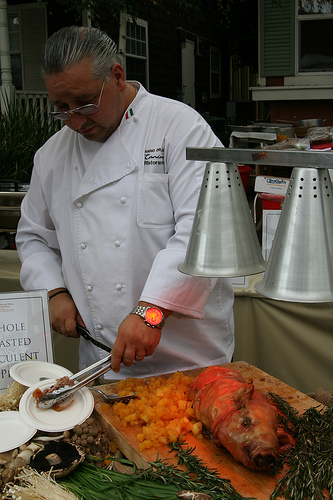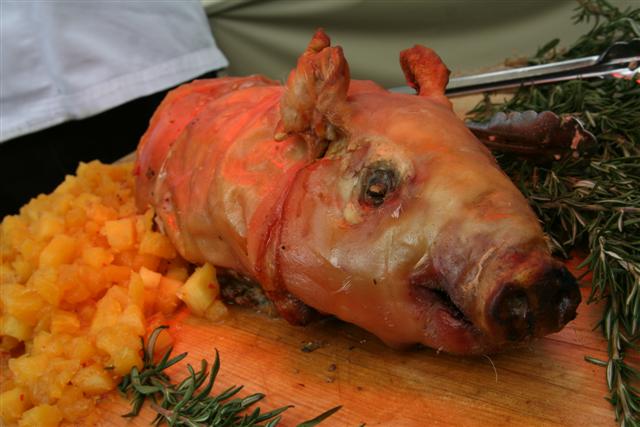 12. Michael Fiorelli of Mar'sel and his crew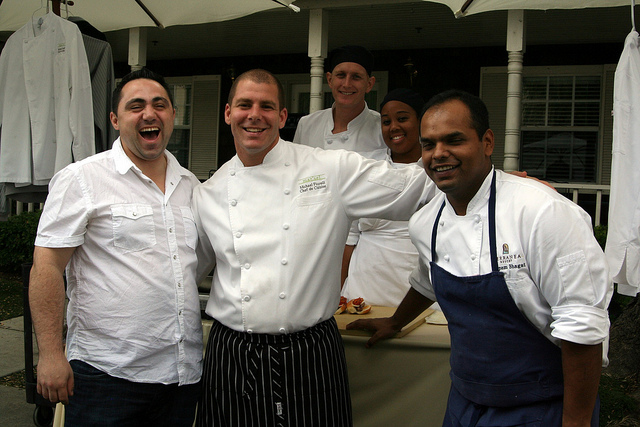 Michael Fiorelli's upscale Mar'sel in the Terrenea Resort (on the former site of the Marineland) offered a surprisingly unpretentious sausage roll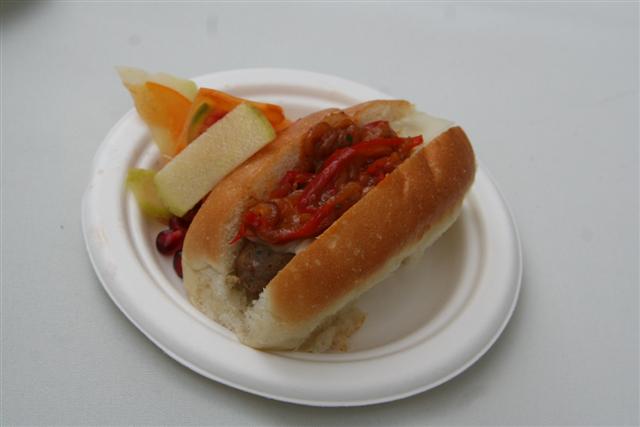 13. Ken Bernard's "All about the Bread" served up generous pastrami sandwiches. Pepperoncini gave the sandwich a nice kick.They insisted they were "New York-style", but were thinly sliced unlike the thick brisket slabs of New York. But they were big and outrageous, like New York.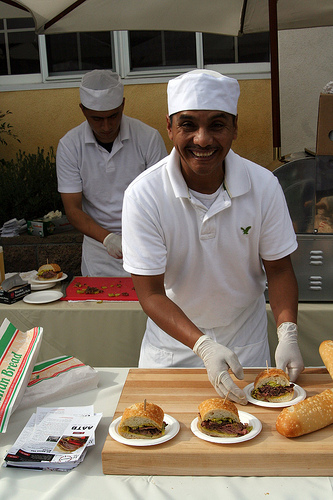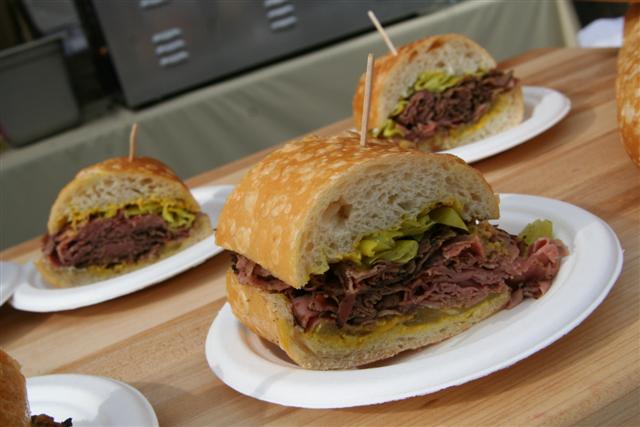 14 Red Velvet Cake. And turquoise velvet cake? The chef said that he made the blue one with the same chemistry-set method with baking soda and vingar, but just used a different color. It's the simple things that no one thinks of that mark true genius. And in spite of avoiding sugar, who walked around the rest of the day with a blue tongue? Me! That's who!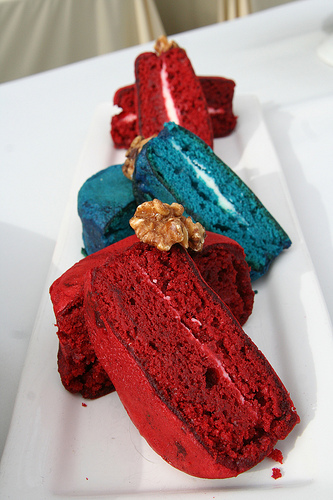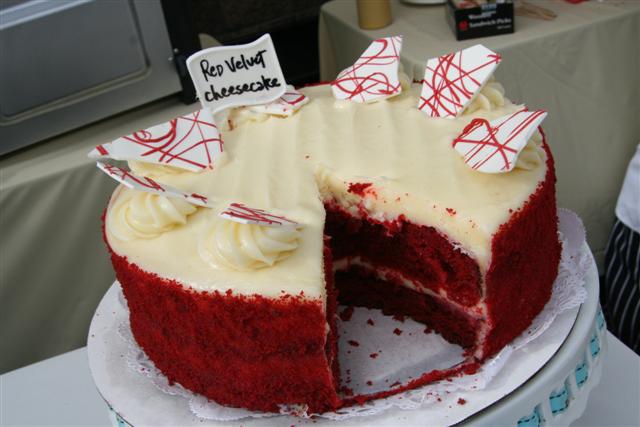 15. Sea salt caramel pudding, cranberry gelee and diced orange from Napa Valley Grill. You had to get all the way to the bottom before you were rewarded with the salt caramel pudding. This restaurant also served one of my favorite bites at AWFF. I am definitely going to have to visit the Napa Valley Grill.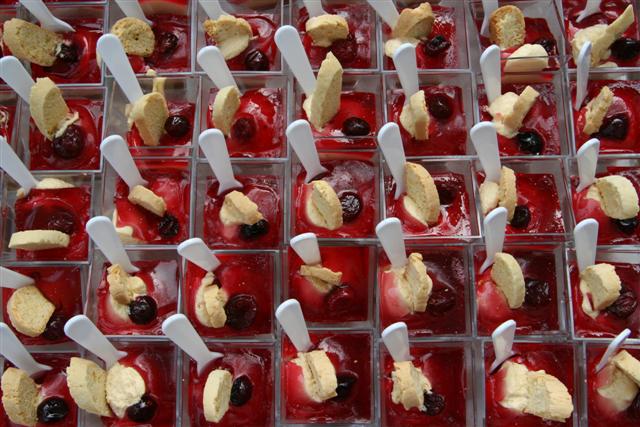 16. No list of favorites would be complete without Polka Tots cupcakes. I especially love their carrot cake, called the "Bunny Hop" and the dulce de leche. Plus, their shop is right next door to my local haunt, Slaw Dogs in Pasadena.