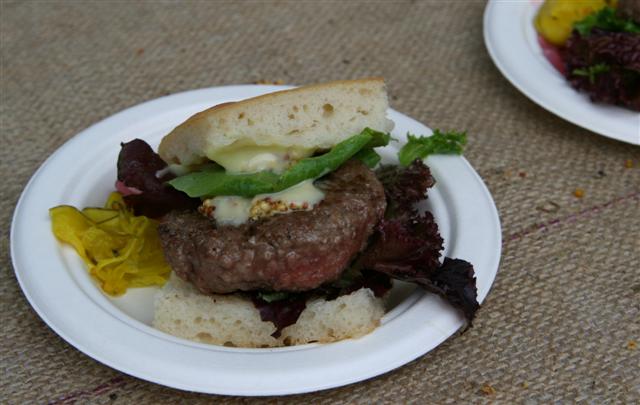 LA Loves Alex's Lemonade took place last Sunday on the stately grounds of the mansion at  Culver Studios. Gone with the Wind was filmed there — does it get any more chichi than that? The well-tended grounds were strewn with checkered picnic blankets, and the air was alive with the laughter of children, making the easygoing event feel more like a church carnival or small town fair than an elegant ball at Tara.
The enthusiasm was contagious as everyone carried on the spirit of of Alex, a little girl with cancer whose front yard lemonade stand grew into a foundation that raised over a million dollars before she passed away. The foundation continues hosting lemonade stands large and small, in her name. LA Loves Alex 's Lemonade was definitely on the larger end of the spectrum, with world-renowned chefs pitching in to raise money for children's cancer research.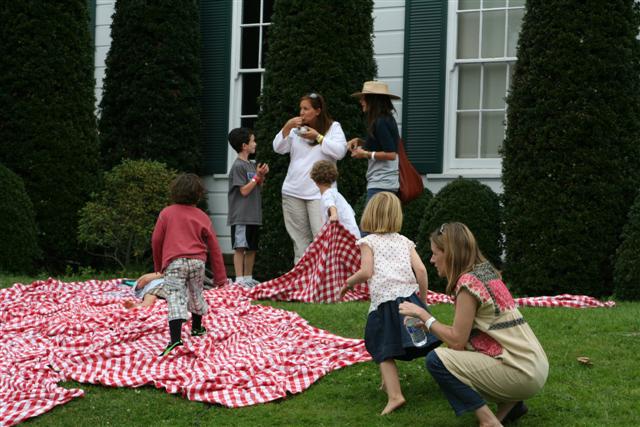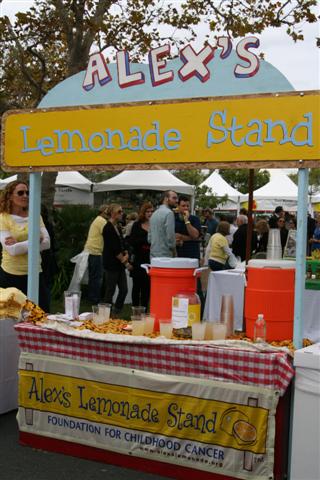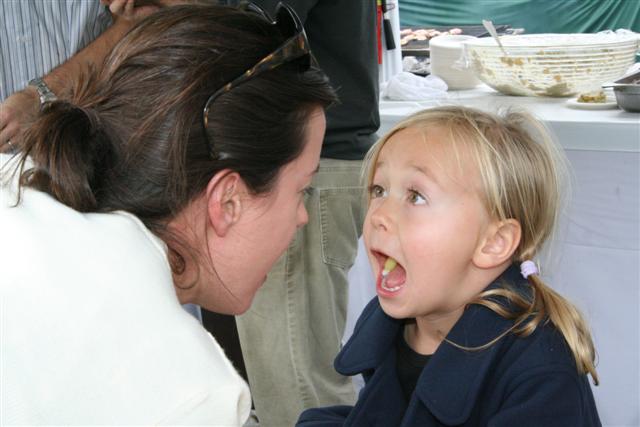 The chef's offerings varied, with all of the four basic food groups represented.  There was nice selection of healthy vegetables from a number of different restaurants. Davis Tanos of Chez Panisse served Mexican Crudite.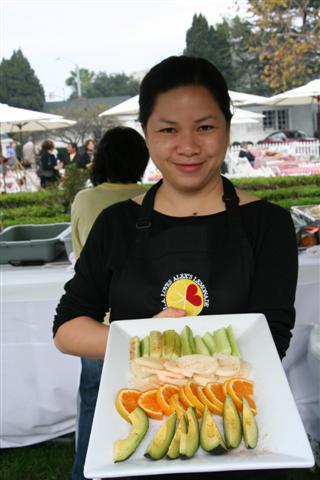 Jonathan Waxman offered a colorful bounty from the Farmers market (In fact aren't those wax beans?)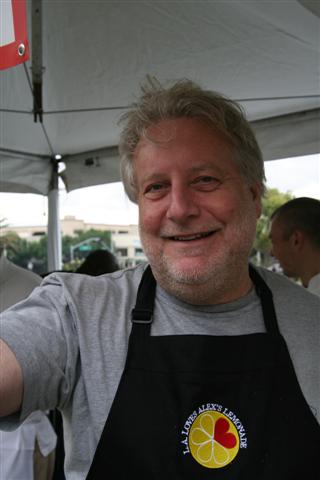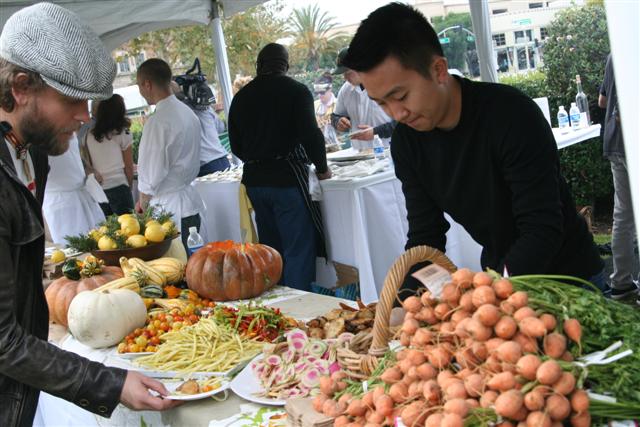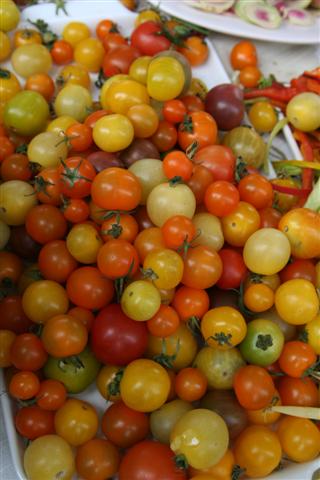 Jimmy Kimmel gives Pizzeria Bianco a hand making antipasto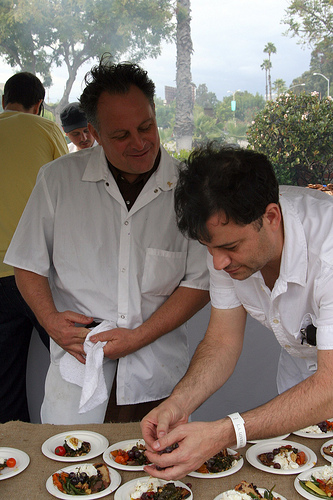 and does a mighty fine job of it, too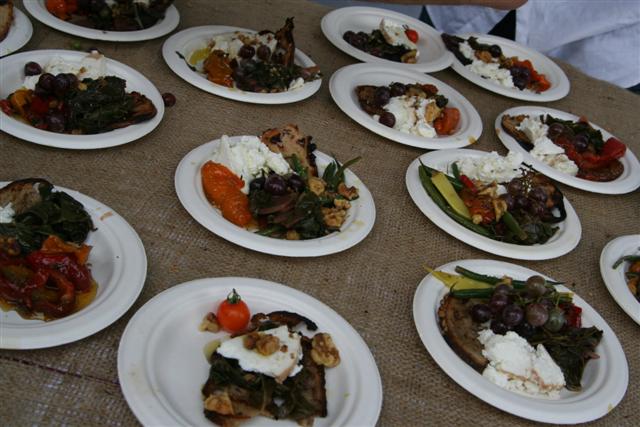 The Hungry Cat was a major crowd-pleaser with their cold seafood buffet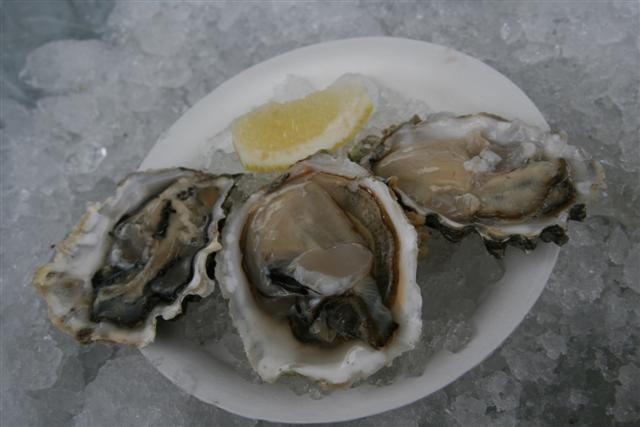 Awww shucks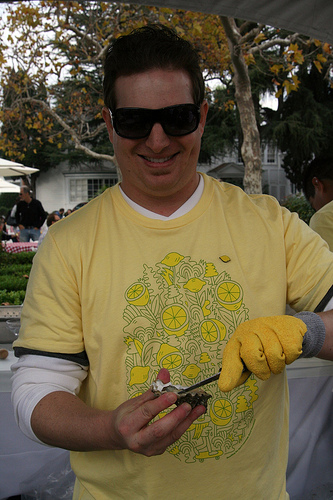 Tony Keene of Gordon Ramsey at the London West Hollywood, which improved remarkably with the loss of Gordon Ramsey, wowed with caramelized scallops with a raisin-caper puree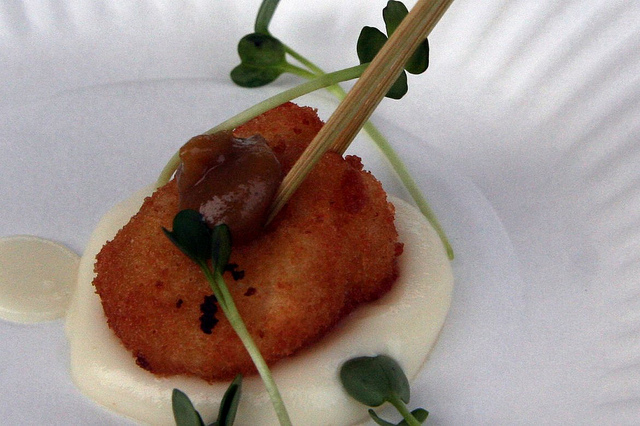 Matc Vetri from Philadelphia created one of the most delicious sandwiches ever to pass my lips. The ingredients were an unusual mix, but combined to make the ultimate combination of flavors.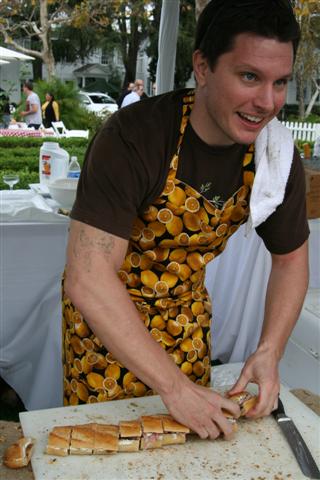 First the bread is spread with ricotta, honey and walnuts.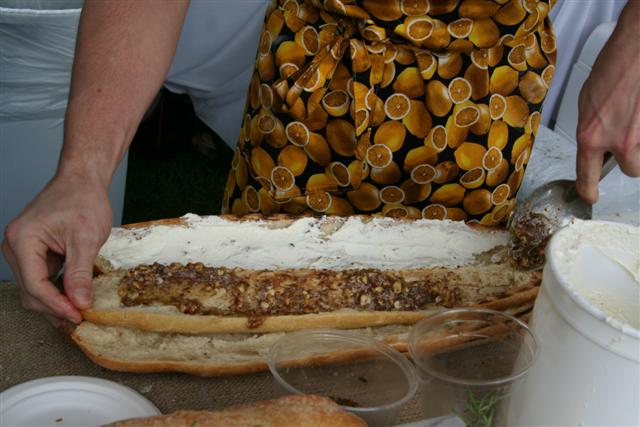 Next, the sandwich is filled with lamb mortadella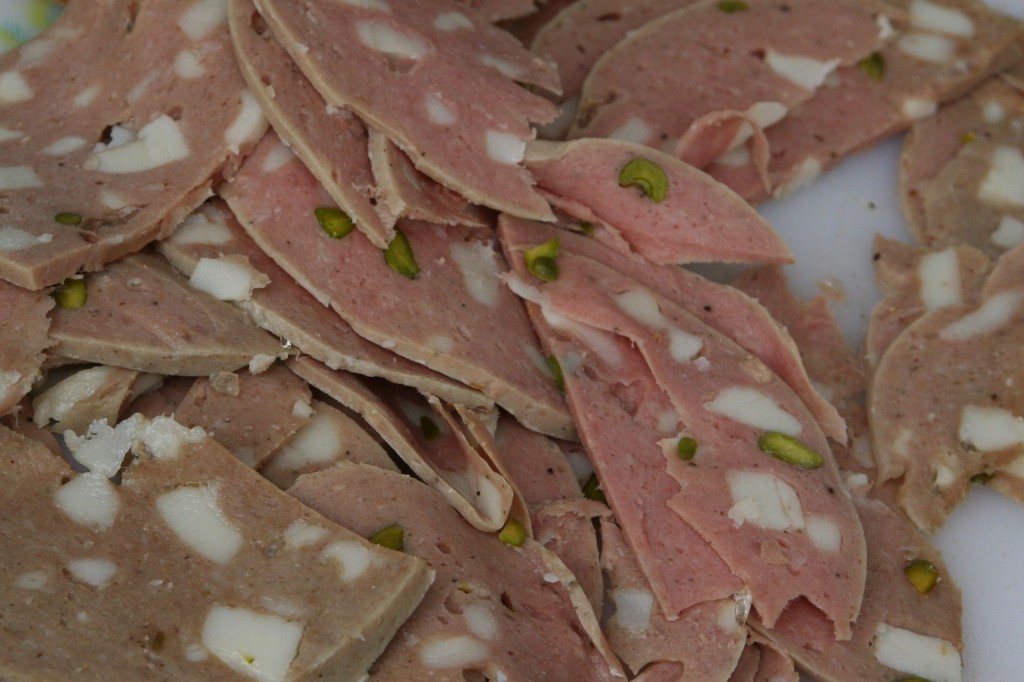 People can't eat them fast enough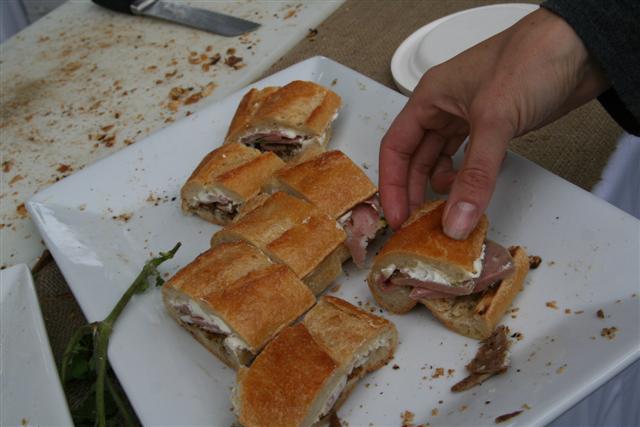 Neal Fraser cooked an ambitious pig in a box, and served it alongside a mustard-grain potato salad. The Pig.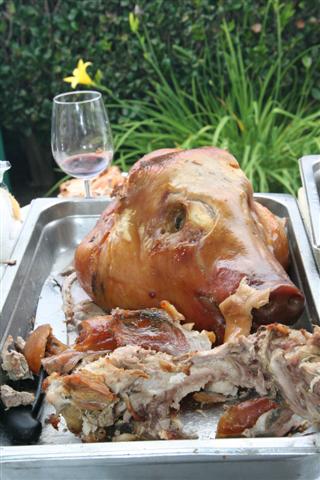 The box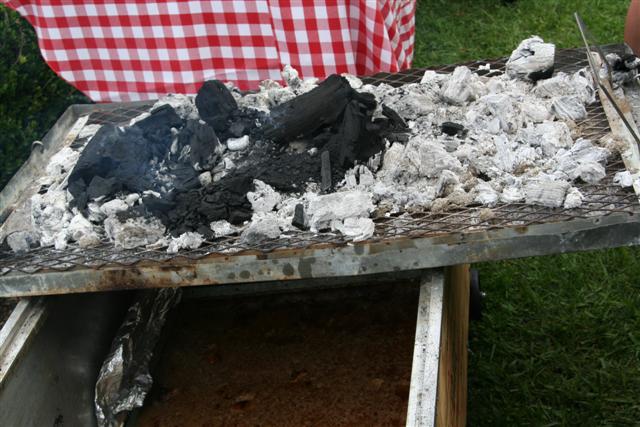 Neal Fraser and daughter. She didn't want to smile for this picture, but the minute her dad stood up, she was all smiles for the camera. Kids. Go figure.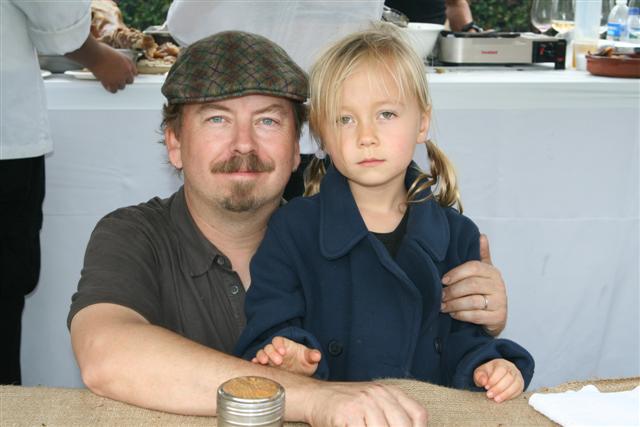 Michael Tusk of Quince served a quail and chicory salad with a quince mostarda. The tender quail fell right off the bones
Osteria's skewered chicken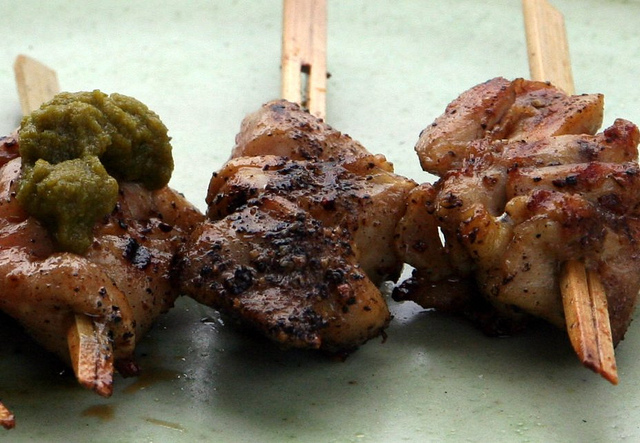 Russell Moore of Camino in Oakland showed up with a boudin blanc, talk about showing up N'Awlins. It was a much tighter sausage, without the whole grains of rice, but it was slightly more wursty than Cochon's version.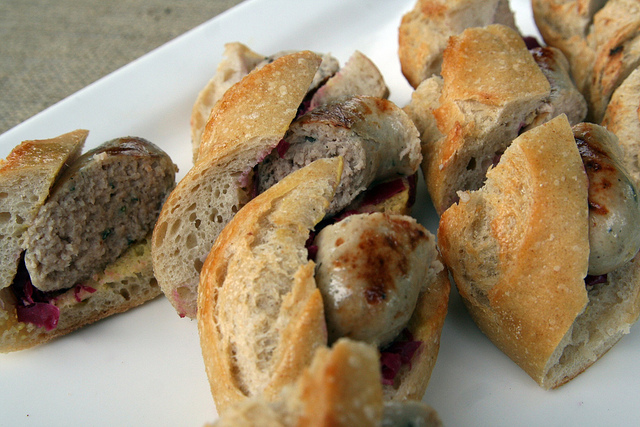 At Zuni Cafe's stand I ran into Sue Moore of Let's Be Frank. She pointed out that Judy Rodgers' Marin Sun Farms hamburger on rosemary focaccia was cooked with grass-fed beef, and everything was organic, right down to the ketchup.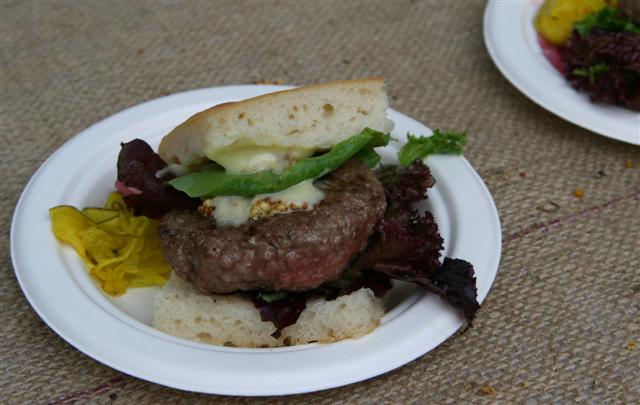 Sue excitedly led me over to Cochon's assorted link sausages with chow chow. I didn;t admit that I had already been there. Cochon's …Andouille? Really, not there was not much fire. It could have been a Polish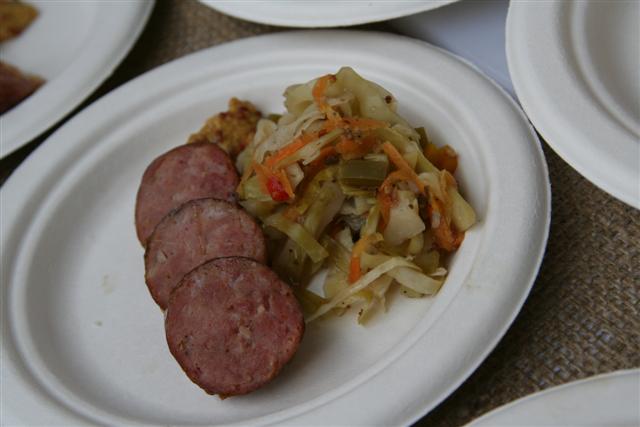 Cochon's Boudin Blanc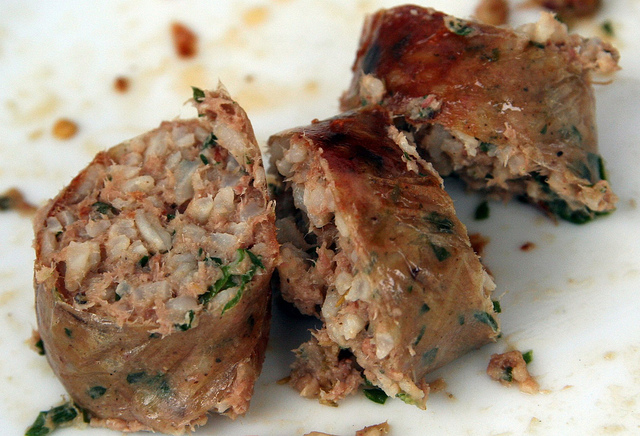 I was so distracted, I ended up with an UFO – Unidentified Food Object. I believe this was from Seattle, possibly Lark? Beef crostini I believe?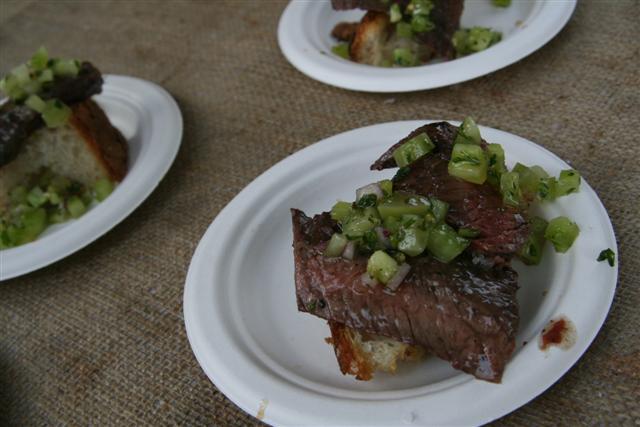 Besides all the adorable children and young teen volunteers, the crowd was varied. I received an unusual amount of photography advice from the crowd, and forgot to get a photo of the beef crostini's sign when a passer-by offered, "Wait, take a picture of this plate — it looks much better!"
I arrived too late to catch Jennifer Garner and Jim Belushi, but I'm such a food geek I was more excited to see Jonathan Waxman and Giada De Laurentiis anyways.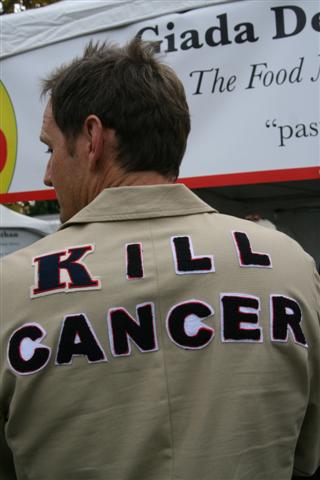 Actor and director Michael McDonald good-naturedly posed for photos. I dug through my enormous purse to give him my business card, fishing through the assortment I had picked up at the previous shmoozy event. He unexpectedly commented, "Wow. You're a tramp."
Even more unexpectedly, I automatically agreed with him, "I am a tramp." Then I had a moment's pause and asked, "But how do you know?"
"Because you have so many people's business cards." (of course, business cards, that's what I meant too, ha, ha. Business cards). I quickly regained my composure and began compulsively babbling
He smoothly shook my hand, "It was a pleasure to meet you," which is an extremely gracefully way of saying, "Please go away now."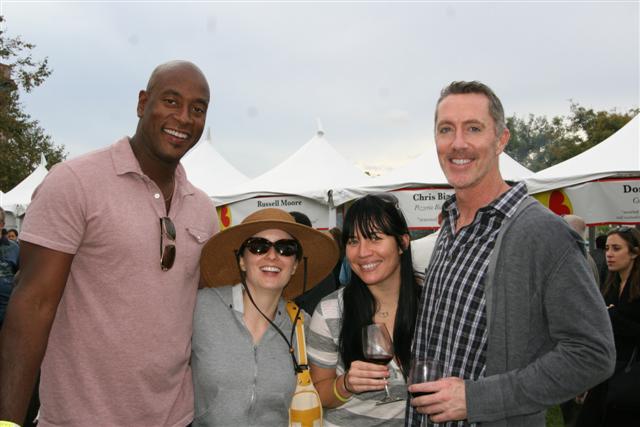 It's easy to see why Aarti Segura won the Food Network's Next Star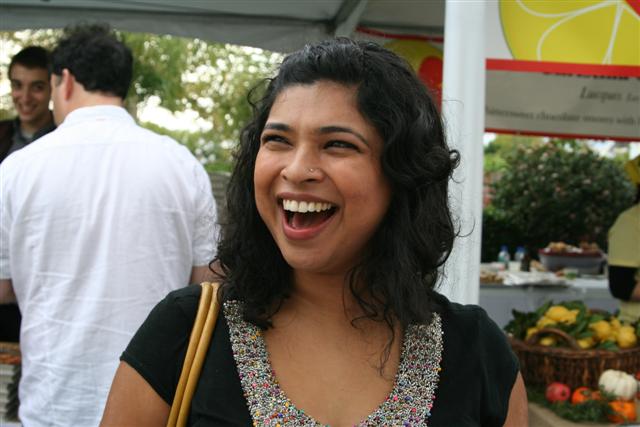 Judy Rodgers takes some time out for an impromptu book signing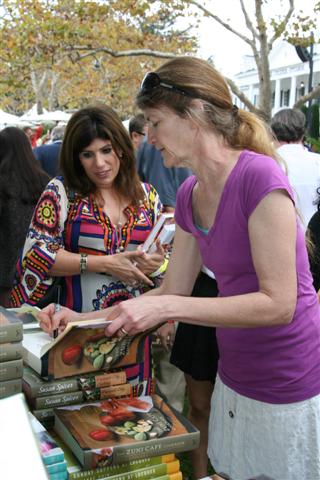 Jimmy Kimmel with girlfriend and writer, Molly McNearney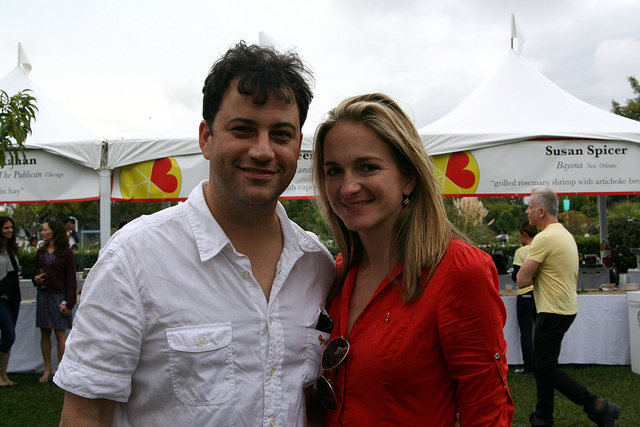 Giada De Laurentiis didn't seem her normal self. I teased her, saying, "I know you can smile bigger than that. I've seen that smile." Finally she sparkled with laughter. I felt terrible when I read of her grandfather, Dino De Laurentiis' passing later the same week. He must have been ailing at the time. She was certainly a trooper to still show up for her fans and to support a good cause.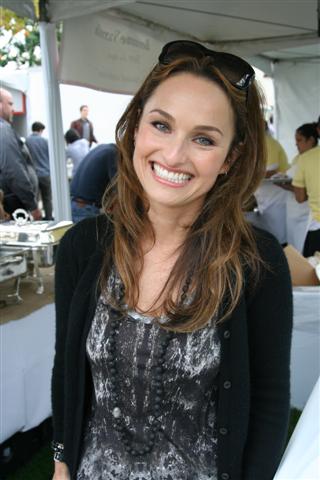 The live auction had a wealth of fantastic prizes, including a dream dinner by Giada de Laurentiis, Suzanne Goin, Nancy Silverton, Alice Waters, Sherry Yard and vintner Ann Colgin.
The men were also bringing it with a dinner in your home for 12 guests featuring Paul Kahan, Blackbird (Chicago), and Los Angeles Chefs Josiah Citrin (Melisse) Matt Molina (Osteria & Pizzeria Mozza) and Michael Cimarusti (Providence) paired with "a generous donation of Robert Parker 100 point rated wines from a private wine cellar." Finishing the meal off will be Johnny Iuzzini –pastry chef prodigy from Jean George and head judge of TOP CHEF DESSERTS.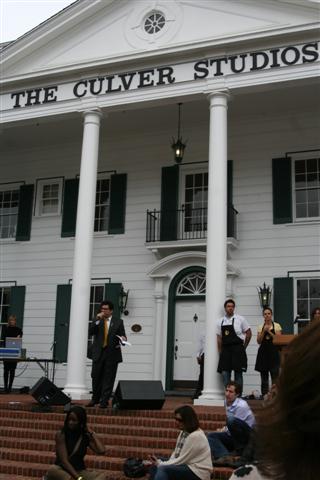 Also on the block were floor seats to the Los Angeles Lakers at Staples Center and dinner at Wolfgang Puck's WP24, a day in the historic Chez Panisse kitchen, participating in the daily menu meeting with the chefs and working side by side with the team prepping for the evening's service,   plus a New Orleans package including a tour with Susan Spicerm and dinner at Cochon, plus John Besh's best, with lunch at Dominica and dinner at August. Package includes 3 nights' accommodations for two at the Hilton St. Charles Hotel!
Color me jealous.
I also would have been excited to "join Pulitzer prize-winning L.A. Weekly restaurant critic Jonathan Gold for a personalized tour of his favorite underground Los Angeles food spots.  The undisputed king of ethnic food and Counter Intelligence is your guide to an evening of culinary discovery, tasty treats and foodie surprises for you and 3 friends."  It went for $10,000!
Auctioneer Extrordinaire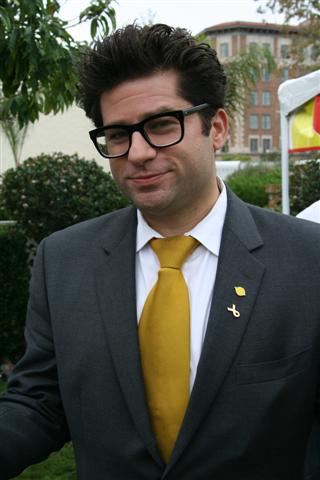 Spirits were provided by Grey Goose, Lagunitas and Philadelphia Distilling amongst others, and brews were courtesy of Craftsman, Firestone and Sierra Nevada. Wines were too numerous to mention. For more information on the cocktails, let me turn it over to the expert, Caroline on Crack.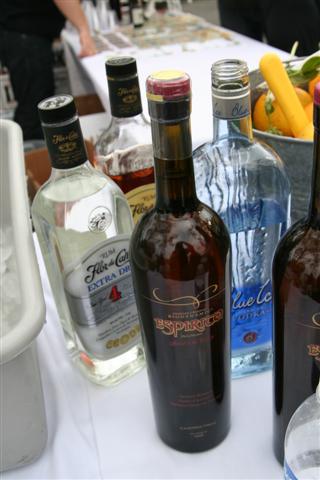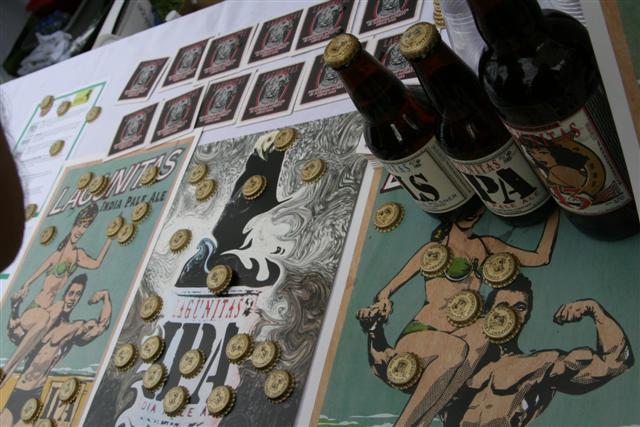 One corner of the carnival-like setting had been turned into a wonderland of sugary delights by Lucques/Tavern/A.O.C. Snickers gone upscale. My favorite treat was probably the salted caramel macaroon.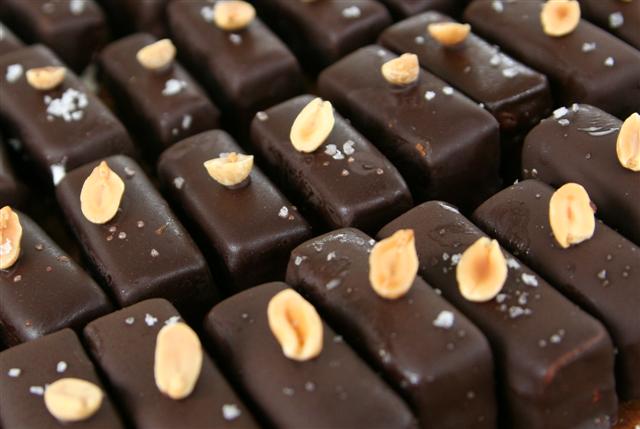 People swooned over the mini S'mores, but I often find the burnt taste of S'mores too overpowering.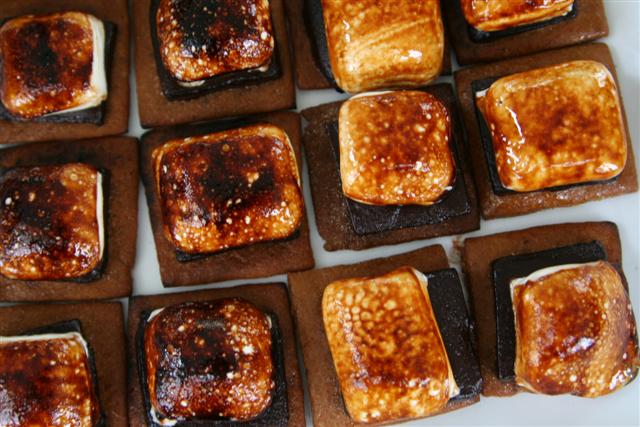 The carrot cake was moist, dense and airy all at the same time.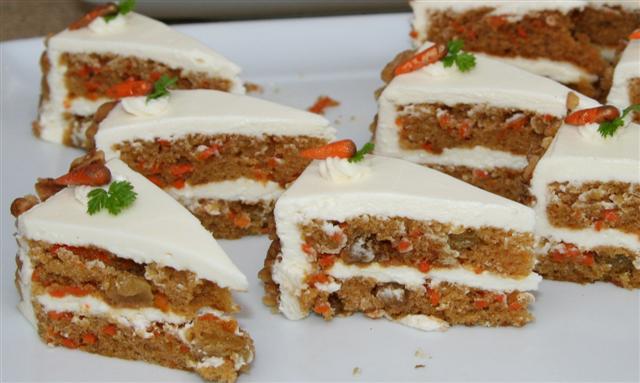 New Orleans represents! Not only were Bayona and Cochon bringing the funk, Huckleberry made up for the absence of John Besh by frying up piping hot beignet.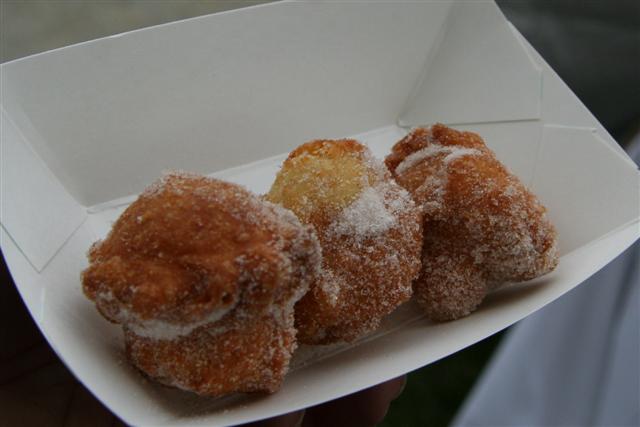 Before turning to leave, I had to resist the urge to grab a turnip from the table, and shake it at the mansion, crying out, "As God is my witness, I'll never be hungry again!" OK, so they were beets, but it still would have been funny.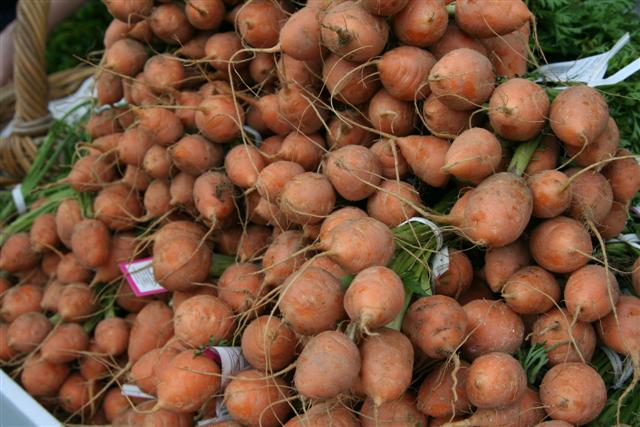 Instead I ordered a dish of Nancy Silverton's Meyer lemon gelato, the perfect finish to a day to remember.