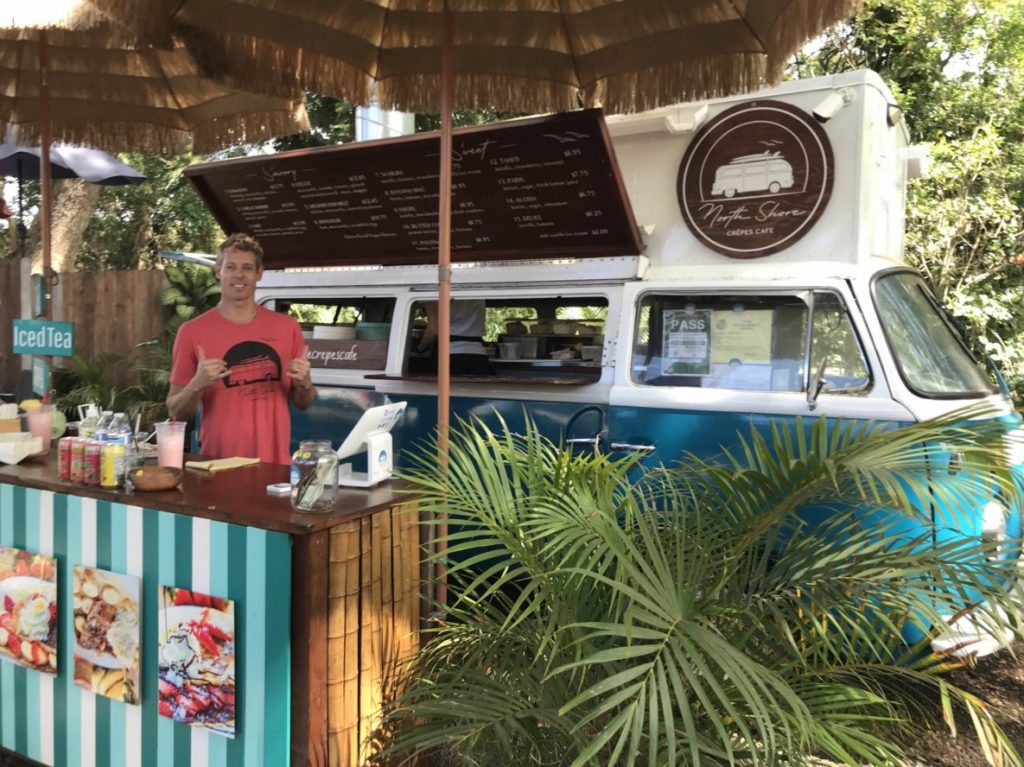 After swimming with sharks, we wanted to wander into town and grab a bite. We didn't get an Uber because it was so close. The historic town of Hale'iwa wasn't actually that close, and my legs were rubber from two days in a row of snorkeling. But we walked to a little square, where I found one of the places on my must-do list — Matsumoto Shave Ice! The little shop opened in 1951 as M. Matsumoto Grocery Store, and the original couple's kids still run it today. They brought shave ice from Japan, where it is called kakigōri. In Japan the dessert is often topped with adzuki beans, red beans boiled in sugar. Like New Orleans snowballs, you can also get them topped with sweetened condensed milk.
They had soooo many flavors! You can only order a max of three. I ordered blue pineapple, mango and lychee. Topped with sweetened condensed milk, of course. I was only going to try a little taste, as I often do with desserts, but it was so good I could not stop. I also wanted to try the Lilikoi (Passionfruit), guava, papaya and yuzu. Next time. There are also sone specific, local flavors like li hing mui (pickled plum), Ume (Japanese plum), Mizore, a plain sugar syrup, Ramune, a lemon-lime Japanese soda flavor, and Green River, a local lime soda that actually comes from the midwest.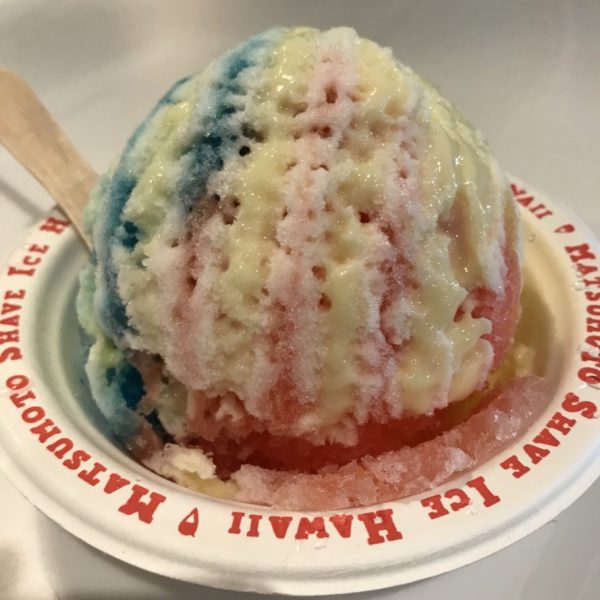 The classic Matsumoto flavor combination is lemon-pineapple-coconut. Another favorite is the rainbow combination, which tastes like strawberry, lemon, and pineapple. If you want to try Obama's favorite, try cherry and lemon lime with guava or lilikoi. A competitor makes a guava-passion flavor and along with the cherry and lemon lime calls it the "Snobama." (Photo from Fanpop)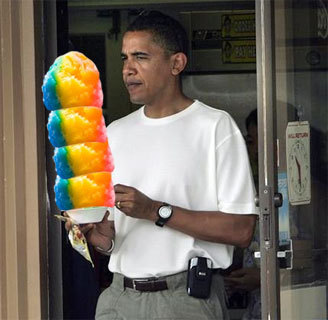 We wandered down to No. 7, a poke truck that the shark guides had recommended. OT got an assortment that included tuna and salmon. Poke (pronounced poke-eh by Canadians), is a roughly cut raw fish dish. It doesn't use citrus to "cook" the fish like most other raw fish dishes like ceviche do. I like my fish cut thinly, like sashimi, so I just had some boring old gyoza. There are nice, shaded benches in the sand, and you really feel like a mellow surfer just chilling out instead of the manic tourists we had become.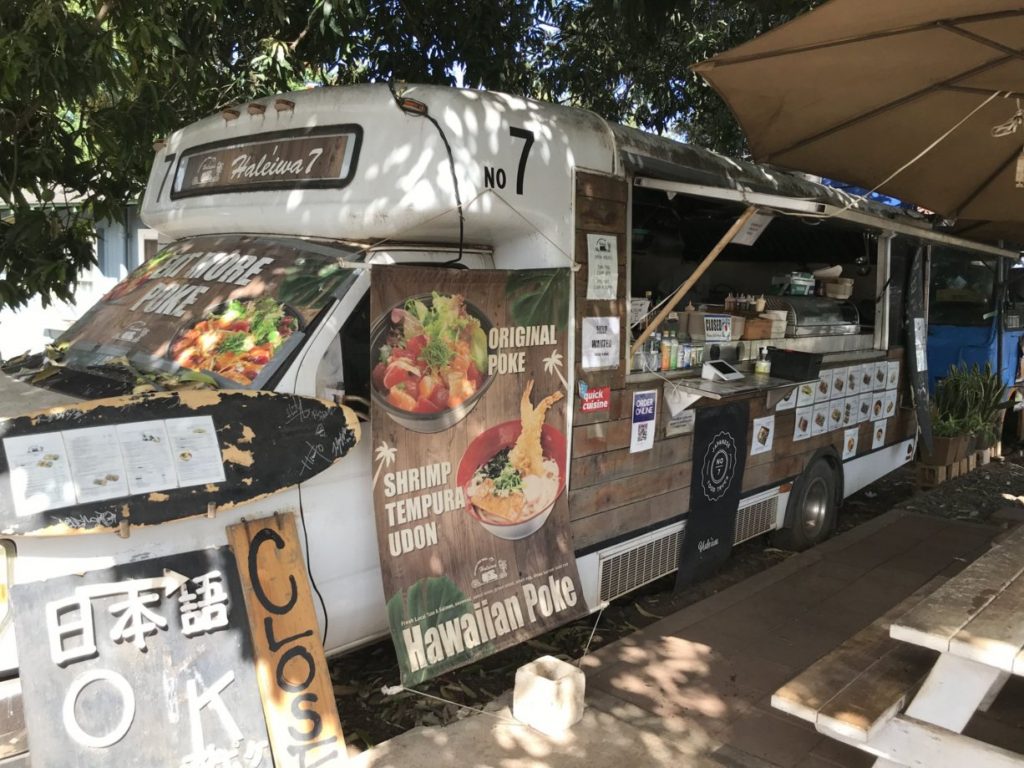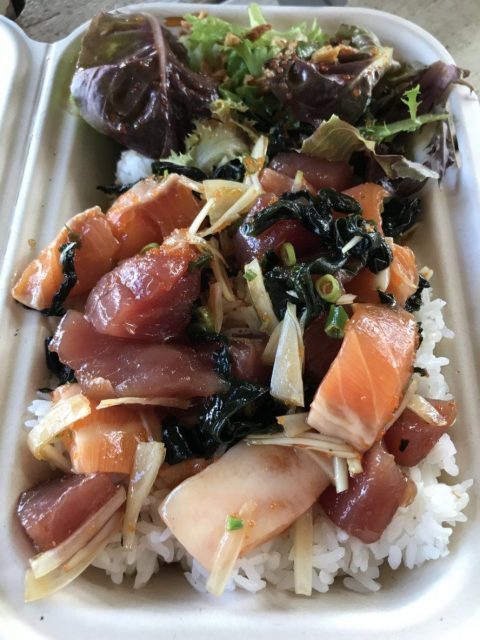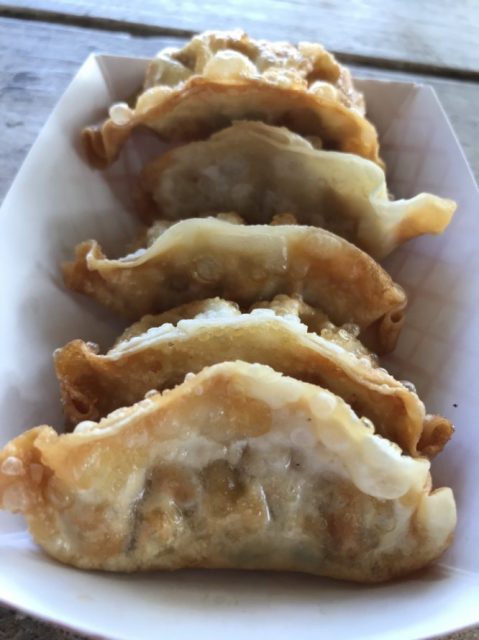 We crossed the street (to see why all these guys were doing it).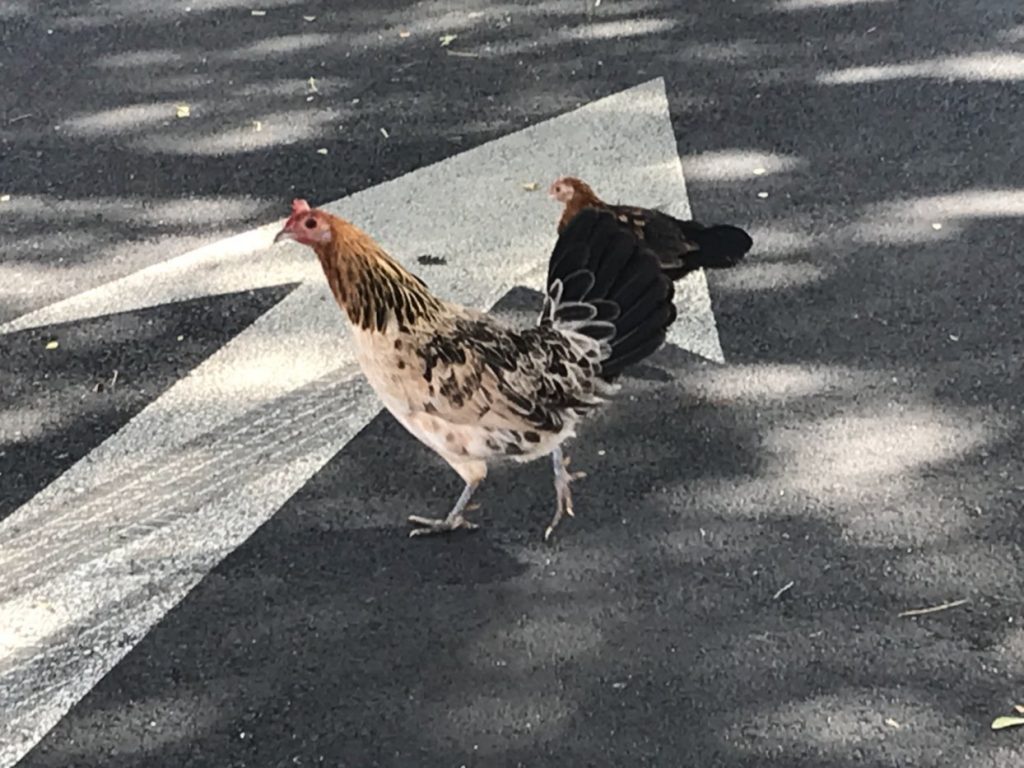 And we found a cool shack selling seashells (by the seashore). Luckily, the guy was too busy to wait on us, as I was prepared to buy a curtain made of shells and some other regrettable purchase. Just down the road I happened upon a cemetery. I always seem to find one. I'm not even looking for them anymore.
We headed further down Kamehameha Highway to Kono's but it was way too crowded, and we were too burned out to wait. So we walked next door to Breakers. OT got a cold beer and I got some killer Pork Fries with cheddar cheese, green onions and sour cream.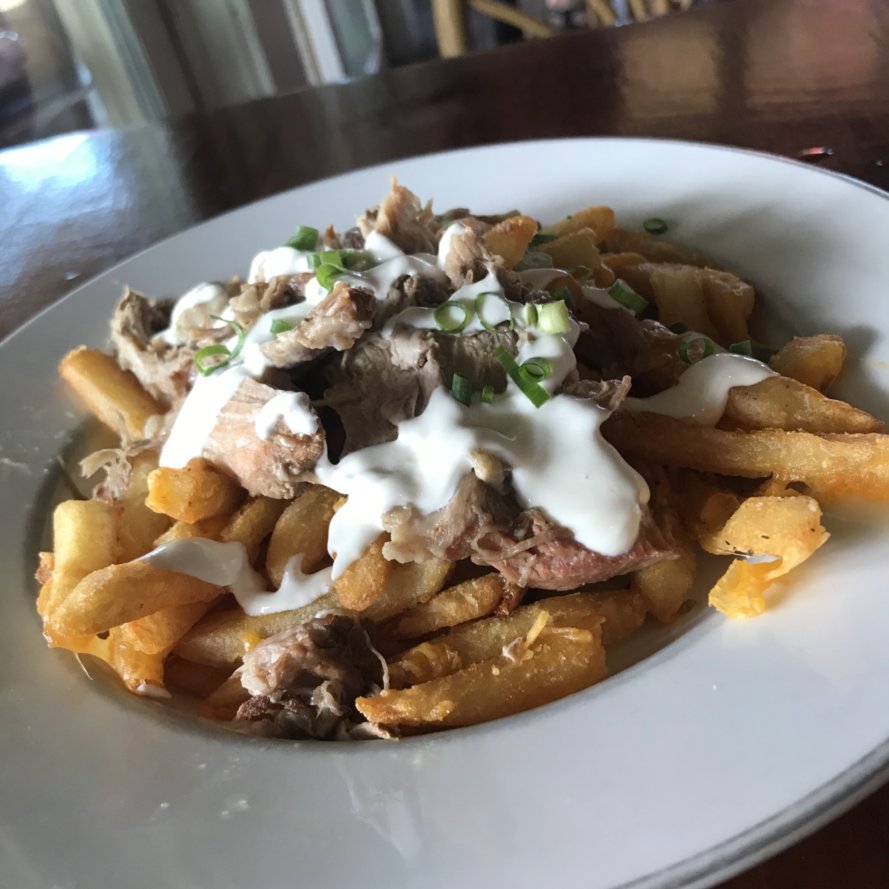 I wandered around and found a little gift shop. Now, I had been seeing these little furry coconut-helmeted tiki-type things and couldn't figure them out.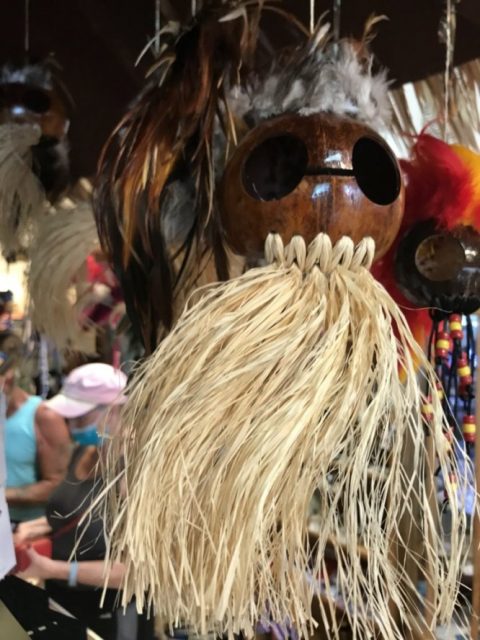 Finally, this shop had a picture that helped me to put it together.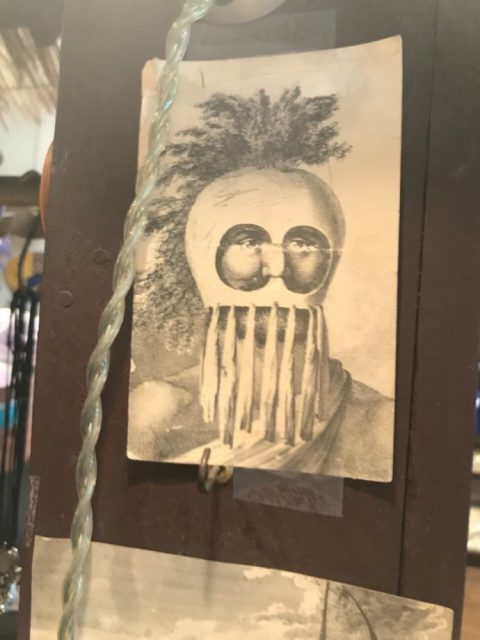 Speaking of being a tourist, after checking out we took an Uber in search of the famous Giovanni's Shrimp Truck. It is supposed to be THE SHIT. You must eat at Giovanni's if you are on Oahu. The driver took us to the clearing full of food trucks, and I thought I heard him Mumble, "It's closed." But it was so quiet, and I was so excited it didn't fully register until I spotted the sad, graffitti-ed truck. That was as closed as it gets. There was another shrimp truck there, and the line was sooo long.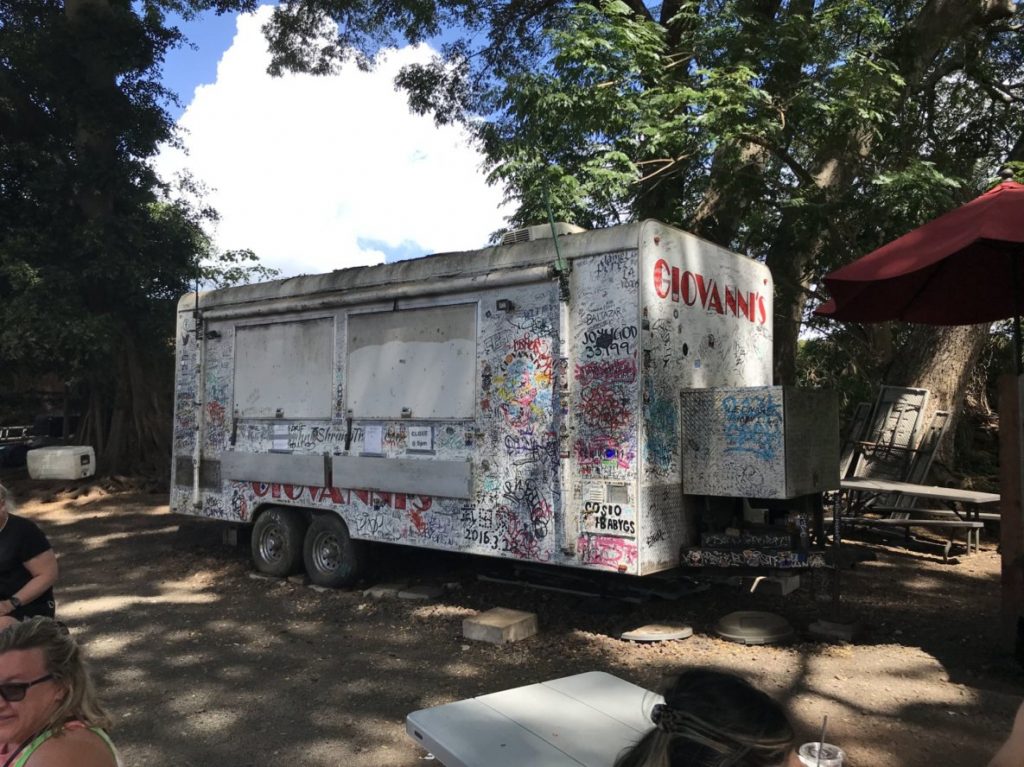 I ended up getting a crepe at North Shore Creperie, the friendly guy in the first picture up top. It didn't come with whipped cream, but when he saw me taking a picture of it he stopped me and added a nice swirl.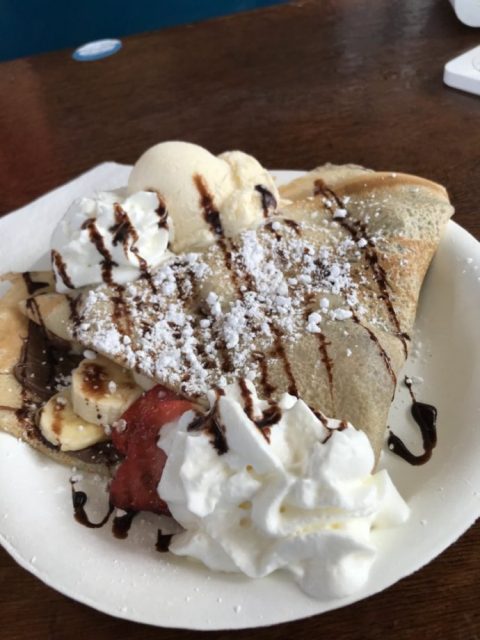 Here are a few pictures of other people's food.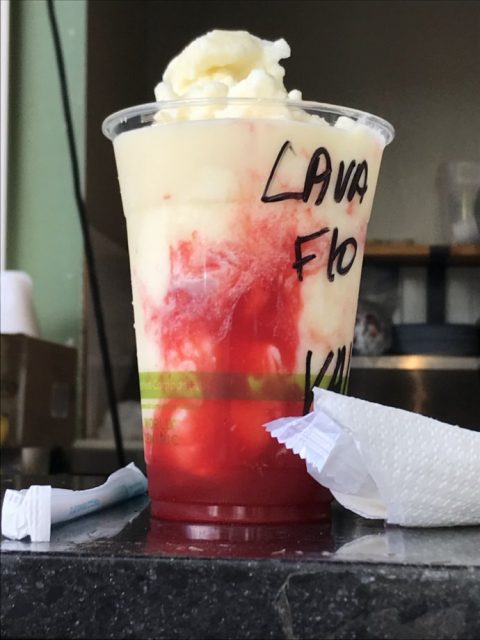 I was tempted to head over to the other Giovanni's, you know how I am when I'm on a mission. But I couldn't do that to OT, and we had had to get up really early in the morning to catch the boat so we were totally burnt out and we headed home. Here is a lovely Hawaiian flower for you.