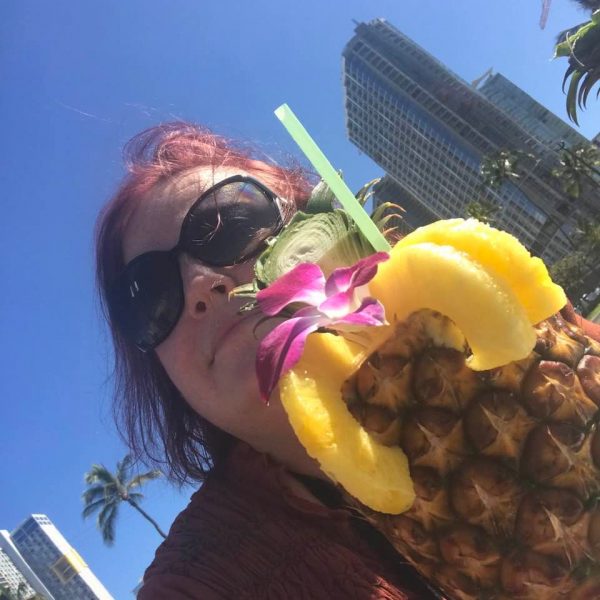 On Thursday we went snorkeling. We started the day off with Pineapple whip in pineapples. It was too sweet to drink much, but we really just wanted the picture. That's probably half their sales. We went to a reef where turtles go to get cleaned by fish, like an underwater carwash. It was so great being back in the water.
They are serious about protecting their wildlife, and there is a serious fine if you get within 10 feet of a turtle. Oliver called to me over to come see this turtle, so I started swimming over. Suddenly this little turtle surfaced right under me! If you have the sound on you can hear me say, "Oh sh*t!" into my snorkel.
My nephew yelled, "Hey! Stop molesting that turtle!" The GoPro was strapped to me and pointing downwards, I wasn't holding it, so you can't see the turtle except for the end of my evasive action when i flopped onto my back to swim away faster.
Later they told me, "Ohhh, turtles are curious and it's not a big deal if they come at you. Just don't touch them."
We went to Oahu so that Oliver could hang out with his friend who is attending college there. In the evenings Oliver leaves me to relax in the room and goes to party with his friend. We met up with him after snorkeling and hit up Marugame Udon. "Founded in Kakogawa City, Japan, in 2000, Marugame Udon is the world's No. 1 udon concept with more than 1,000 locations in 13 countries and three U.S. states, serving up authentic, handmade-to-order Japanese Sanuki-style udon noodles, plus tempura, robata skewers and katsu sandwiches." The udon was excellent, and the tempura was good. Best of all, three of us had a nice and filling lunch and it was under $30! It turns out there is a Marugame Udon near me in Glendale, so you won't have to fly to Hawaii if you are tempted.