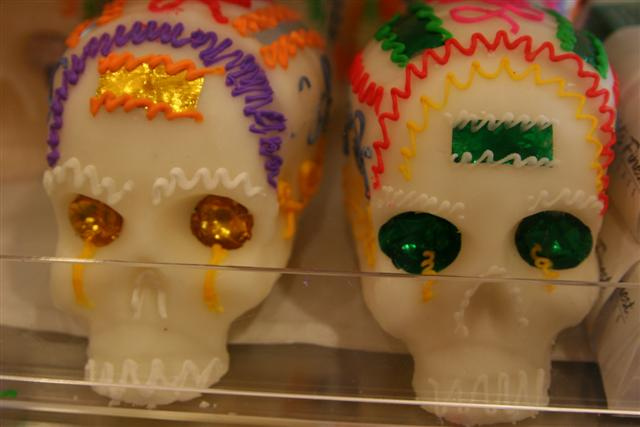 Every year the Merchants Association of Olvera Street holds one of the most authentic and religious Dia de lose Muertos celebrations in Los Angeles. With the blessings, altars, incense, dancing and rituals, you can truly see the marriage of paganism and Catholicism.
Every year I see more and more people face painting, wearing elaborate dress, and lately colored contact lenses.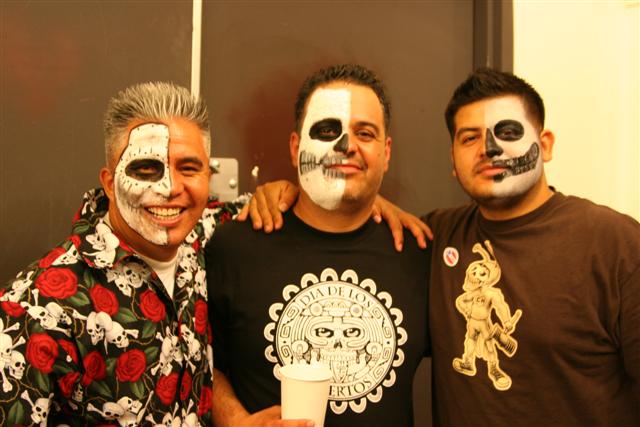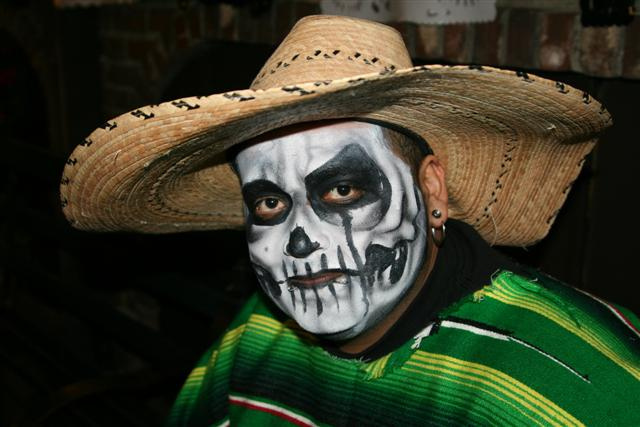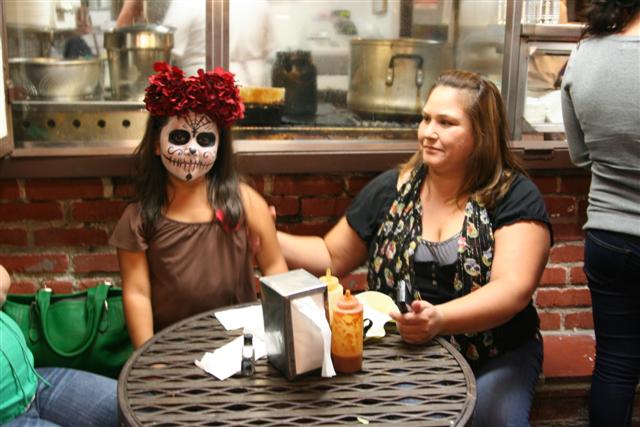 It helps to have face painting on-site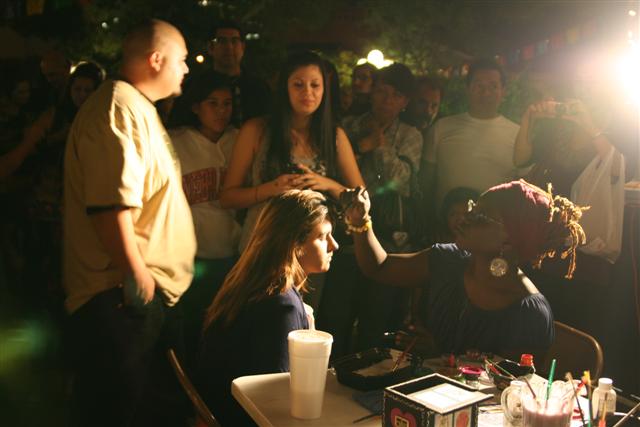 As with any holiday, there are traditional foods. Besides the sugar skulls, Pan de Muerte, or Bread of the Dead, is an anise and citrus-studded bread normally shaped into a round loaf with two crossed bones on top. This year, we also noticed the bread shaped as people, well, let's just leave it at "people"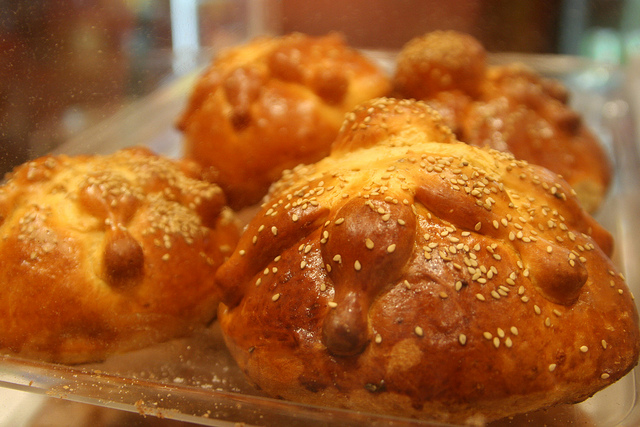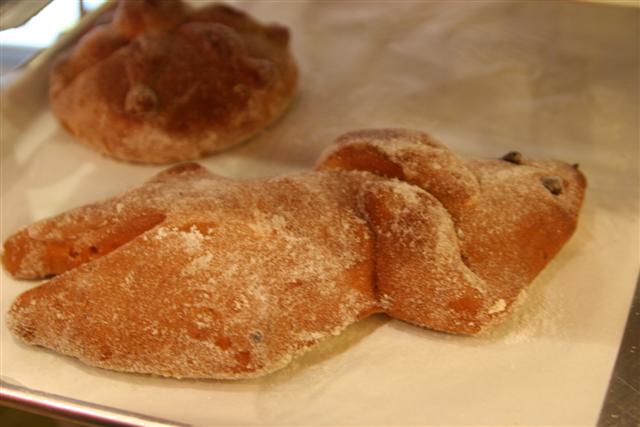 Pan de Muerto (Bread of the Dead)
Ingredients

1/4 cup milk

1/4 cup (half a stick) margarine or butter, cut into 8 pieces

1/4 cup sugar

1/2 teaspoon salt

1 package active dry yeast

1/4 cup very warm water

2 eggs

3 cups all-purpose flour, unsifted

1/2 teaspoon anise seed

1/4 teaspoon ground cinnamon

2 teaspoons sugar
Instructions: Bring milk to boil and remove from heat. Stir in margarine or butter, 1/4 cup sugar and salt.
In large bowl, mix yeast with warm water until dissolved and let stand 5 minutes. Add the milk mixture.
Separate the yolk and white of one egg. Add the yolk to the yeast mixture, but save the white for later. Now add flour to the yeast and egg. Blend well until dough ball is formed.
Flour a pastry board or work surface very well and place the dough in center. Knead until smooth. Return to large bowl and cover with dish towel. Let rise in warm place for 90 minutes. Meanwhile, grease a baking sheet and preheat the oven to 350 degrees.
Knead dough again on floured surface. Now divide the dough into fourths and set one fourth aside. Roll the remaining 3 pieces into "ropes."
On greased baking sheet, pinch 3 rope ends together and braid. Finish by pinching ends together on opposite side. Divide the remaining dough in half and form 2 "bones." Cross and lay them atop braided loaf.
Cover bread with dish towel and let rise for 30 minutes. Meanwhile, in a bowl, mix anise seed, cinnamon and 2 teaspoons sugar together. In another bowl, beat egg white lightly.
When 30 minutes are up, brush top of bread with egg white and sprinkle with sugar mixture, except on cross bones. Bake at 350 degrees for 35 minutes.
Makes 8 to 10 servings.
*(From 'Look What We Brought You From Mexico!') via Aztec Central  
Churros and hot chocolate, usually champurrado, a Mexican atole which is a drink thickened with masa,  and sweetened with pinocillo, are part of the festivities. One of our friends had never eaten a churro before, an anomoly in Los Angeles. He said, "It's like half waffle, half pancake". I always likened them to donuts. Donuts ribbed for her pleasure.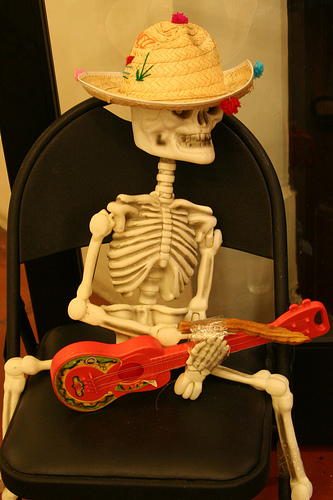 The line for churros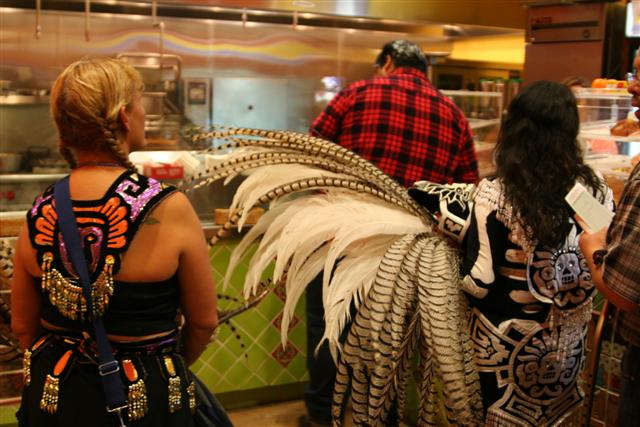 At some point in the evening, you have to stop for a more substantial bite. I was disheartened to see that my favorite place, La Luz del Dia de had changed hands and had a makeover complete with a new name. El Cielito Linda had a discouraging line. There are two "Margarita joints" across the lane from each other. La Golondrina is the better of the two.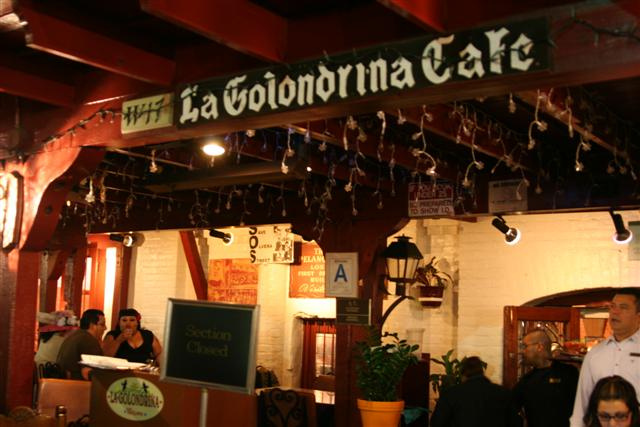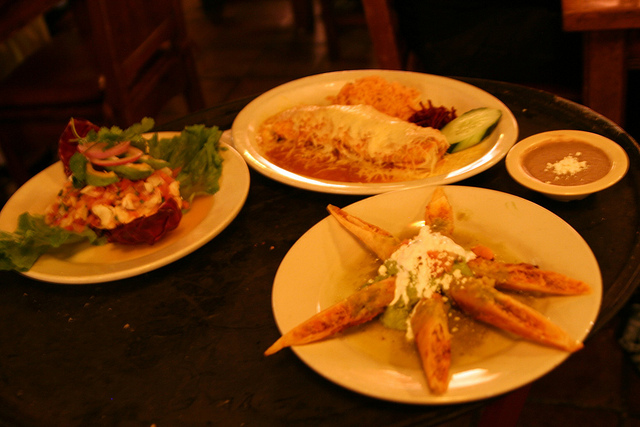 Even with the waitresses' insistance, I was hesitant to order something as touristy as taquitos, but they were stuffed with chicken and absolutely delicious. I could have ordered a giant mango margarita and fallen in a tourista stupor right there.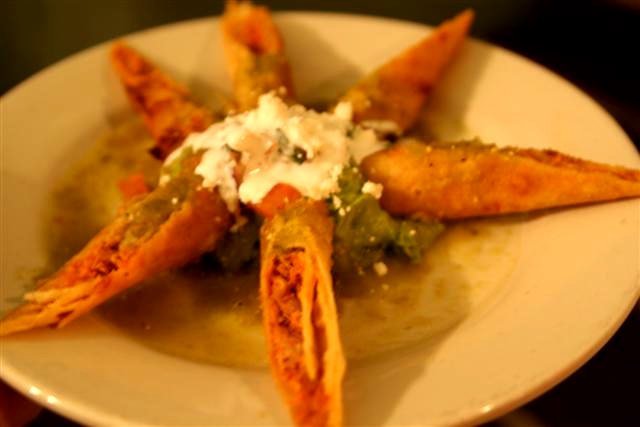 The shrimp ceviche was not so successful. The lime was so intense, it seemed like they left it marinating in the citrus too long. Is it possible to burn something that's not cooked with heat?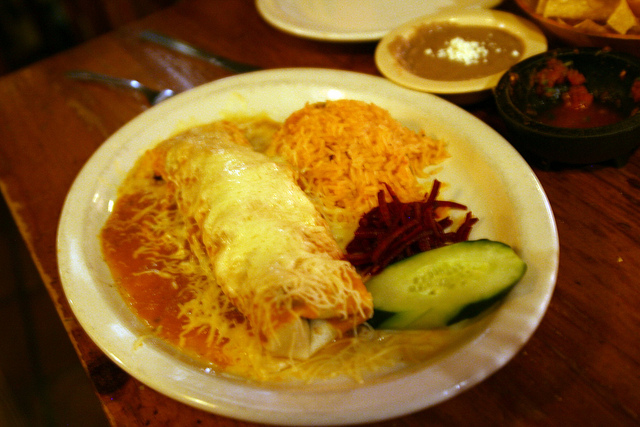 Throughout the year someone amongst the merchants has inevitably lost someone. The family participates in the procession, which starts with women in traditional dresses with marigolds in their hair carrying incense. It is disrespectful to photograph this part of the procession. Then come the musicians, calacas, and then anyone in costume who would like to join in.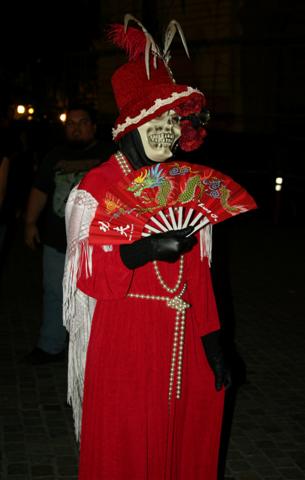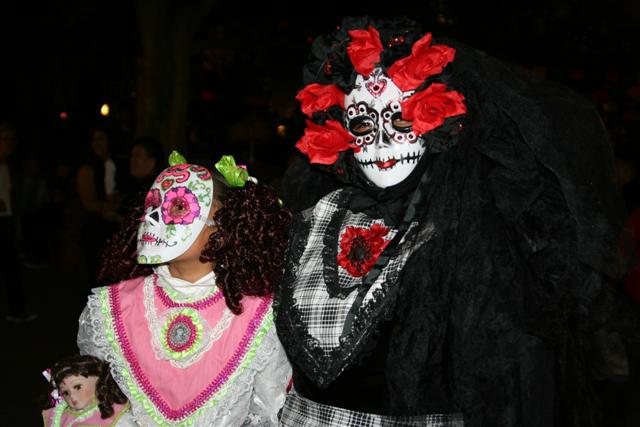 Usually the priest comes out and performs a blessing. This year there was a very elaborate ritual, with a blindfolded woman, specific circular movements and lots of burning and shaking of plants.
Aztec Dancers in full regalia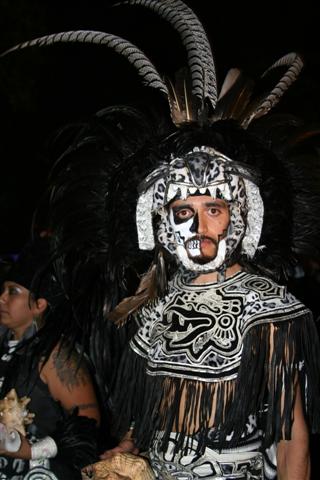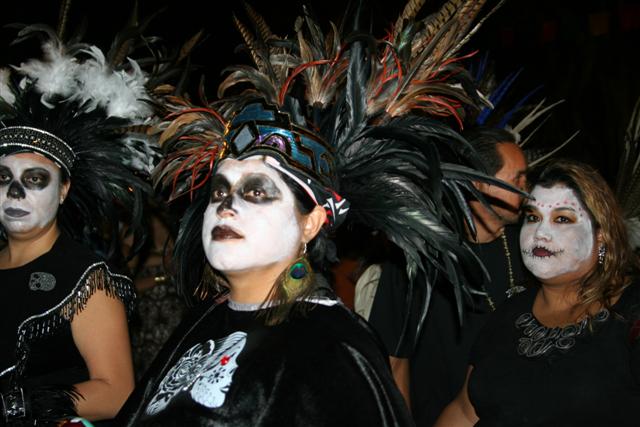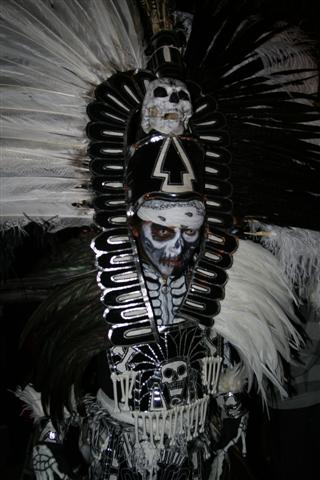 Live video of the Aztec Dia de los Muertos Dancers
The altar is a very important part of Dia de los Muertos. More on building altars here.