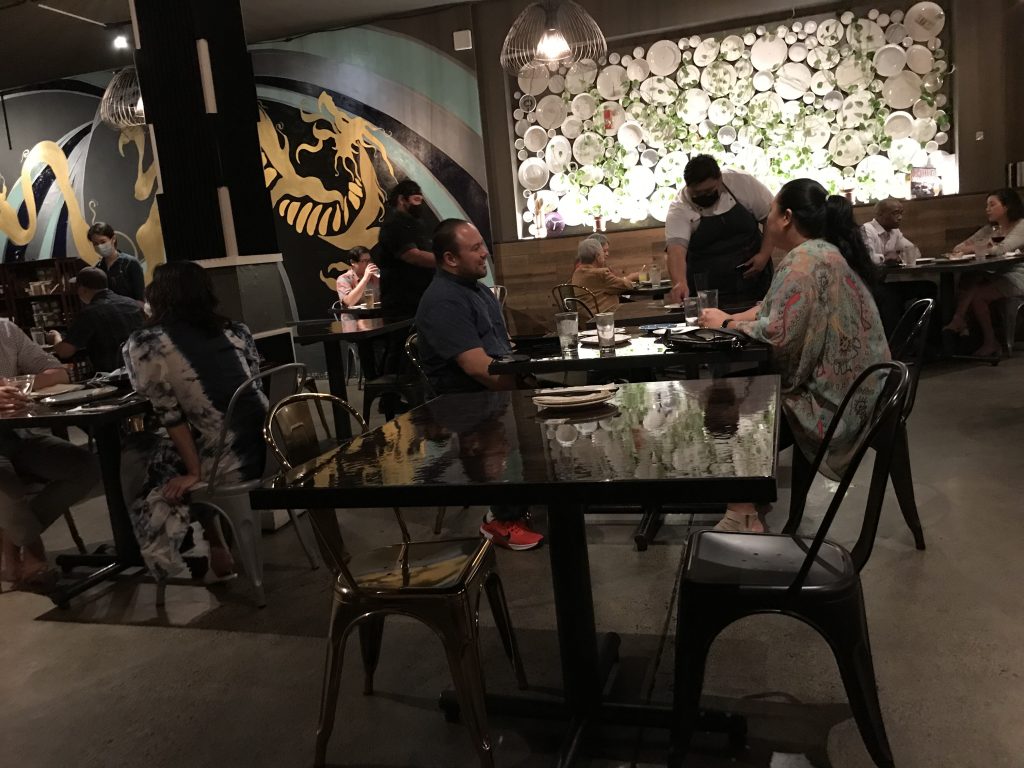 My nephew wasn't scheduled to arrive until the next day, so I went out to an indulgent, chef-driven 7-course tasting menu at XO that I thought would be too fussy for him. The ambiance wasn't fussy at all, with your standard cafeteria chairs and walls that looked like each one had been decorated by a different person altogether. The service was very friendly and personalized.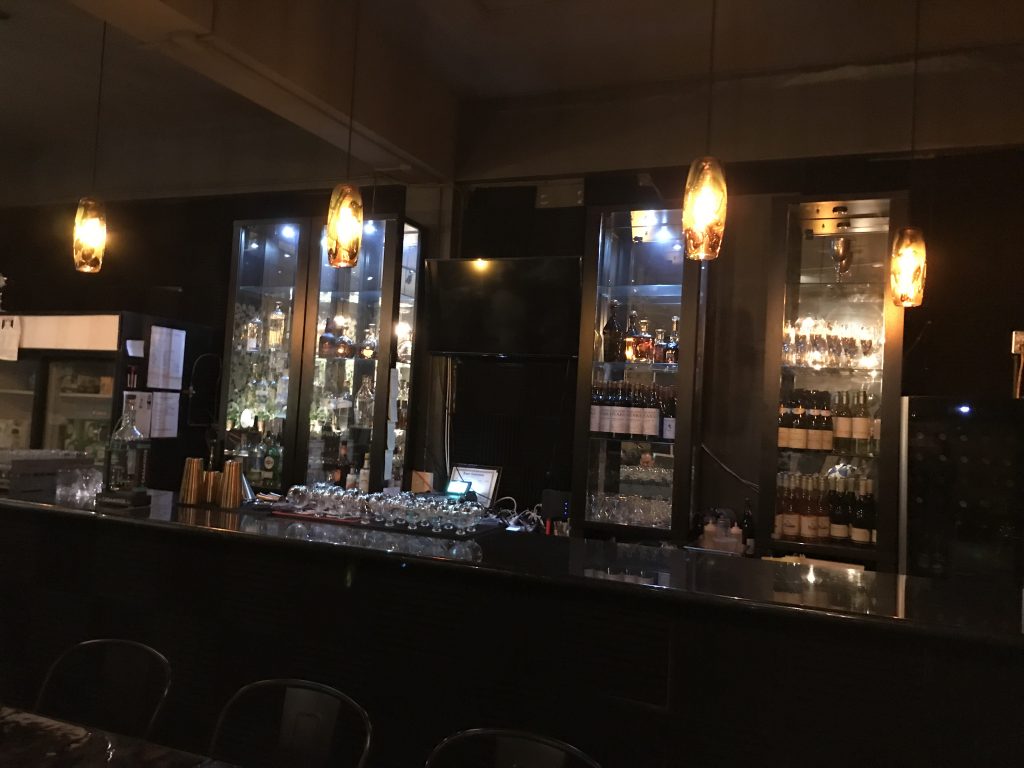 I ended up here because it had occurred to me that there might be such a thing as a foie gras Loco Moco in Waikiki. Maybe there is and I couldn't find it, because, seriously. Foie Gras Loco Moco. I did keep seeing Crispy Rice with Foie Gras popping up online, and it was on the tasting menu at XO. It was a $75 tasting menu, with some courses having either an upgrade or addition available for not that much more money. Like $3 to $8. The server discussed their cocktail menu with me, and although it was tempting, we decided that the Ube Lemonade would be way too sweet for me. I believe this is a Lilokai (Passionfruit) Margarita, but I can't remember exactly. Nonetheless, A+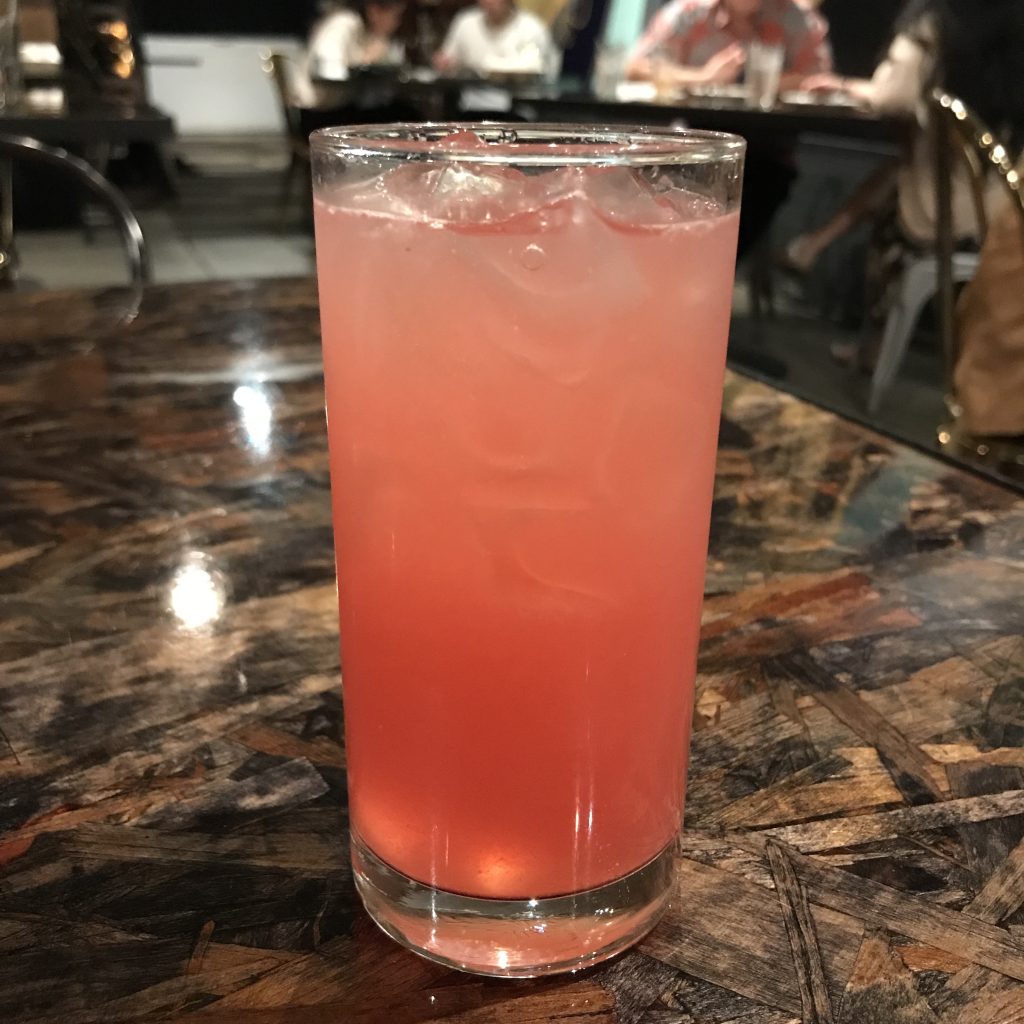 The first course was deliciously crispy fried chicken skin, an underutilized ingredient in my opinion. It was lacquered with an intense sticky sweet and sour coating that was a bit much for me. It seemed like it belonged on little pork ribs on a pupu platter. But points for a creative fusion of cuisines. B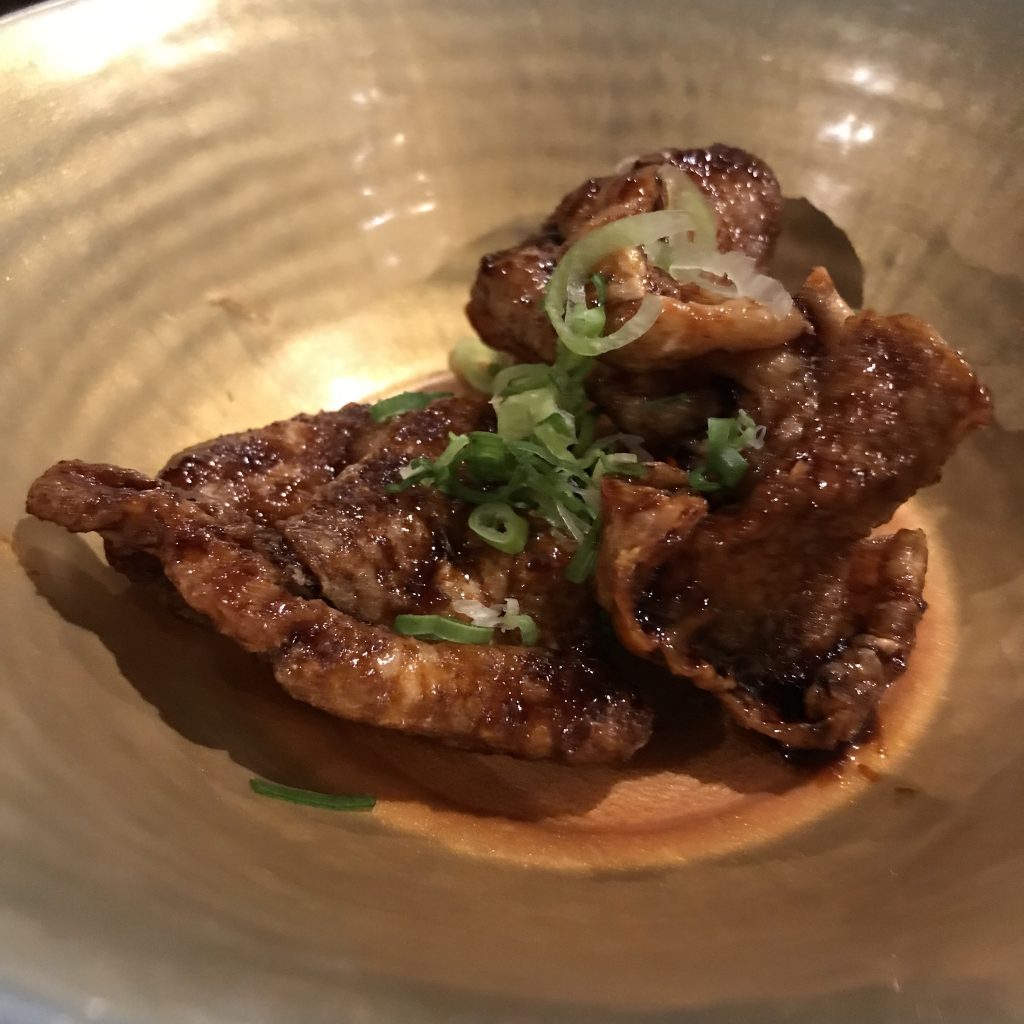 I added on a second app for $8. They started my meal out strong with an Oxtail Xiang Long Bao, or soup dumpling. There wasn't any soup (which is made by putting a gelatinized cube of broth in the dumpling), but that didn't matter, because it was fantastic. As I told my server, you can't really go wrong with oxtail. A+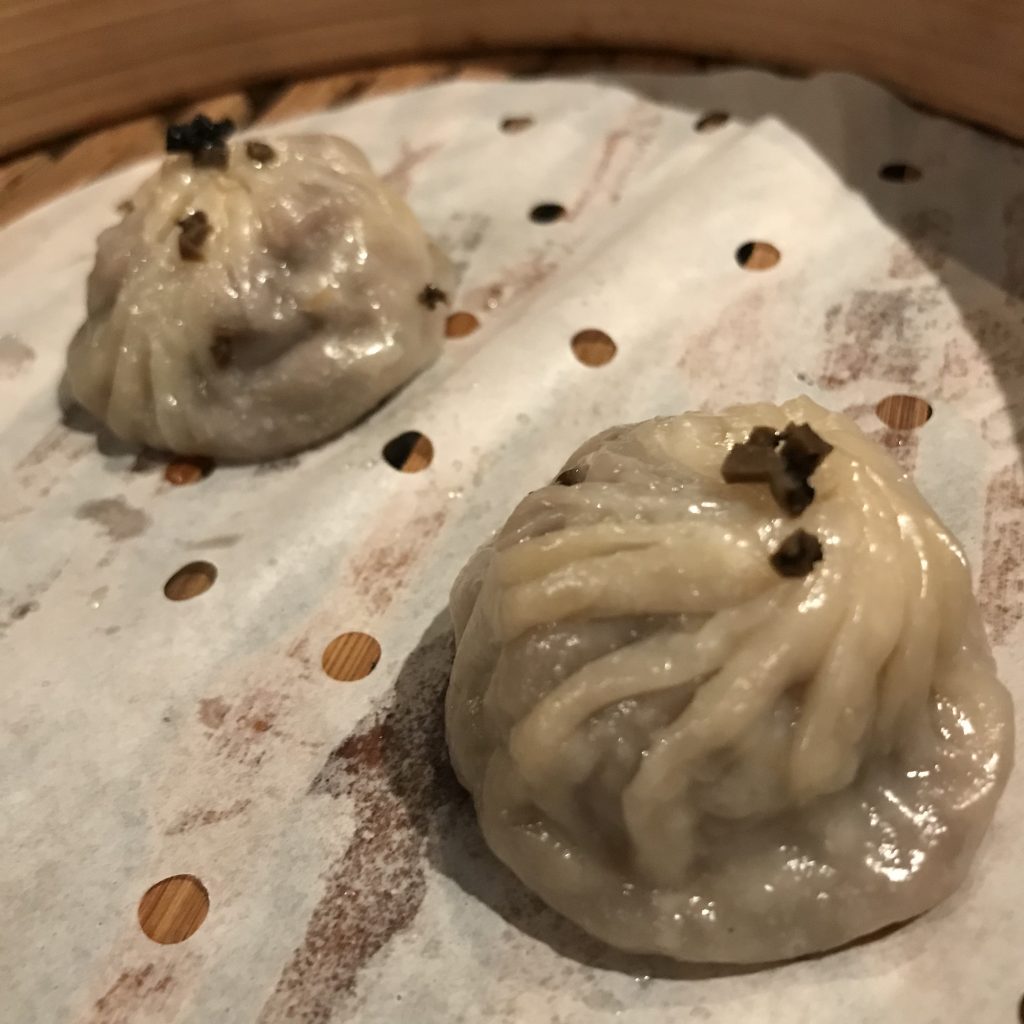 The second course was titled "Veg." Everything in this course was vegan and gluten free. The heavily Instagrammed Beet Lotus with Emulsified Chimichurri was gorgeous. Unfortunately, the timbale of beets beneath the halo of radish was bland and mushy, with more of the texture of sweet potatoes. I was disappointed. C+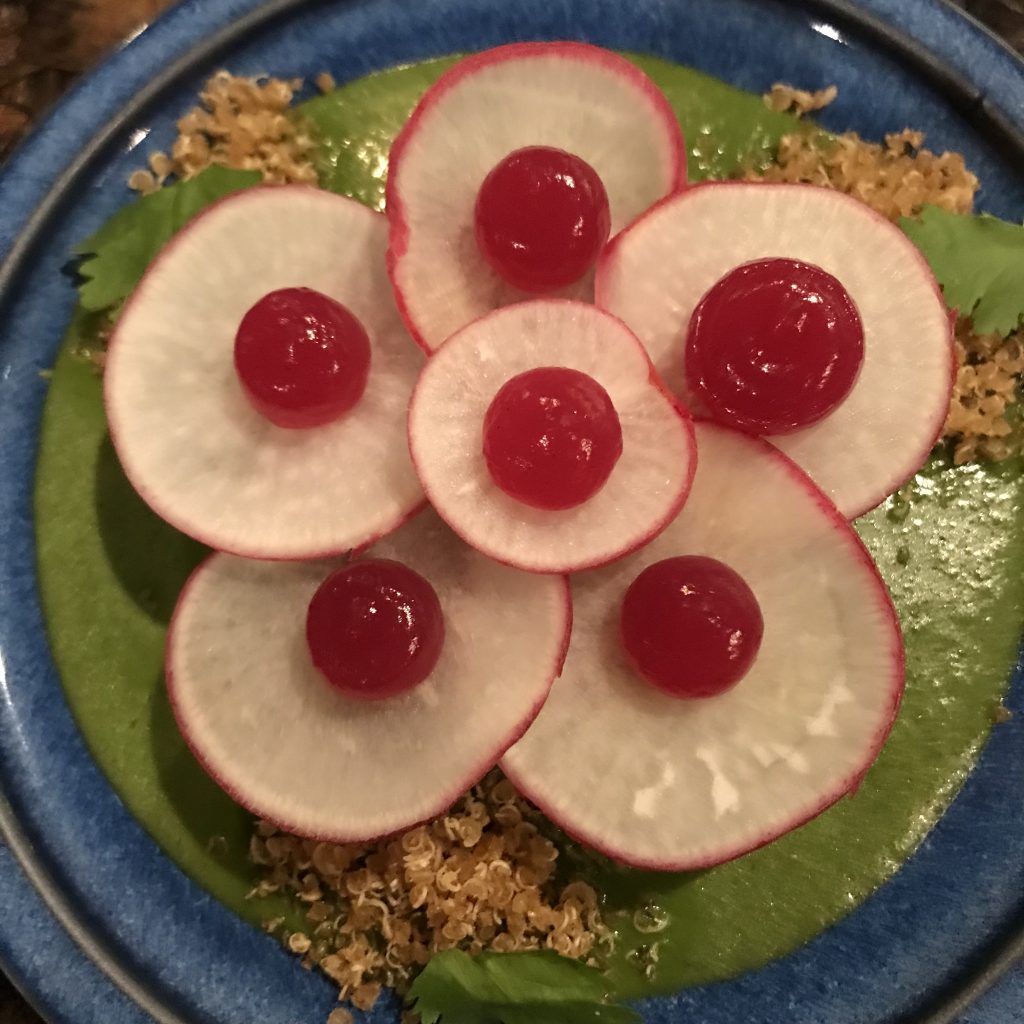 The third course, "Starch" offered a dish that didn't appeal to me–Seaweed Potatoes Gratin. For $5 I subbed it out with the dish I had come for–Crispy Rice and Foie Gras. Although the foie was small, I was able to get three nice, fatty bites, and it paired perfectly with the crispy rice. If I could have ordered this as a full appetizer course size, I would have been ecstatic. It occurs to me now that I might have been able to add on more plates at $8 a pop. I think I missed an opportunity. A+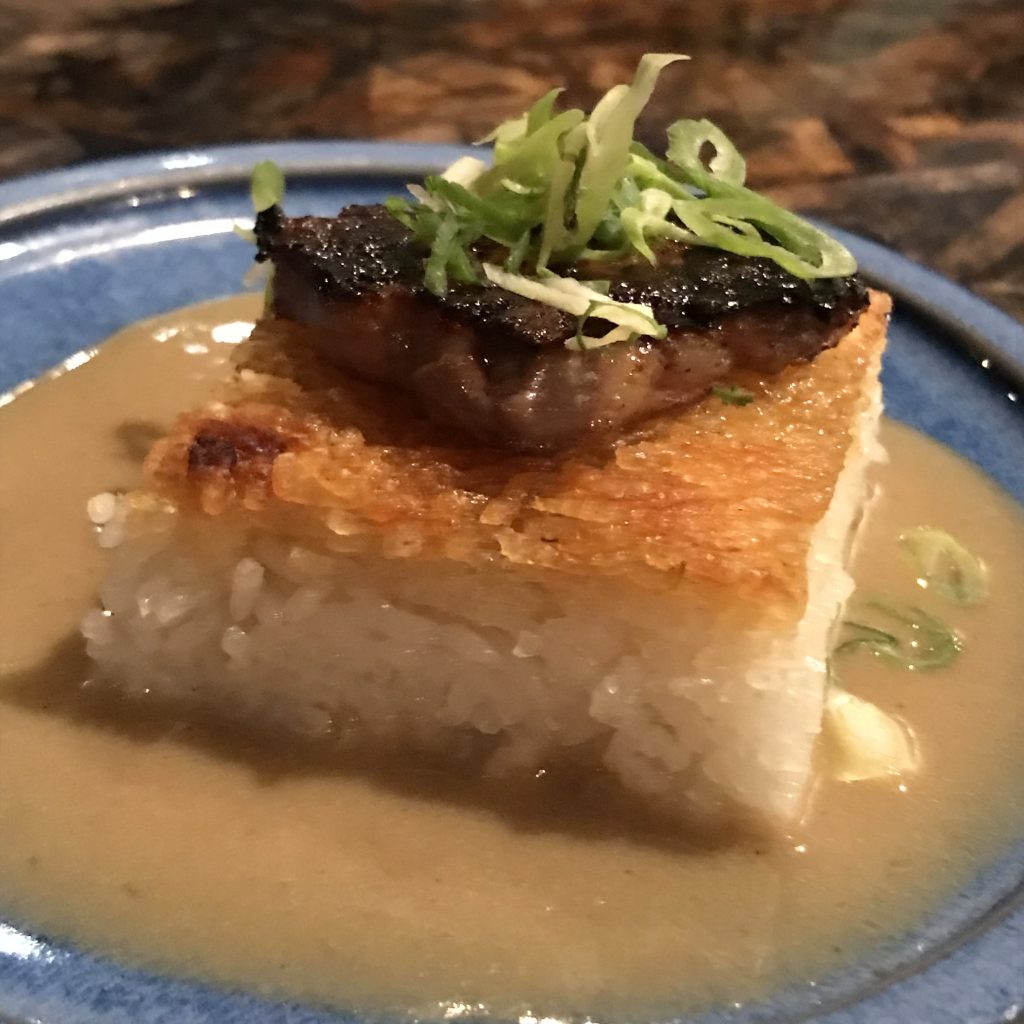 I was interested in adding the Herb Gnocchi with Arbequina (fancy olives) and a whiskey carrot puree. My server guided me instead toward the Mushroom Tofu Lasagne with Ma po Tomato and Crispy Tempeh. I expected the tofu to be crumbled between the sheets of pasta. I did not expect the tofu to replace the pasta. It looked so dull and gray I didn't even take a picture, which you know is not like me. And it tasted dull and gray; it was nearly flavorless. The waiter forlornly took away 3/4 of this dish, and I felt our relationship start to crumble. D-
Things started looking up again with the three protein courses. The Scallops were perfectly cooked. I wasn't fond of the Mussel Sinigang (A Filipino sweet-sour tamarind soup). But that is not their fault, because I am quite unfond of mussels. The Crispy Kale was purely decorative to me, like a parsley sprig. B.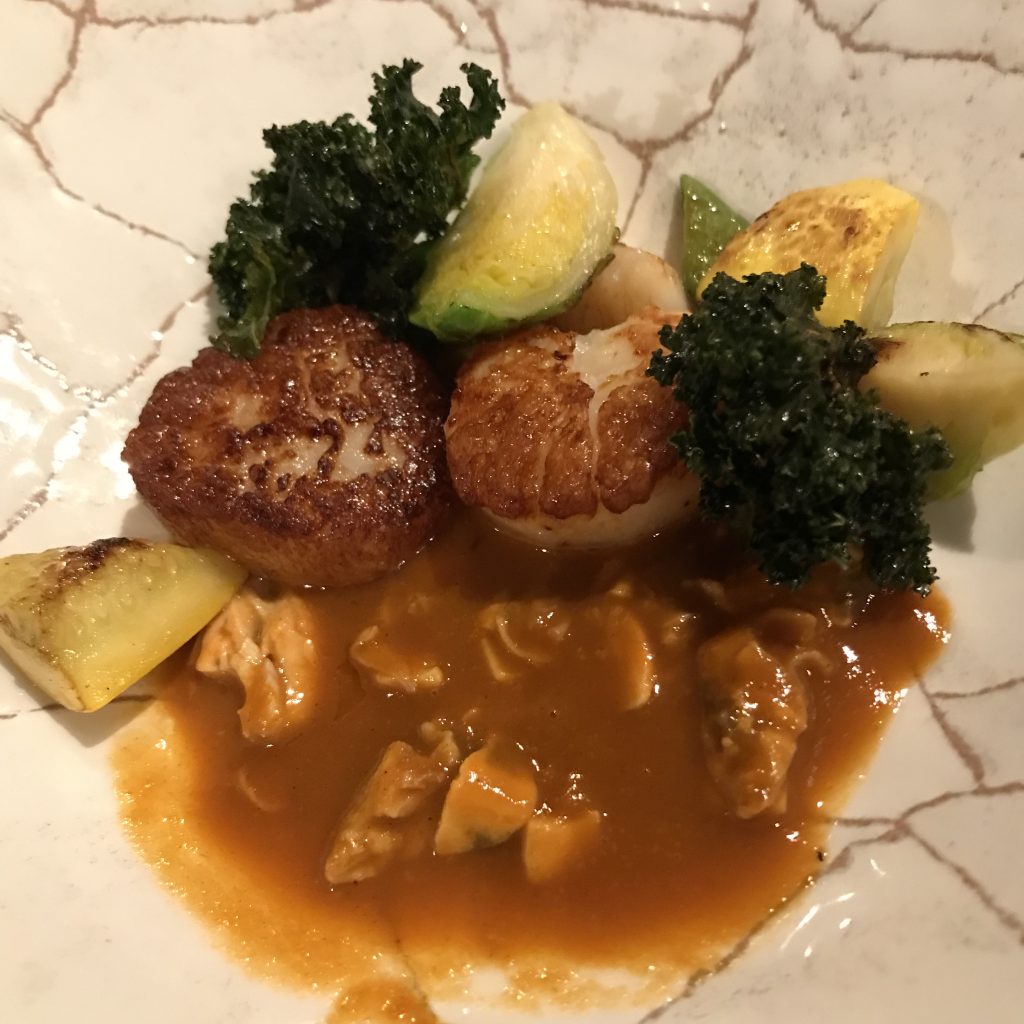 Their signature dish, a 4-hour braised Adobo Fried Chicken, was a boneless chicken breast of good quality, like Mary's in LA. It was probably Jidori. It was crispy and had a nice seasoning, plus a sauce made with a peppercorn Togarashi (a Japanese pepper, often used to refer to a spice mix containing the pepper). It was a hearty dish, and I was starting to get full, so I didn't finish it. This caused the waiter some concern, and he wanted to pack it up for me, but I was going back to a hotel. A-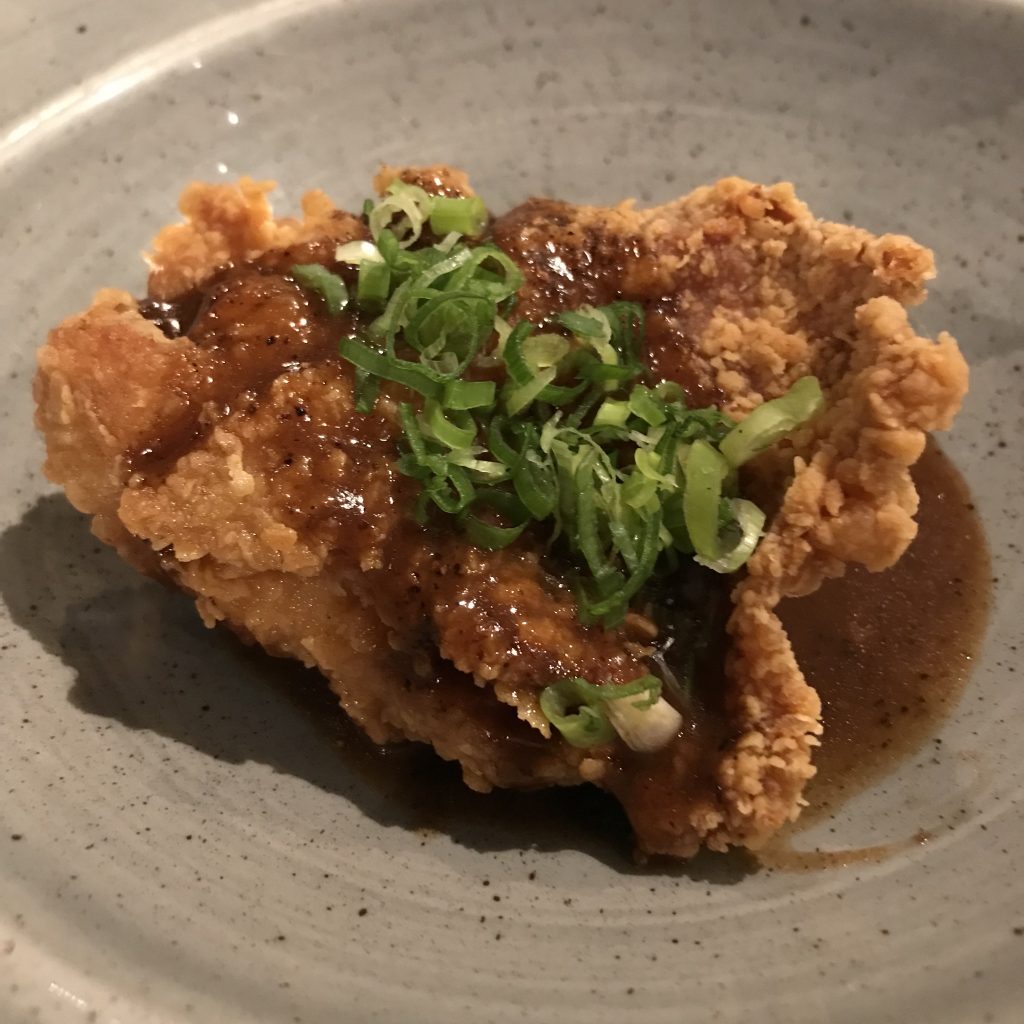 The final protein was a Kalbi Pork Belly Ssam, with a Gochujang Aioli (Korean chile paste). A Ssam is usually something vegetable wrapped, but again we had the timbale. It was dense and hearty. Although it was meant to taste like Korean Kalbi, it still reminded me of Kahlua pork. It was just too much for me to eat, but this time I let the waiter pack it up in order to avoid an incident. A-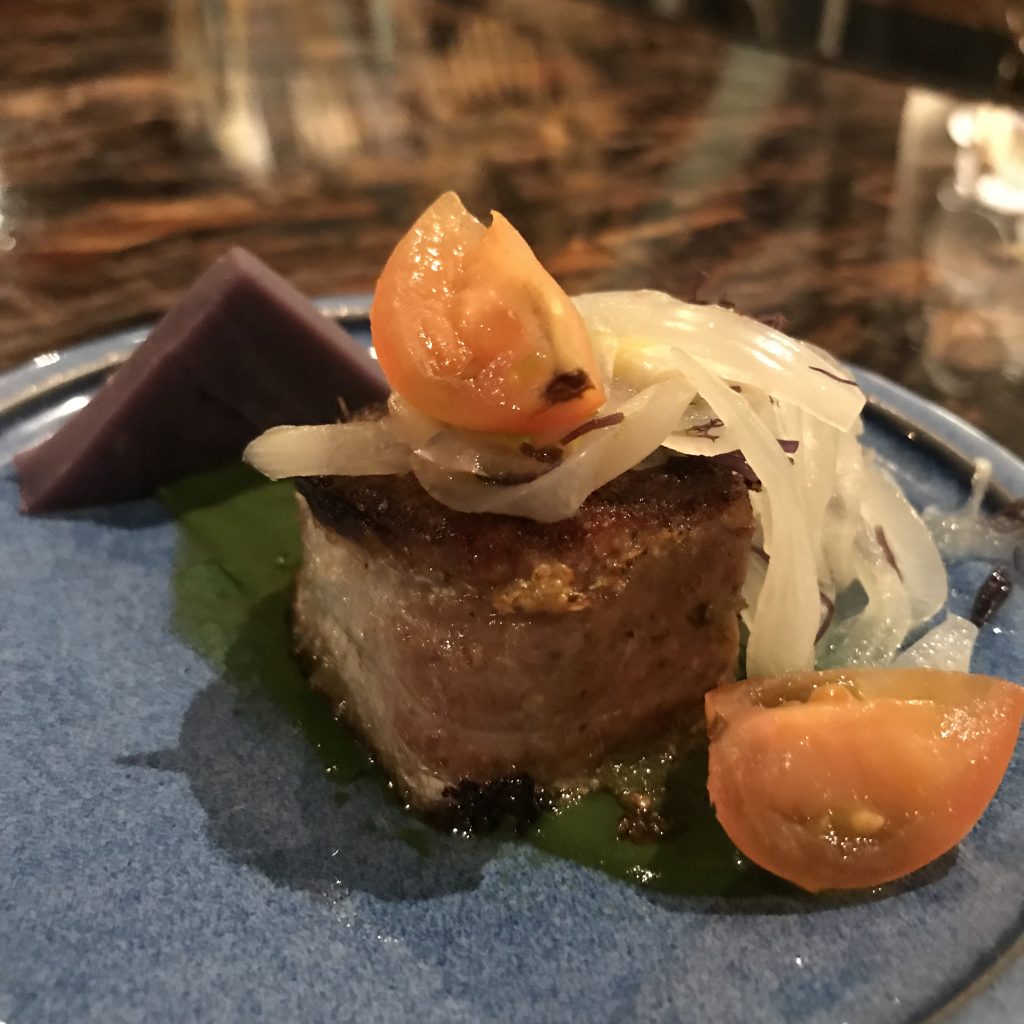 In spite of my full belly, their signature dessert, Fluffle of Brown Butter Bunny Butter Mochi, seemed small and not too filling (Wafer thin!). There was a cute little chocolate poop behind the bum. Rabbits actually poop pellets, but why get all pedantic about a rabbit-shaped confection? It was absolute perfection. Brown Butter is such a classic American flavor. Combining it with mochi was the pinnacle of fusion genius. I can see why it is so popular. Again, it occurs to me, I probably could have ordered a second one to take home. I'm just so used to eating whatever the chef gives me on a tasting menu and not making a fuss. A+++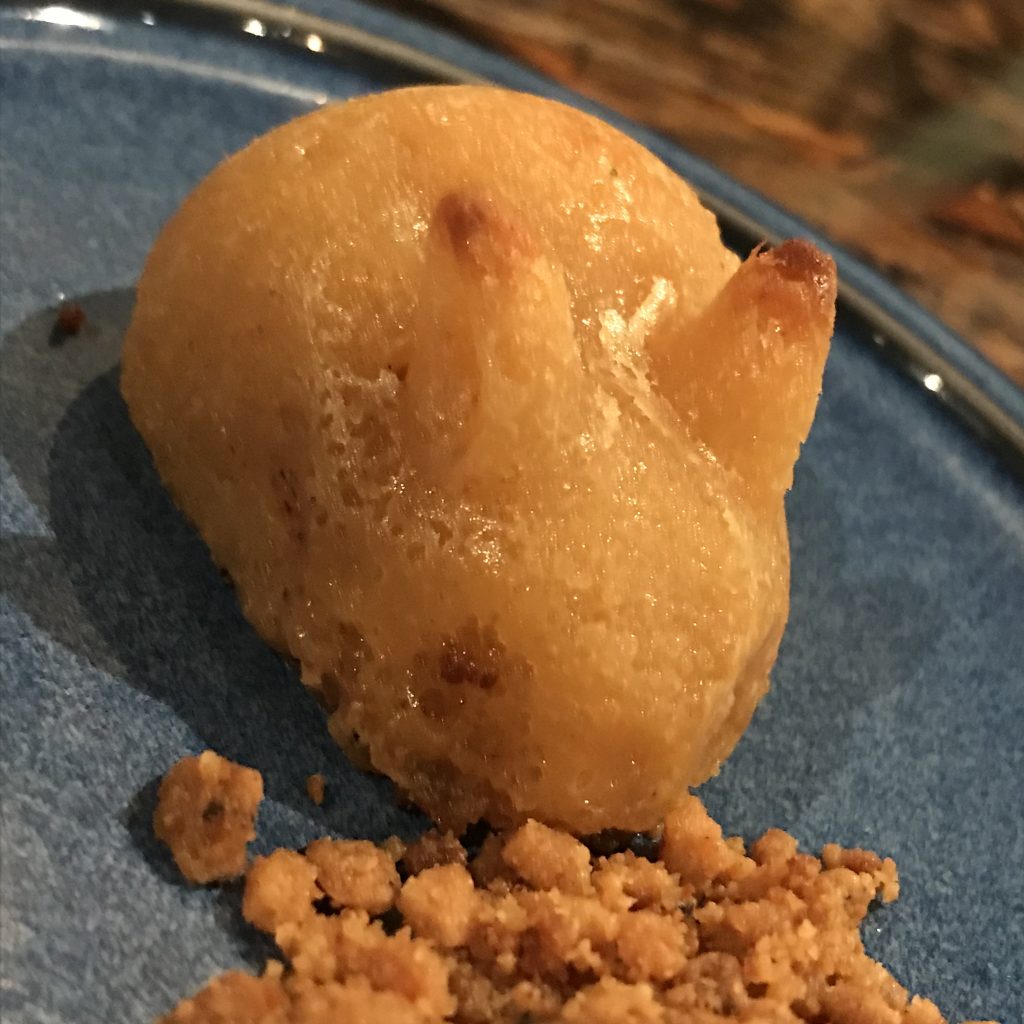 It was definitely a mixed bag. There were a few dishes that would have made for a better meal had they been left off the menu completely. But the highs were very high. The restaurant is relatively new, so maybe they just need to find their legs. Vegans rave about the place, so maybe there was less seasoning on the night I was there. Or maybe vegans prefer less seasoning?
The mission of the restaurant group is to provide opportunities for chefs and restaurant workers to be able to collaborate and experiment more, feel supported, have opportunities for training, and better working conditions. Chef/owner Kenny Lee has hopes for "a massive variety of different concepts that are new and unproven." XO wants to take risks and move Hawaiian food into the future. XO seems to be a step in the right direction.