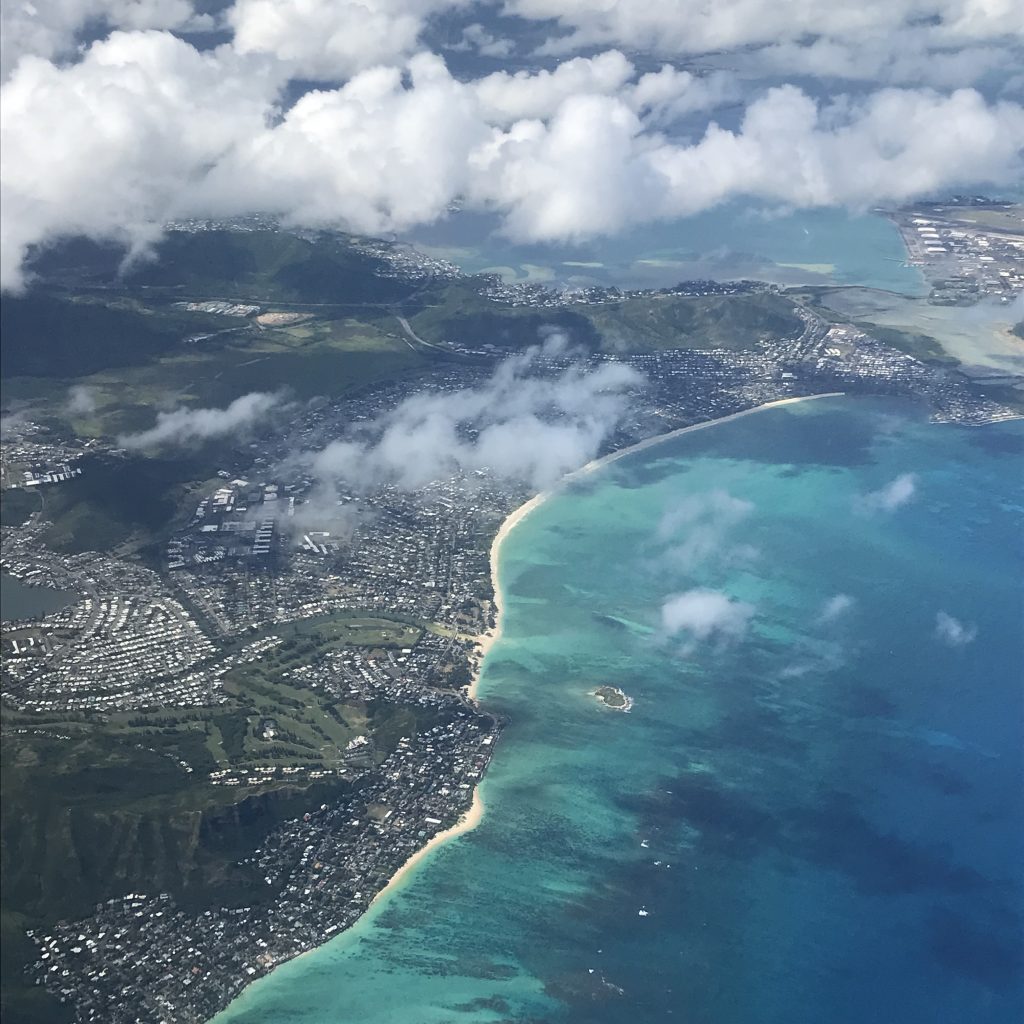 I promised my nephew that I would use some of my inheritance to take him on a trip. I invited him to Cancun, but he wanted to go to New Orleans. Then he called me out of the blue two weeks ago and invited me to Hawaii! The RT airfare was only $199, so Honolulu it is! The hotel I got was only about $1100 for a week, but then I had to upgrade to get two beds (for obvious reasons), and the add-on "resort fees" are highway robbery, but standard, so the room ended up being 2 grand. But when I got here yesterday–what a room! Worth every penny! The view of Diamond Head is breathtaking, and I even got upgraded to a "partial ocean view," which is a very flexible term here, but the bit of blue when you look to the right off the balcony is nonetheless wonderful.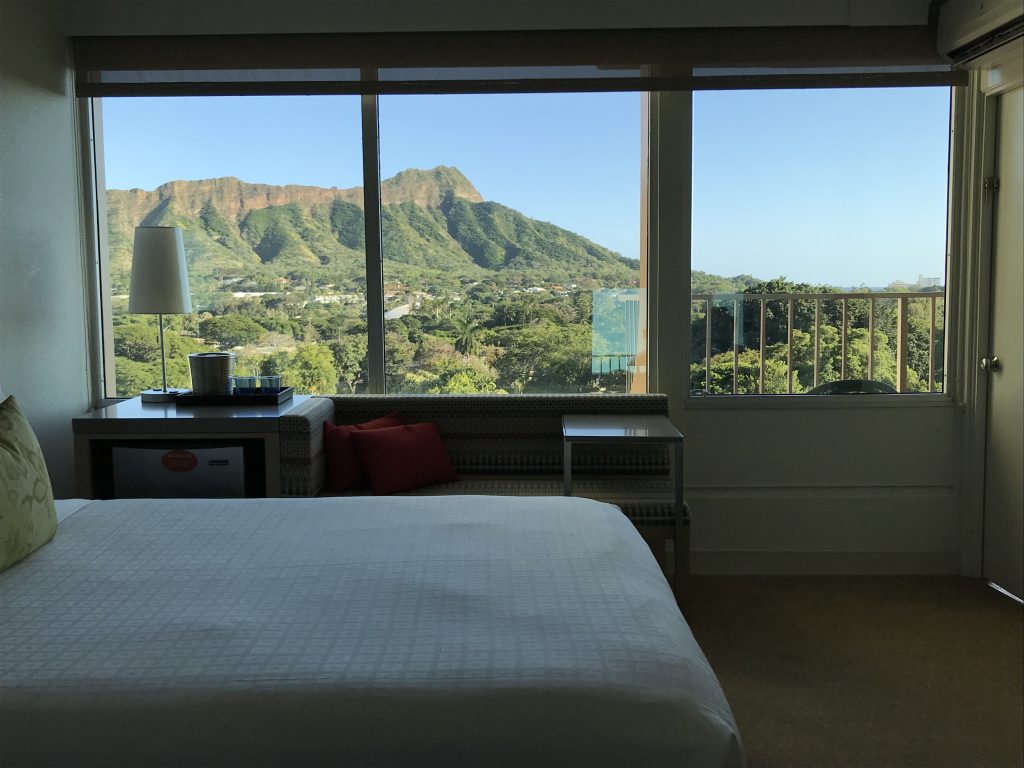 It's a bit like a Holiday Inn that has been hipsterized. The hallways are sprayed with an overly sweet air freshener that smells like the ones they use in ladies' bathrooms. Otherwise, it's super clean. No bugs. The workers are incredibly nice. Our room overlooks the bar and pool so it can be a little noisy. but by 10 pm it's so quiet you could hear a pin drop.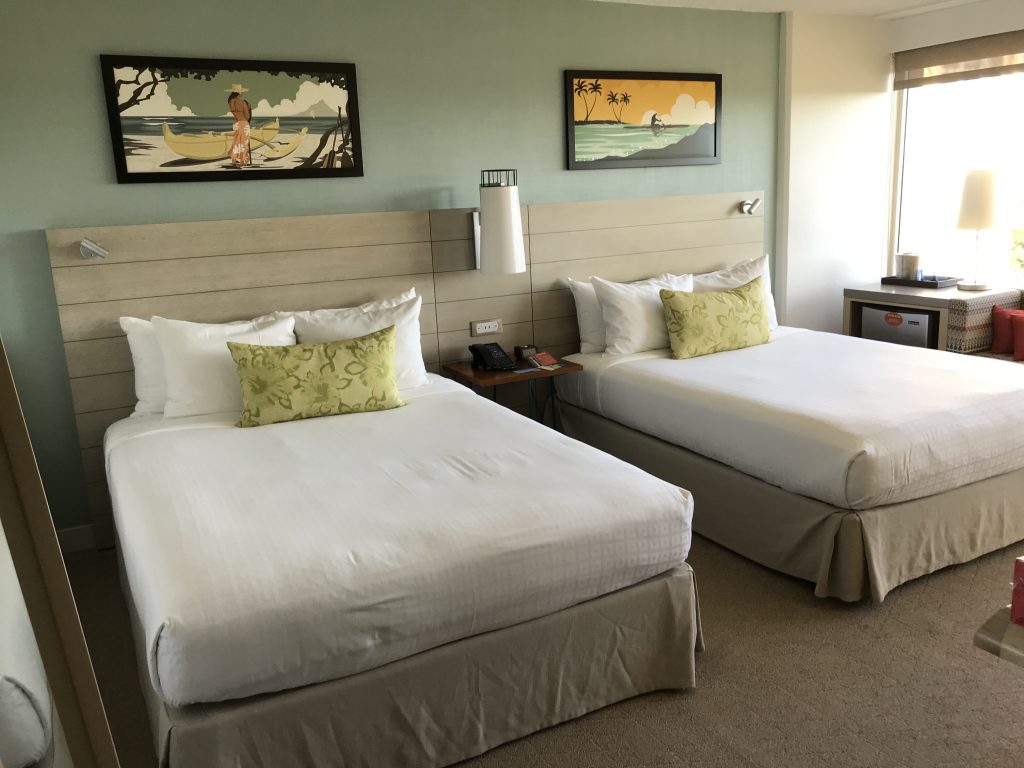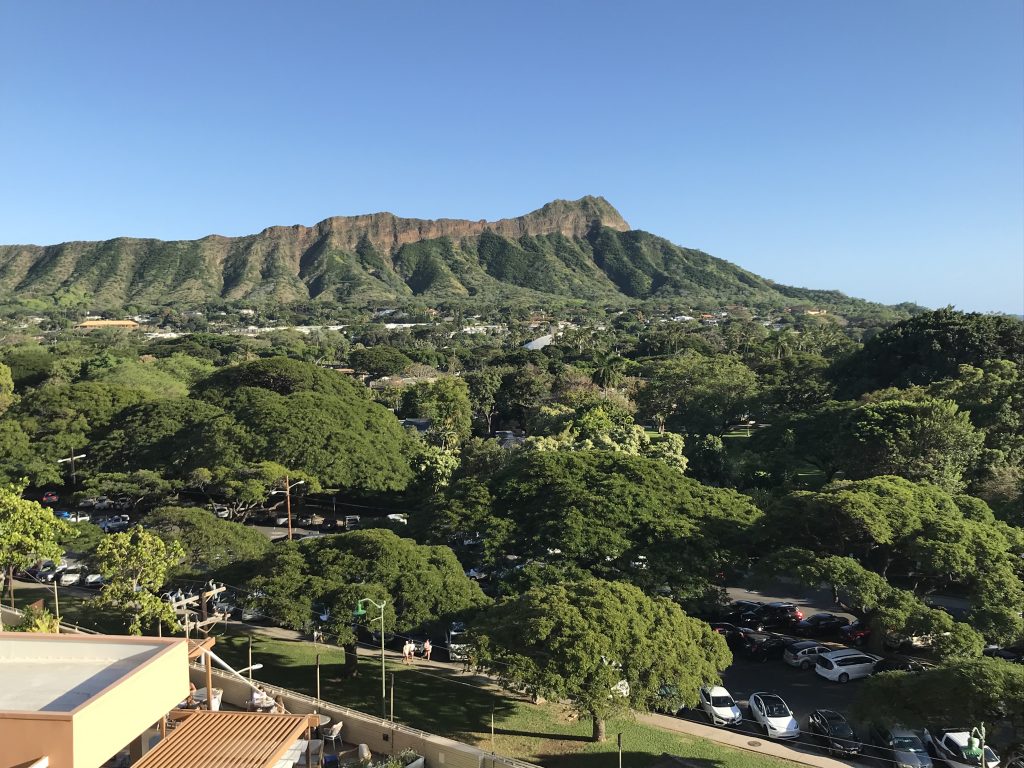 Here's a little story…I use a shopping service called Shipt. I was using them this week to send stuff to my brother's care home, and to a friend, and I also checked to see if they deliver in Hawaii so I can save money there. In other words, I was changing the address a lot. So, the other day I placed an order at Target. Bob said get ALL the drinks so I ordered enough for weeks. Then I ordered sooo many snacks for on the plane.
The shopper and Bob were texting back and forth because the guy couldn't find our house.
Bob says, "You're on Mariposa Street?"
The guy says, "No, man. I'm on Kapahulu Avenue."
Bob shouted to me, "You sent our groceries to Hawaii!"
I convinced the front desk at the hotel to hold the SIX 12 packs of diet coke and EIGHT cases of La Croix, along with a big bag of snacks until I arrived, and I told the delivery guy to just take the perishables home.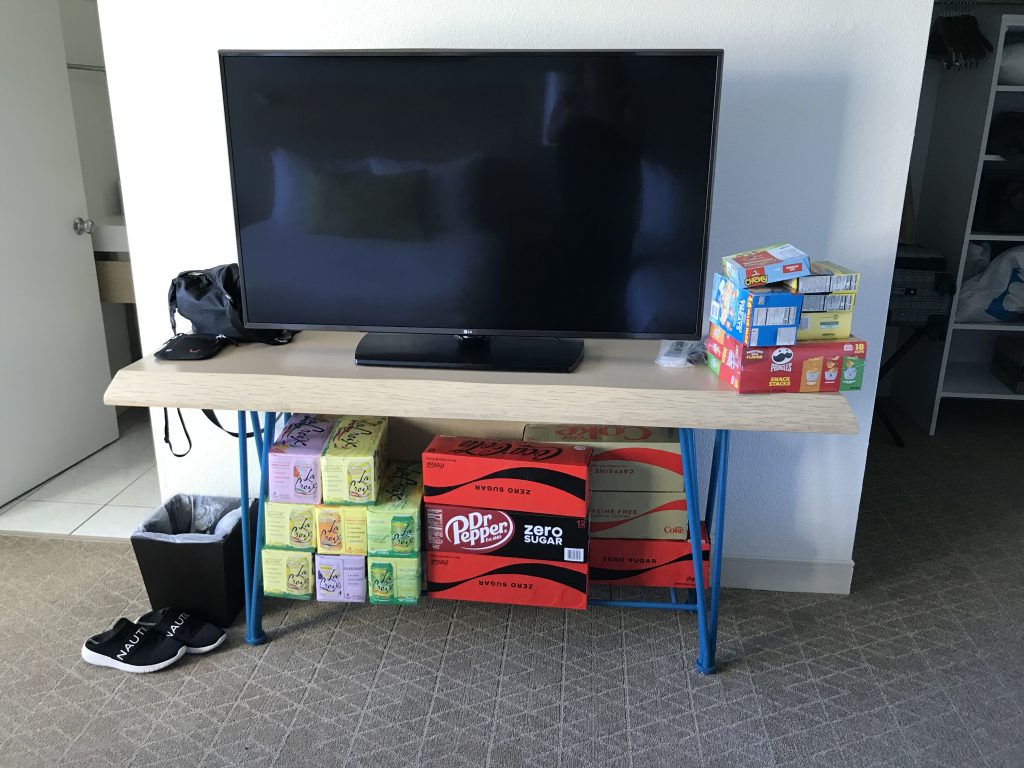 So we have plenty of drinks. Maybe I will wander the streets handing out Diet Cokes. There will be legends about me.
"…and on a very quiet, moonless night, you can still hear the clanking of her cans…"
I often ask taxi drivers on the way home from the airport to stop at their favorite spot, and I will buy them lunch. My cabbie wanted garlic shrimp, a specialty of the island.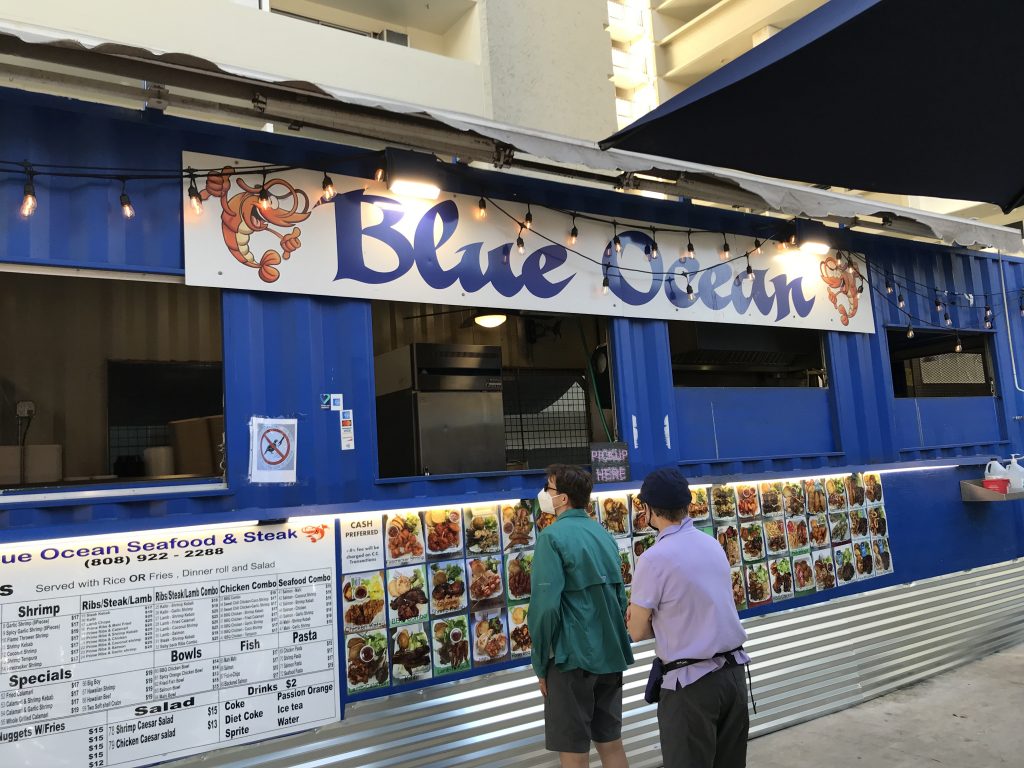 Everyone here is so fuckin' friendly! They get really excited to learn you just arrived, or that it is your first visit, in spite of the fact they must hear that a million times a day.
I tried an island specialty–shell-on shrimp with a creamy garlic sauce.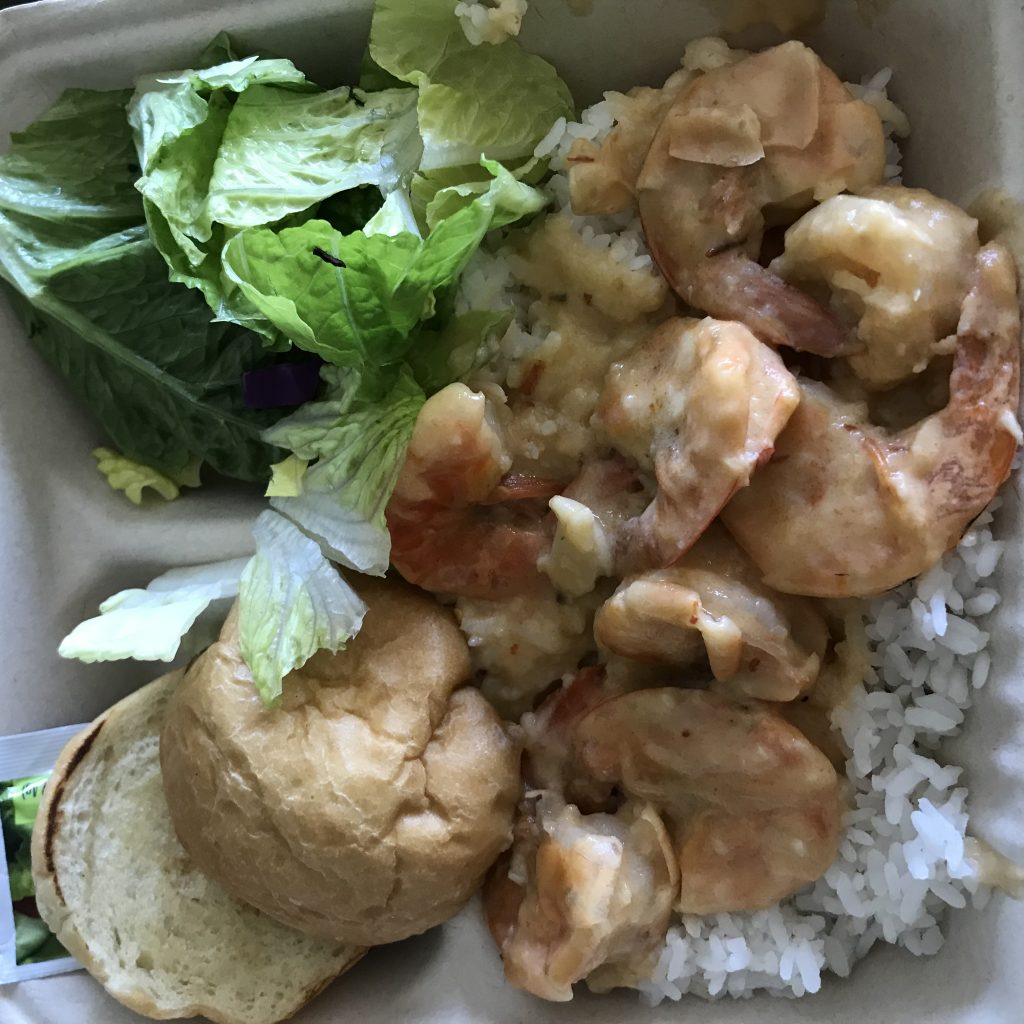 I was disappointed to see the "tempura shrimp" looked like fish sticks. I was so wrong. It was so hot you had to hold your mouth open after a bite, and the shrimp was so tender as if barely cooked.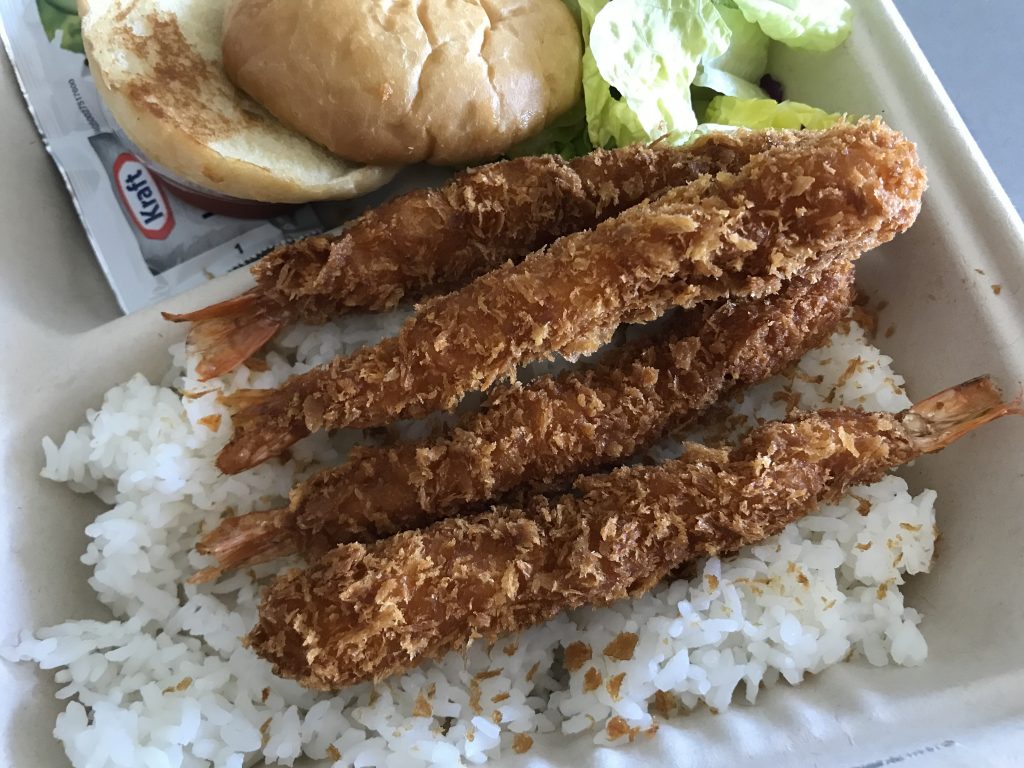 …and the first thing you have to do in Oahu, is get a Dole Whip!