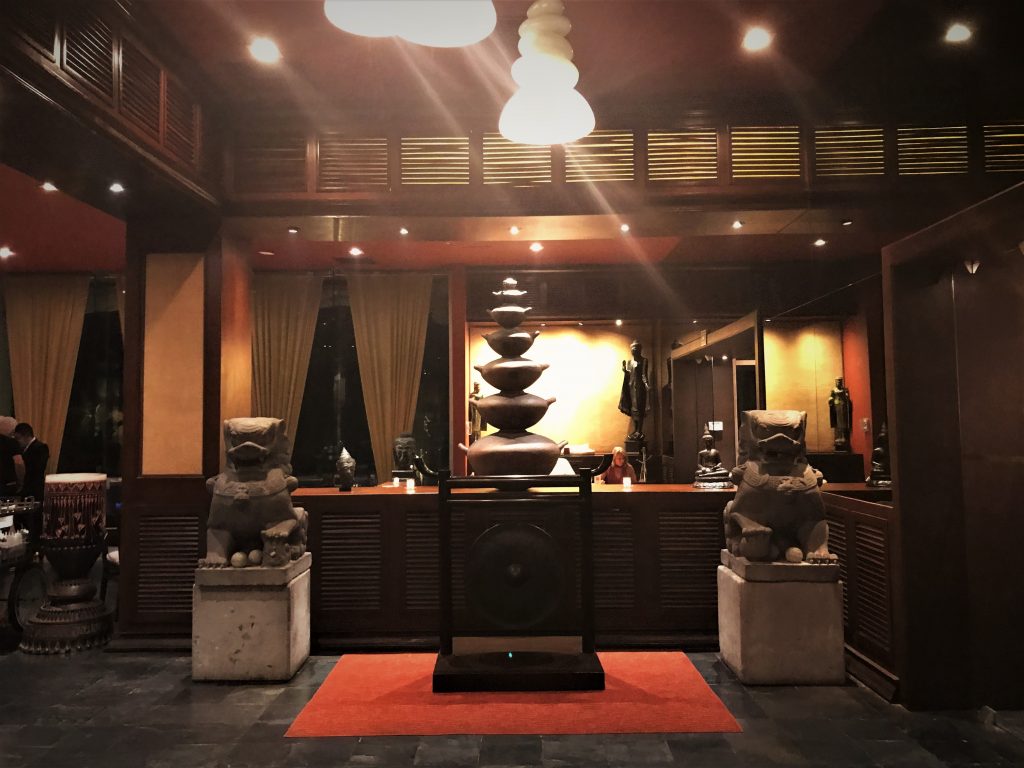 Vidante Resort had an assortment of international restaurants that I viewed with a jaundiced eye, but you can't eat tacos 24/7 (or CAN you?). We called for reservations, since some restaurants were only open on certain nights, and some had closed due to Covid. We ended up with GONG, an Asian-themed spot. A large part of this vacation is tram-riding and walking and trying to figure out where you are.
Walking, walking, walking…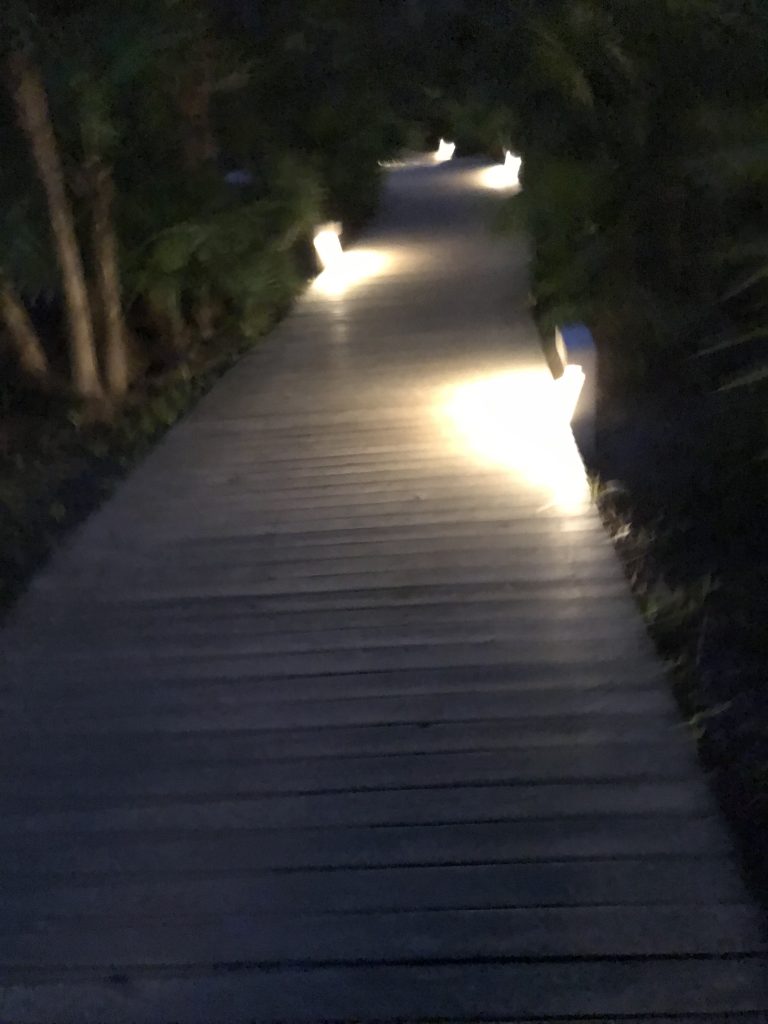 Where are we???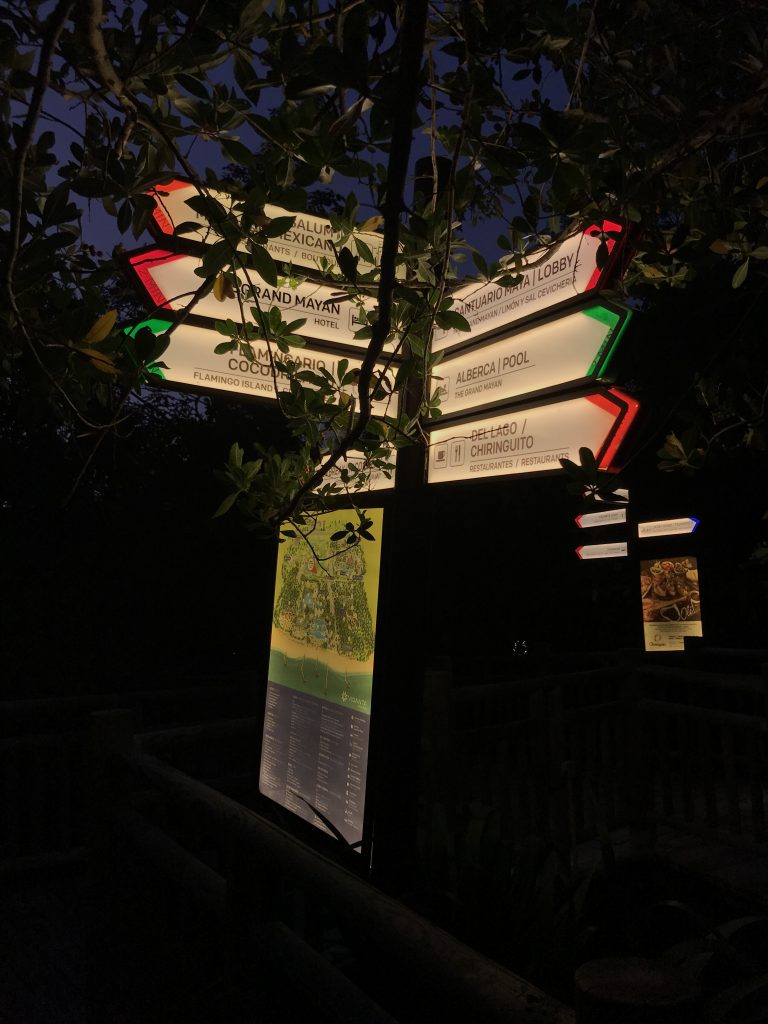 We were told the restaurant was above the boutique, so we got in the elevator and pushed the button for the second floor. It was just a bunch of offices and their call center, with operators busily working in windowed rooms. There was no third floor. So we took the stairs down, and there it was! It was on the 1 1/2th floor maybe?
GONG is superfancy and decorated with a lot of Buddhas. We had a lovely table in the corner watching the kitchen, and I got to sit on the banquette. I was excited about the dim sum, so we decided to order a bunch of appetizers and see if we were still hungry. Then this guy appeared in his leather apron and leather gloves.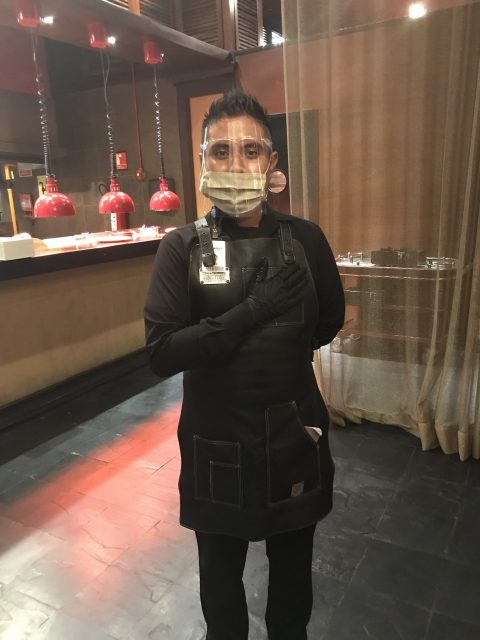 I said, "Bob, this man has come to kill us."
Bob assured me, "I think he is here to make cocktails." not wanting to cross this man, I ordered a lychee margarita.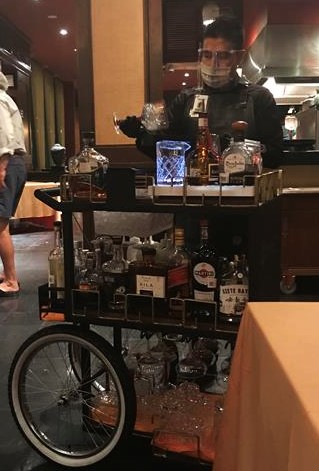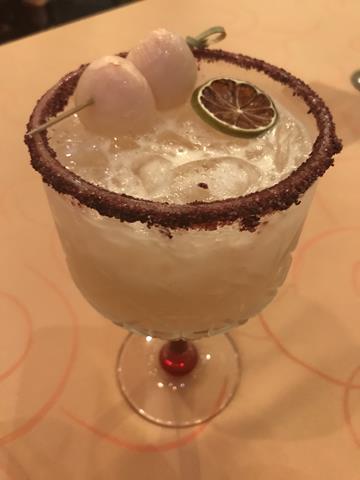 It packed a wallop, and even only drinking about a third of it between the two of us, I had a pretty good buzz going. The food arrived and it was awesome. These dumplings were filled with short ribs and a little hoisin sauce. The combo of richness and sweetness was inspired and made one dumpling perfectly delicious and gorgeous, but you couldn't eat too many of them.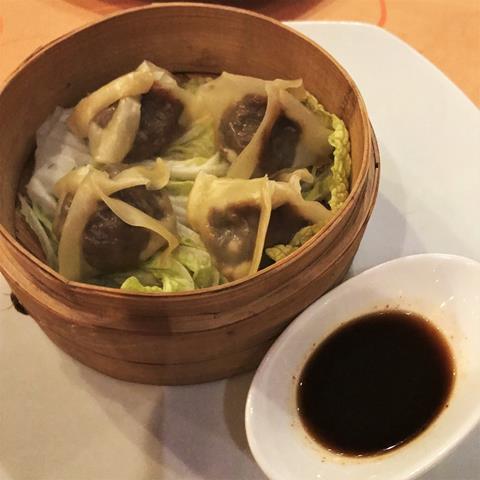 This was not true of the shrimp and pork pot stickers, with a kiss of ginger and garlic in a paper thin wrapper that was almost like a crepe. I could have eaten them all night, and in fact, I ordered some to go for the perfect midnight snack.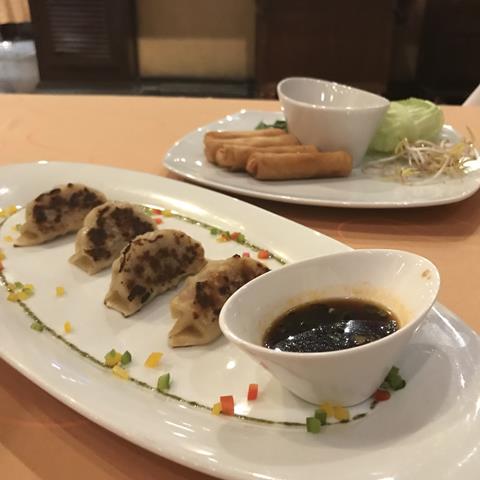 Bob loved his hand roll, and we rounded out the menu with tempura shrimp and Vietnamese Spring Rolls. We definitely didn't need to order main dishes.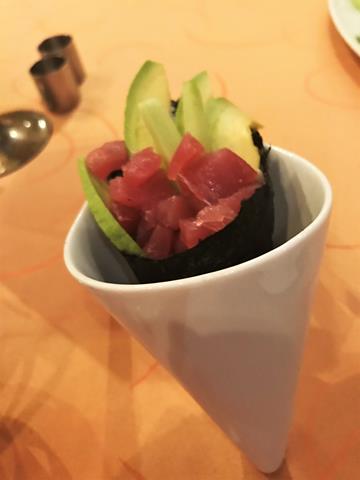 We did decide to continue with our prudent consumption of alcohol and sugar by splitting an irresistible-sounding cacao and ginger mousse/creameux with macadamia nuts. It was served with vanilla and ginger ice cream. A lovely finish.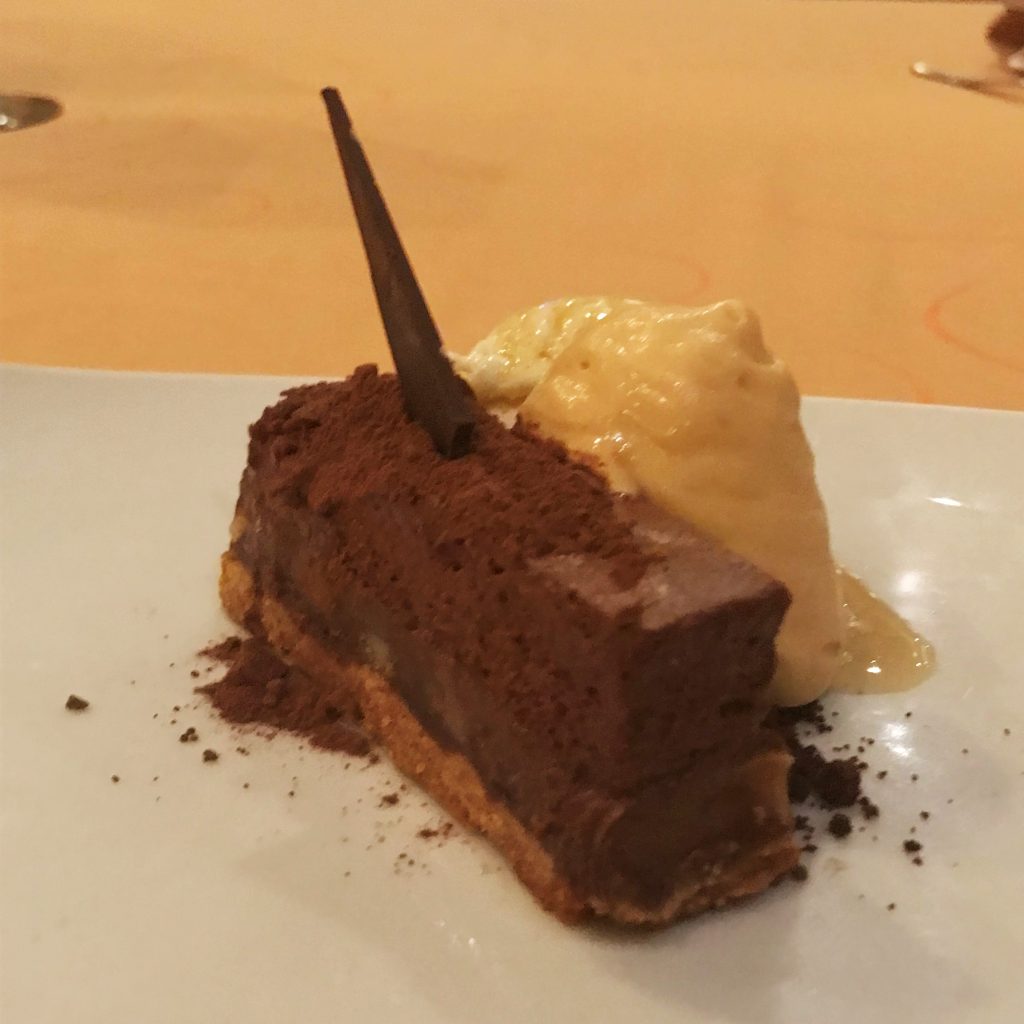 The pools looked dreamy and inviting with the soft lighting and without the crowd.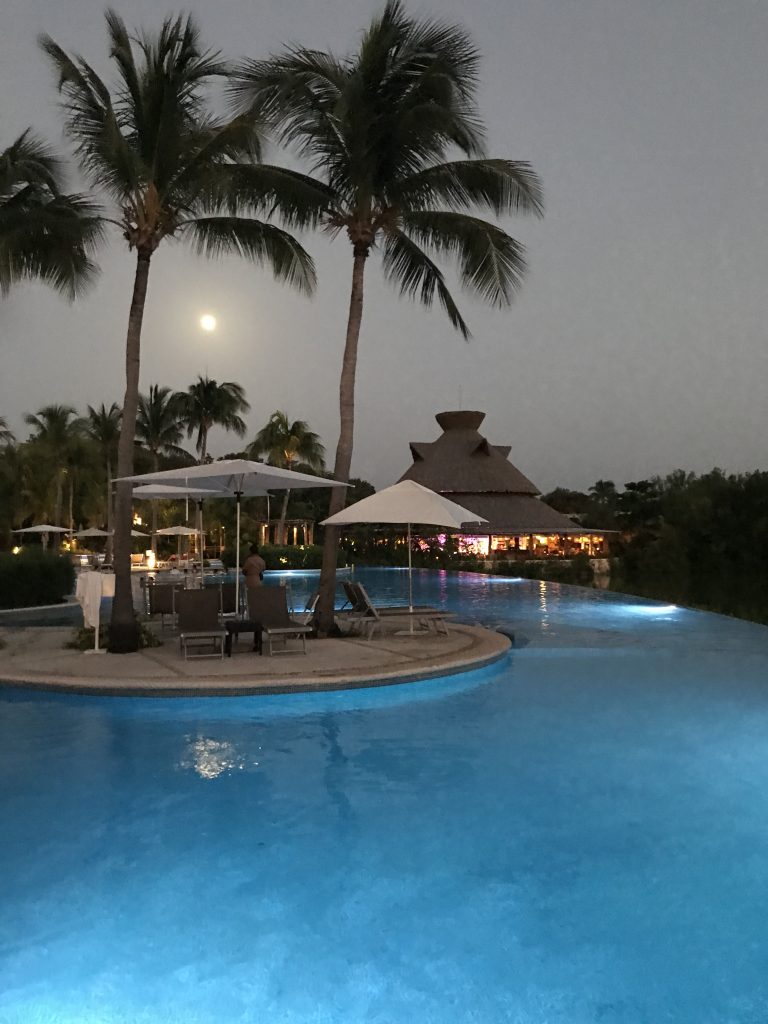 Too inviting for me to resist. I had foolishly ignored someone's advice to always wear a bathing suit, but that never stopped me before. Especially after a lychee margarita.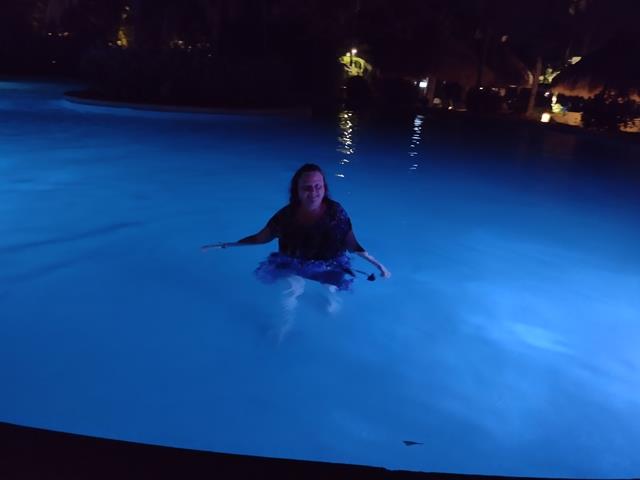 At this point, I was about ready to sign up for a time share.
/