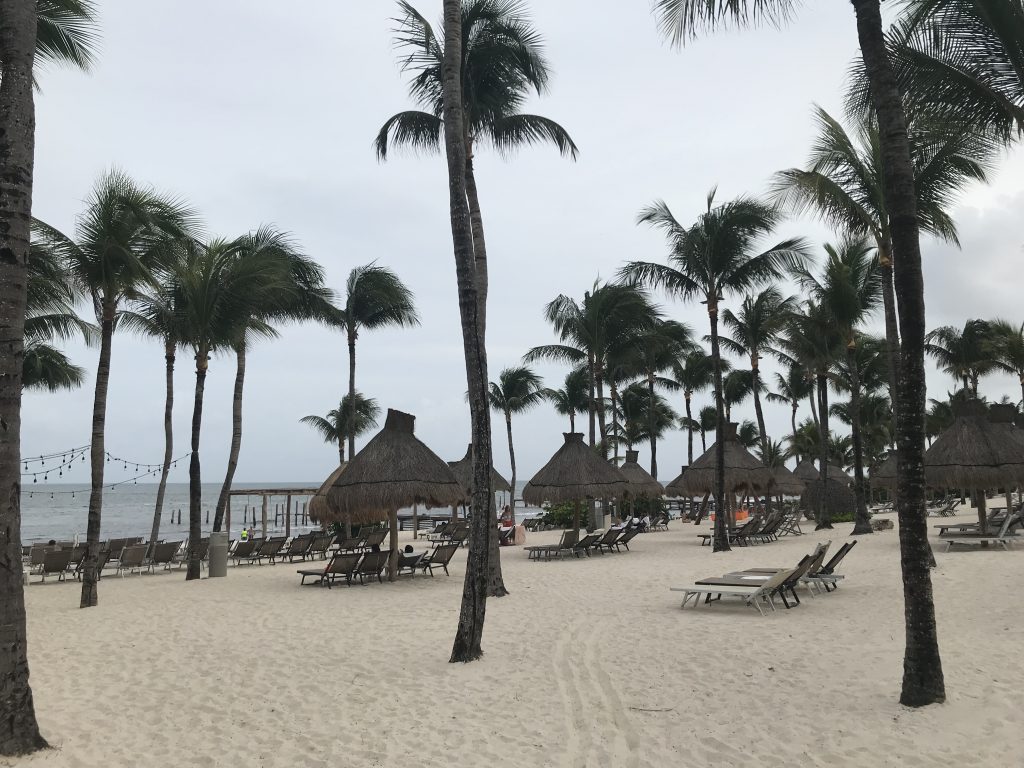 I had booked a couples massage for us, and we woke up less than an hour before the appointment. We had to rush and then take two trams and walk a ways, so we were a little late. They nevertheless accommodated us and gave us the full treatment. Starting off, they blessed us with elements of Earth, Fire, Air and Water. For fire, they used flameless candles, which I found hilarious, but it's the thought that counts, right? It was a long and thorough massage, and then they gave us macarons. When I was booking the treatment in my terrible Spanish, I couldn't understand what "macaron" was. Some exotic body treatment? Then I realized, "You mean cookies???"
I had wanted to lunch at Havana Moon, the resort's Cuban restaurant on the beach, but they were closing up as we arrived. The beach was beautiful, but due to a buttload of a seaweed-like algae called Sargassum, it wasn't really swimmable.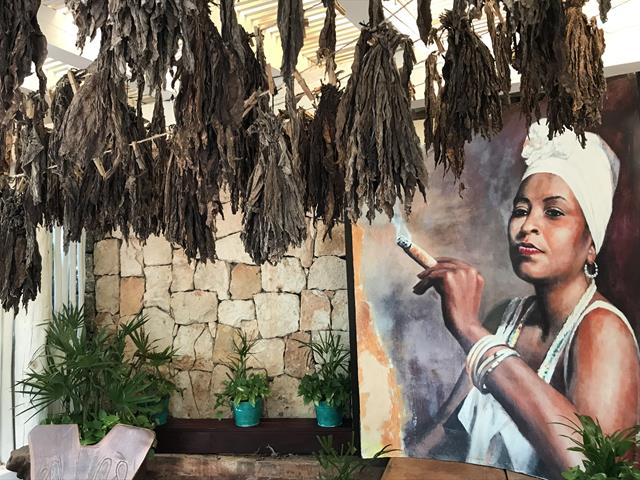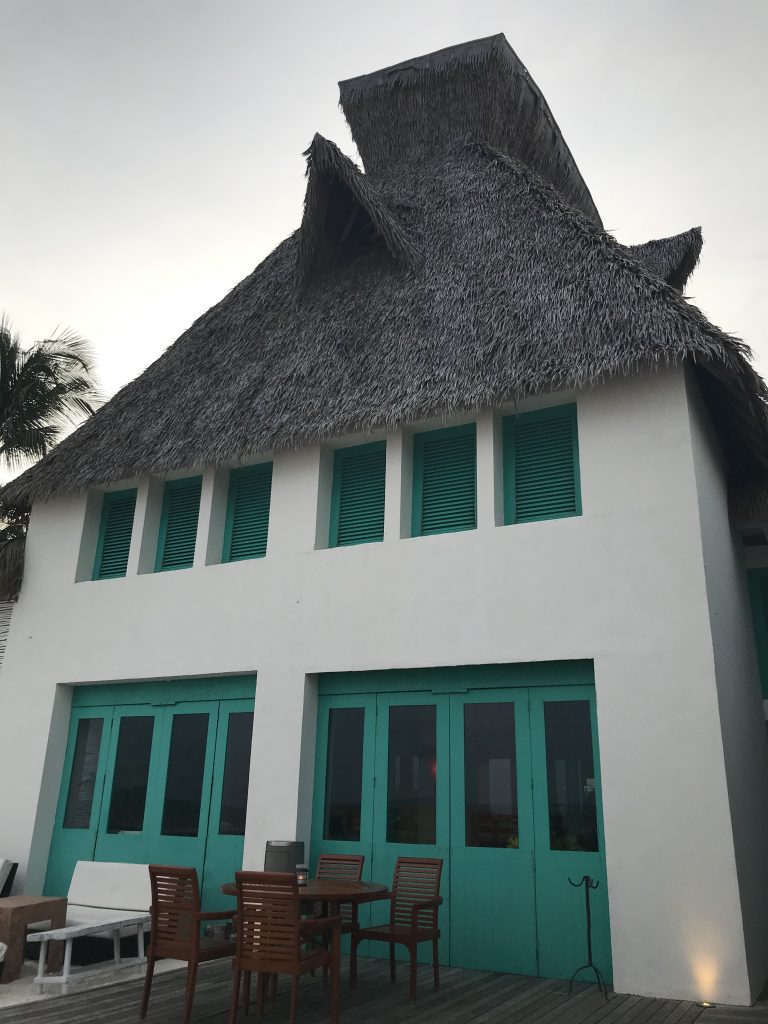 De rigeur feet on the beach shot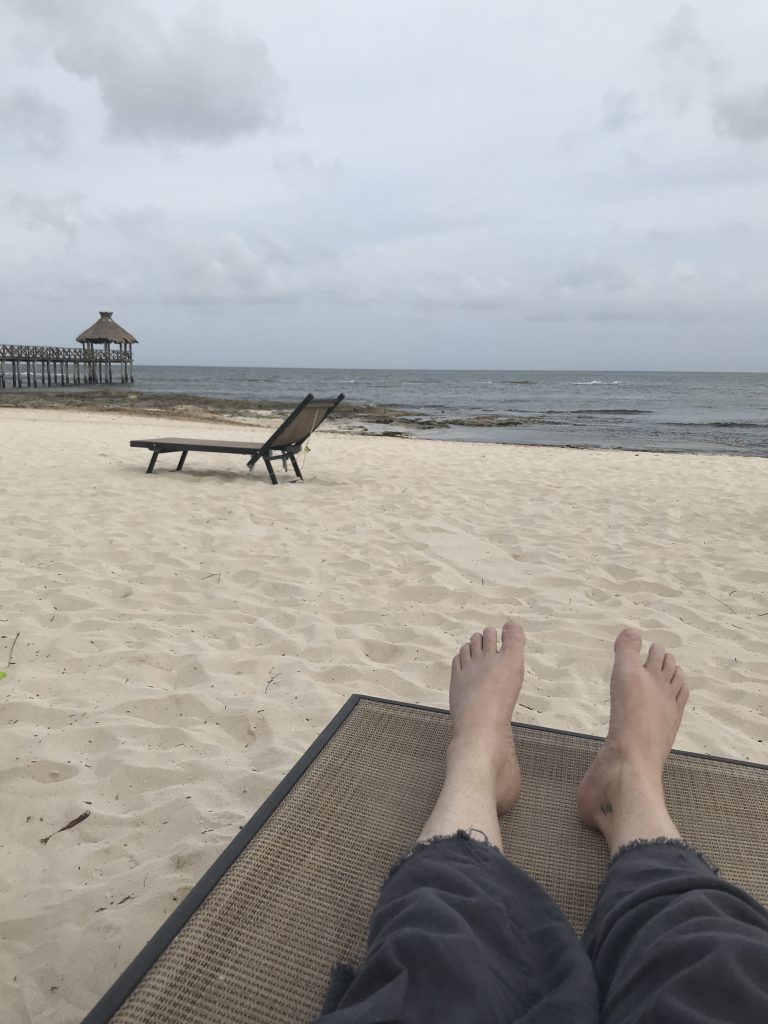 There had been a lot of pictures online of a hut at the end of a dock, taken from the other end of the dock. I went looking for the dock, for the 'Gram, but it wasn't going to happen.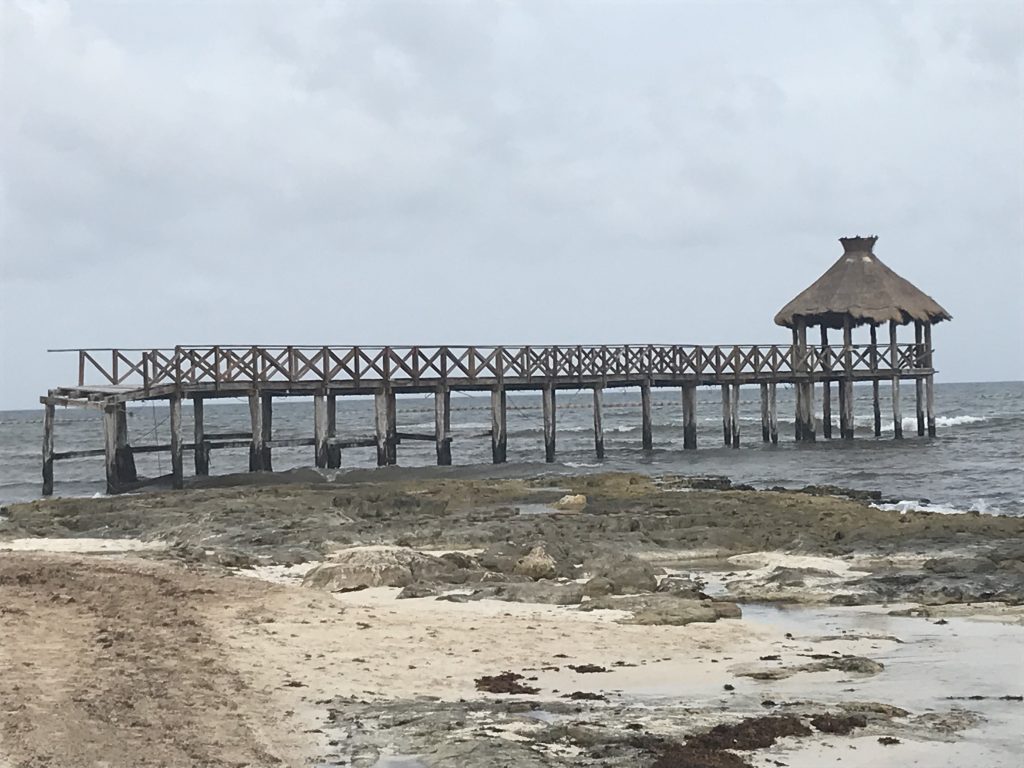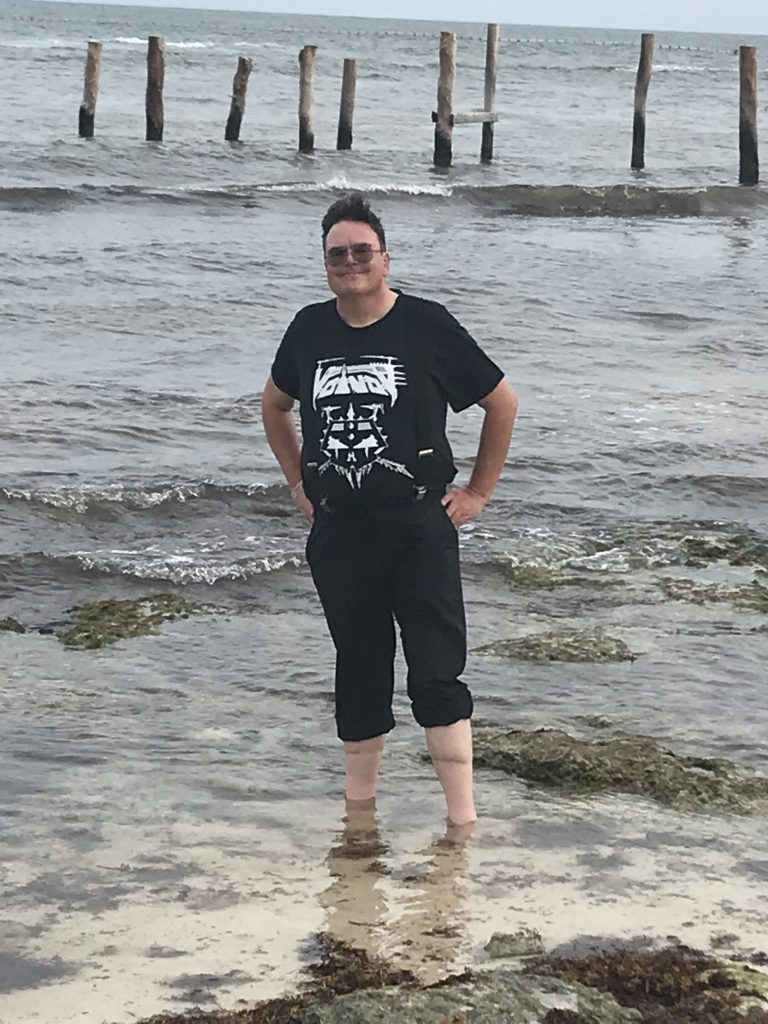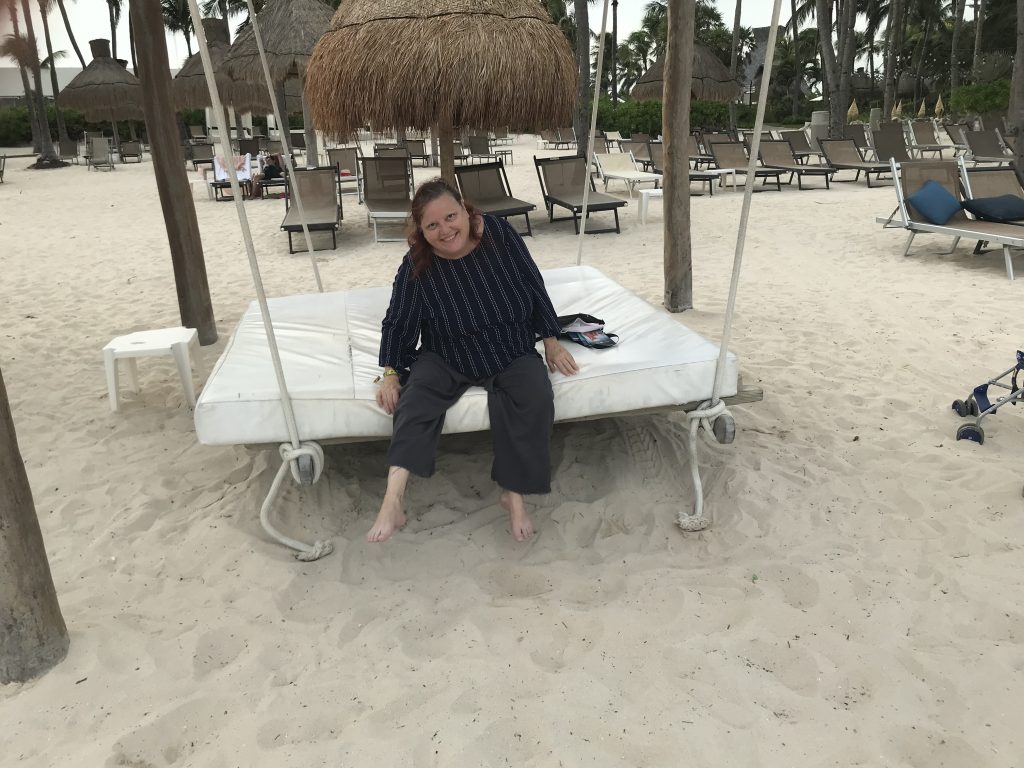 We ended up at Balche, the poolside cafe. Even though it was open-air, they run a lot of fans and keep it cool and comfortable. They also have a very convenient box of outlets to charge your phone, and cute little birds flying through. Although when one flew right at my face full speed it was a little startling. I avoided a Fabio incident though, just by a beak. I ordered the ribeye tacos, and Bob had a shrimp burrito. Once again, every single thing, down to the french fries, was delicious. If this place were near my home I would definitely eat there again.
Then we walked, we walked and we walked. We passed a big swimming pool full of revelers. Not as many kids as drunks, especially some howler monkey guys near the swim-up bar. I told Bob, "That's somebody's vacation, but it's not mine."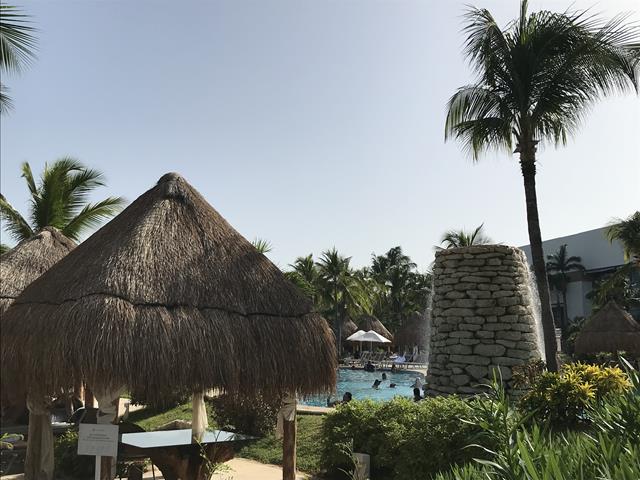 We took two trams back. You always have to go to a central station and then you can take a tram to wherever you're going. Riding through the jungle, it's kind of like being at Disneyland. In fact, if the tram is your favorite thing at Disneyland, and you think, "Like Disneyland, but every. single. ride. is a tram," this is YOUR place. Numerous iguana sightings made it more fun.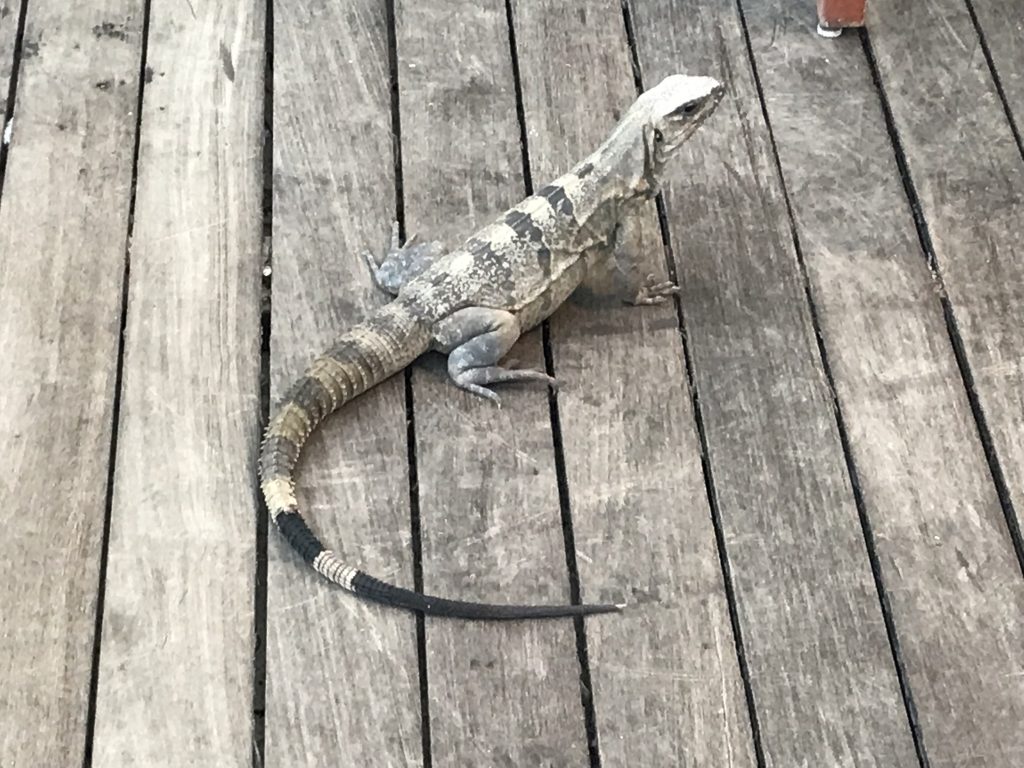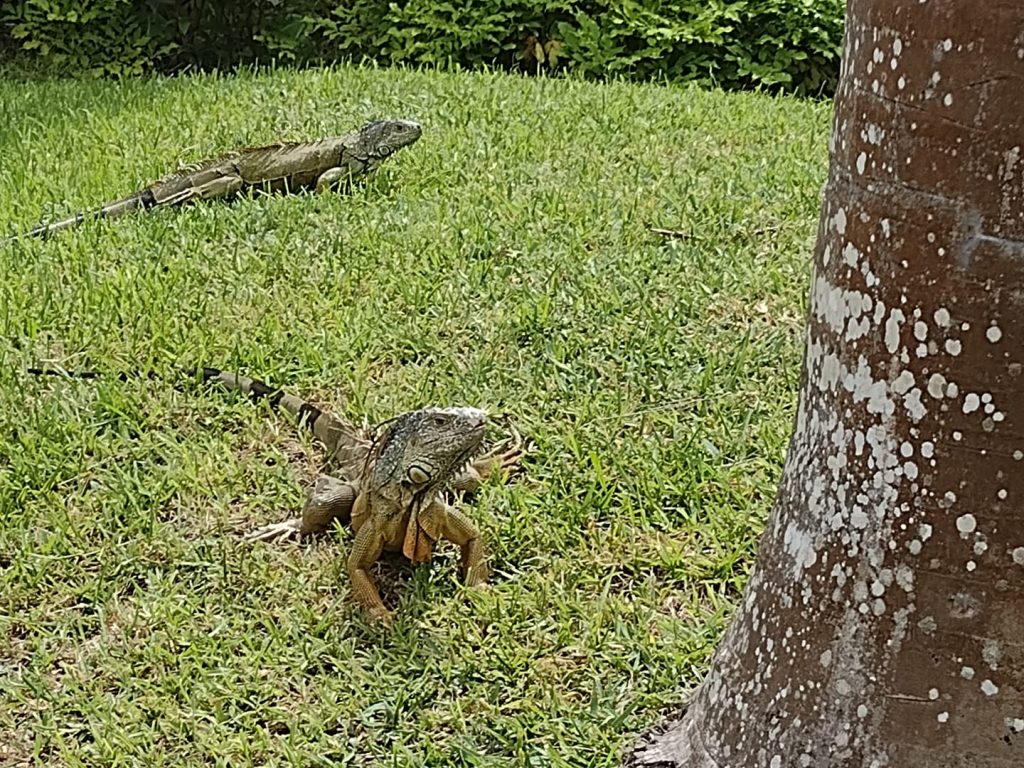 In fact, they also had coatls, a relative of the racoon that look like monkey cats, that everyone kept insisting I would see, a crocodile pit, a "flamingorium," Cirque du Soleil, a water park, and trees randomly dropping coconuts. I even saw an employee board a tram with a falcon on his arm.