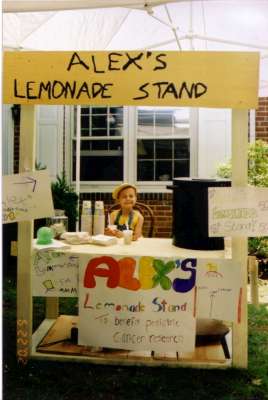 Once upon a time there was a little girl named Alex. Diagnosed with cancer before she was even a year old, she decided to hold a lemonade stand at the age of four to help raise money for the hospital. She ended up raising an impressive $2000. And every year after that, Alex hosted her lemonade stand.
Soon, people all over the world heard about Alex and started hosting their own lemonade stands to help. When Alex left us at the age of eight, she had already inspired donations of more than a million dollars. Alex's Lemonade Stand took off from there.
On Sunday, Suzanne Goin, Caroline Styne and David Lentz along with Honorary Chairperson Jennifer Garner and MC Jim Belushi will be hosting a spectacular lemonade stand, LA-style. From 12 noon until 4pm "A Decadent Chef's Cookout will take place on the beautiful lawn of the mansion of Culver Studios (9336 Washington Blvd., Culver City).
The event will feature cocktails and the food of celebrity chefs including Neal Fraser, John Besh, Nancy Silverton, and Giada De Laurentiis. Tickets start at $150 for a general ticket and $350 for a VIP ticket. Children 9 and under are free! Buy tickets here