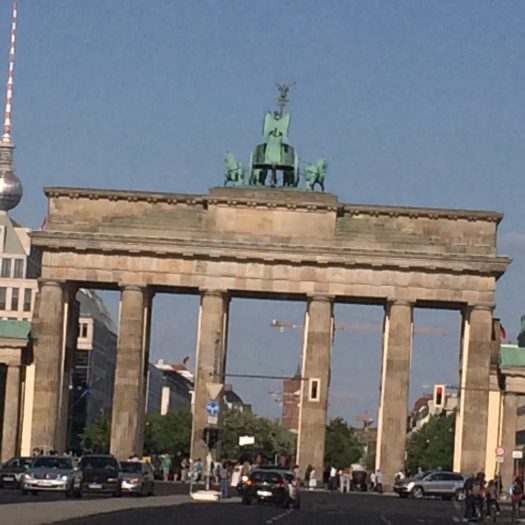 More than any other place I have traveled so far, I had a difficult time in Germany. There were a lot of complex procedures and rules of conduct that I was unaware of, and when you break them, Germans get very angry. I really felt like I needed to have a friend living there to show me the ropes. I was also kind of obsessed with WWII, and obsessed with avoiding the subject of WWII. Nonetheless, there were a lot of fantastic things to see and do and eat.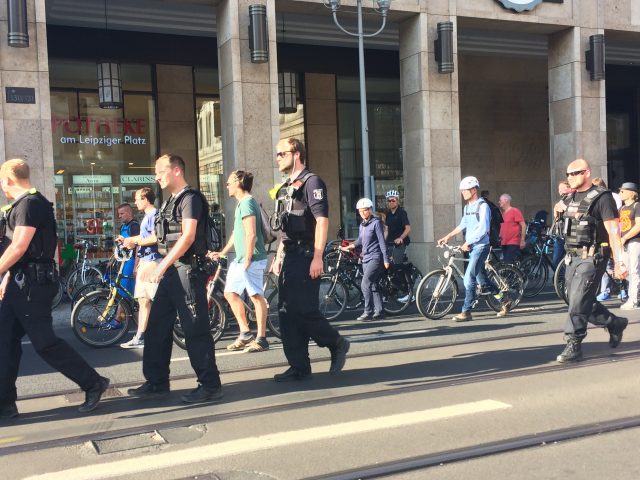 When I first arrived in Berlin, I took a cab to the hotel. There are no Ubers in Berlin because they violate transport laws. As we neared The Brandenburg Gate, a march/ride to encourage bicycle riding was taking place. The taxi driver rolled down his window to shake his fist and scream at them. I'm sure the last thing he needed was for people to give up on cars. The hotel, Titanic Comfort Mitte, was no frills but the people were friendly and willing to assist me with my almost non-existent German.
Once I settled in, I walked down the street to have lunch at the non-touristy and unappetizing-sounding Spitteleck. I ordered a nice, cold hefeweizen and settled in. The menu was kindly translated–into French. But sometimes, English and German coming from the same language family really helps. I ordered Schweinefleisch. It was delicious.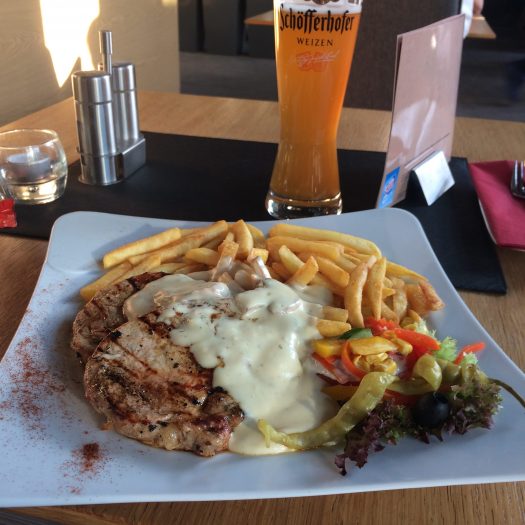 I hopped on the U-Bahn, which was only a block away. Well, I didn't exactly "hop." First you have to buy the ticket from a machine that is in German. Finally, I realized the British flag on the screen would translate the screen to English. For almost my entire trip, every time I went to the station, I helpfully pointed out the flag to befuddled Americans. Then you have to get your ticket validated by sticking it in some kind of a slot that I could not find. I did manage to accidentally summon an elevator before someone showed me where to stick it. See, I told you I needed a German friend. Hans? Greta? Where are you?
I took the train to check out the zoo. It sounds stupid now, but in the Netherlands they had a Galapagos turtle, and I didn't find out in time to go see it. I wanted to see if the German zoo had any animals we don't have in American zoos. So here is what a German panda looks like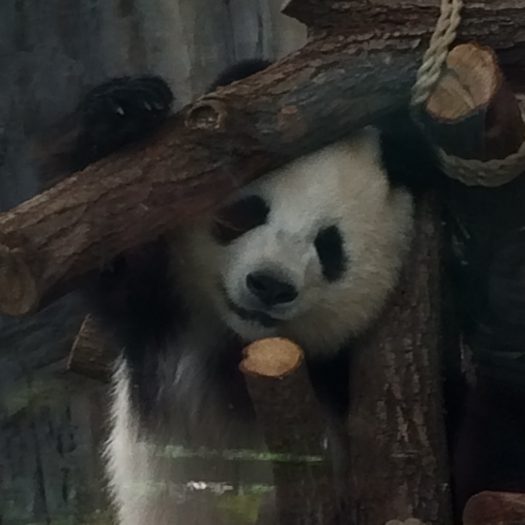 This is what a German koi and bonus German child look like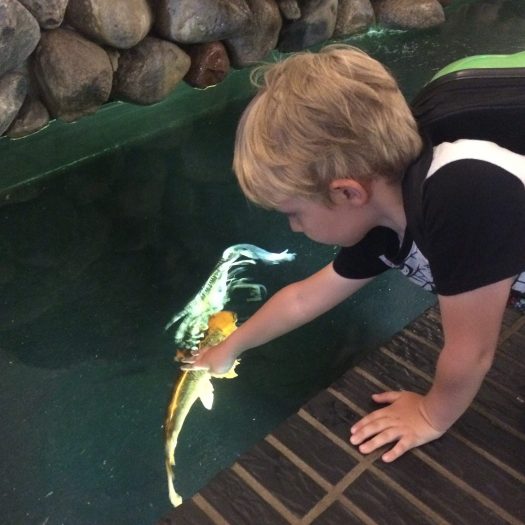 They did have this crazy snake-necked turtle, which for some reason reminded me of the punchline of a joke my brother often repeated, "Dig that crazy necktie!"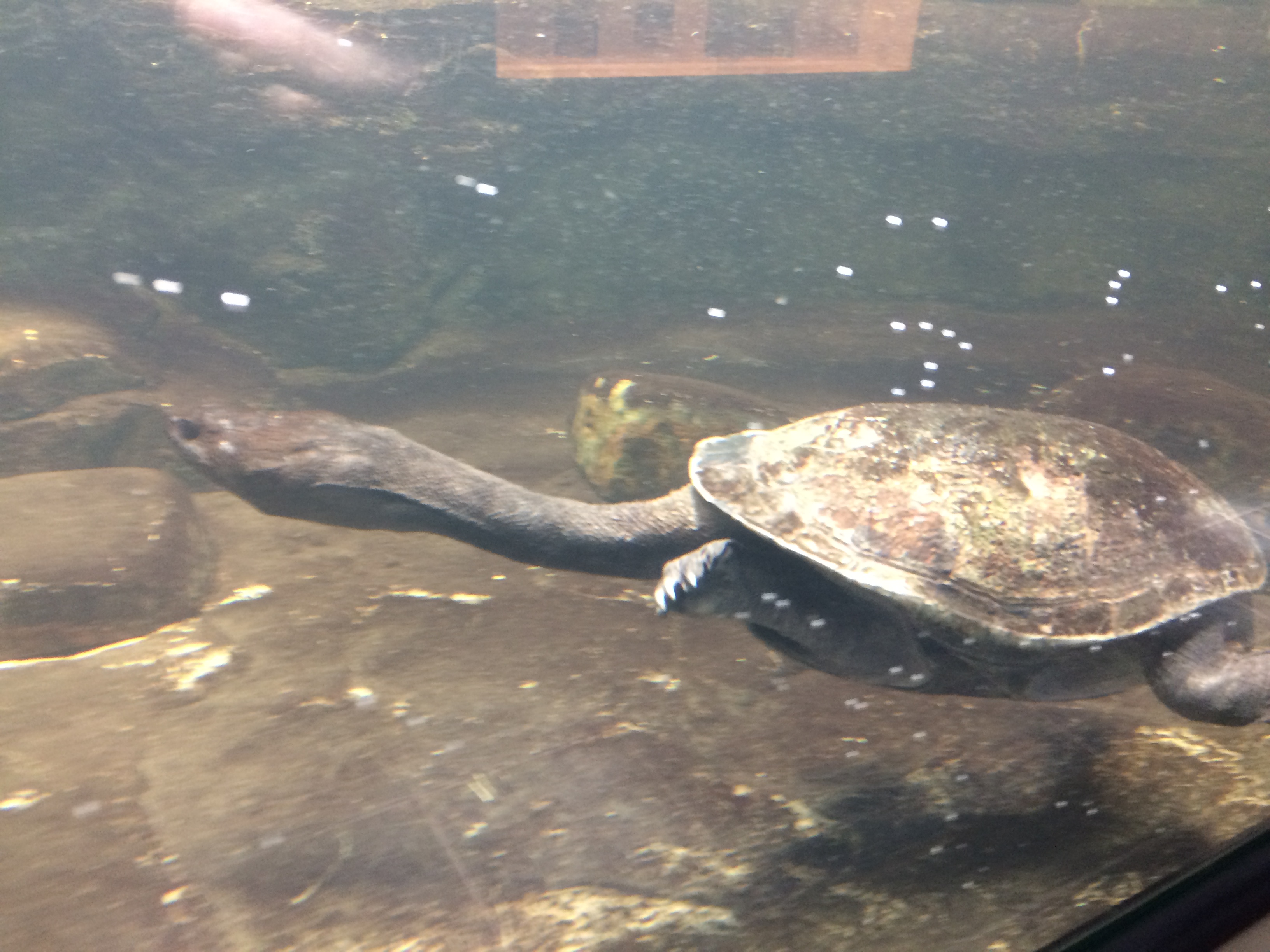 Across from the zoo is the Kaiser Wilhelm Memorial Church. Kaiser Wilhelm II built it to honor his grandfather, Kaiser Wilhelm II. It was bombed in WWII, losing the top of its turret. When helping rebuild Berlin, the allies didn't want to restore a symbol of nationalism, and the missing spire has remained as a reminder of the horrors of war.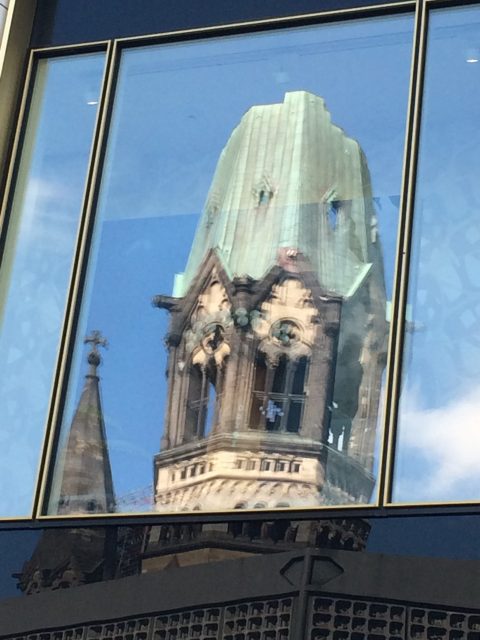 The steps of the church were covered with flowers, candles, and photographs, so I knew it was the site of something terrible. Another person standing next to me staring at the photos saw my inquisitive expression and said something like "Christmas. Terrible…" then walked away crying. I realized then this was the site of the 2016 terrorist attack on Berlin's famous Christmas market. Two years before my visit,
Twelve people were killed when 24-year-old Tunisian Anis Amri drove a truck into the market on December 19, 2016, the deadliest attack in Germany.
There was a heartbreaking and beautiful tribute…a gold-filled crack tracing the truck's route to the steps. It felt disrespectful to photograph any of this.