Friday was a cloudy day, and after another breakfast of eggs benedict I headed to the museums. I took the city bus, and the driver yelled at me for not understanding that you need a special card to wave in front of a sensor for the bus, and they do not accept cash, but you can use your ATM/Mastercard in a machine near the windshield, but only after the driver keys in the amount due on a little screen. I retorted, "Stop yelling at me! It's my first time!" To avoid these little quibbles, I suggest you buy the City Pass ahead of time. It is good for public transport and museums and most of the tourist sites. This is not an advertisement or a sponsored post. I really wished I had the damn card I could just wave in front of the sensor.
After I arrived in Amsterdam, I stopped at Happy Happy Joy Joy. My hipster radar should have been going off at that name, but the chef is Julius Jaspers and I had read good things about the place. The interior was cool.
I tried the Peking duck bao, which I expected to be in a folded-over bun like a taco. LA-style. Instead it was a cute little slider. Sadly, it was excruciatingly sweet. It reminded of a pulled pork sandwich. The shrimp har gao was good, but no better than most other dim sum places. It was a very small sampling from a huge menu, but enter at your own risk.
I first checked out MOCO, their modern art museum located in a refinished old house. They were having an exhibit of Banksy and Lichtenstein. The mysterious Banksy started his graffiti career in 1990 as part of the Bristol underground scene. Since then he has gone on to create subversive art through sculpture, painting, installations and "actions" such as distributing fake UK currency bearing the likeness of Princess Diana. He has even written a book and directed a movie. But his primary medium has been stencil work. He said in an interview that he couldn't spray paint fast enough and would get caught, so pre-made stencils gave him the ability to create intricate designs with quickness. The use of this medium has also helped him to become a prolific artist with a staggering body of work. Some people believe the quantity and scope of work points to a collective rather than an individual, although Banksy is always referred to as "he" by his friends and representatives. Some people have synched up the appearance of Banksy's public works with the touring schedule of a certain rock band, but like the Residents, I ignore any attempts to out anonymous artists as I believe it takes the fun out of it.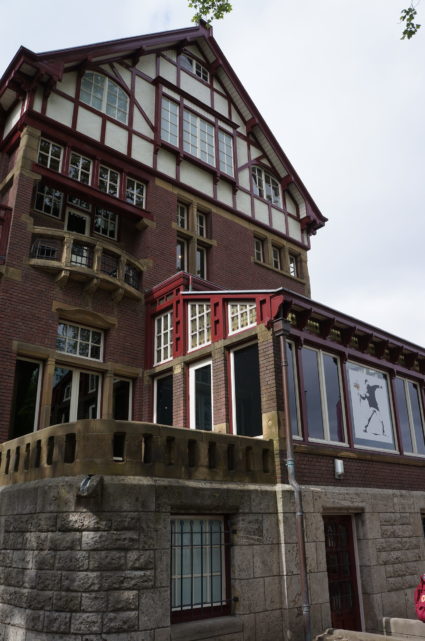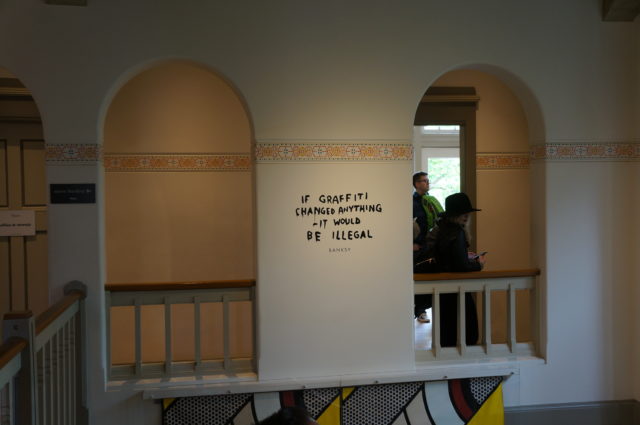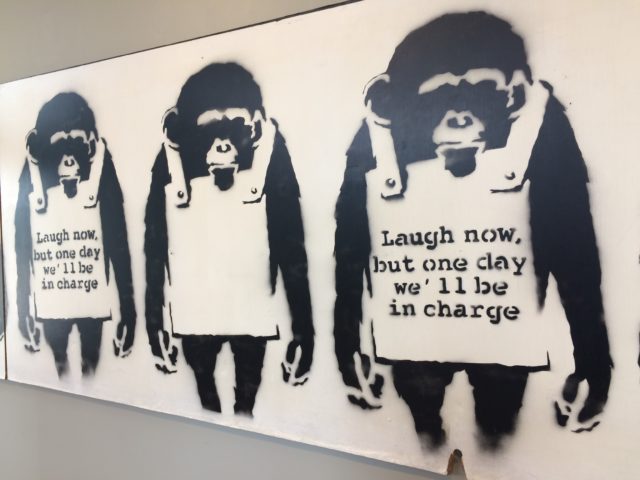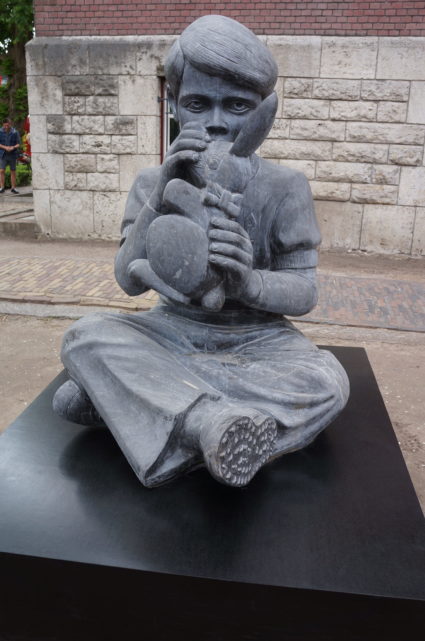 The museum also had a small exhibit of Roy Lichtenstein's pop art from the 60s, which focuses on the melodrama and art of comic books and advertisements.
Being that the museum is in an old house, there were narrow stairs coming down from the attic. I naturally slipped on them and fell down the stairs. It wasn't too serious of a spill. I fell on my ass and went bump bump down a couple stairs. I scraped an elbow and had a sore bruise on my thigh for several days. The guards were extremely worried and followed me around for the rest of my visit, presumably to catch me? I had to lock myself in the ladies room. Later when I checked the tread on my sneaker the brand name printed there was ironically TRACTION.