Mechanical flowers installation at Stedelijk Museum Amsterdam from Studio Drift
After Banksy, I went to check out the Stedelijk Museum, Amsterdam's modern art museum. As pretty as they are, I did not fall down these stairs.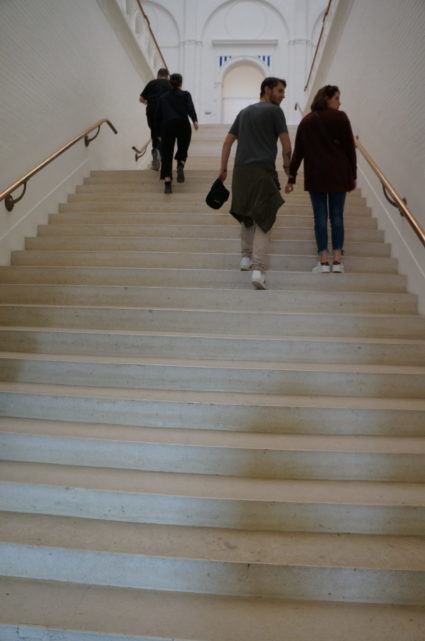 They are featuring an exhibit called "Coded Nature" from Studio Drift, two Dutch artists who create installations based on their shared love of science fiction and technology.
From Studio Drift:  Coded Nature, shows an overview of 10 years exploring fluctuating relationships between nature, technology and mankind. In addition to early work, the exhibition features new and previously unseen work. In total, the presentation comprises eight room-filling installations, together with a selection of films, sculptures, prototypes, and models. The show will run through August 2018.
Drifter, "a floating concrete monolith measuring four by two by two meters." This sculpture not only floats in space, but it does drift around the room. I asked the guard how it is held up. He replied, "It's a mystery to me too."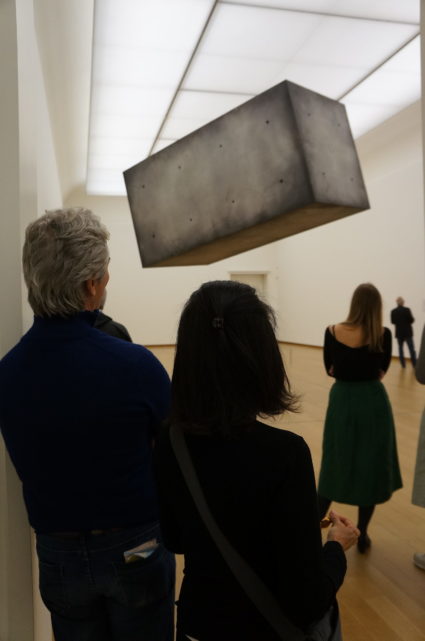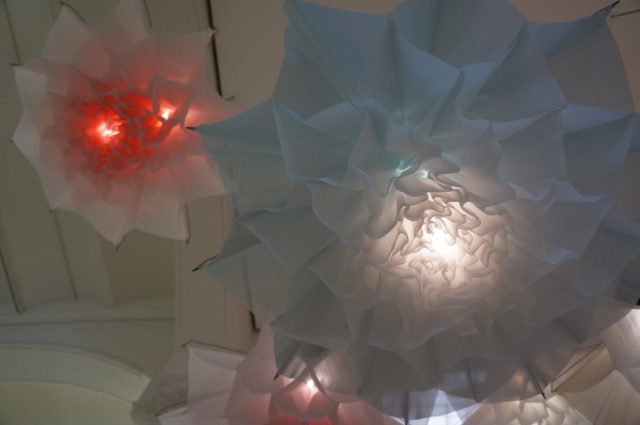 Fragile Future Chandelier can be adapted to fit any space. This one is Fragile Future Chandelier 3.5. I really like the way the lights on the right wall balance the piece.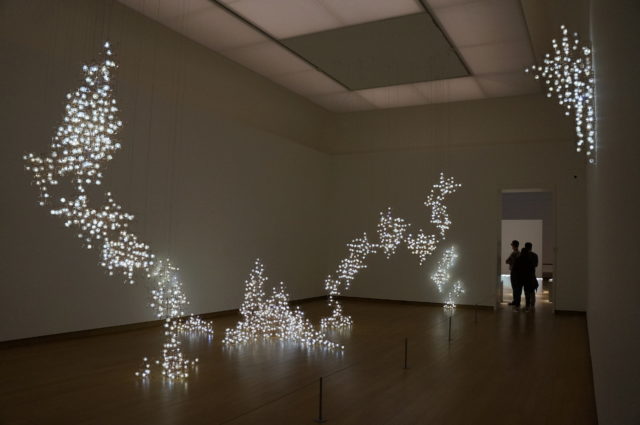 Another whimsical exhibition were the dioramas of Stefan Tcherepnin, inhabited by "The Mad Masters." American artist and musician Stefan Tcherepnin captures moments in the lives of four furry monsters.
"Freedom is Recognized Necessity" will be on view through August 12, 2018. "Featured are artworks from the Soviet sphere of influence, acquired by the Stedelijk after the end of the Cold War." This totalitarian art from the time of Brezhnev features slogans from political leaders and images of heroic workers.
STEDELIJK BASE is the permanent installation of iconic works from the collection. The entrance to the base is unreal. Using quotes from people like George Orwell, Barbara Kruger designed the entire stairwell. There is a hidden bathroom door on the right.
I did not fall down these stairs either, although it would have been somewhat poetic.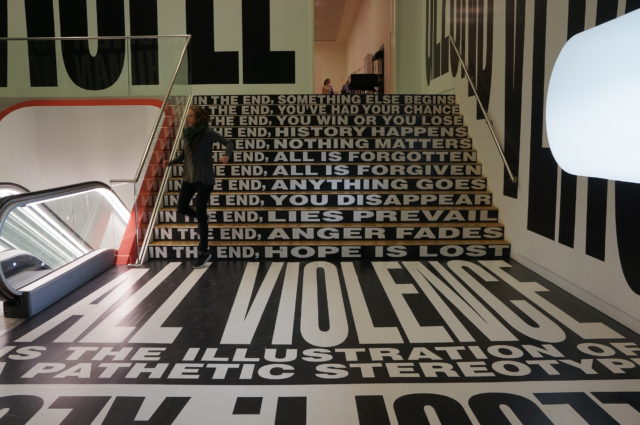 The two paintings in this installation, "High Voltage Painting" by Martial Raysse and Elaine Sturtevang were painted four years apart, the first by Raysse and the second by Sturtevang with Raysse's permission.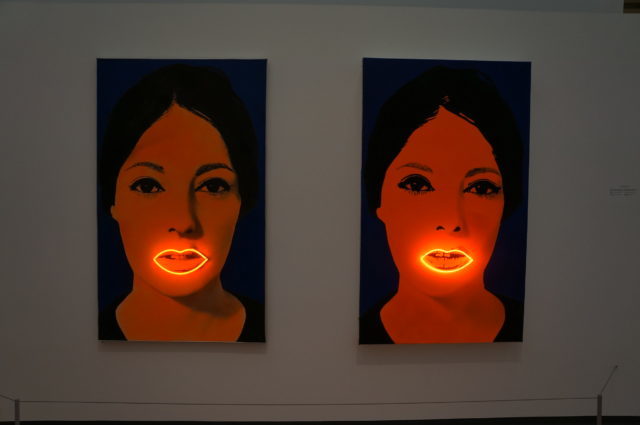 A section of "Naked Girl Behind a Curtain" by Ernst Ludwig Kirchner.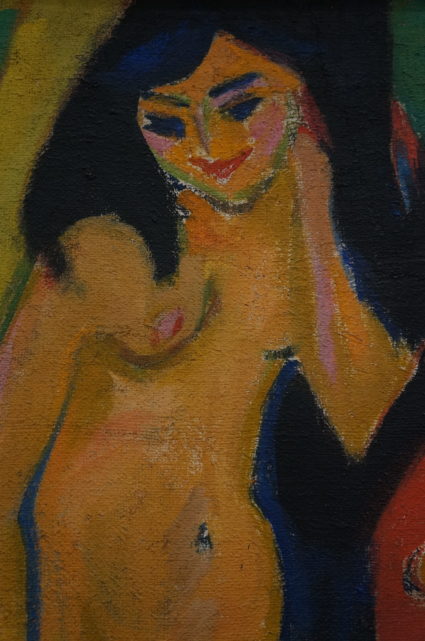 "Double Portrait of the Artist and His Wife," Quappi by Max Beckman. After fleeing Germany after his expressionist artwork was condemned by the nazis, Beckman painted this portrait during an extended stay in Amsterdam on their way to the United States.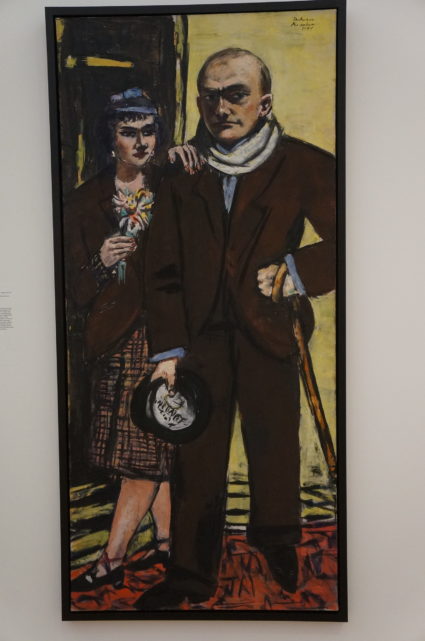 Claude Raimond-Dityvon. Paris, May 1968. A lone protestor challenges a line of riot police.
Pablo Picasso "Seated Woman with a Fish-Hat."
Billie Zangewa's fabric work, "Midnight Aura," which addresses globalization as well as self-discovery. The designs used are known as Hollandaise or Dutch Wax due to Dutch textile industry. I am unsure of what Hollandaise sauce has to do with textiles.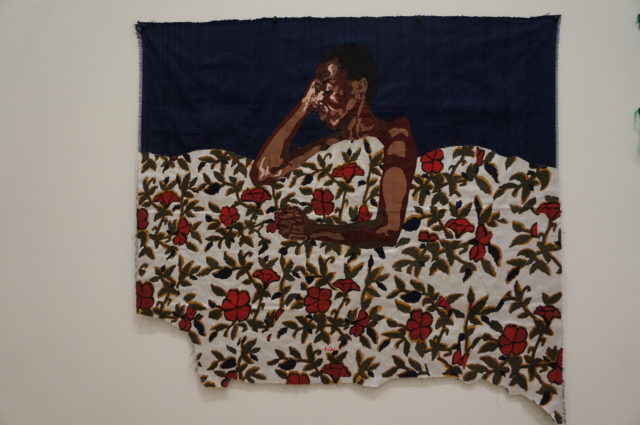 I decided to leave the Van Gogh and Rijksmuseum until my last weekend, as I can only not fall down so many stairs a day. There was a grocery store serendipitously next-door. I loaded up and took an Uber back to my room for a late night picnic.