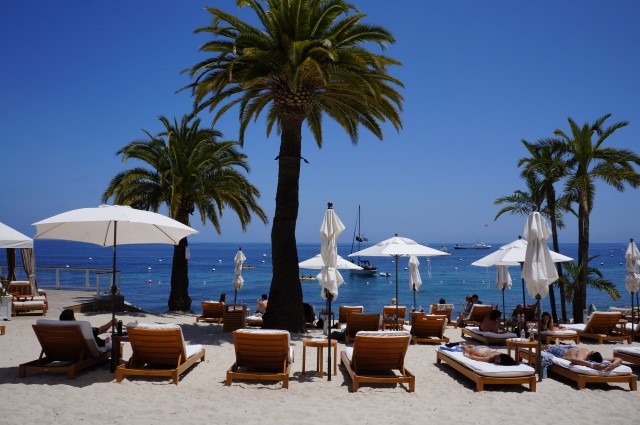 Saturday morning we went to Original Jacks in the previous location of Polly's Pancakes. They are famous for their Hawaiian French Toast with macadamia nuts and coconut syrup. I had the eggs benedict, and couldn't complain.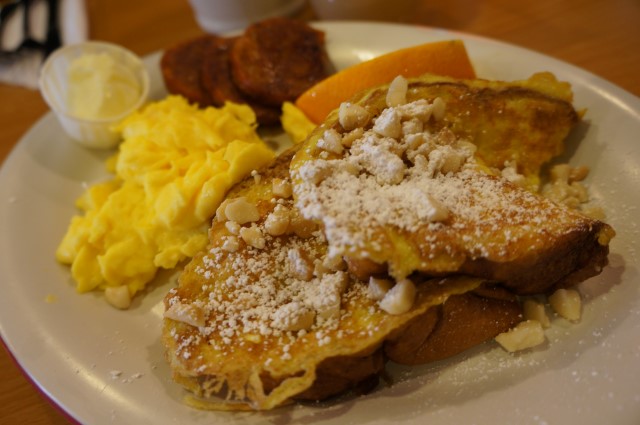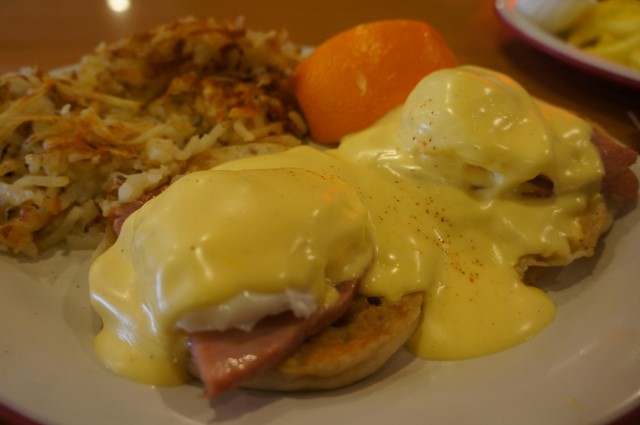 We had reserved a pair of chaises at the Descanso Beach Club in the cove beyond the Casino. It's a little steep to avoid the rabble at the private beach. During high season, a pair of chaise lounges goes for $75, while a cabana rental is $250 to $6oo. Or you can park yourself at the bar for free. We were treating ourselves to lounges so we could order drinks on the beach like in the movies. Unfortunately, they were undergoing construction so the only lunch available was a prepackaged turkey sandwich, and it took us forever to get drinks. Nonetheless, we did eventually get to drink fancy fruity drinks on the beach. A pineapple mojito, and a Buffalo Milk, the official drink of Catalina.
I just loved her bathing suit!
Do not tease the wildlife with potato chips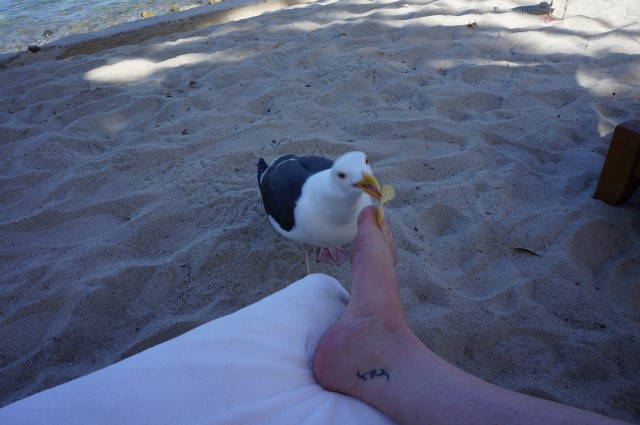 We had booked a SNUBA excursion off the beach. Then I had booked massages in a cabana on the beach afterwards. This trip was a big 10-year anniversary splurge. The SNUBA guide was a big scary bastard, really rough, muscular and Marine-like. I immediately disliked him. But I was about to go into some deep, tidal waters with damaged shoulders and I could just see with this guy's attitude, he was not going to let me drown, dammit! Not on HIS watch!
The first thing you have to do to get into the water at that cove is sit on the rocks, then push off from the rocks. Using your shoulders. And my shoulders didn't work. I had explained this to the guide. But he yelled at me, "Push off from the rocks!" He thought I was having a panic attack.
"I can't push. If I can't even get this far I had better go back."
"Push off from the rocks!"
"I'm just going to endanger you by making you try to save me."
"Look at me. I'm not going to let you drown."
Fine. I got into the damn water, and he hooked me up to the SNUBA breathing apparatus which connected the three of us like umbilical cords to a raft. Once I got into deep water, I didn't need my arms to swim and I just got entranced and started following colorful fish. There was a big wall of kelp I had to avoid. But the weight and the snuba hose didn't help me to dive any better than if I had been snorkeling. At one point I popped my head out of the water to look at the guide and make sure I was going the right way to avoid the kelp. That's when i realized I was towing the two guys, raft and all, behind me. Bob later told me the guy said, "Look at her. She's afraid of the water and she's a goddamned dolphin."
There were three gorgeous women free diving in their underwear, taking turns posing for cheesecake pictures in beds of seaweed. The guide said, "Those girls are crazy." But I wished with all of my heart I was one of those girls.
Our massages were cancelled last minute, because it was just that kind of day, so we decided to bar hop, because it was also one of those kinds of days. We hit El Galleon, which has the biggest goddamned drinks in the world. They arrived in huge goblets. I remember one of them was a Buffalo Milk. I don't remember what the other one was, but it was a disturbing shade of green. Maybe it was their Caribbean Daiquiri.
The decor is totally crazy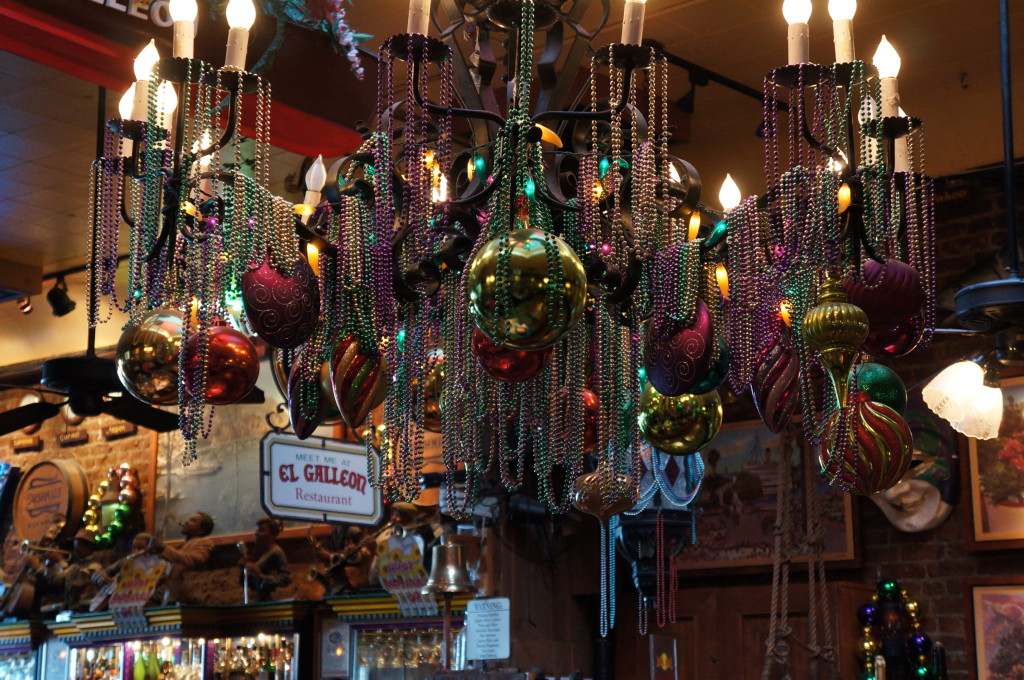 A tower of very good cioppino. They say the name derives from the Italian fishermen in San Francisco who would make the communal seafood stew with whatever was the catch of the day. The name comes from their heavily accented, "Chip in!" That story may be apocryphal, and probably offensive to Italian-Americans, but there you are.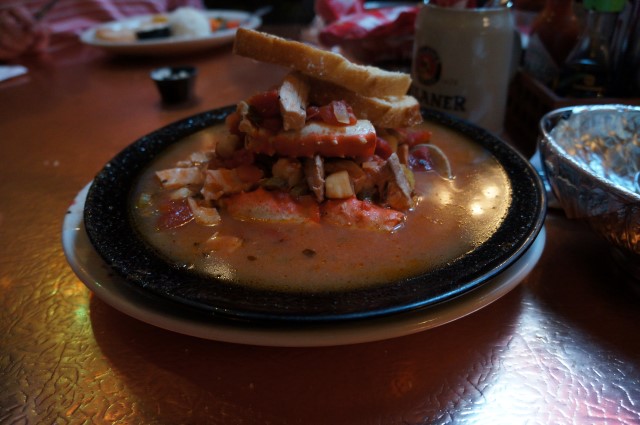 Swordfish. I'm afraid to order it after hearing all of those stories about gigantic worms. But we don't have to tell him about the giant worms, OK?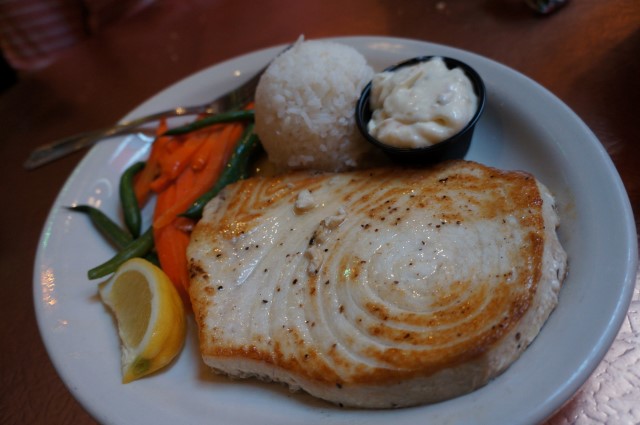 Next we hit the island's dive bar, The Marlin Club, which is the closest you can get to a local's place in Avalon. The bar is designed to look like a boat, but it was too dark to take many pictures.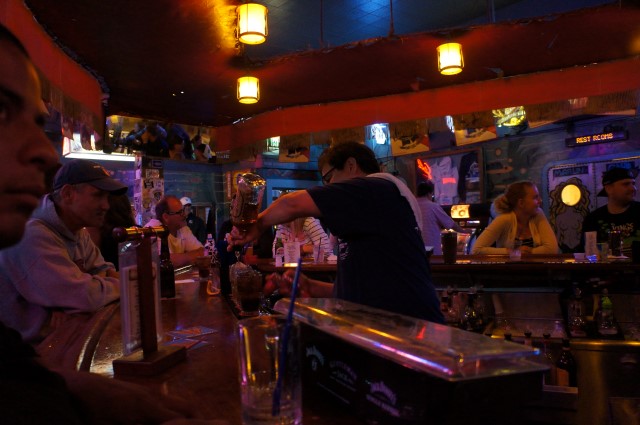 One of the guys would tell newcomers an elaborate story about a cow that would end with him squirting you in the face from the teat of his fake cow. I managed to escape the drenching, having grown up with four older brothers. Then there was some elaborate joke involving a toy shark in a Tupperware container of water and the ever-popular who can fold the bar towel to look most like a dick.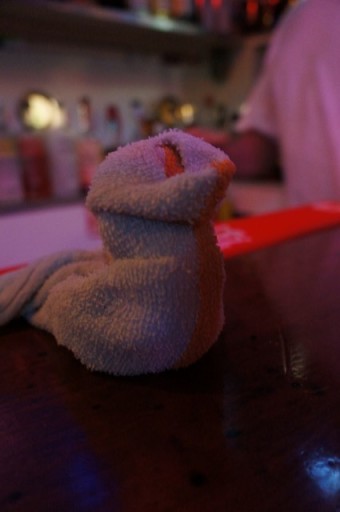 It wasn't flying fish season, so we just walked out on the green pier. No flying fish, but we did see a Tern.