Although I hated to leave the fireplace in Maureen's basement where I had been sleeping, we went to spend the rest of the week at Pierre and Olga's. They have an outdoor cat that lives in the snow. Its name is Chisel, but I called it Snow Cat. We walked up to the stoop and Pierre remarked that the cat hadn't eaten its food. He turned the dish upside-down and a perfectly bowl-shaped chunk of frozen cat food fell out and hit the deck with a thunk. I could not stop laughing. Poor Snow Cat.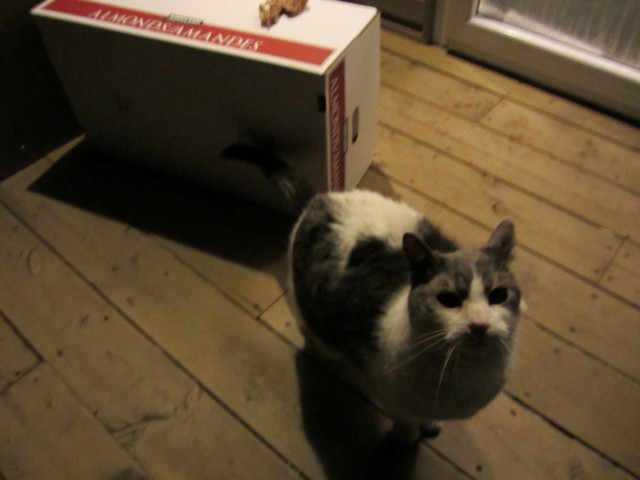 Just then, Snow Cat made a showing, and Pierre asked, "Do you want to see what he REALLY likes? He got out a broom, and Snow Cat sidled up, and Pierre swept the cat! He swept like you would brush a cat. It was definitely one of the weirder things I've seen a cat put up with.
I started catching a cold, and it had been a tiring week for everyone, so Thursday we just watched the magpies out the window and read and napped. Olga made a nice barley soup for lunch.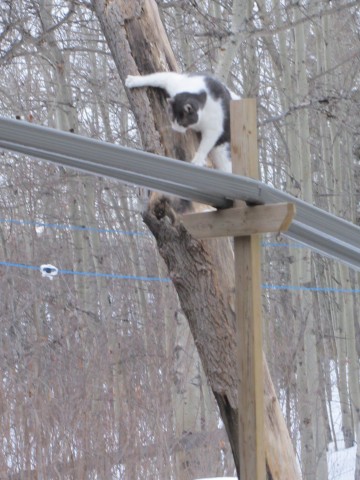 Luckily,on my last day there my mom woke me up to see the moose that has been showing up in the backyard.