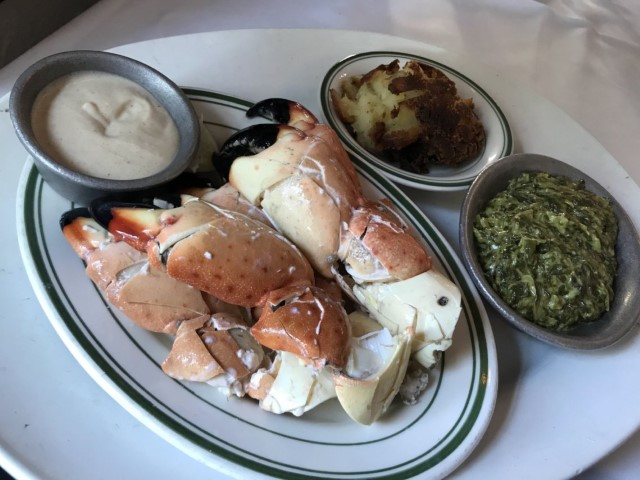 There are a lot of places called Joe's, but none can compete with Joe's Stone Crab, the first restaurant to open its doors in South Beach. In 1913, Hungarian immigrant Joe Weiss and his wife opened up a small lunch counter on Miami Beach serving fish sandwiches. Researchers came to Miami in 1921 to work on a new aquarium, and one of them approached Joe about serving stone crabs. He balked, as everyone thought they were inedible. The researcher brought in a bag of crabs one day, and the rest is history.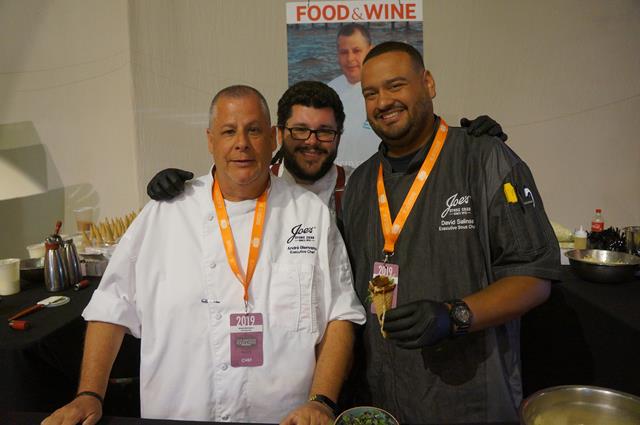 Joe's has been on my bucket list since I started seeing chef André Bienvenu at LA Food and Wine events. He couldn't feed stone crab claws to hundreds of people, and it wasn't even stone crab season when the event was held, so he conjured up imaginative dishes like pork belly cones with guava BBQ sauce and Reuben sandwiches grilled on an elaborate mechanism that smashed the sandwiches between two hot household irons. Cool as that was, it made me crave the crab claws. There was only one place to get them, and I had a reservation for lunch.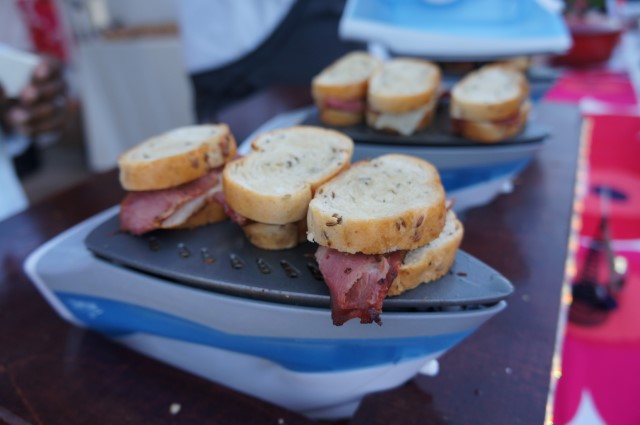 The fancy dining room has been visited by everyone from Frank Sinatra, Amelia Earhart, and Will Rogers to Barbara Streisand, Elton John, and The Rolling Stones. 19 US presidents have eaten there, and it is a required stop for chefs. Coincidentally, one of my favorite chefs, Brooke Williams, posted a picture of herself with a slice of Joe's key lime pie a month before my trip, and I was like, "Damn, I'm gonna have that key lime pie too."
I took an Uber to Joe's, and waited about 10 minutes for my table. I was able to check out the historic pictures.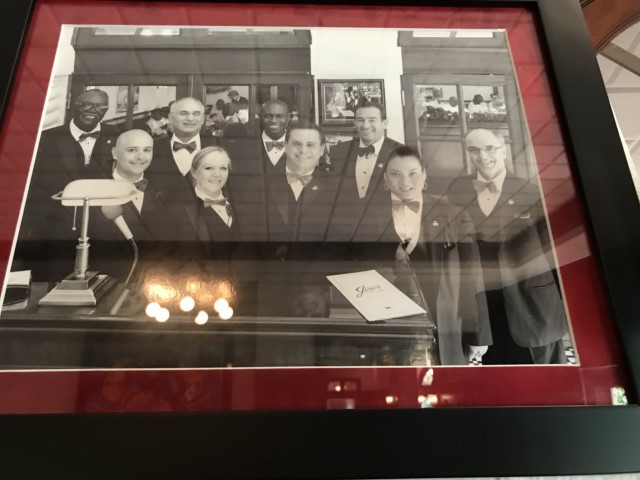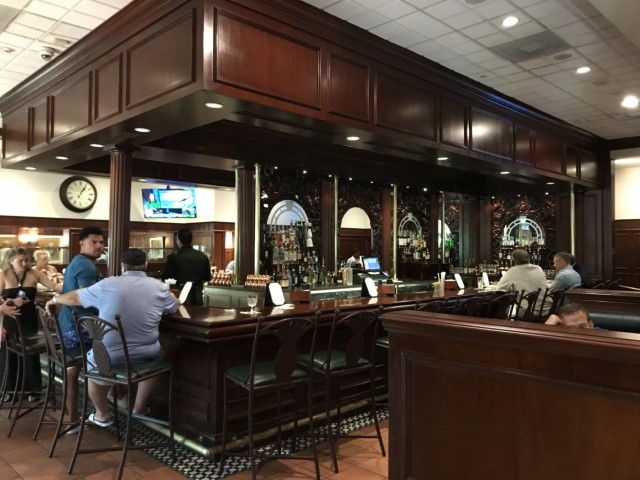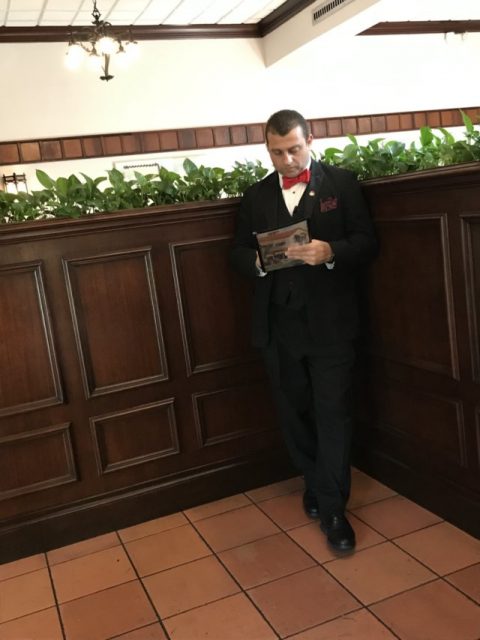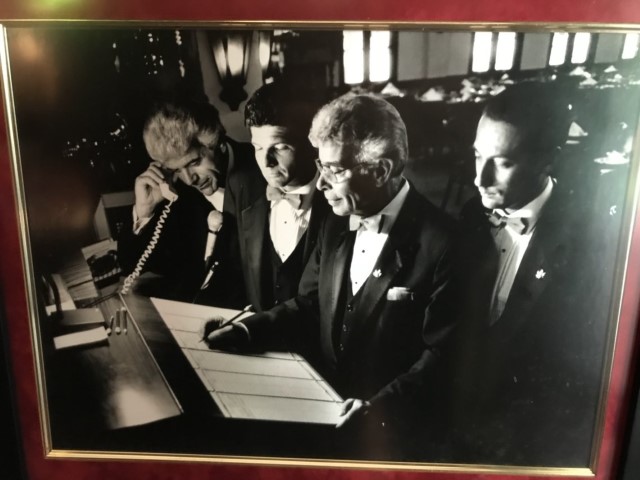 The patio chairs look like scallop shells.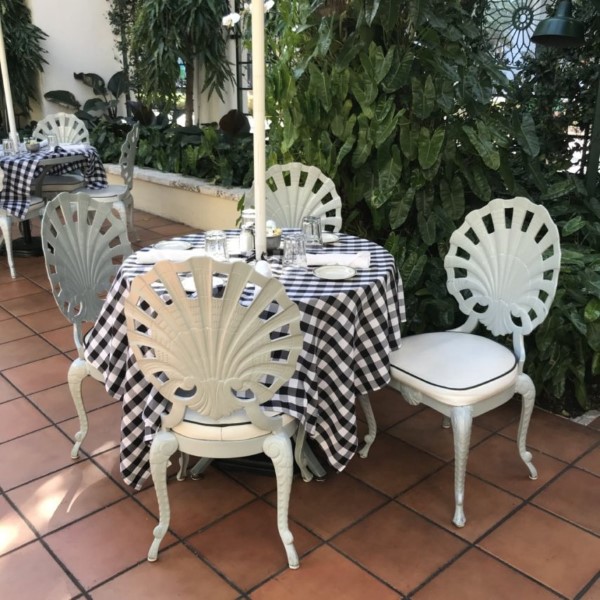 There were some interesting cocktails, but I wasn't planning on drinking much, and I had already had a mojito at the Palace.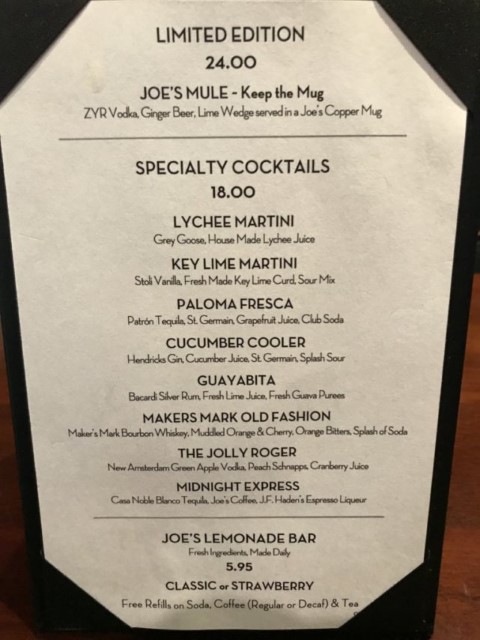 The dining room was elegant, with crisply starched white tablecloths.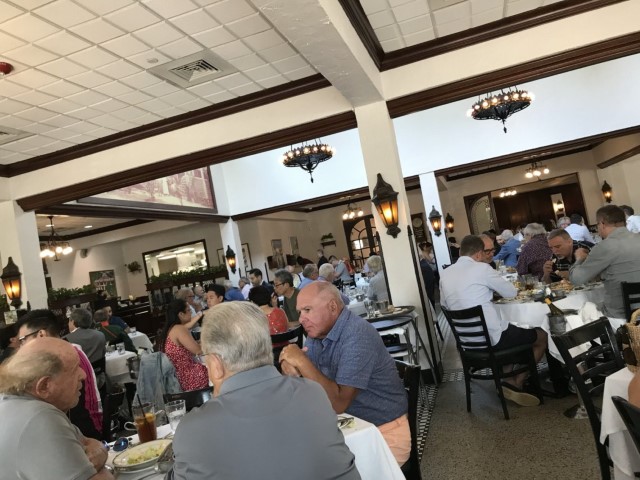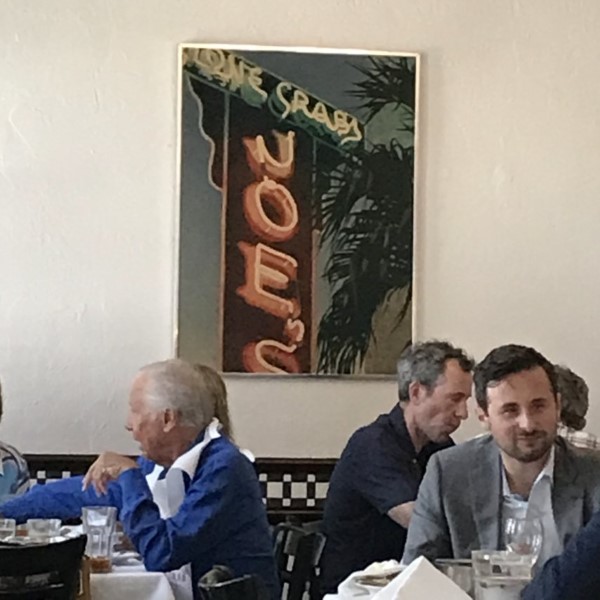 One thing about Joe's — it ain't cheap. But it's so worth it. Another thing about Joe's is that some of their dishes are weird. The chopped salad includes beets, Feta cheese and honey roasted peanuts. I have eaten candied pecans in a salad with goat cheese, but Feta and honey roasted peanuts just doesn't sound right. The cole slaw came with a big dollop of pickle relish.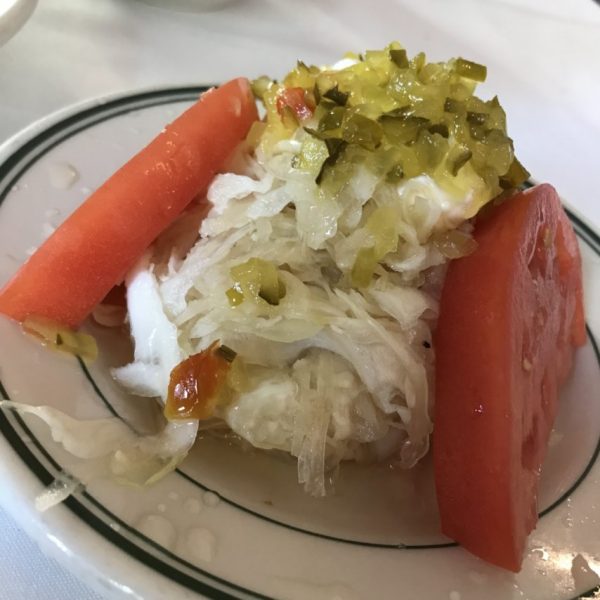 The crab cakes looked appealing, and I have been in the mood for shrimp cocktail lately, but one should always eat locally, and I had never had conch fritters. I had heard that conch is not sustainable, but I wanted to try it just once. It was a mistake. If you think clams are chewy, wow, they were almost impossible to chew. It was like there were bits of rubber tire in the fritters. I couldn't eat more than a bite. My server noticed, and kindly took them off my bill. So, I added that to her tip. I didn't blame the restaurant, I guess it's just not my thing.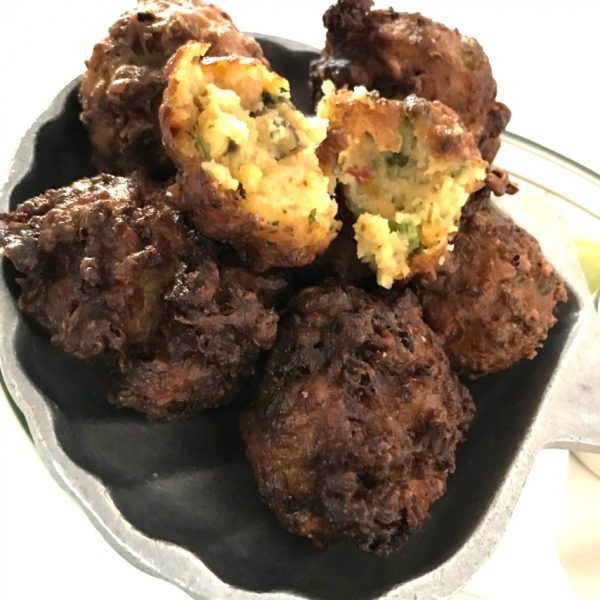 What IS my thing? Crab, dammit! And definitely stone crab! It is priced according to claw size. But it is measured by weight, so the smaller the claw, the more claws you get. But I like big stuff. I ordered large at the server's recommendation. I later held them up to show a nearby table that wasn't sure of the right size to order. Because I'm annoyingly helpful.
I noticed a big sharing plate of hash browns at another table, and they looked so good I ordered "Joe's Classic Meal" — a full order of stone crab, coleslaw, hashed browns, creamed spinach and key lime pie. I mean, I knew I was going to get the pie anyways. $112.95. I was so excited I totally forgot to order the insider-recommended fried chicken, which is only $8.95 for half a chicken. It just seems wrong to even look at the Steaks and Poultry section. Or mahi mahi and grouper. Unless it's not stone crab season, in which case I probably wouldn't even come. Because they are glorious.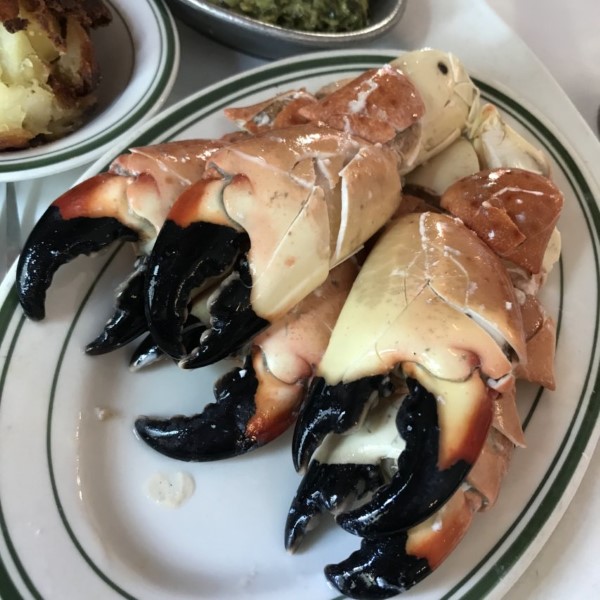 Look at them! Served chilled and pre-cracked, they easily slip out of the shell. The meat is sweet and clean-tasting. They are served with drawn butter and Joe's famous mustard sauce. I didn't think I would like the mustard sauce, but I was all about it. It was more like a Dijon aioli. The coleslaw, as I mentioned, was weird, the spinach was meh, and the hashed browns were good. Next time I would just order the crab – and the chicken. The key lime pie was on the tart side, without cream cheese (probably considered an abomination here, but I add it to my recipe), but very good. Maybe I'm not as pretty as Chef Brooke, but here you are.