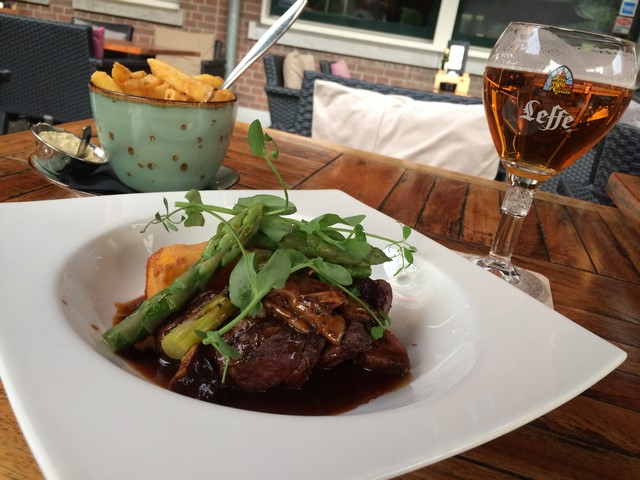 Citizen M did not have a restaurant, but it faced a large square with at least 5 restaurants, and if you wanted to walk around the small harbor, there was a whole restaurant row with some really jumping bars. It was cold and cloudy and I was exhausted so I stumbled over to the back patio of the modern French/Dutch Mooii, which thankfully was open until 10 PM. The waiters seemed to sense my fragility and were very kind and overly accommodating, or maybe that place just has incredible service all of the time.
I ordered the "Ossenhaas van Clare Valley, Gold Rund, Polenta en Truffeljus" or Tenderloin of Clare Valley Gold Beef, and Polenta in Truffle Gravy. One reason that I ordered it was that you could add seared foie gras, but the foie gras was all out since I was eating so close to closing time.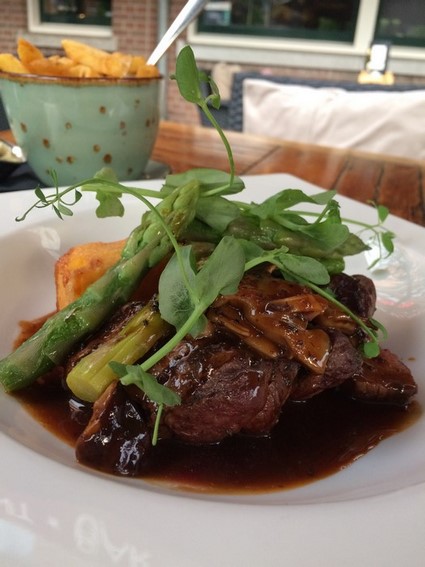 I knew with a main course that good I would have to order dessert. I had the "Chocolate Ganache-cake bosvruchen marshmallow en yoghurtijs" Chocolate ganache cake with forestfruit marshmellow and yogurt ice cream.
It started to rain and I didn't really care. Sometimes when you are traveling you just take things in stride. But the waiters rushed out and put me under a big umbrella. I felt very taken care of, which means so much when you are a lone traveler.