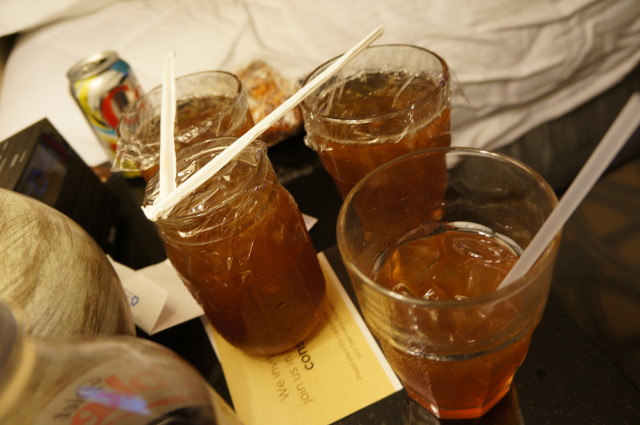 After watching a movie in our room until around 10pm Monday night, I realized I was hungry. I had only eaten crab claws and half a cup of jambalaya all day. So I called down to room service and ordered steak frites, profiteroles and an iced tea. What followed was a comedy of errors like a Benny Hill episode with the poor bellhop running all over to the tune of Yakety Sax. I was especially amused by the line, "I'm sorry I did not bring your profiteroles. I did not know what they were." And comically, every time he showed up to fix something else he brought another iced tea.
Finally I ordered a calzone from Magazine Street Pizza and I swear it was the best calzone I have ever eaten!
The next morning I had my heart set on Mother's. But Bob was hungry and wanted to visit the hotel's breakfast bar. I thought it was strange to have a free continental breakfast at a hotel of this caliber, but there it was. After we finished, a server appeared and handed us a check for $50. We were so upset! There was no sign or verbal warning that it wasn't free. 50 bucks for a couple of pancakes and a piece of bacon. Oh well, we decided, with the amenity we were actually still $50 ahead. In fact, we were $50, 1 birthday cake, 2 profiteroles and 4 iced teas ahead!