I don't usually make it to The Crumpet Shop in Pike's Place before they close, but I still managed to get my crumpets on this trip. During the lunch break from Saturday's workshop, Karen and I just kind of wandered around and ended up at the Queen Bee.
The eponymous Queen Bee is Colleen Clark, the owner's late mother. She symbolizes all hard-working and nurturing mothers. She raised her son in the kitchen, who became somewhat fixated on the traditional English crumpet.
The little eatery has the elaborate espresso machine that is de rigeur in all Seattle establishments. But the star of the show is the crumpet. Not only can you enjoy the traditional lemon curd or preserves and Devonshire cream, but they have crumpwiches!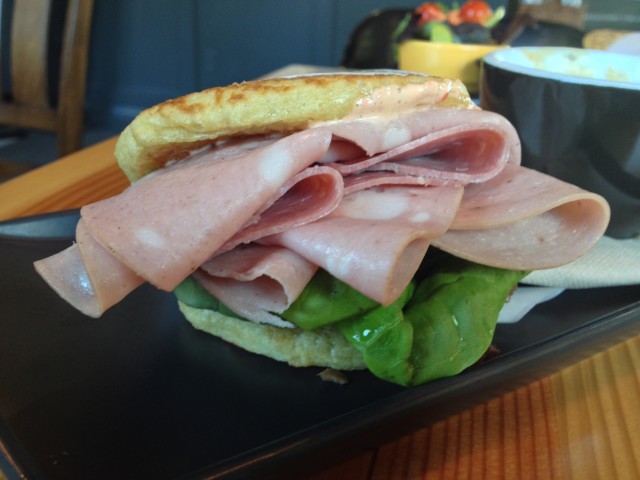 I tried the Three Kings with mortadella, genoa salami and pancetta with roasted pepper aioli and olive tapenade. I am not a fan of tapenade and left it out. Karen enjoyed a croque madame that was not battered or fried, but she really liked the jelly on it. The crumpwich is kind of gimmicky, and I probably wouldn't try one again.
I am sorry I didn't notice the savory topped crumpets. The Duck Confit with crispy shallots, rosemary and whole grain mustard sounds fantastic, as does the one with Beecher's cheddar cheese, blackberry jam and fresh berries.