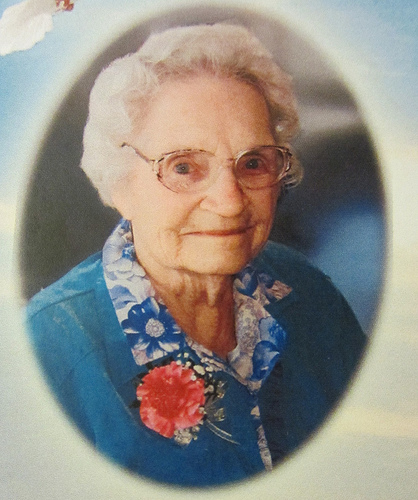 My mom's sister Mary Louise passed away Friday at the age of 97. She owned one of the farms we used to stay at when I was little. I remember eating rhubarb conserves straight out of the jar. I still think of her every time I make my strawberry-rhubarb sauce. One of my duties was to collect the eggs and I was shocked at the difference between fresh eggs and the ones I'd been eating all of my life. Auntie Mary Louise was quick to laugh, and she was one of my mom's favorite siblings.
In spite of the short notice and biting weather of Alberta, I agreed immediately to accompany my mom to Mary Louise's funeral. We flew in Sunday to spend the first part of the week at my cousin Maureen's. She is the daughter of my mom's sister Loretta.
Everyone in my family seems to have the good cook gene. Here are two of Mary Louise's best-known recipes.
Oatmeal Crisps
1 cup butter
1 cup brown sugar
1 cup white sugar
2 eggs
1 teaspoon vanilla
1 1/2 cups flour
1 teaspoon salt
1 teaspoon baking soda
3 cups rolled oats
1/2 cup chopped walnuts
 Thoroughly cream butter and sugars together. Add 2 eggs.
Sift together dry ingredients. Add to butter and sugar mixture.
Stir in oats and walnuts.
Form into 1 or 1-1/2″ rolls (logs), wrap in waxed paper and chill.
Slice 1/4″ thick and bake for 10 minutes at 350 degrees.
CARROT CHIFFON PIE
 3 unbeaten egg yolks
3/4 cup brown sugar
1 1/2 cups cooked and mashed carrots
1/2 cup milk
1/2 teaspoon salt
1 teaspoon cinnamon
1/2 teaspoon nutmeg
1 envelop unflavored gelatin
1/4 cup cold water
3 egg whites
1/4 cup white sugar
Combine egg yolks, brown sugar, carrots, milk, salt, and spices. Cook indouble boiler until thick.
Soak gelatin in cold water and add to hot mixture.
Chill until partially set.
Beat egg whites with white sugar until stiff. Fold into carrot mixture. Pour into baked pastry crust.
 Serve topped with whipped cream.