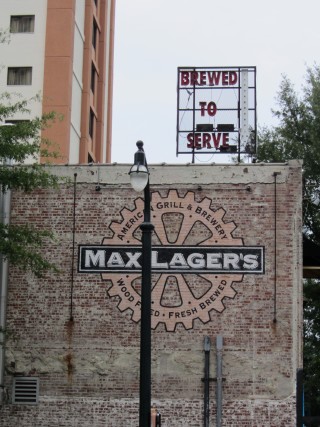 Monday night there was going to be a birthday party for a friend of mine. I hadn't heard from anyone, so after awhile I gave up and went to a nearby brewery that had piqued my interest. I had been eating so much soul food I thought I could get something healthy and grilled. After a brunch of chicken and waffles I had vowed not to eat any more fried food for the rest of the day.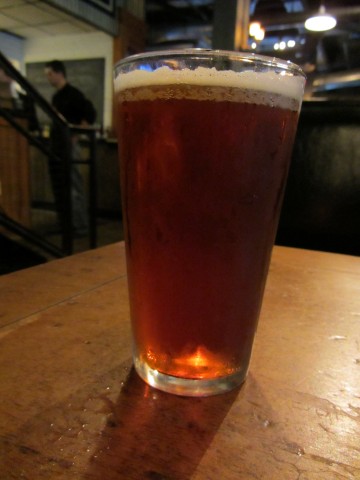 I don't drink like I used to, but it was a brewery after all with their very own brewmaster, John Roberts. I tend to like ambers and reds. Upon the server's recommendation I tried Max Red "A vibrantly red Vienna-Style lager, Max Red is a mild blend of a rich toasted malt character and subtle style but spicy hop finish."
The 100-year old brick building is decorated in a simple but modern pub style, a nice place to while away an evening. The servers were friendly and service was prompt.
I had noticed that there were 2 main fish dishes in Atlanta – catfish and salmon. When people asked me which I suggested, I would try to reply with more charm than sarcasm, "That depends, are we in Seattle or in the South?" Locally sourced food is big in California, and their menu did mention Neiman Ranch steaks. But when I asked where the lamb was from, the waitress looked at me like she wanted to say, "I think it went to Harvard."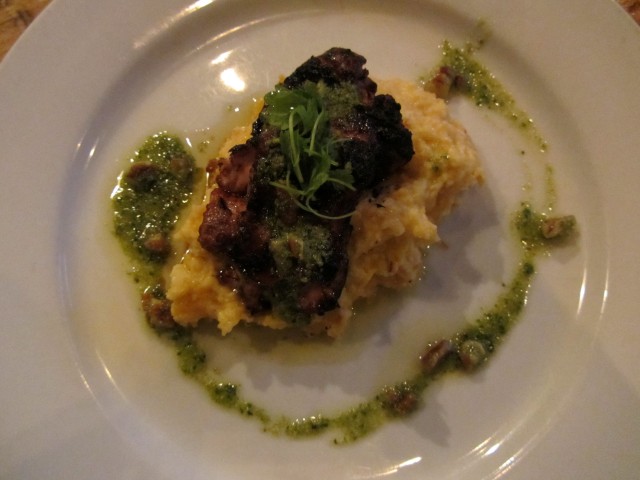 Since I was looking for something local and the fire on the open grill made the whole room smell good, I started with the wood-grilled Georgia quail with honey balsamic glaze, bleu cheese grits, and pecan pesto. A very modern dish. The quails were succulent – I know it is an overused word, but there is nothing to describe how juicy and sweet the breast meat was. The grits were properly cooked, even though I am not big on blue cheese. When I remember Atlanta, this dish is one that I know I will return to order.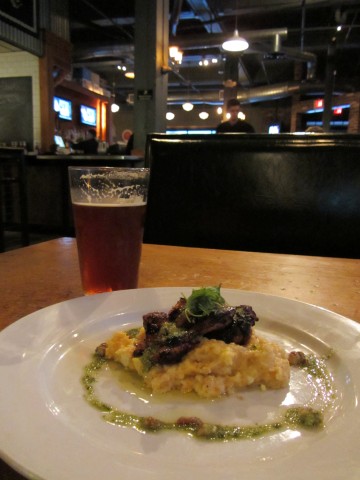 My main dish of shrimp was delicious and the truffle grits were much more to my taste. Mid-way through the meal I got a call to go to the birthday dinner, so I sort of rushed through the dish and rushed off to meet my friends.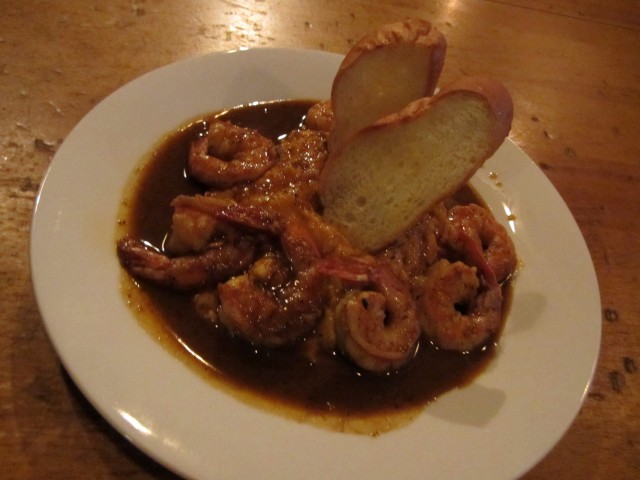 The next day a group of us needed a fast and convenient lunch spot, and I remembered Max Lager's. Almost everyone got the salad. With salmon.