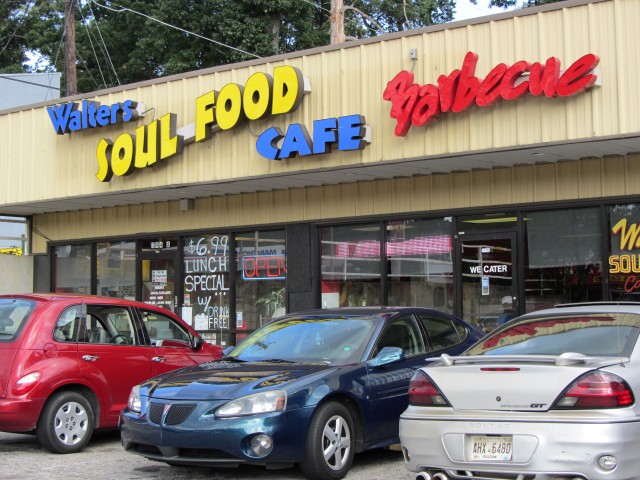 I emerged from the airport into the heat of Atlanta and approached the taxi dispatcher, "Is a taxi or a town car more likely to stop somewhere to eat?
"You wanna eat?"
"Just you know, like a chicken shack or something."
Passer-by, addresses the dispatcher incredulously: We have chicken shacks in Atlanta?
Dispatcher: No.
My taxi driver started out wary, telling me there would be lots of nice places around my hotel. Finally, I got through to him and he took me to Walter's Soulfood Express Cafe. It's a neighborhood joint in little row of businesses On Cleveland Avenue. The employees were friendly, and sure enough, there was a basket of peaches by the register. Welcome to Atlanta. The driver and I both ordered oxtails, and I also ordered fried catfish to-go, because I needed to stock up, after all.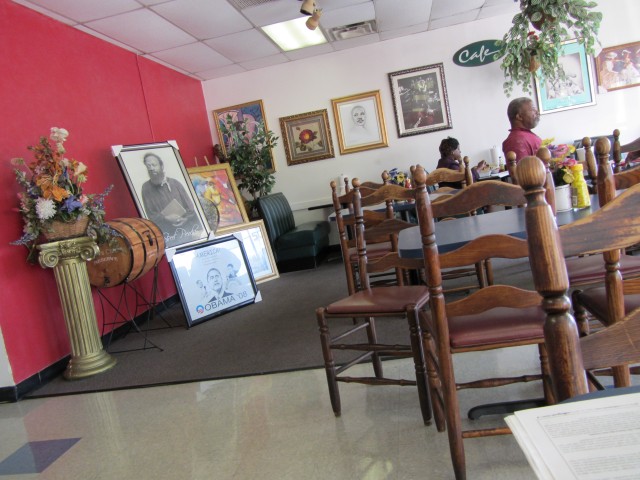 There was a problem with my payment at the hotel, so it took forever to get to my room. Normally, fried catfish would have steamed all to hell. But it was still crispy and delicious, even cold. It looks like there may be dark meat under the coating, but it's just dark from all of the spices. The greens were spicy perfection, and the mac and cheese were just what you would expect.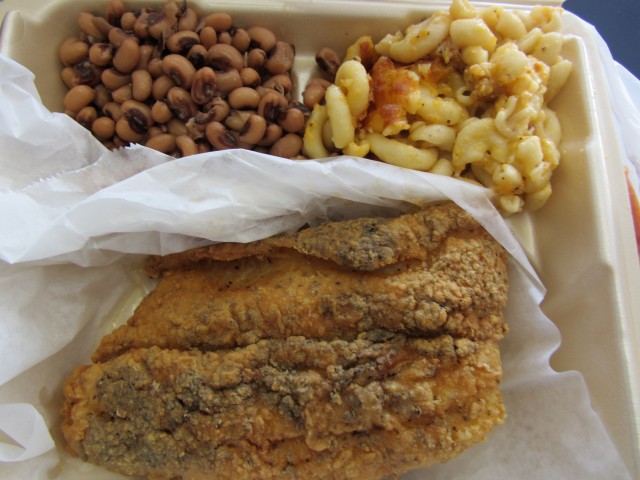 Even though I was oretty full I gobbled up the rice and gravy from under the oxtails as a midnight snack. The gravy was unbelievable.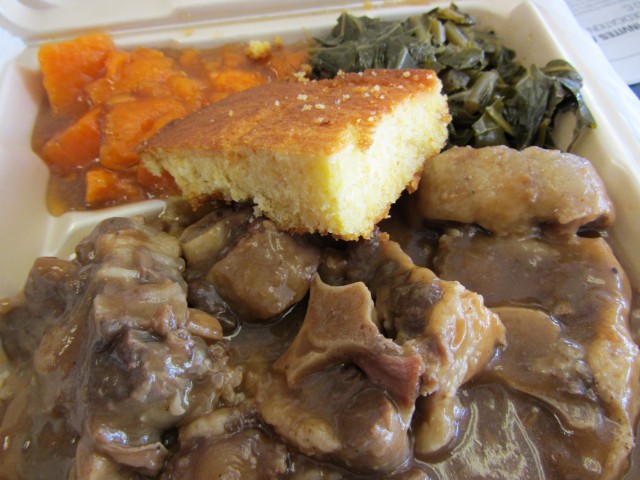 The red velvet cake was supermoist and had the surprising addition of nuts and a little bit of raisins. I'm still pondering whether or not I should have gotten the key lime cake.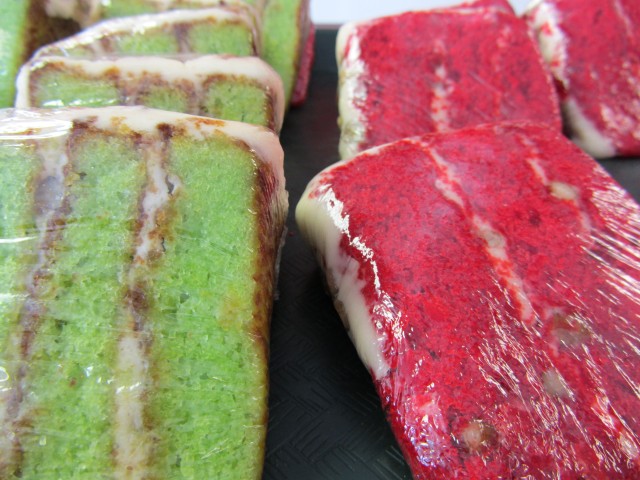 The Marriott Marquis is frighteningly tall. My room is in the 20s and still near the bottom. The rails that are supposed to keep you from falling the length of the CN Tower look like monkey bars, which seem like they would be a dare to a person on the right kind of drunk. My room is nice and quiet, and the bed is sheer heaven. What more can you ask for?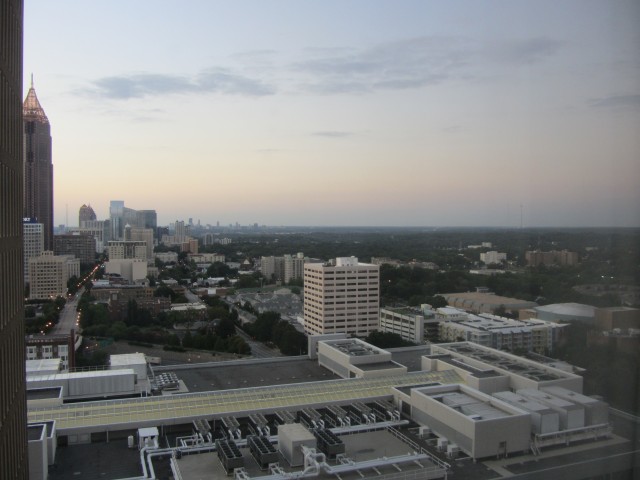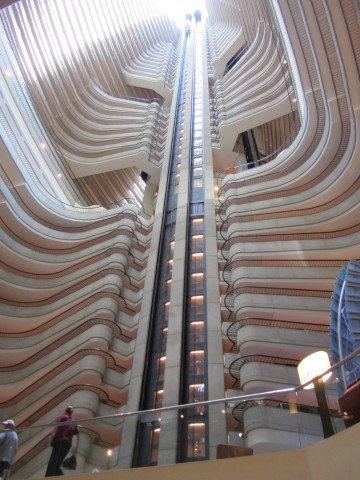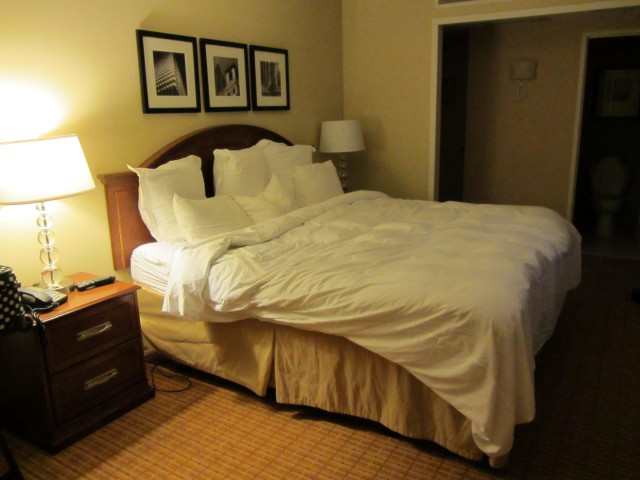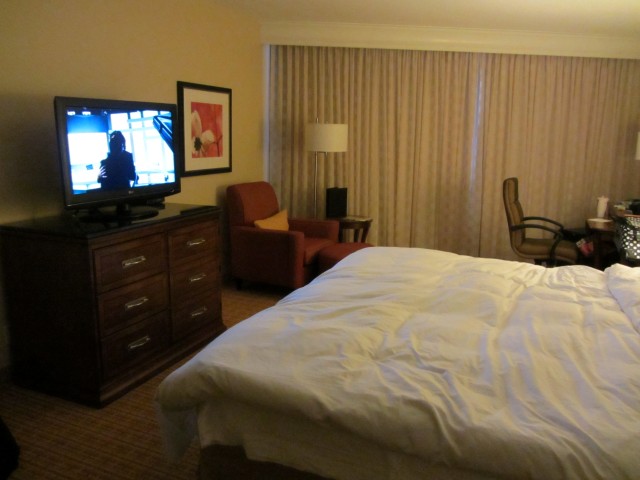 On the way home, the driver said, "Now that I saw that turkey, I think I'm going to have to go right back there and get that turkey. It looked so good."
I knew this was my guy, "What's your day rate? Want to have breakfast with me at Mary Mac's tomorrow?"