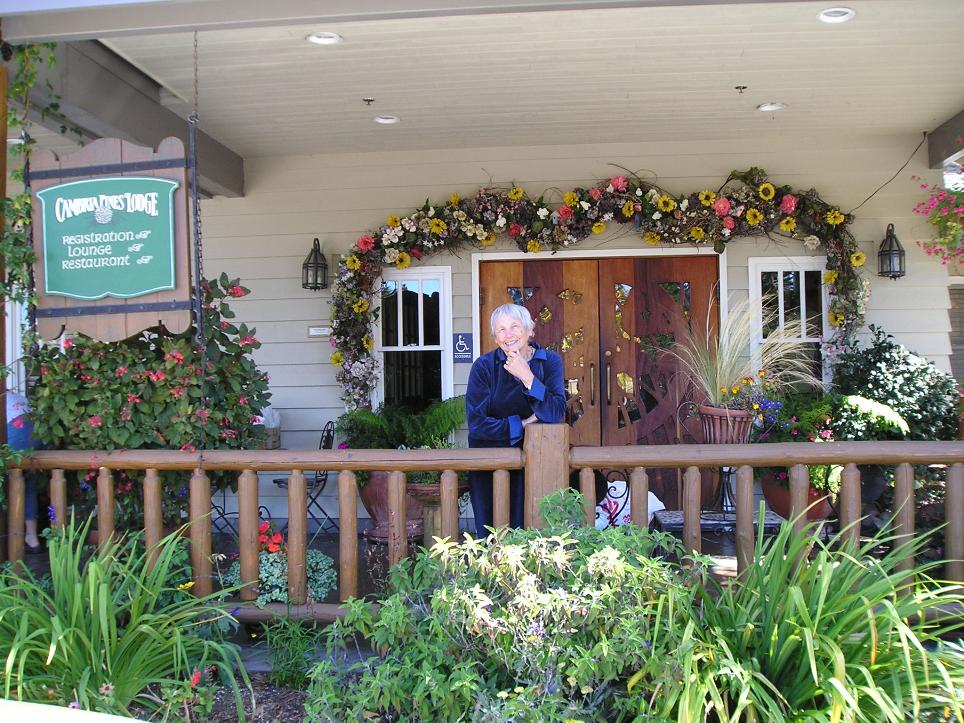 Cambria Pines Lodge is a beautifully landscaped wedding factory. One of those places that just churn them out, three a day. Instead of the weddings being disruptive, they were kind of fun to watch from afar, because some people were dressed like cowboys or wore top hats like Abe Lincoln. One couple inexplicably had hand puppets. And kind of creepy hand puppets at that.
My family all met for dinner at Cambria Pines' restaurant. It was fantastic, which surprised us a little. The crab cake appetizers were plump little buttons, with crispy outsides and perfectly done centers. Even the vegan ravioli were sumptuous and velvety. An appetizer platter of make-your-own crostini was earthy and fun. For entrees, my filet mignon was tender and buttery. I don't like salmon, but my brother insisted I try it. It had all the flavor of salmon, with none of that metallic intensity that can be so off-putting. Later, my mother complained that her prime rib special was awful, but I was unclear as to what was wrong with it. I wish she had mentioned it earlier, so I could have split my filet with her.
The morning breakfast buffet was also surprisingly not bad, but not great like dinner the night before. We had a large party, so I picked a bus boy and tipped him five dollars ahead of time to make sure we got plates and chairs as needed. The chef saw me tip the busboy and came to thank me. I asked if she had been the chef night before and we had a nice talk. I should have gotten her name. Back at the buffet, the biscuits and gravy were good, which is an accomplishment in and of itself. The eggs and sausage were also good. But the pastries! They had rich, buttery, moist butterscotch scones that I would drive all the way back for. And end a sentence with a preposition for.
We went to check out the elephant seals. I thought I saw a bunch of them on the beach at Cambria, but Piedras Blancas is their official habitat, or "rookery", so we continued up the coast for another 10 minutes. Off in the distance, you could barely make out some lumpy, irregular shapes. The irregular shapes were pale and various shades of brown, the exact same color as the driftwood. I assumed we had missed the season.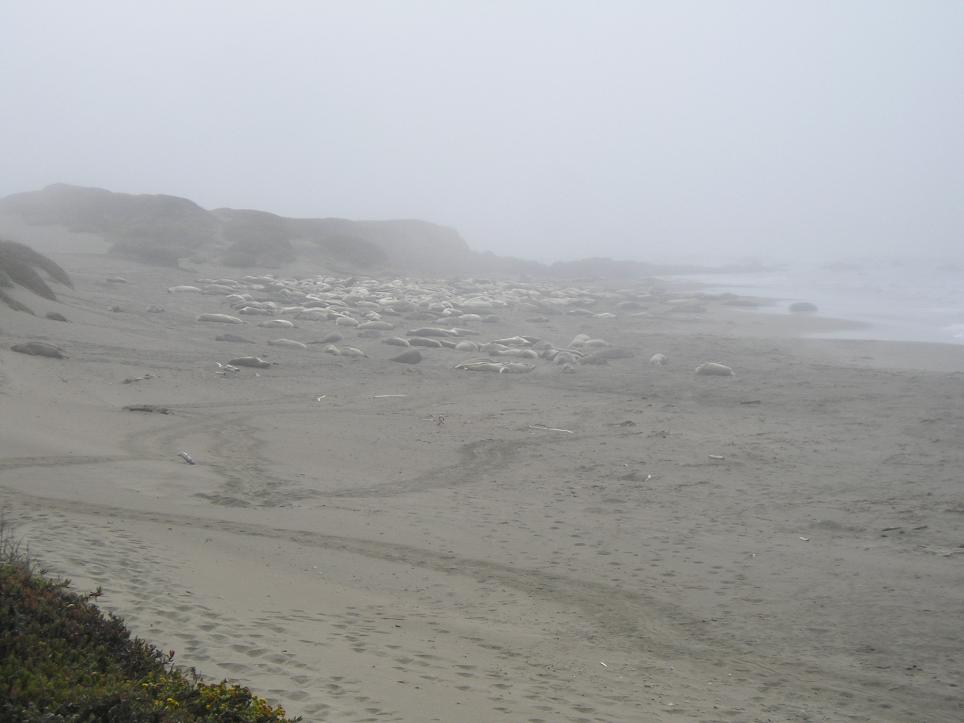 My brother insisted the irregular shapes were elephant seals, but I was so certain it was driftwood, I made him bet me five dollars. We walked along a wooden walkway, and finally got close enough to see a huge bunch of irregularly-shaped elephant seals. They just laid there, and we just stood there, and then we left. On the way back, we stopped at the beach at Cambria, to see if there were really any elephant seals where I thought I had spotted them. My brother said, "Let me guess…driftwood?" Yep.