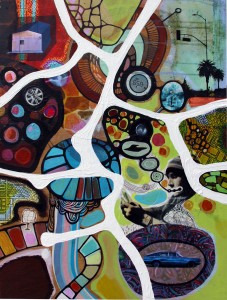 Just like an anniversary or a partner's birthday, Mother's day can sneak up on you. But you aren't doomed to just buying a sad bouquet on the freeway offramp. Kiki is here to help with some ways to give your mother what she really wants — your time.
FRIDAY, MAY 6, 2011 6:30pm-11:00pm

"A NEW DAY" art exhibit to benefit Japan
Artist Alevé Mei Loh organized this group exhibit for Japanese earthquake and tsunami relief. Admission is free and paintings start at $100. Curated by Henry Lien, Owner/Director Glass Garage Gallery, the exhibit features works from over 30 artists.  Lien describes the show thusly, "This exhibition is ultimately a portrait of the impulse in art to find meaning and renewal in loss," So take your mother out for a genteel evening of VeeV Acai Spirits, wine, and fine art while helping all of the mothers in Japan. Bellrock Media, Inc. 2917 Santa Monica Blvd, Santa Monica, CA 90405
(Pictured) Jon Measures "Rejuvenation 1" 2011. Mixed Media on Board.
May 8, 2011 6-10PM
Joe's Restaurant in Venice is featuring a 3-course prix fixe Mother's Day menu (including vegetarian options). I would recommend:
Steamed mussels, grilled shrimp, salt roasted potatoes, saffron broth, toast
Pan seared Sonoma duck breast, purple prairie barley, young carrots, vanilla-parsnip purée, pistachio-golden raisin compote, smoked port jus
Carrot Cake, Ginger Creme Anglaise, Cream Cheese Mousse
$53/person For Reservations, Call 310.399.5811 or Click Here 1023 Abbot Kinney Blvd,  Venice
Sunday, May 8, 2011

brunch / 11:30 am to 3 pm
supper / 5 pm to 8:30 pm
Palate
is serving a 3-course menu at brunch and dinner, both priced at $39. Out of the many exciting options I recommend:
chilled pea soup / homemade mint-ricotta / iowa prosciutto
river trout / collard greens / corn bread / spicy green tomatoes
banana cream pie / chocolate crust / toasted almonds
reservations 818.662.9463 933 South Brand Blvd. Glendale 91204
click here for reservations
Sunday, May 8th Brunch:  11:00am – 3:30pm
Is mom a basketball fan? Rush Street will be offering a Mother's Day Brunch and dinner. Not only will you not have to miss your game, but Kiki is a huge fan of their mac and cheese! The Culver City favorite will be featuring:
o        Complimentary Bloody Mary or Mimosa for Mom
o        Bottomless Bloody Mary Bar & Endless Mimosas
o        NBA Playoff Action: Lakers v. Mavericks 12:30pm
Mother's Day Dinner
o        Complimentary Glass of Champagne for Mom
o        Kids Eat Free
o        NBA Playoff Action: Bulls v. Hawks  5:00pm
9546 Washington Blvd Culver City, 90232 (310) 837-9546 to reserve seating.
May 08, 2011 all day
JustJenn will be signing her new comic-cookbook, O.G. Grandma! A Mother's Day High Tea Set will be offered for $20 featuring Royal/T Milk Tea flavored cupcakes courtesy of JustJenn Recipes. 310.559.6300 8910 Washington Blvd. Culver City, CA 90232

Just Jenn's Milk Tea Cupcakes
ingredients:
3/4 cup (1-1/2 sticks) butter
2 cups sugar
3 eggs
1 teaspoon vanilla
2-1/4 cups cake flour
1-1/2 teaspoons baking powder
1/4 teaspoon kosher salt
1 cup whole milk
2 Tablespoons Royal T tea
Preheat the oven to 350 degrees. Prep a cupcake pan with liners.
In a small saucepan, warm the milk – careful not to scald it. Take it off the heat and put the loose tea in an infuser and let the tea steep in the hot milk. Set aside. You want this good and overly saturated so that the cupcake will get the full flavor of the tea.
In a medium bowl whisk together the dry ingredients: cake flour, baking powder and salt. Set aside.
In the bowl of an electric mixer cream the butter and the sugar until combined. Add the eggs one at a time, and then the vanilla.
Alternate the dry ingredients with the tea infused milk until the batter is nice and smooth. Divide the batter into the liners – you will get 24 cupcakes out of this.
Bake for 14-16 minutes depending on your oven, checking with a toothpick. Let cool on a wire rack.
Once the cupcakes are cooled, top with the mascarpone frosting and serve!
Royal T's tea is so lovely, the milk tea taste really comes through with hints of rose and lots of flavor which pairs really nicely with the creamy, light mascarpone frosting. A perfect cupcake for a tea party!
Marscapone frosting:
8 ounces mascarpone cheese
1 cup powdered sugar
pinch of salt
1 teaspoon vanilla extract
1 1/2 cups heavy whipping cream
In a medium bowl combine mascarpone cheese, sugar, salt and vanilla. Stir together until smooth, and set aside.
In the bowl of an electric mixer beat whipping cream until stiff peaks form – don't overdo it, the last thing you want is for it to curdle. Then fold the whipped cream, into the mascarpone mixture until combined. If you get it just right, you will get a nice sweet fluffy frosting.