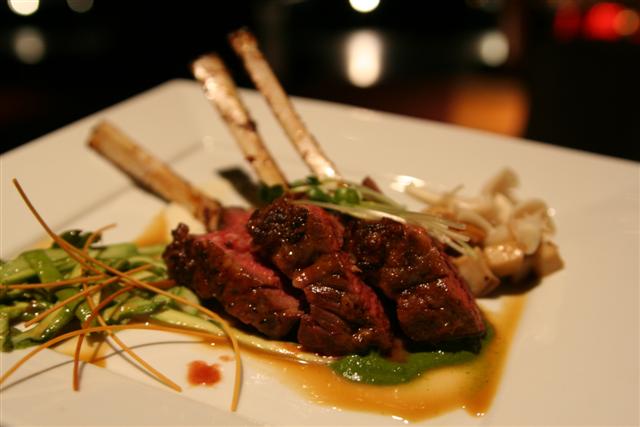 Over the winter the Tourist Board of Toronto hosted a dinner at Highlands Hollywood with Toronto Chef, Guy Rubino. Rubino is co-host of Food Network Canada's "Made to Order." The purpose of the dinner was to promote Toronto's "luxury hotel boom", and new "cultural developments". You don't have to sell me on Toronto. As regular readers know, I am already a big fan. I am also a big fan of their Westin.
I was curious to try some more Toronto haute cuisine and see this this chef's spin on fusion with ingredients like choke cherries and saskatoons. Since it was also a wine tasting I brought along my friend Lyssa to be my expert in that field.
The appetizer was a fish course. Fishy-fish. With fishy sauce. The tuna tartar was lovely, but it was topped with dry seaweed, which unfortunately added to the fishiness. Then it was taken way too far with a dip of soy an sesame oil. I asked the bald chef if the dip had Dashi in it and he said no.
I tilted my head skeptically and he replied, "Bonito flakes."
It seems Dashi is a term for seasoning that could be dried seaweed, sardines, or even mushrooms.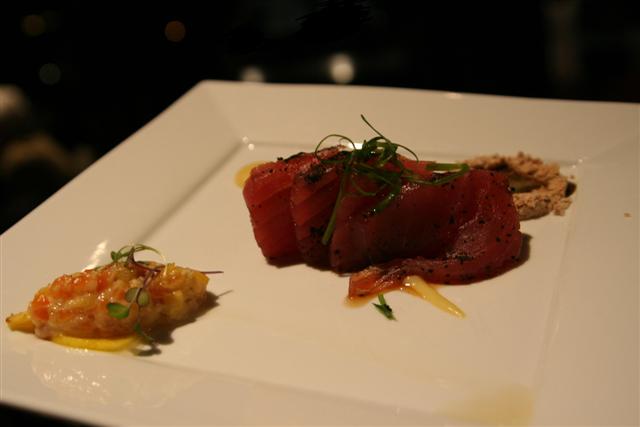 The tartar was accompanied by a tuna purée and mango chutney.  The wine was a Chardonnay from Canada's Inniskillan winery in the Niagra region. The sommelier, or chef, who was a friendly bald man, said to taste for notes of vanilla. Lyssa tasted that plus apricot/peach notes. Very nice, mild and drinkable, but it was not served cold enough.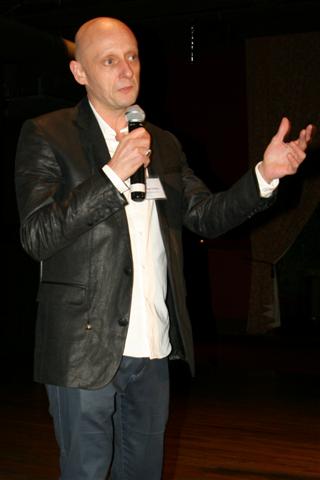 The lamb was too rare for Lysssa's taste, but perfect for mine. The lamb was served atop a very citrusy pesto sauce and creme fraiche. Shaved raw asparagus was a new twist alongside enoki and chanterelles. The main course was served with a Merlot from the same winery. No nose. The Chardonnay was better, but the Merlot was good after decanting. Very leathery with some plum. Very dry.
 Dessert was served with Ontario's infamous ice wine. It was very good. Dessert consisted of vanilla ice cream withcocoa nibs. The cocoa bean had hints of coffee. Chocolate mousse was served on a butter cookie with something akin to a "krackle" chocolate bar. The chocolate-ice cream dessert was inexplicably served with pear balls and an anjou pear purée. To make it winter-y I suppose. The best thing about the dessert was the salted caramel on the mousse. The chocolate sauce brushed on the plate was – wrong. Something funny was going on. I know it is hip to use dessert ingredients in savory dishes and savory ingredients in dessert, but this savory flavor was super familiar and so so wrong. I chased down another bald man. The right bald man, it seemed. Soy sauce. In chocolate. Yes. I knowww.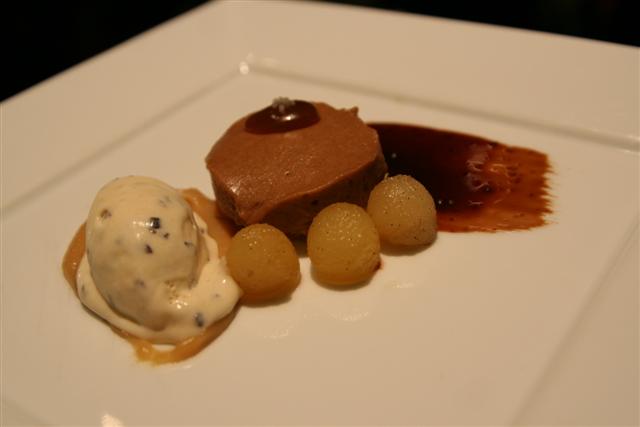 Anyways, the bald men were nice; the lamb was lovely. Highlands Hollywood is always a nice venue. And the wine flowed freely.