6. EVERYBODY LOVES PORTO'S!!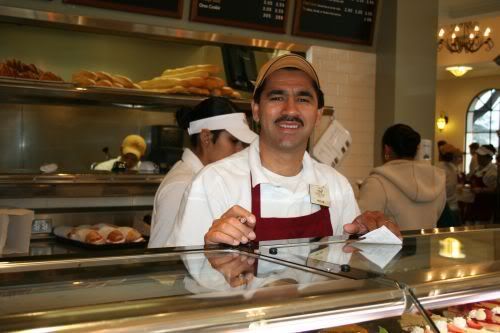 True, Porto's has been a Glendale institution for over 35 years, but last year saw the grand opening of its Burbank location. And we greeted them with open arms! The Portos family began their tradition of baking back in Cuba, and the second generation is now helping to run the business.
You enter the large bakery's corner entrance facing the barista. On your right is a long bakery case with a line snaking back and forth two or three rows deep, depending on the time of day. That is the line for cakes, and a wide assortment of breads and pastries. To your left is a shorter, single line and bakery case. Choose this line for sandwiches, and a smaller selection of pastries and breads. It is an "express line" for people who aren't ordering a large quantity of baked goods. If you order sandwiches or cafe con leche you are given a number. You wait for the cafe in front of the barista, and you wait for the sandwiches in the far left corner. In the far right corner is a special counter for custom ordering sheet cakes and wedding cakes. Learn the system, and you can be in and out surprisingly quickly, considering the crowds.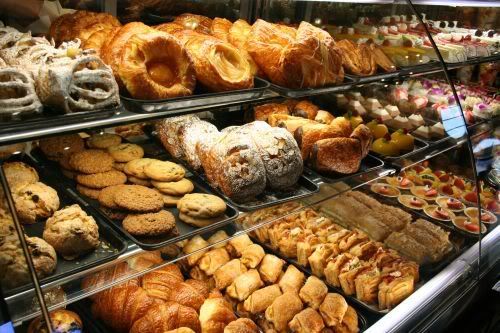 Porto's has too many selections for me to list, and even the list of specialties is extensive. They are famous for their potato croquettes and pastries with guava filling. But if I had to pick one item that is Porto's claim to fame, it would be the pastel de carne, the little meat pie. Savory ground beef is enclosed by a flaky crust that is a cross between a puff pastry and a pie crust. The top is brushed with a sweet glaze, which makes the pies unusual yet addictive. They make an excellent party appetizer, a steal at 50 meat pies for 25 dollars.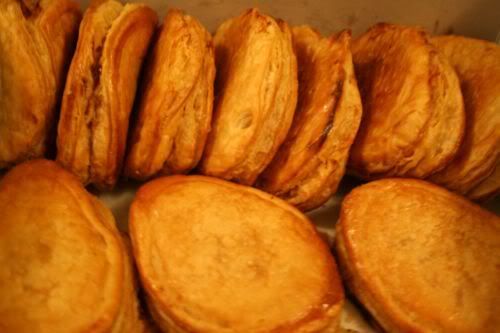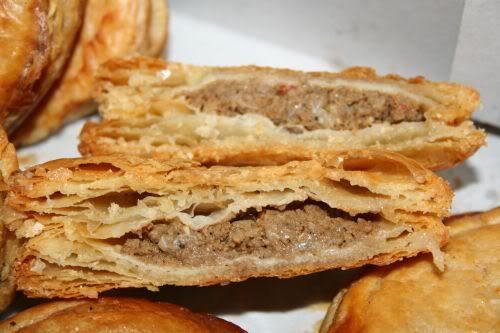 For my wedding cake, and for most of my birthday cakes, I have ordered the Cuban cake: Yellow sponge cake soaked in a light brandy syrup, with a guava filling. Be forewarned: the darker icings use an intense food coloring that turns everyone's mouths bright blue, or black, for the rest of the party. Sometimes this is kind of a fun thing to do on purpose.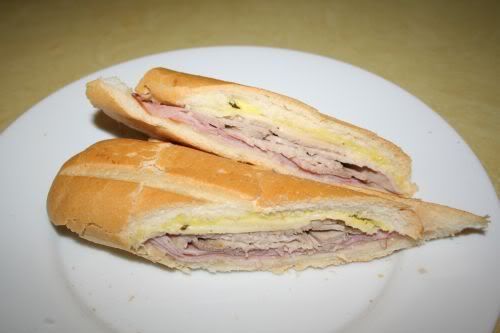 I often stop by early in the morning for Cuban sandwiches – roasted pork, ham, Swiss cheese, mustard and pickles layered on French bread still warm from the oven. No matter how early it is, the staff are always friendly and energetic. As soon as I started to take a picture of the bakery case, everyone started laughing and posing for my camera. The people who work at Porto's love their jobs; they are having a good time. Their happiness is highly contagious and often has me walking to my car, sandwiches and pastries in hand, with an extra little bounce in my step. 3614 W Magnolia. .http://www.portosbakery.com/home.htm