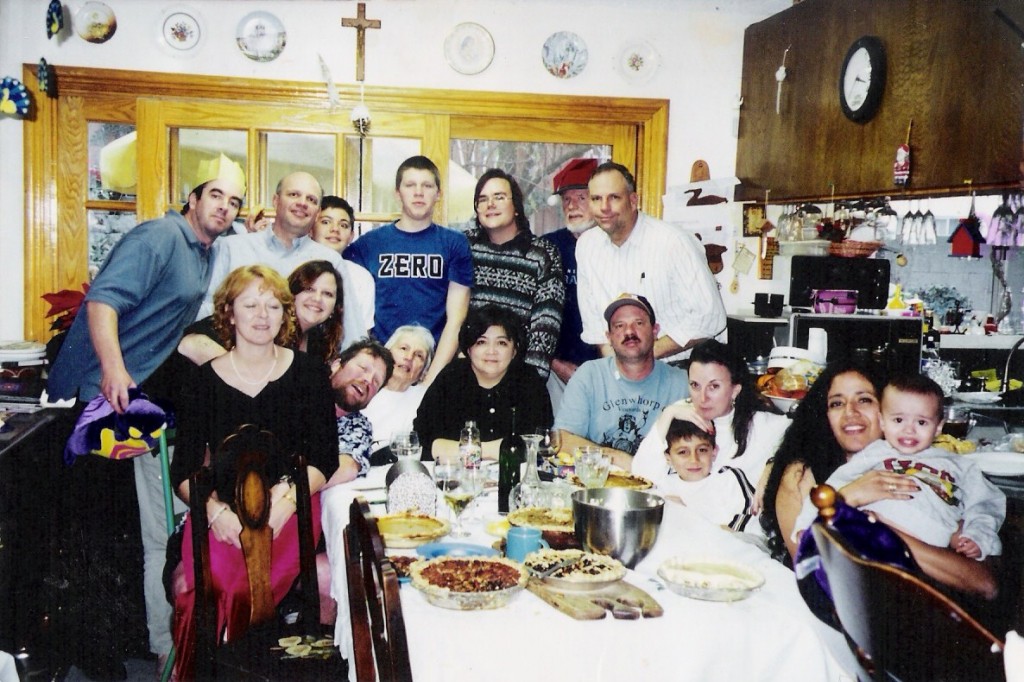 Remember that tear-jerking story-song, Rocky?
She said, "Rocky, I never cooked Thanksgiving before, don't know if I can do it… but if you'll let me lean on you, and take my hand, I might get through it…"
Thanksgiving is actually much easier than a lot of dinners I've cooked. It's one of the easiest. People just become intimidated by the sheer size of everything, and the fear of being judged. Just think of it as cooking a giant chicken. Gone are the days where you have to get up a hundred times all night to baste the turkeys. Overcooking turkeys dried them out. Don't let the charts and graphs freak you out. They are there for reference. And remember, everyone at the table is just so relieved they didn't have to cook, you can get away with murder.
So let's do this thing!
Rule #1 Delegate! People always ask if they can bring anything. Tell them what you want. Thanksgiving works best as a potluck. The only things you can't delegate are the turkey and mashed potatoes.
Rule #2 Shortcuts. Don't freak out over things like the pie crust. Marie Callendars makes a perfectly good frozen pie crust. And if it really freaks you out, buy it. Marie Callendars also sells pies. Canned cranberry sauce? Buy the "whole" cranberry kind, mix in a little orange zest. Or just don't make it. The only thing you have to do is make turkey and mashed potatoes. You can do that.
Rule #3 Alcohol. Unless you have issues here, ask everyone to bring a bottle of champagne. It makes things automatically festive, and no one notices if the food is screwed up. All the guys will pass out in front of the game, and champagne is not the kind of alcohol that encourages fighting, like, say, whisky does.
Rule #4 Shop Tuesday. Prep and cook side dishes and dessert Wednesday. Make turkey and potatoes Thursday. I like to wait and shop late at night, because the store can be crowded and stress you out. If you wait til Wednesday, some things like whipping cream will be sold out.
Rule #5 Appetizers – cheese and crackers, fruit, hummus, whatever you don't have to make. Tell people to bring them if you have run out of other things to delegate. If you need help in the kitchen, put appetizers in the kitchen. Then when people come in to snack, say, "Hey – do you mind mashing these potatoes?" See, they fell right into your trap. If you want them out of your hair, put appetizers in the living room and they will stop coming in every 10 minutes to ask when dinner will be ready. Put an ice chest out there too if you really want to be left alone.
Rule #6 DO NOT BUY A FROZEN TURKEY. Most Thanksgiving disasters involve undercooked turkeys that just won't cook. You should have already bought a frozen turkey by now if that was your plan. They take forever to thaw. If it's just a little hard, and it's all they have left, buying it today might be OK. Put it in a big sinkful of warm water to help defrost faster. Never leave it in the sink over 2 hours. And never thaw it on the counter.
Shopping List (Check things off if they are already in the pantry)
1 turkey (1 pound per person)
butter (Buy 2 pounds. You will need it for lots of things)
onions (You will need around 3 for everything)
garlic (1 head)
1 package or bunch fresh rosemary
Salt and pepper (invest in freshly ground pepper and a nice salt. It's a holiday)
aluminum foil
Optional:
Turkey temperature gauge
Aluminum roasting pans (Buy two. Use one inside the other. They aren't that strong.)
Champagne
Basting brush
TURKEY
1 turkey
1/4 pound butter
1 onion, cut into 4 pieces (quartered)
5 peeled cloves of garlic
2 or 3 sprigs fresh rosemary
See chart below to decide when to start roasting. Preheat oven to 450 degrees.
Take turkey out of package inside a clean sink. Reach inside and pull out a bag of innards. No one likes these. Throw them away. Overachievers can make giblet gravy, but we are going to throw them away. Pull out the neck. If you like, you can wrap this in tin foil and it will be done about an hour before the turkey. Some people like to snack on it. Rinse turkey under cold, running water and put it in roasting pan.
Melt the butter. It takes a little under a minute in the microwave. Divide butter into a few little teensy bowls. Rub the turkey, inside and out, with melted butter. Put that bowl of butter in the sink now, because it has touched raw turkey. Put onion, garlic, and rosemary (you can also use fresh thyme, or sage, whatever) inside of cavity of turkey. Stuffing the turkey with stuffing causes uneven cooking and salmonella.
Cook turkey, uncovered, for one hour. Brush with more butter and turn the oven down to 400 degrees. You can baste the turkey in its own juices with a spoon if you feel like it. If you are brushing on the butter with a brush, wash the brush every hour or so. I use paper towels because it is less work. Make sure the pan does not dry out. Add water or chicken broth if the pan looks dry.
Cook turkey another half hour, then brush with more butter. If it seems like it is browning too soon, cover with aluminum foil. If it is not browning fast enough, remove foil. Repeat every 30 minutes. Don't reuse melted butter; melt more if you have to. Throw out the bowl of melted butter and use a fresh bowl every time. No poisoning people allowed, even if your uncle does make you crazy. It might be a good idea to buy a temperature gauge just in case: The turkey is done when the thigh meat reaches an internal temperature of 180 degrees F, and when the breast meat reaches an internal temperature of 165 degrees F and the thigh is 170.
12 to 14 lbs…………..3 to 3 3/4 hrs
14 to 18 lbs……..3 3/4 to 4 1/4 hrs
18 to 20 lbs……..4 1/4 to 4 1/2 hrs
20 to 24 lbs…………..4 1/2 to 5 hrs
Mashed potatoes are one of then few dishes I can't live without on Thanksgiving. Luckily, it is super-easy. Just make someone else peel the potatoes. Peeling is an easy thing to do while watching TV, so recruit those football fans. You can also peel them Wednesday, and as long as you keep them covered with water, they will not discolor much.
(The shopping lists can be copy and pasted together, or used separately if you are bringing a dish to someone else's house)
Recipes after the jump
SHOPPING LIST:
Baking potatoes
1 pint whipping cream
2 pounds haricot verte
1/2 pound shiitake mushrooms
1 quart chicken broth (for everything)
1 shallot
(You should already have: butter, salt and pepper)
MASHED POTATOES
1 medium baking potato per person, then a few more. I would always rather have leftover potatoes than not enough. Be generous.
Cut them into chunks. The smaller the chunks, the faster they cook. Physics. Poke at them with a fork until they are almost falling apart and you can't see a white core in the middle. Drain (This is a good "helper job for strong arms).
Pour potatoes back into the pot and cook over low heat a few minutes to remove excess moisture. Add about 1 Tablespoon butter for every 5 medium baking potatoes. Mash. Some people use a ricer, or whip them with a mixer. I like good, old-fashioned mashing. This also requires, good old-fashioned elbow grease, so grab a helper. Add a little whipping cream, about 1 Tablespoon for every 5 potatoes. Keep adding butter and cream until you are happy. Salt and pepper to taste.
Shortcut: Buy cute little new potatoes. They don't have to be peeled. Scrub, boil, drain and mix with a lot of butter.
I don't do the green bean casserole thing. It's a love-it-or-hate-it dish. I have my own version of green beans. If you use the skinny French kind, called haricot vertes you won't have to trim the ends. Definite time-saver. Sometimes they are sold pre-packaged, like baby carrots. Ask the produce guy.
GREEN BEANS
2 pounds haricot verte
1/2 pound shiitake mushrooms
3 cups chicken broth
4 Tablespoons butter
1 shallot, chopped
Salt and pepper to taste.
(Make this Wednesday)
Rinse green beans. Wipe mushrooms with a damp cloth to clean. Cut off tough stems. Slice mushrooms about 1/2″ thick.
Put green beans in a medium-sized saucepan. Pour chicken broth over. Add water until green beans are covered.
Cook over medium heat until al dente, about 15 to 20 minutes. Drain, reserving liquid.
In a frying pan, melt butter. Add shallot and mushrooms. Cook over medium heat, stirring frequently, until mushrooms change from white to a transluscent beige.
Pour green beans and mushrooms into a large bowl and toss. Refrigerate.
Thursday, warm up in a low oven or the microwave. Just before serving, season. This is where freshly ground pepper and a nice salt make all the difference.
Shortcut: Toss bagged baby carrots with melted butter and a little olive oil. Throw in some fresh rosemary and thyme. Roast at 400 degrees about 40 minutes. Steam some broccoli or whatever is easy.
OK, maybe I lied about the mashed potatoes. What I love most is the stuffing. Man, it's like Sophie's Choice trying to decide. I don't see any reason to deal with the hassle of making cornbread just to use in stuffing. But straight out of the box is boring. My mom has always used ground pork sausage in hers and it is killer. Ask the guy at the meat counter.
We are also going to need a little gravy and cranberry sauce to round things out. Make the stuffing and the cranberry sauce Wednesday, then make the gravy while the turkey rests. Gravy also seems to freak a lot of people out. But again, the pitfalls that have given it its bad reputation are easy to fix.
So let's go!
Shopping List:
1 to 1 1/2 pounds ground pork sausage
1 bunch celery
1 (6-ounce) box cornbread stuffing mix
2 cups crumbled dried bread or breadcrumbs
1 bag fresh cranberries (2 cups)
1 (10-ounce) package frozen strawberries
Dried sage
flour
sugar
(You should already have onions, garlic, chicken broth, salt and pepper)
DEE'S SAUSAGE STUFFING
1 to 1 1/2 pounds ground pork sausage
1 medium onion, chopped
2 cloves garlic, diced
3 stalks celery, chopped
1 (6-ounce) box cornbread stuffing mix
2 cups crumbled dried bread or breadcrumbs
1/2 teaspoon black pepper
2 teaspoons dried sage
Chicken broth
Preheat oven to 325 degrees. In a large saucepan, brown sausage with onions, garlic and celery over a medium flame. Drain off excess grease.
Remove from heat and let cool a little. Transfer meat to a large bowl. Stir in stuffing mix, dried bread, pepper and sage. I don't add salt because the sausage is pretty salty, but I tend to undersalt my food.
Stir in just enough hot chicken broth to make everything damp, one to two cups. Put into a deep greased casserole dish (around 1 1/2 to 2 quart size).
Bake for 1 hour covered with foil, then 15 minutes uncovered. To reheat, sprinkle the top with turkey pan drippings before putting in oven (275 – 300 degrees).
(Shortcut: Use 2 boxes stuffing mix instead of adding the dried bread. Omit sausage.) The photographer of the photo above used chorizo instead of pork sausage. Then I would probably substitute oregano for the sage

TURKEY GRAVY
2/3 cup of dripping from the pan
About 3 Tablespoons flour until smooth
about 2 cups liquid
Salt and pepper to taste
Spoon out about 2/3 cup of pan drippings aka grease. Gradually whisk in about 3 tablespoons of flour until you have a smooth paste (or when it starts clumping in a ball, stop adding flour).
Remember that chicken broth we set aside when we made the green beans? We need it now. If you forgot, use the water from boiling the potatoes. No? OK, just use plain broth or water. Gradually whisk in about 2 cups of liquid, a little at a time, until it looks like gravy. Salt an pepper to taste.
Oh no! Did you end up with lumpy gravy? The humiliation! Run the gravy through a fine sieve (mesh strainer). Voila! Fixed!
(Shortcut: Envelope McCormick's Turkey Gravy or a carton of Pacific Natural Foods gravy)

STRAWBERRY-CRANBERRY SAUCE
2 cups fresh cranberries
1/2 cup sugar
1/2 cup water
1 (10-ounce) package frozen strawberries
Combine cranberries, sugar and water in a (1 to 2-quart) ovenproof glass dish (OK, Pyrex. We all know that means Pyrex). Microwave on low power (defrost) uncovered, stirring once or twice, until a few cranberries have burst.
Immediately add strawberries. The heat from the cranberries will melt the strawberries. Stir occasionally until well-mixed and refrigerate.
(Shortcut: Canned. To fool people, buy canned "whole" cranberries and mix in a little orange zest, maybe a litle brandy. Or a few frozen strawberries)
See, we're almost there. This is not so hard, is it? We can do this!
Who doesn't love pumpkin pie? Well, a few people, but they can bring their own dang pie. I am not even going to deal with the crust. This is not the time to be learning how to make the perfect pie crust. Marie Callendar's deep dish pie crusts are fine. Let them thaw a little even though you are not supposed to, because the dough cracks and this way you can repair tell-tale problems and actually make it look more homemade. I've never had anybody complain. Really, people hardly cook. When they see that you have made a pie they act like you have just made it appear out of thin air. You are magic. I can't stress homemade whipped cream enough. The only excuse is if you don't own a mixer. It takes 3 minutes. This recipe makes 2 pies, depending on the size. If you have extra filling, pour it in custard cups. You get to eat those now as your bonus for all this work – I mean FUN!
OK, let's bake some pies!
Shopping List:
2 deep-dish pie crusts
1 big can pumpkin puree
light brown sugar
ground cinnamon
nutmeg
ginger
allspice
milk
eggs
vanilla
(You should already have white sugar, flour, salt, whipping cream)
TOTALLY AMAZING PUMPKIN PIE
2 cups pumpkin puree
2/3 cup light brown sugar, packed
1/3 cup white sugar
1 Tablespoon flour
Dash salt
1 1/2 teaspoons ground cinnamon
1/2 teaspoon each: nutmeg, ginger, allspice
Pinch ground pepper
2/3 cup whipping cream
1/3 cup milk
3 eggs, lightly beaten
1 1/2 teaspoons vanilla
Preheat oven to 400 degrees.
In a mixer, beat together pumpkin, brown and white sugars, flour, salt, spices, pepper, cream, milk, eggs and vanilla until it looks like pie filling.
Place pie shells on baking sheets (cookie sheets). Pour filling into pie shells. Bake until filling is set, but still slightly wobbly in center, about 45 minutes. A spot about the size of a 50-cent piece in the very center should still look damp.
Cool on a wire rack. Cover with waxed paper and set in a safe place in the refrigerator.
(Shortcut: Use "pumpkin pie spice" instead of measuring so many spices)
To whip cream:
Place 1 or 1 1/2 cups whipping cream, about 2 teaspoons sugar and a few drops of vanilla in the mixer. Use the wire whisk attachment if you have one. Whip until soft peaks form.
(Shortcut: Reddiwhip)
OK, so your final game plan:
Tuesday:
Call people to confirm what they will bring. Ask someone to bring the rolls.
Go shopping at the grocery store early in the morning or late in the evening.
Make whoever you live with clean the house.
Check tablecloth, china and glasses to see if they need ironing or have become dusty.
Get out the big roasting pan, baking dishes, Mixer, etc.
Clean out the refrigerator. You will need the space.
Order in Chinese food and relax.
Wednesday:
Prepare:
Pie (I always make this first so I don't have accidental garlic or onion transfer).
Cranberry Sauce
Green beans
Stuffing
As long as you are already peeling and chopping, prep the onion and garlic for the turkey and put it in a plastic bag in the fridge. Triple-bag it so the pumpkin pie doesn't taste like onions.
Set the table. I go for buffet service. It's easier on everyone.
Make somebody do all the dishes.
Thursday:
Get that turkey going.
Make someone peel the potatoes (they can sit in water on the stove for awhile).
Put butter out in butter dish to soften.
Set out appetizers.
Have a few vases and shears ready in case people bring flowers.
Have the wine openers and glasses out.
Have extra serving spoons ready in case people bring unexpected side dishes.
About an hour before the turkey will be ready, turn down the heat in the oven a little and put in the stuffing to warm up. Add the green beans about 1/2 hour before turkey is ready. You can always microwave stuff if you have no room in the oven.
Make someone mash the potatoes.
Prepare the gravy.
Figure out who will be carving the turkey (this can be an alpha male thing, or put someone on the spot. Privately ask the oldest or most important man there if he would like to do the honors, then move down the line if he says no. Yes, this is totally sexist). Have this person carve in the kitchen and put the meat on a nice platter – white meat on one side, dark on the other. You miss out on the big presentation, but that is when people drop the turkey or the electric carver short-circuits. It's all fun and games until somebody loses a thumb.
As people are finishing up, start the whipped cream, unless you would all like to take a breather before pie.
See, that wasn't so bad, now, was it?
I love you, mom!!!
Final, complete shopping list:
1 turkey (1 pound per person)
1 to 1 1/2 pounds ground pork sausage
1 (10-ounce) package frozen strawberries
2 frozen deep-dish pie crusts
butter (Buy 2 pounds. You will need it for lots of things)
1 pint whipping cream
Quart of milk
dozen eggs
Baking potatoes (1 per person, plus a few more)
onions (You will need around 3 for everything)
garlic (1 head)
1 package or bunch fresh rosemary
2 pounds haricot verte
1/2 pound shiitake mushrooms
1 shallot
1 bunch celery
1 bag fresh cranberries (2 cups)
1 quart chicken broth (for everything)
1 (6-ounce) box cornbread stuffing mix
2 cups crumbled dried bread or breadcrumbs
Dried sage
flour
sugar
1 big can pumpkin puree
light brown sugar
ground cinnamon
nutmeg
ginger
allspice
vanilla
Salt and pepper (invest in freshly ground pepper and a nice salt. It's a holiday)
aluminum foil