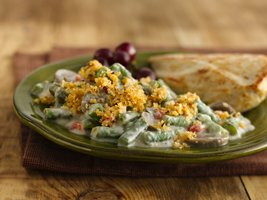 It is a strange thing being on Betty Crocker's email list. It's a blessing and it's a curse. I don't mean to be a food snob — I have eaten my share of mayonnaise, Top Ramen, and instant cake mix. But some of her suggestions just blow my mind.
Take for instance the upscale Supreme Green Bean Casserole. What makes it supreme? Truffle shavings? Caviar? God forbid, FRESH green beans? REAL fried onions? No way, that's just not Betty's style.
So where are the upgrades? Let's check out this recipe. First, Progresso soup instead of Campbells (are Progresso and Betty owned by the same parent company? Hmmm). Oooh, white wine. Well, I can't argue there. The more wine the better.
OK, I guess frozen green bean's wrinkly squeak is preferable to canned green bean's sad, mushy squish. I think Betty may be getting ahead of herself is with the hip Panko breadcrumbs. Betty has heard of Panko?
Watch out people, the next thing you know she'll be pushing Ahi Tuna Noodle Casserole.
Supreme Green Bean Casserole
| | |
| --- | --- |
| 1 | can (18 oz) Progresso® Vegetable Classics creamy mushroom soup |
| 1/4 | cup dry white wine |
| 1 | cup grated Parmesan cheese |
|   | Dash ground black pepper |
| 2 | bags (12 oz each) Green Giant® Valley Fresh Steamers™ frozen cut green beans, thawed |
| 1 | jar (4.5 oz) Green Giant® sliced mushrooms, drained |
| 1 | jar (2 oz) diced pimientos, drained |
| 1 | cup Progresso® Italian style panko crispy bread crumbs |
| 1 | tablespoon butter or margarine, melted |
Heat oven to 350°F. In ungreased 2-quart casserole, mix soup, wine, cheese, pepper, green beans, mushrooms and pimientos.
In small bowl, stir bread crumbs and melted butter until well mixed. Sprinkle over casserole.
Bake about 40 minutes or until hot and bubbly and bread crumbs are golden brown. Let stand 10 minutes before serving.
Photo and recipe courtesy of Betty Crocker