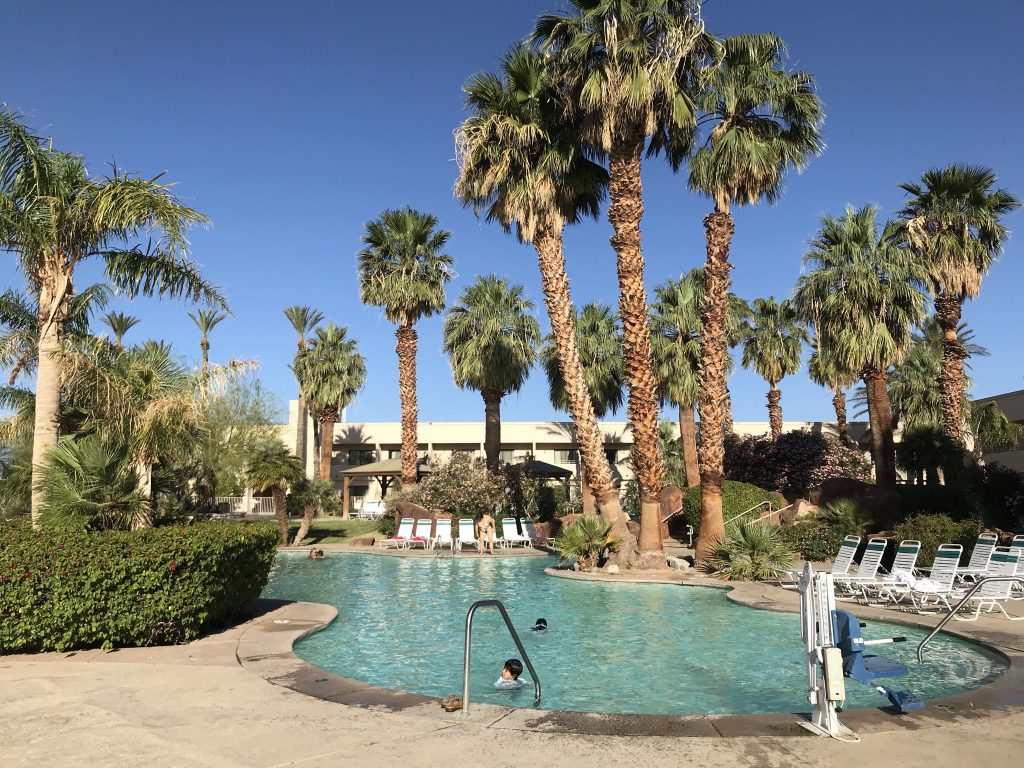 I have been obsessing over wanting a jacuzzi, so I booked a weekend at Miracle Springs Resort and Spa in Palm Desert. The place itself is like a no-frills motel, but the grounds are gorgeous, with a swimming pool, two wading pools, three big Jacuzzis and two small 2 or 3-person Jacuzzis that are fed with natural mineral water. The best part is that they don't close the pools at 10 pm like most places. They are open 24-hours, which is awesome if you are going to Coachella or barhopping. You can come back at 2 am and still have a nice soak. Plus, they have a spa with really good massage therapists.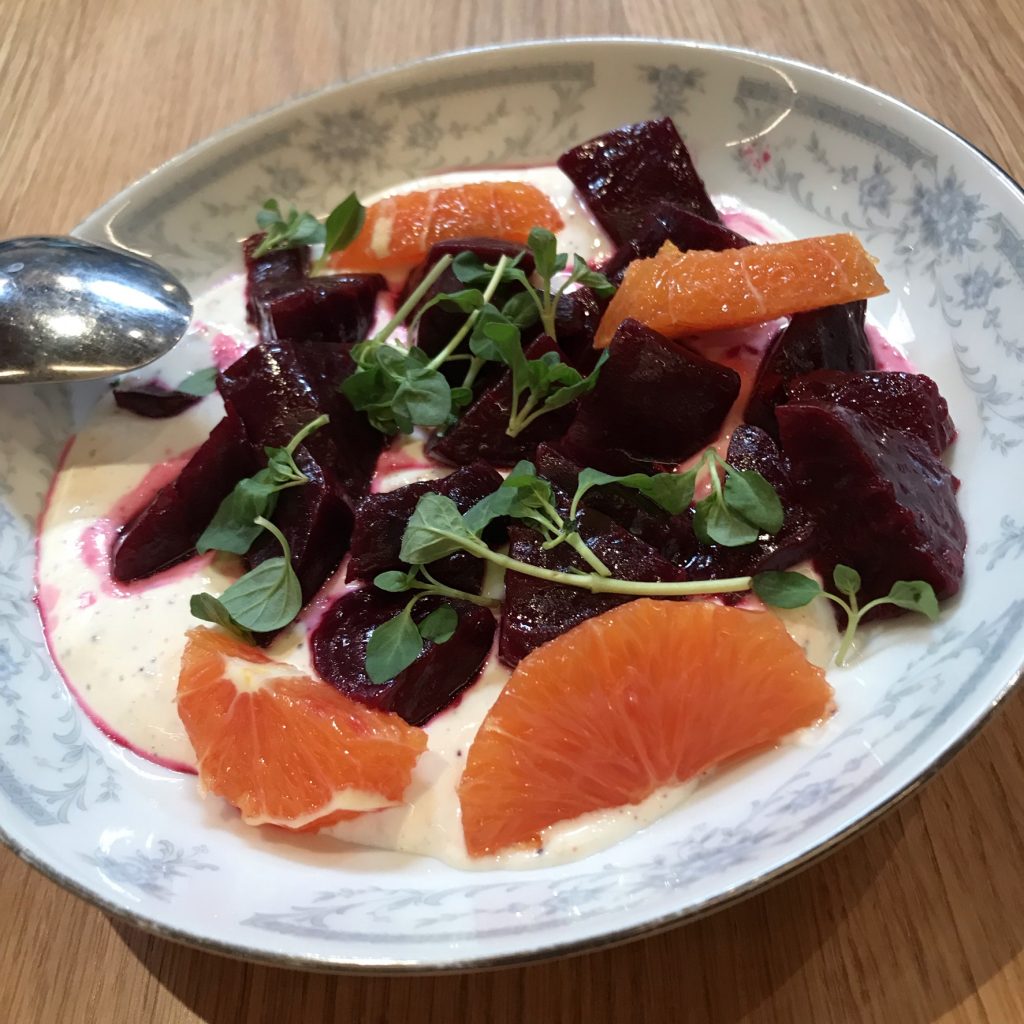 Friday, on our way out of LA, we stopped at Agnes in Pasadena for lunch, my new favorite place. I figured, we were on vacation, so why rush? We had a leisurely lunch starting with their beet salad with oranges nestled in a flavorful hummus, and an interesting if not mind-blowing BLT made with fried green tomatoes,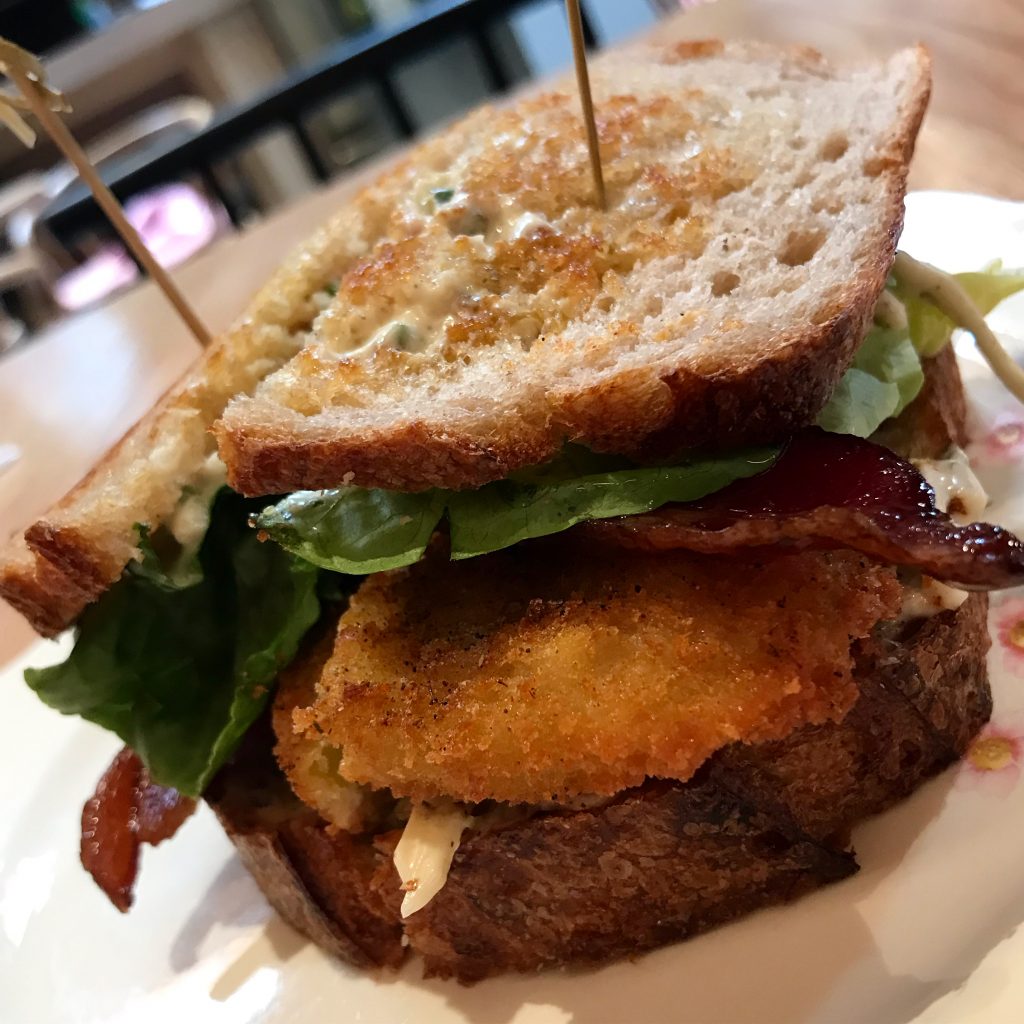 We also split an awesome pasta. Beef cheeks with homemade pappardelle, which they called a "stroganoff." It came with shaved Gouda, but that was just too weird for me, so I went without the cheese.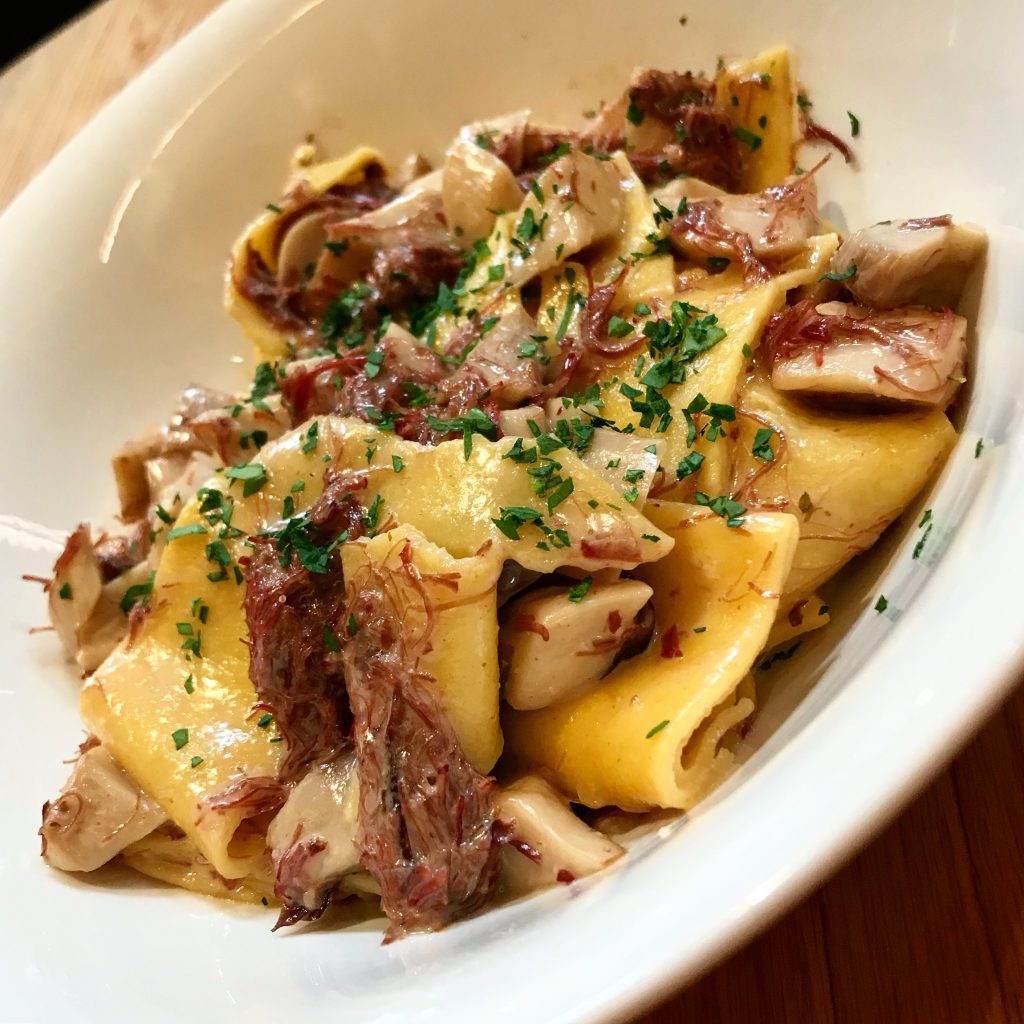 I had made a big mistake leaving at around 2 pm for Desert Hot Springs on a Friday. It took us over three hours to get there! We had wanted to go to Cuistot's "happy hour" between 5 and 6 with less expensive dishes and appealing-sounding bento boxes, but we didn't get into town until 5: 45! We decided we were tired and ate at Miracle Springs' Italian/Steak restaurant called "Capri," which was another big mistake. It was like the worst rubber-chicken-style wedding food ever. Bob was fine with his pasta. I looked around the room and everyone else seemed perfectly happy. I wished I could be as easily satisfied as other people are. It's a burden being so damned picky. We had a nice soak and turned in early.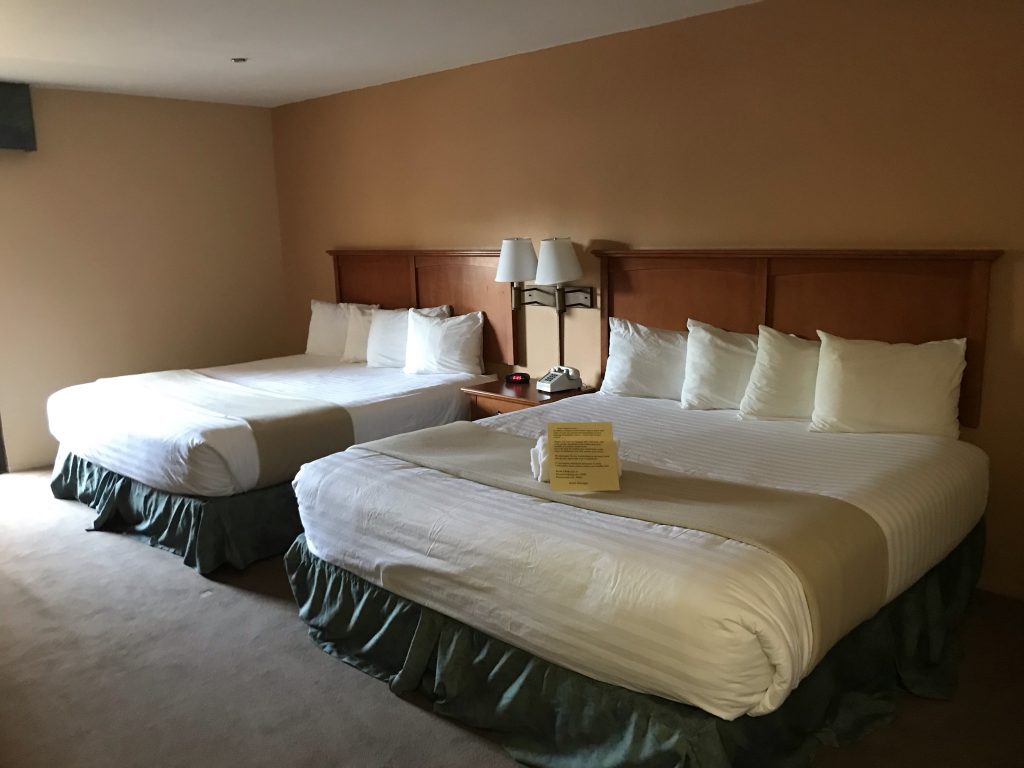 I was pleased with the upgrades to the rooms since our last visit. They had painted, but not replaced the ugly carpeting. It's super clean, but a little run down, like some caulking was cracked, and there were bleach stains on the carpet. I was worried about our room being between the parking lot and the stairs, but it was really quiet and HUGE. The beds had white comforters instead of creepy brown flowery prints, so I was super happy.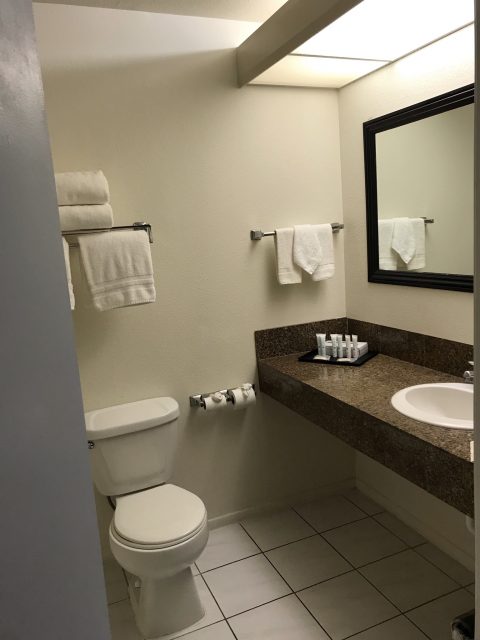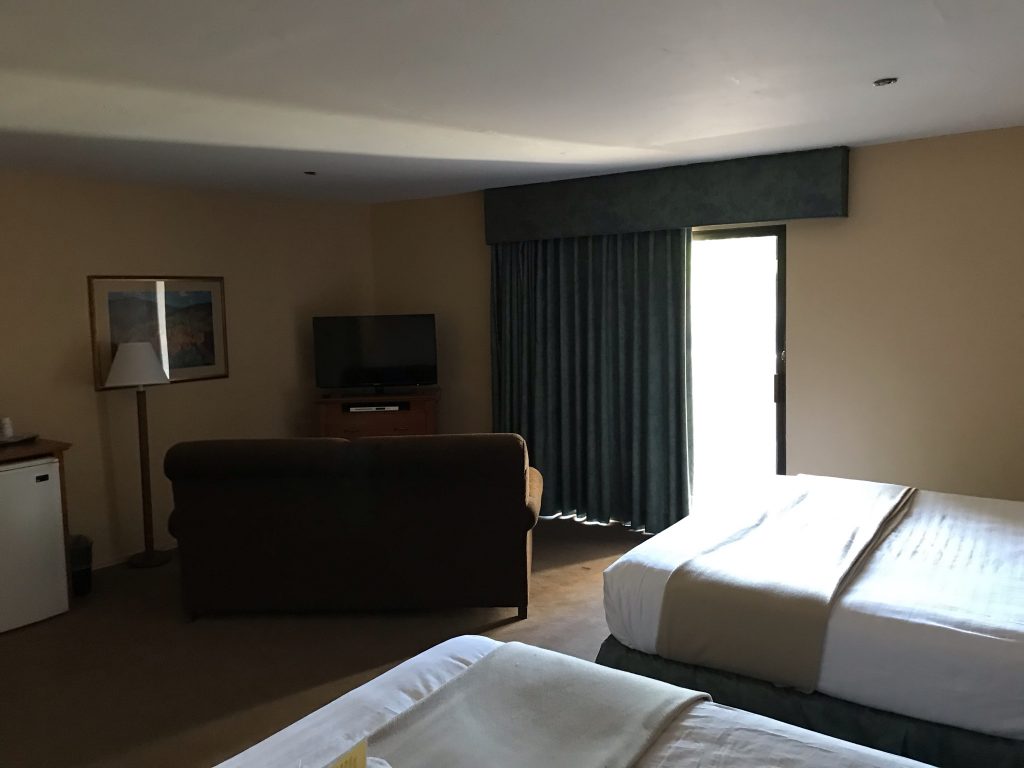 They have cool copper elevators. But they need to take out the carpeting. The elevator smells worse and worse as the weekend progresses.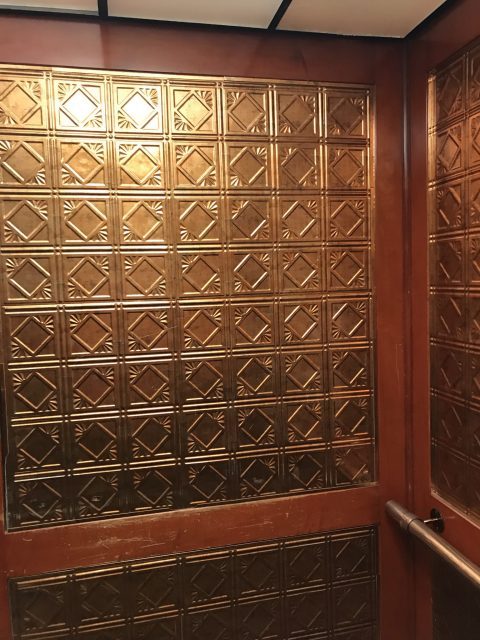 Saturday, we headed into Palm Springs and had a fantastic breakfast at Wilma and Frieda's. It's upstairs in a courtyard where Sonny Bono's statue holds court and is comfortable and hip. There is a big bakery with tempting treats like house made pop tarts.
The shrimp and grits was no great shakes–the grits were too thick, but the short rib benedict—oh my God! It was heaven! They baked their own rusk, probably out of biscuit dough, the eggs were perfect and the hollandaise…wow…I could eat a bowl of it with a spoon! Their biscuits, which you could order as your bread option were HUGE,,,like kitten heads! I could only eat half of the breakfast, and we were too full to even have lunch.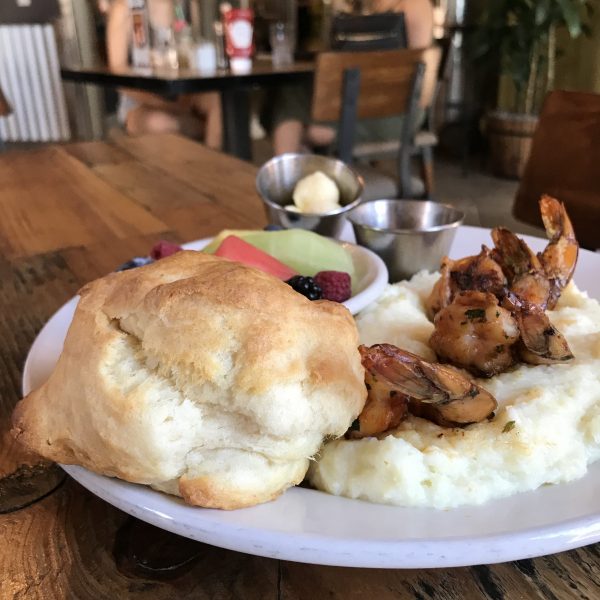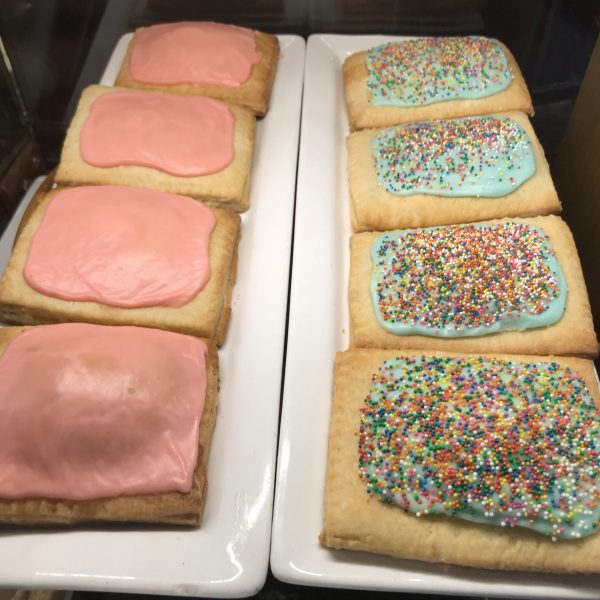 We had lovely massages. My massage therapist and I spent the whole time talking about Snoop Dog and South Park. When I knew the old Twilight Zone episodes he mentioned, he said, "Wow, you're cultured!"
I laughed, "Because I watch way too much TV?"
He said, "No, I mean…you're…cool." So yeah, I over tipped him.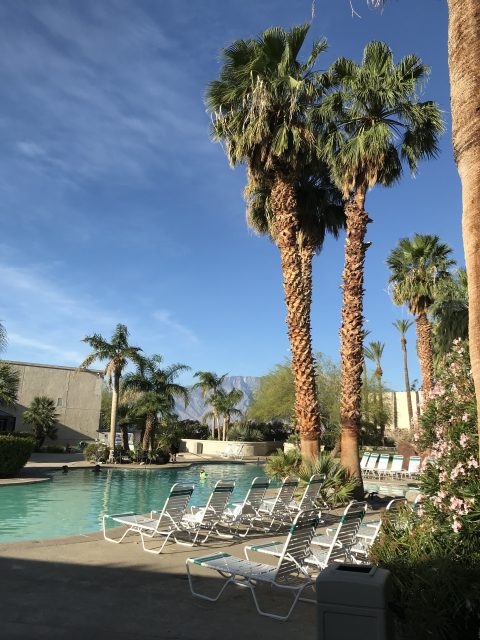 We had a nice soak, then got dressed up for our fancy anniversary dinner at Cuistot. Unfortunately, they no longer have crab gratin or foie gras, but we have to change with the times. We started out with a lovely asparagus dish.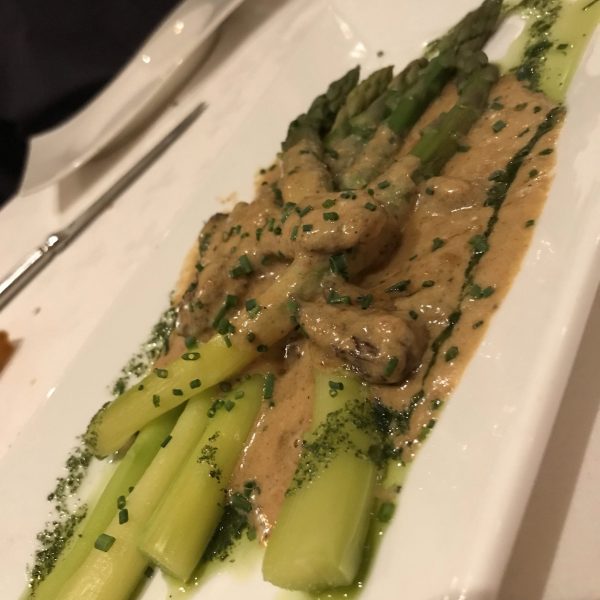 It seemed so expensive for a vegetable dish, but it was loaded with morels and served in a rich truffle-morel sauce. I was trying to have good table manners, but the waiter suggested I sop up the sauce with my bread. That's called permission, and I went with it.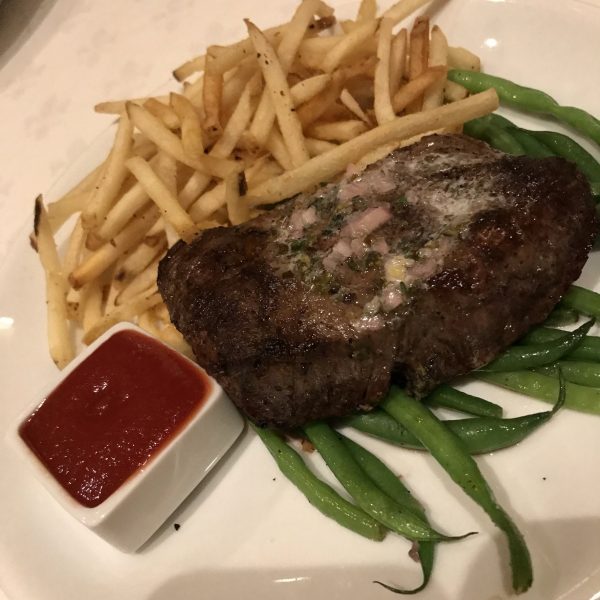 For mains, I ordered steak frites, a 6-ounce flat-iron steak, that was the least flat flat-iron I've ever seen. It was so ridiculously tender. Bob went with Medallions of pork that were also ridiculously tender, in an ingenious mustard and viognier tarragon sauce. Viognier is a full-bodied white wine from the south of France (yes, I looked it up).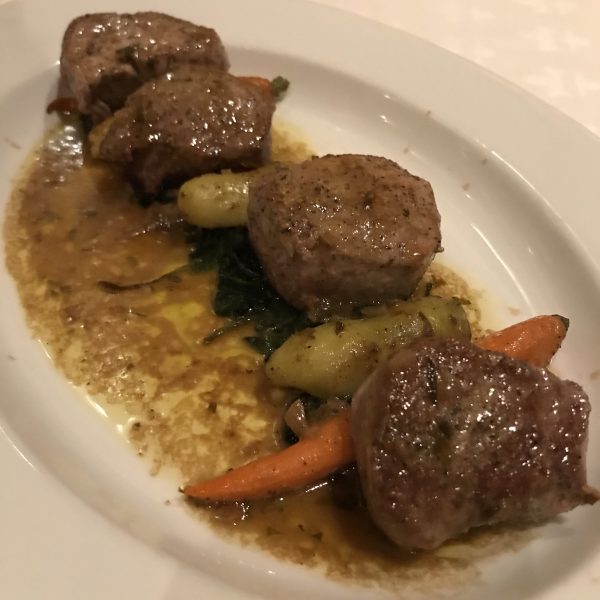 For dessert we tried the peach cobbler and creme brulee. The cobbler was a bit sweet for me, which is saying something when the other dessert has a sugar crust on it. It is still my favorite restaurant and "our place" in the desert. They gave us a card for a free appetizer when we return. The food is always amazing, the service is unparalleled. Cuistot may be the best restaurant in all of Coachella Valley.

Our room had a DVD player in it, so we stopped at Red Box to rent a couple movies. But we were so full and relaxed we didn't even make it through a single one before we crashed.
We woke up early Sunday and had a final soak, then went around the corner to The Cottage Too for breakfast. We had planned on hitting the much-recommended Delicias, but they weren't open yet. The decor reflected a very classic local roadside spot, and the food was OK. My biscuits and gravy would have been fantastic if it wasn't room temperature, and their potatoes were above average.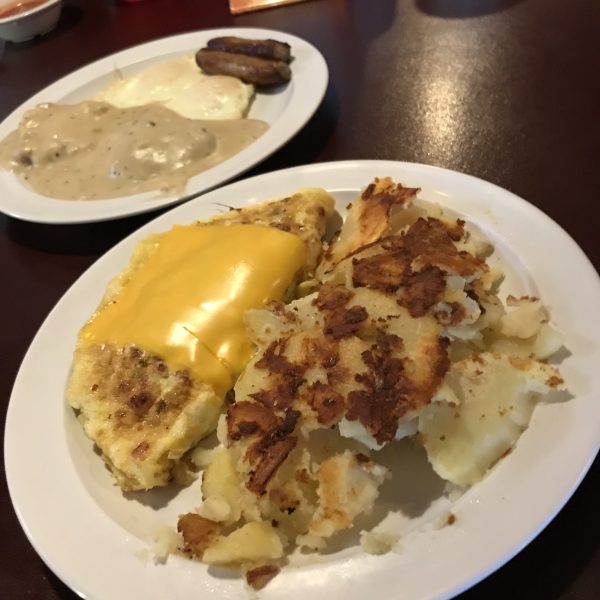 After checking out, we hit a couple of shops in downtown Palm Springs on the main drag. The Little Shop of Treasures had some cool chairs and china that I liked, but I already have too much of both. There was a cute 2-person glider for $50 that would have been awesome for the backyard, but we couldn't fit it in the car. Bob isn't big on shopping, so I didn't spend hours in all the little antique shops near there, but I did want to shop at The Frippery. Such a cool name! They had clothes separated by decade and color, from the 1930s through the 90s in a variety of sizes. It's weird to think of the 90s as being "vintage," but it was 30 years ago! It would be weird to take pictures in a little boutique, but I did take this close-up of the fabric of a 60s mod dress I bought.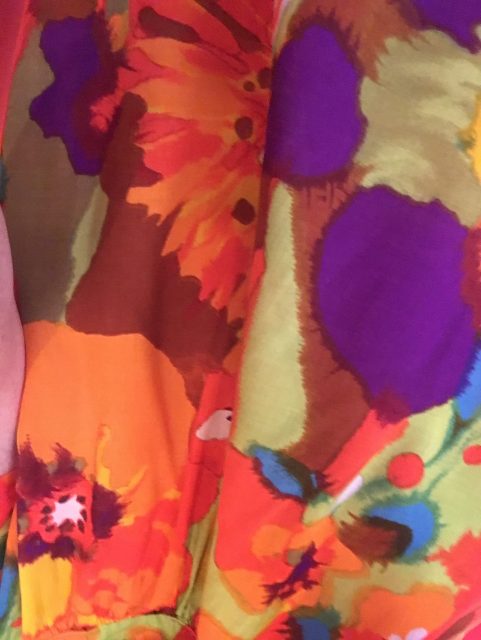 We knew it would be hard to eat lunch anywhere brunch-y since it was Mother's day. I wanted to go to Taylor's Burgers, but as has happened before, I forgot that they aren't open on Sundays. So we headed over to the Roadfood-recommended Sherman's Deli. Waiting near the bakery counter for our table was like exploring the Land of the Giants. The cream puffs were as big as layer cakes, and look at the size of this Black and White cookie!!!
When I ordered corned beef on rye, the waitress stated, "Our most popular corned beef sandwich is the Reuben."
I demurred, "That's OK."
"But the sandwich you're ordering is just meat and bread."
"Well, I don't like sauerkraut or Russian dressing…or really, even the cheese."
She snapped, "Well, you could order it WITHOUT."
I decided it was in my best interest not to point out that getting it without would just make it the exact same sandwich that I was already ordering. But she was sweet as pie for the rest of the meal. As expected, the sandwich was exceptional. The rye bread is fresh, soft and mild, and the corned beef is flavorful and tender. We wisely split the sandwich between us. We impulsively ordered fries, and they were the hottest, crispest french fries I can remember eating. Ever.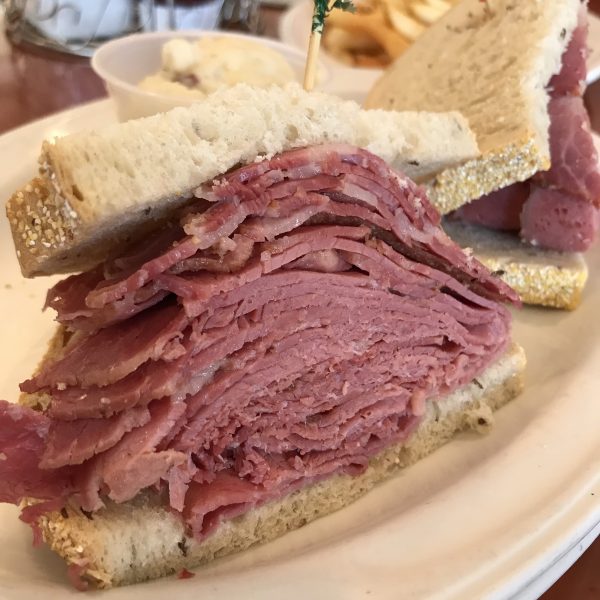 I had seen the "San Jacinto" cake in the display case and I just HAD to have it! It was like a tuxedo cake, with chocolate cake and cheesecake, but added a layer of chocolate ganache. It was awesome! It was so big we had to pack up half of it, so we also ordered sugar-free carrot cake and strawberry cake slices to-go, you know, for when we got back home and started being good. It was an awesome weekend and an awesome meal and we did not have to stop to eat on the drive back.