Zócalo Public Square is a Los Angeles-based idea-wrangler. Their popular lectures and panels often focus on politics, food, and the politics of food. But it would be unfair to pigeon-hole them, as their mission is about offering a forum for the entire spectrum, bringing together disparate fields and giving a voice to the unheard since 2003.        
Zócalo also offers screenings, conferences, and produces a web-based magazine. Focusing on community, they They reach out to "…a new, young, and diverse generation…Zócalo Public Square connects people to ideas and to each other in an open, accessible, non-partisan and broad-minded spirit."      
Jonathan Gold, who often volunteers with the organization to chair panels, hosted his second annual Cocktail Party at Union Square. It is the event of the season, with restaurants hand-selected by Gold and drinks organized by downtown mogul Cedd Moses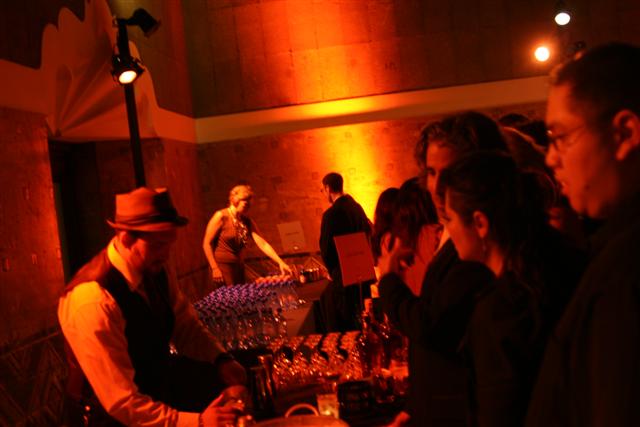 The room is gorgeous, and in comparison to the last Cocktail Party, the organizers have a very fast learning curve. Tickets were less expensive, the room was dotted with round bar tables instead of a theater-set-up, and they dispensed with the panel and entertainment that proved difficult given the acoustics and wild drinking last year.
      
   Grace restaurant brought the pork with a delicious squash flan and smoked sage jus.