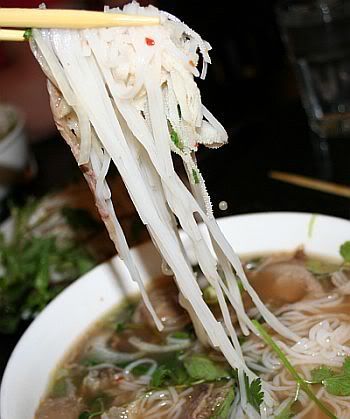 It's 2am. You've closed the bar down and you need something to soak up all of the alcohol. If you're on the Westside, you might hit a coffeeshop. If you're on the Eastside, it's a taqueria. But if you are in Koreatown, it's all about the Pho.
All night long, these brightly-lit noodle shops that line Western Avenue are jumping. The people-watching alone is priceless, as tables full of drunken 20-somethings holler at the tops of their lungs, jokingly threaten each other with chairs, and generally freak out the wait staff. These 24-hour pho places do not sell beer, accept only cash, and rarely have anyone around who speaks English. The décor is minimalist strip-mall, with your placemat serving double duty as your menu. Some of the places have little call buttons at the table to summon your server.
Pho is a Vietnamese soup comprised of vermicelli noodles, various meats, and a selection of garnishes that you can mix into the pho according to your own taste. The standard garnishes are Thai basil, lime, sliced white onions, and jalapenos as well as Hoison sauce, and hot sauce. Sometimes cilantro and lemon are also included in the garnish selection. Pho is also served in bowls bigger than your head.
The menus at the pho places are nearly identical to each other, even down to the numbering of the dishes. Picture menus make ordering easy. But beware. Do not try to point at a picture of something to ask a question. It is like an auction. If you point at it, you have just ordered it.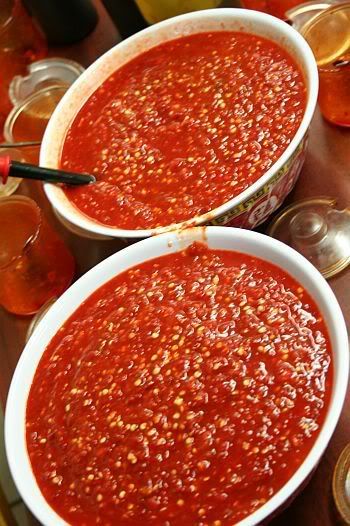 The standard dish is the #1, the "House Special". This is a combination of red meats, usually including brisket, tripe, tendon, and "rare steak" which is sometimes flank, and sometimes something that resembles lunchmeat. You can't worry too much about what you are eating if you are going to order a combination pho. It is like a scavenger hunt of meaty bits. Also included are super-rubbery meatballs which are probably made with some tendon meat.
Somewhere in the top 5 is usually a seafood combo including shrimp and fishballs. Different types of fish, squid and octopus are known to make an appearance as well.
In the middle of the menu is usually something called the "Super Bowl" which is everything in the House Special and Seafood Combo mixed into one bowl. This soup calls for some serious spelunking, as you pull some random chunk out with your chopsticks and try to identify it. It's very exciting.
There are also pho bowls for the less adventurous, with only steak or chicken. The Vermicelle is a plate of noodles without the broth, alongside some type of meat, a Vietnamese fried egg roll, and a big pile of chopped peanuts.
Here is a sampling of a few of the most popular Vietnamese noodle restaurants on Western. They are conveniently located only blocks apart.
Pho 4000
Pho 4000 is my favorite. It is the kind of place that makes me want experiment with new things, because I know they will be expertly cooked. It is reputed to be the most "authentic" pho place in Koreatown (meaning, run by people who are from Vietnam). People constantly stumble in and out of the doors of Pho 4000, while the Korean BBQ right next door remains empty. The noodles are cooked perfectly, and the garnishes are the freshest I've come across. In the House Special Combo, the meats are tender and flavorful without any gamey off-taste. The tripe is sliced into long, thin strips that mix with the noodles. The tendon is sliced very fine, and almost unnoticeable. The vermicelli is fantastic, little with caramelized bits of meat and egg rolls that you will crave forever. This is the one restaurant that closes early. The sign says Open until 4am, but they often close at 2am.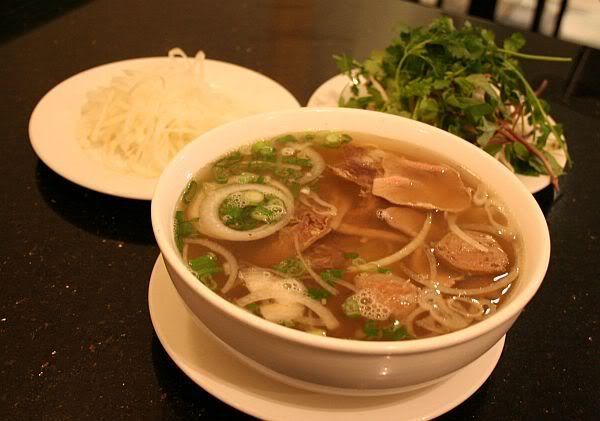 Food: 9
Friendliness: 6
Fear factor: 4
Trippiness of neon sign: 3
414 S. Western Avenue #B LA, CA 90020 (213) 252-4401
Pho Western
Pho Western is the next-best-thing after Pho 4000 closes. The House special combo has tender chunks of brisket, and smaller bits of tendon and tripe. In fact, this is one place where I kind of like the tendon. Although it is slightly chewy and flavorless at first, it leaves a layer of melting fat one your tongue that is quite pleasant. The meatballs are heavily spiced with pepper, a welcome change form the usual bland meatballs. In the seafood combo, the ingredients are immersed in a crystal-clear, clean-tasting broth. The shrimp is fresh, and the fish balls are light and delicate, like matzoh balls.
Food: 8
Friendliness: 7
Fear factor: 4
Trippiness of neon sign: 8
425 S. Western Avenue #A LA, CA 90020 (213) 387-9100
Of all the places on Western, this place is the most consistently packed. This is pho for the more adventurous diner. I only made one visit there, with one of my more adventurous friends. On this visit, my House Special was dominated by a giant, unappealing chunk of tendon. It was tough and inedible. The tripe was left in long, fringed strands. This is the one place where the broth and meats were gamey, and the meatballs tasted like organ meat. Not to mention the overcooked noodles clumped together in the center of the bowl. Pho 2000 is about strong flavors, especially fishiness. Luckily, when it comes to my friend, the fishier the better. She went at the fish-filled Super Bowl with gusto. I asked her what it was like. She said, "It's like swimming through the ocean with my mouth open." She pulled out a long, suction-cup studded tentacle and sucked it down. I asked her if it was chewy.
She said, "It's like chewing on an ovary."
"When have you ever chewed on an ovary?"
"I haven't. I just know that's what it would be like."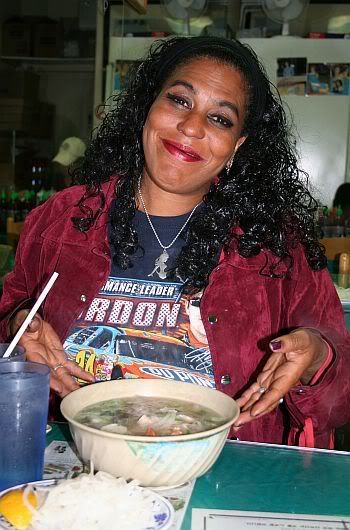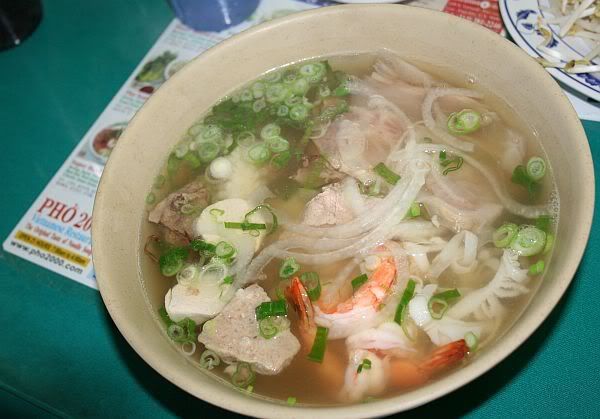 Food (my vote): 2
Food (Tequila's vote): 7
Friendliness: 9
Fear factor: 8
Trippiness of neon sign: 10