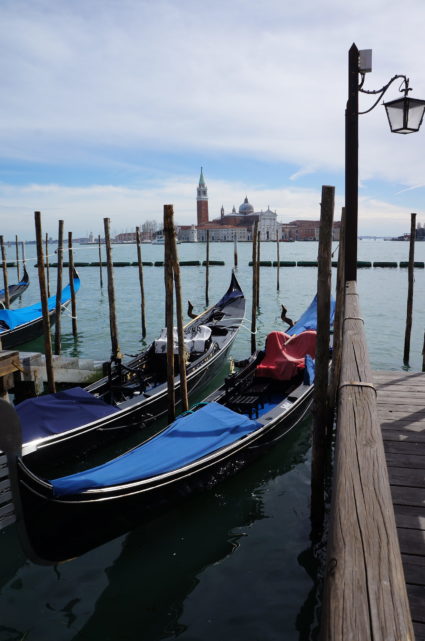 I had two bucket list items for Italy. One of them was drinking a bellini at Harry's Bar, where they invented bellinis. I'm not really drinking much these days, but it was a once-in-a-lifetime thing. I imagine none of you are surprised that my bucket list includes food and cocktails. I aimed for the Grand Canal and just kept walking along the water until I found the ritzy hideaway. Luckily they had a seat downstairs because I had not thought of making a reservation.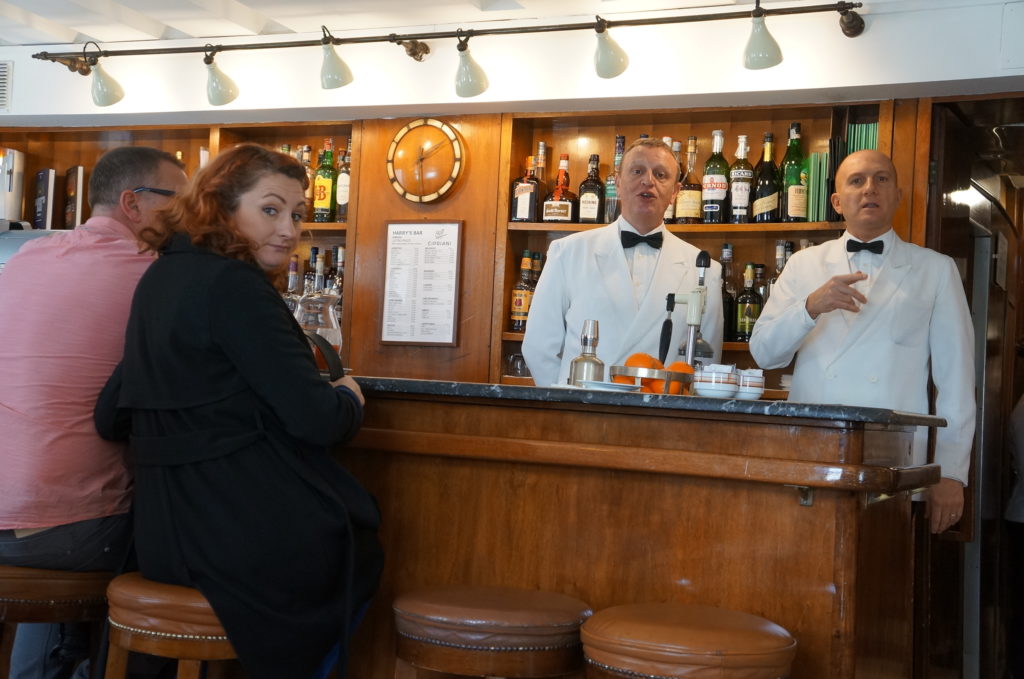 The room was reminiscent of old movies, with its white tablecloths and generous wood paneling. It has the feel of a fine yacht and I can imagine seeing Ernest Hemingway bragging at the bar. Service was gracious but not quite fawning. I ordered a bellini and a shrimp risotto. When you check something off of your bucket list a picture is in order.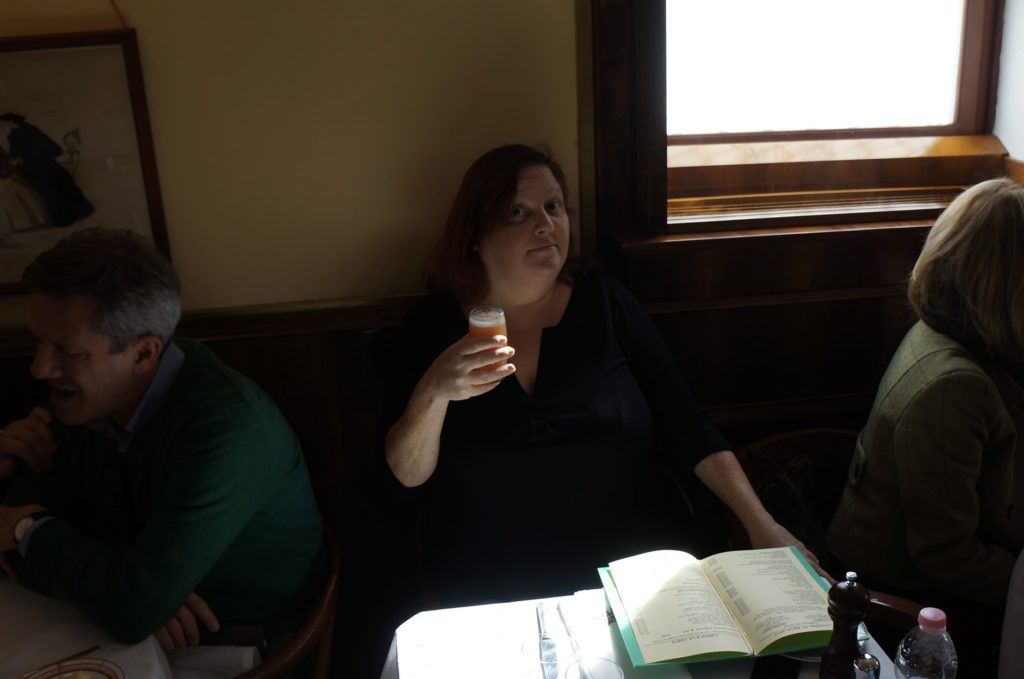 It turns out I don't like bellinis made with Prosecco. It was cloyingly sweet. But the risotto, which cost 50 Euro, was heaven on earth. It was probably the best thing I ate on the entire trip. So this is what all of those other risottos were striving for. Serving is a BFD there and can't be trusted to one person alone.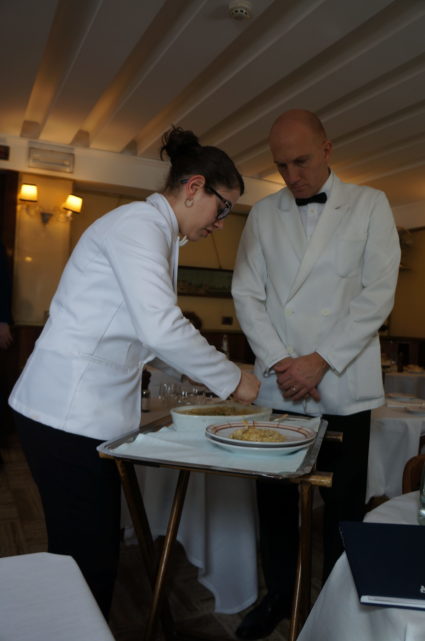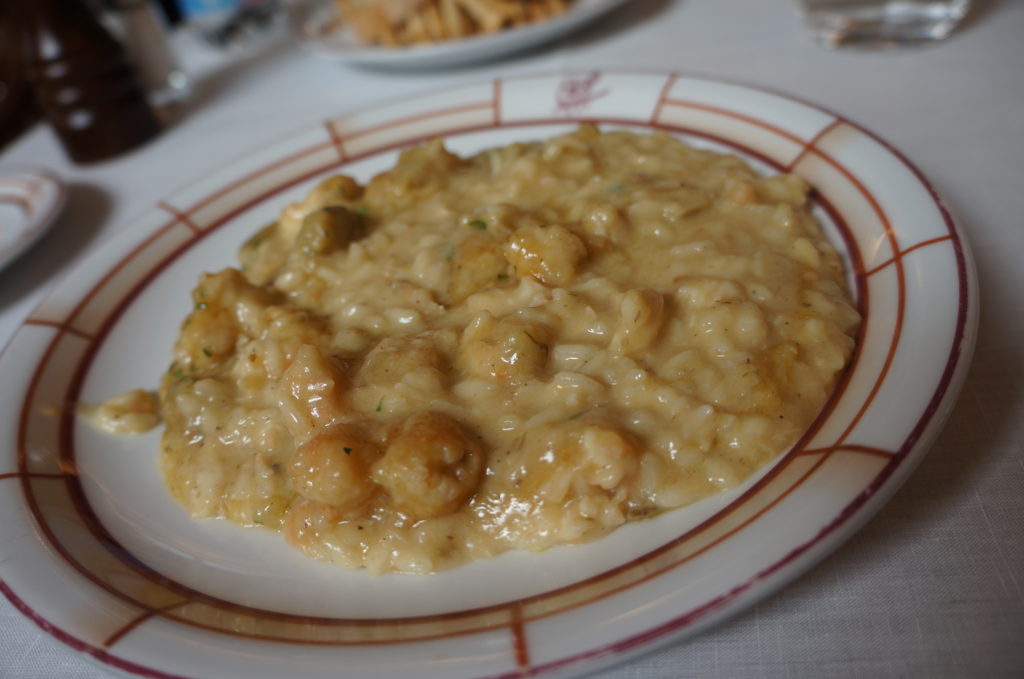 After I finished my plate the waiter tried to serve me the rest of the risotto in the dish. I guess it was that expensive because it served two. When I waved him off he was genuinely shocked. How could I not want to keep eating this ambrosia? This 50 Euro ambrosia?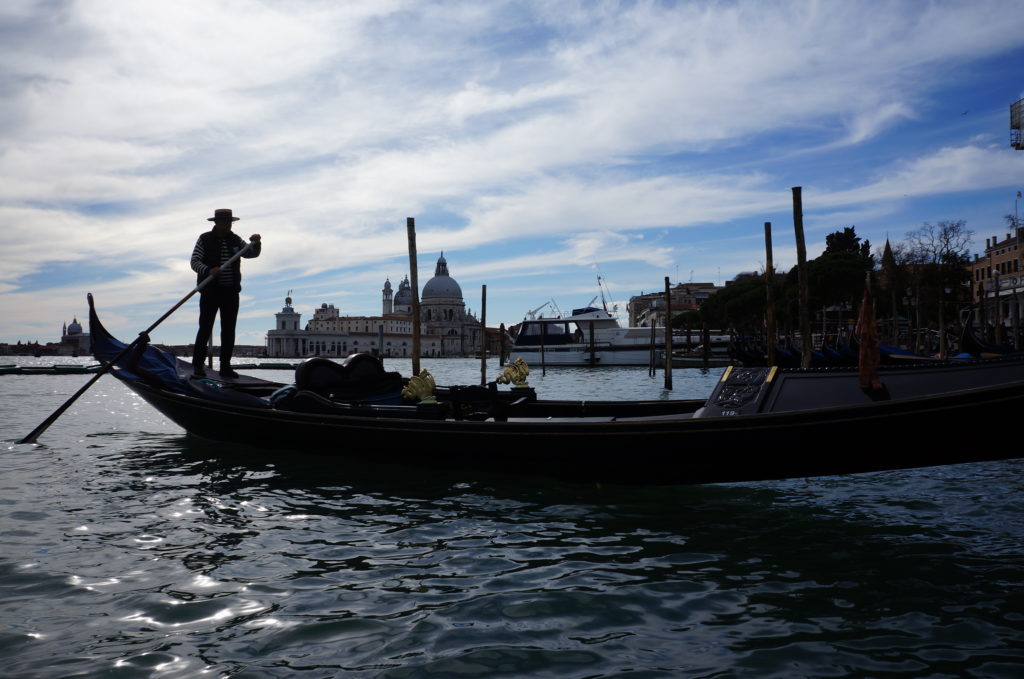 I walked along the water and passed the little outdoor office where the gondoliers check in and out. One of them called out to me, "Hey! You remember me? The restaurant? We took pictures!!!" I had an idea. I really did not know how to get back to the hotel and was too full and lazy to want to walk around forever. So I asked him if gondolas are ever like taxis. He replied that they are not taxis, they are gondolas.
I asked, "What if, instead of a circular tour the gondola dropped me off at my hotel?" He turned towards a gondolier who was still with his boat and shouted something about "mi prima" and to give me a special deal.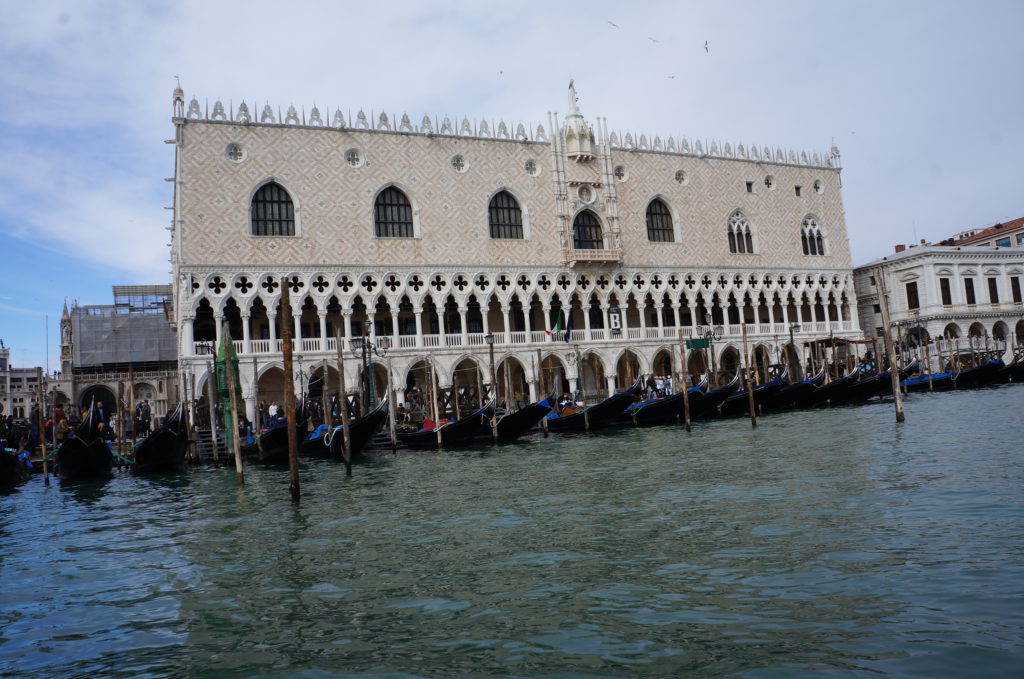 The guy called back, "I give you a beautiful tour for $80! Beautiful tour!"
I shouted back "I can't afford a beautiful tour! How much is the ugly tour?"
Then I had him because all of the other gondoliers were standing there laughing. So he knocked it down to $60. I told him that he didn't have to sing. He also chose not to smile, but that's what you get on the no-frills gondola.
This is the Bridge of Sighs. Couples in gondolas are supposed to kiss under this bridge and it's a very pretty name for a terrible thing. Legend has it that prisoners had to cross this bridge on their way to be put to death. They sighed because the view out the bridge window was the last time they would see their beloved Venice.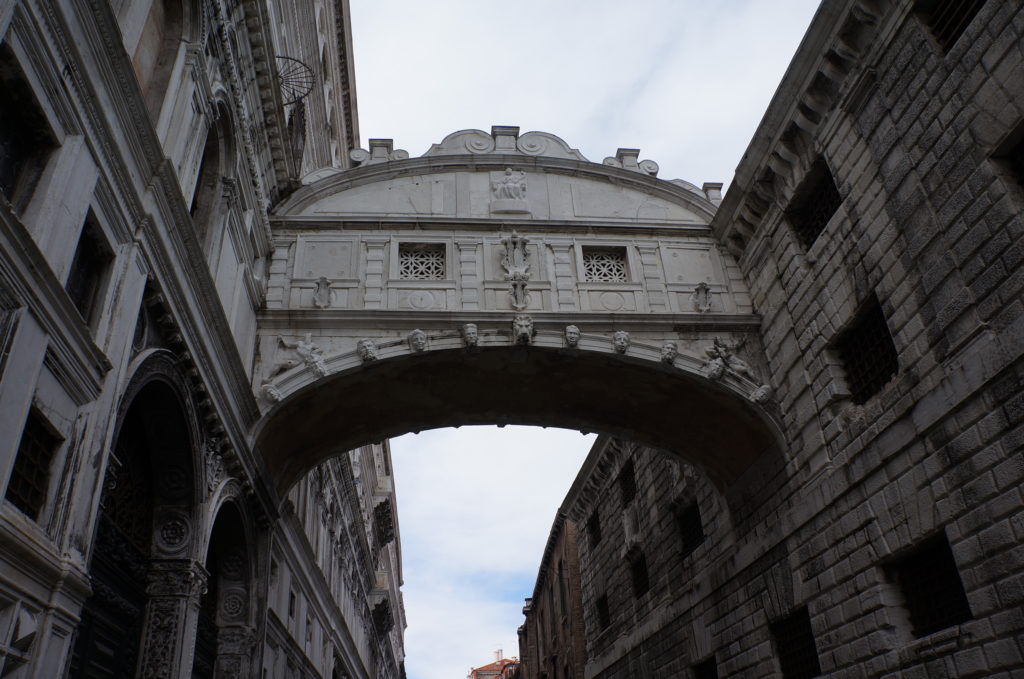 The thing about gondolas is that they are extremely comfortable. The seat and pillows were so plush. The boat gently rocks side to side and I was tempted to fall asleep rocking like a baby.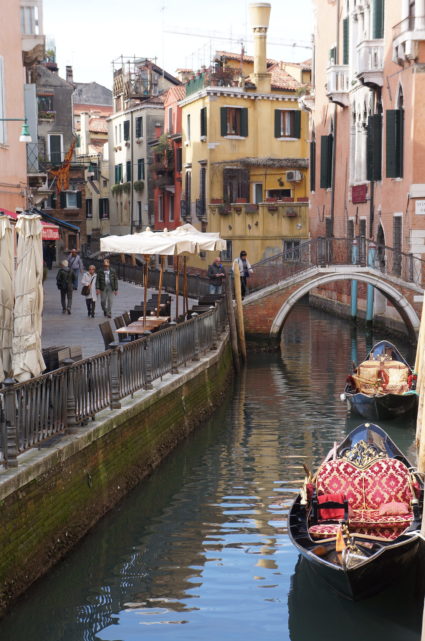 As we passed under bridges people took pictures and I was kind of embarrassed to be alone in a gondola.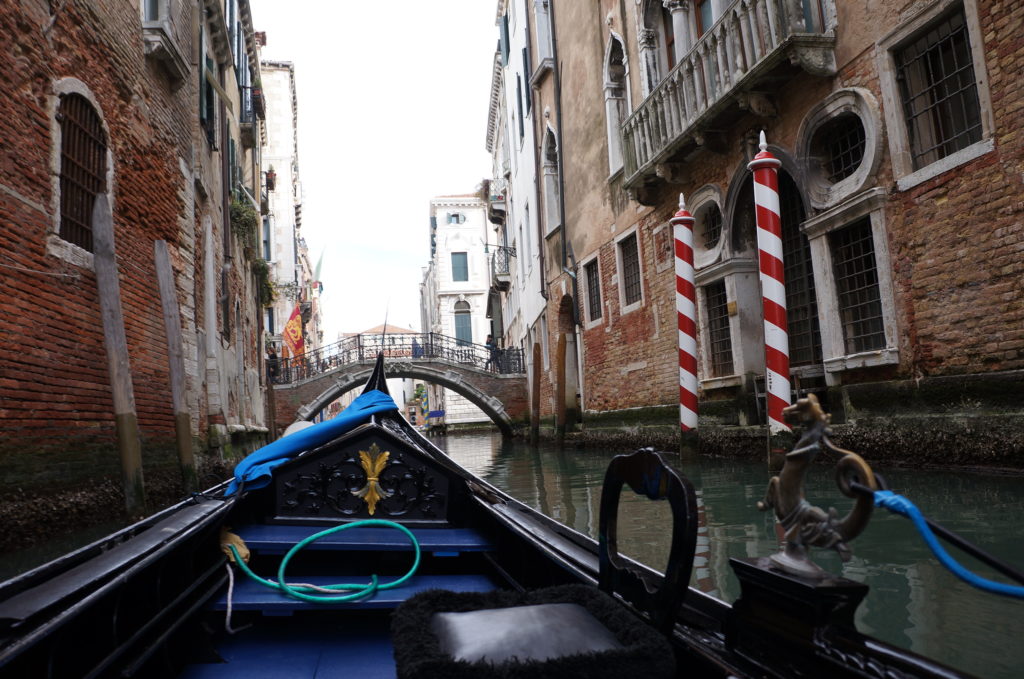 But then I realized "Hey! I'm full of 50 Euro shrimp risotto and I'm getting a ride home in a gondola.
I'm a BALLER!"