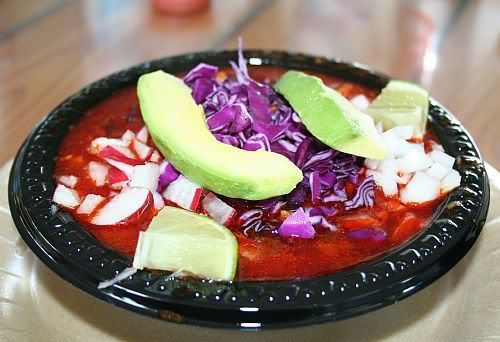 We woke up Sunday morning to a breakfast of leftover steak and freshly-laid eggs, courtesy of Johnny. Actually, the eggs were courtesy of the hens, Original Recipe and Extra Crispy. After breakfast, Johnny went outside to the BBQ and started cursing, "Oh no! I burnt the goat! I wanted to surprise you!" So, no cabrito for breakfast. I'm game to try goat, but I'm not sure if breakfast is the meal for that.
We hit the San Luis Obispo swap meet, where I bought:
Soul on Ice by Eldridge Cleaver
The Man who Shorted out the Electric Chair
Aretha Franklin: This Girl's in Love with You
and
Then we headed down the coast, with plans to meet friends for lunch in Ventura. But as we neared Santa Barbara, the siren song of La Super Rica was calling. The other Roguefooders had mentioned they were stopping there for lunch, but I assumed they would be long gone by then. Still, I could not resist the memory of the Tacos de Hongo. We pulled up to La Super Rica, and this time there was definitely a line. While I waited, Bob went to snag us a table.
I was saddened to discover that Tacos de Hongo are only available on Friday. Curses! Why can't it be Friday every day? I comforted myself with their Sunday special – posole. As I brought the drinks over to Bob, who did I see, but Patti! Jeff! Ed! What timing! We all ended up at the same place. Ed encouraged me to try his chorizo tacos, which really opened my eyes to the wonders of chorizo. I had not been a big fan before, but this was really good. Good enough for me to order next time. Beneath the garnishes in the posole lay huge chunks of pork and hominy in a rich, spicy broth.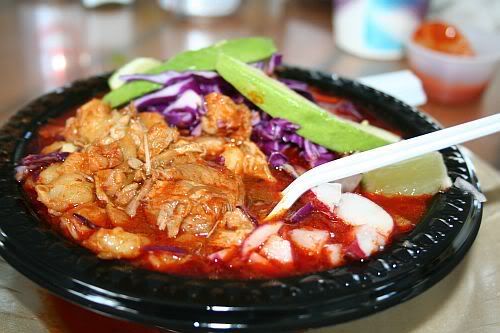 Bob had ordered the #4 marinated pork tacos again, and once again they did not disappoint.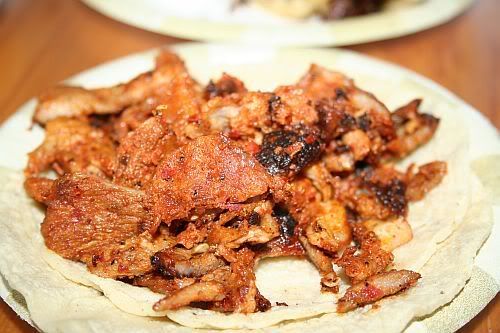 I had also ordered another daily special for us to split – shredded beef tacos in a chile cream sauce. They were almost like upscale taquitos. The corn tortillas were lightly fried, and the cream sauce was like a richer version of guacamole.
We stopped off at Taqueria Vallarta in Ventura on the way home as planned to meet up with our friends. But we were too full for anything but their refreshing watermelon drinks. They just fill a blender with perfectly ripe watermelon, a little sugar, and blend away. It is one of the most refreshing drinks in the world. Even though they have a menu full of other fruits, the watermelon is the one that always makes us come back. Unfortunately, we will no longer be back to Taquerita Vallarta for lunch. From now on I will happily drive that extra hour to get to La Super Rica, especially on a Friday.