Day 4 -Tuesday
Mardi Gras morning I woke at exactly 8 am and decided that it meant we were supposed to go to the Zulu parade. You may wonder why I was willing to get up so early for a parade. Or why I would want to go to another parade at all. Especially after taking to many beads in the face. Because the Zulu parade is the greatest parade of Mardi Gras. It is the African-American parade and they have the best costumes and bands. Also, Professor Longhair insisted "When you see the Zulu king, you gonna know what carnival's for."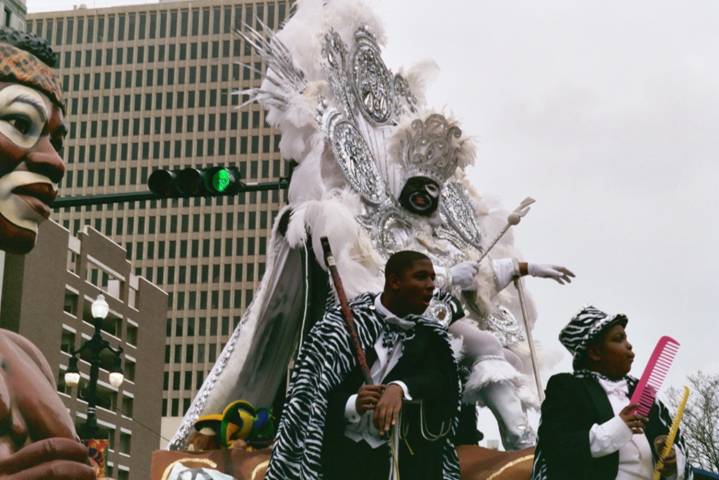 But the big draw was the coveted golden coconut, the holy grail of all parade throws. They are not allowed to throw them; they are gently bestowed upon the chosen few. Which was lucky for me, because they are big, fucking heavy, real painted coconuts. I'm sure if they were throwing them I would not be here writing this today. It soon became clear to me that due to an abundance of adorable children and sexy college girls, that I would not be getting a coconut. So I acquired one in what was perhaps the most New-Orleanian way of all…I bought one off a shifty-eyed street person on Bourbon Street later that afternoon.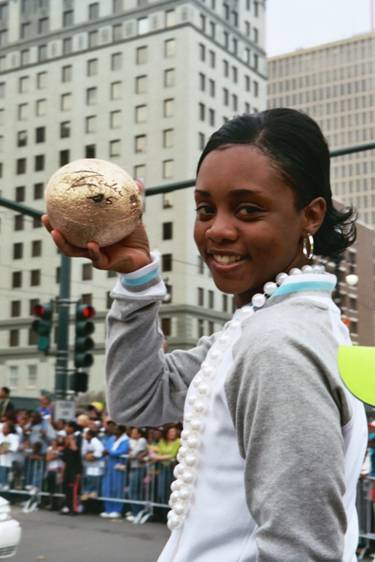 ***WARNING: If you are at all uncomfortable with the discussion of breasts, and my breasts in particular, read no further. It is not too late to turn back***
We had paid for an all-day package at Mike Andersons for Mardi Gras. Open bar, buffet, balcony: 200 bucks. Clean bathroom: priceless. We had felt a little ripped off by the price, but when we escaped the screaming, sweating, undulating throng and entered the cool, dark sanctuary of Mike Anderson's, it was so worth it. Elbow room!!! Freedom!!! Personal space!!!
We took one look at the seafood buffet and immediately regretted drinking gin and tonics the night before. We asked the bartender for a hangover cure and he made us "Colorado Bulldogs" which involved milk, coca-cola, Kahlua, and possibly Baileys. I was somewhat wary, but they did the trick and we proceeded to drink them for the next 10 hours.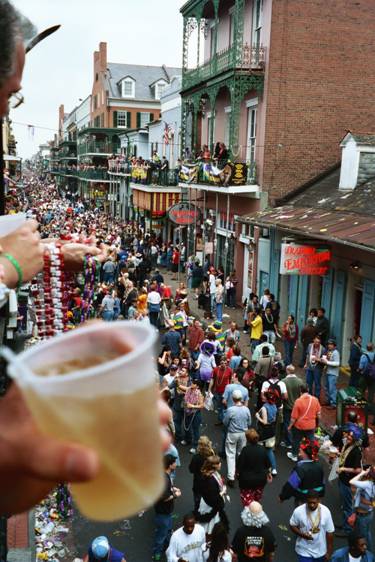 We soon discovered that the overkill of beads I had ordered paled in comparison to the other guests'. One person had 26 boxes of beads. And they had the big, giant strings…some with stuffed animals dangling from the beads. Mike Anderson's has the best beads in town, and the guests are all very competitive about it. We joined the others on the balcony and soon saw the reason for the elaborate beads. Tits. We saw tits. We saw tit after tit after tit. We saw more tits than a person who does mammograms (a Mammographer? A Mammogrammer???). The tit gangs worked in threes. One guy dangled a long, tempting string of beads. The second manned a camera or video. The third guy was down on the street, pointing to the beads and cajoling girls into flashing…closing the deal. They were total pigs. Within a few hours we were total pigs too, cheering on the girls and throwing beads. The women throwing beads from the balcony were always trying to figure out what they should make the men do for beads. Some of them were totally brutal, "Kiss the ground!!" I don't think an offer to pay off my mortgage could make me kiss Bourbon street, the filthiest street in America. Mostly I made guys guys pop-lock or do the robot. One of the tit-gang guys mocked my modest beads, which I was throwing with abandon. I told him, "You should be grateful. This is chum. I'm chumming the waters for you."
While on the subject of tits, one of the girls there told us about "The Judges". They had a spot in a little bar down the street, and meted out judgement and certificates of exposure to those willing to flash their tits. Kristina and I had a mission #3. To flash on Bourbon during Mardi Gras. We decided that sounded like the best way to do it, in a lighthearted spirit, with less chance of Webcams or being grabbed by strangers. Plus, we were about 5 "Colorado Bulldogs" along.
As we walked out, Janis, who is a combination plate of motherliness with a side of I-take-no-shit-and-I-mean-business, who also happened to have been my wedding planner, blocked the door and asked suspiciously, "Where y'all goin????"
"To the judges."
"Oh no you're not!!! Over my dead body!!!"
"Look, Janis, they're almost 40. If they're ever going to come out to play, this is definitely the time and the place."
"Oh no, they never get to come out to play. The puppies NEVER get to play!!!"
Finally, after much discussion, she threw her arms up in disgust and sat down, glaring at me.
Kristina and I wandered down Bourbon, and soon came across a group of men in robes and old-fashioned barrister wigs. I said, perhaps a bit melodramatically, "We have come to be judged." We were ushered one at a time into the small, dim room. Before I went in, I put on a mask (I'm not totally insane). Four "judges" sat at a table with such props as yardsticks, scales, and calipers. A fifth man had a digital camera, and a sixth a video camera. I was told to lift my shirt. Click, whirr, STAMP!!! Stamp?? Out of nowhere came 2 rubber stamps and stamped my breasts with the seal of approval…a circle with the number 10 in the middle! I was totally taken aback by being rubber-stamped and warned Kristina as she stumbled in. Maybe not "warned", so much as screamed in her face, "Oh my God, Kristina!!! They rubber-stamped my tits!!!!"
As we swayed back towards Mike Anderson's it started to rain. I don't think I mentioned before that we were dressed as Catholic school girls. In flimsy white tops. With no bras on. In the rain. I looked over and Kristina's right breast was bright red. The other was bright green. I looked down at my own shirt. The ink from the judge's seal had seeped through my shirt intact, like the shroud of Turin, with the number "10" perfectly visible on my right breast.