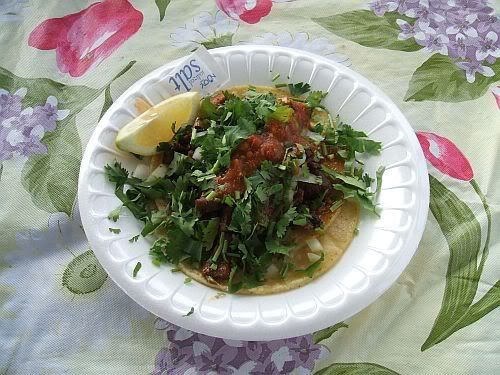 Saturday morning I woke up around 6am and went to the Nipomo swap meet with Johnny and Rene. In addition to scoring a set of fantastic 1970s beefcake playing cards and an album of creepy, turn-of-the-century photographs, I was able to check out some really cool installation art.
The swap meet land is owned by a doctor who has made a hobby out of decorating the place with scrap metal art and setting up a giant model train village. Rene wanted to show me the outer space installation that runs Star Wars movies on a little television screen in the wall. As we tripped on the milk crate "stairs" Johnny admitted, "It probably doesn't meet OSHA standards." We had Pastor tacos for breakfast from one of the many vendors. I order mine "con todo", in which "everything" usually means salsa, onions, and copious amounts of cilantro. The swap meet even had a truck selling Filipino food. I was sad that we were going to miss what promised to be a very surreal puppet show beside the Filipino lunch wagon, but we had a group of people waiting for us.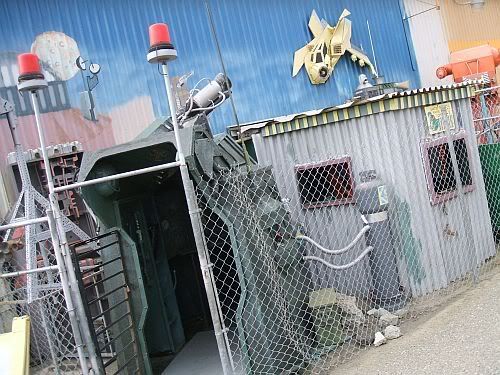 We picked up Bob, and discovered that one of Johnny's egg-laying Rhode Island Reds, Original Recipe, had gotten out. We had to wait for Johnny to catch it before we could meet the crew from Roguefood.com, one of the food forums in which I participate. We found Ed, Steve, Patti, and her husband Jeff waiting for us in the lobby of the Santa Maria Inn. I was pleased because I got to say, "Sorry we were late. One of the chickens got out." A friend of the family once told Johnny, "You know how I can tell you're a hillbilly? You have a chicken on the table and it's not dead yet."
Our plan for the day was to cruise along the main street, sampling BBQ from the many vendors that set up in parking lots on the weekends. Santa Maria's local specialty is barbecued tri-tip, cooked over oak. The meat is grilled on huge, specially designed barbecue wagons that are towed behind trucks on trailer hitches. The large grills hang directly over the open flames. The grills can be raised and lowered by cranking a large wheel, which enables you to control the heat.

As we caravaned down the road, we noticed a strange lack of BBQ wagons. It was like a ghost town. Ed was completely baffled. There was no tri-tip anywhere. We thought it might be due to the overcast weather. Or maybe the rapture. So we headed over to the annual IFOPA fundraiser, which was set up in a grocery store parking lot. The case of the missing BBQ wagons was solved. Over thirty local vendors had volunteered their time and barbecue grills to raise money on behalf of a local charity. Hundreds of split chickens smoked and sizzled on dozens of barbecue grills. Plumes of smoke filled the air, making the parking lot look like a battlefield in an old war movie. One grill was dedicated to toasting up French bread, and we drooled as we watched one of the volunteers dunk the halved loaves in melted butter and garlic. Rene and I caught ourselves staring and realized we were watching him like he was a stripper, "Yeah, baby! Dunk it!"

Most of their business was drive-up, and traffic was disrupted around the block as volunteers hurriedly handed chickens through car windows. We sat down at one of the empty picnic tables, and shared lunches since they were so large. Steve went to pick up a drumstick and pulled out only a bone, which had slid right out of the chicken. He said, "You call that meat tender?" The chicken was moist, and smoked right through. There was a nice rub on it with plenty of flavor but no heat. Probably a lot of paprika and garlic salt. The garlic bread was alright, and the pink Santa-Maria style beans were bland, as they are supposed to be.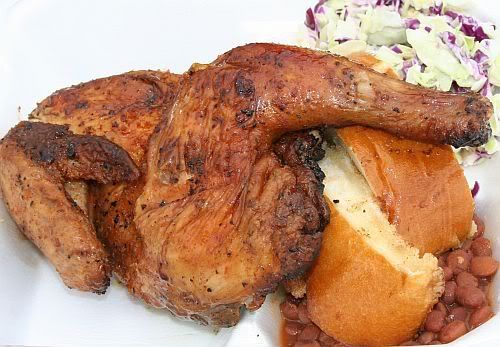 Since all of the rogue tri-tip experts in town were busy making chicken, we headed over to Johnny's recommendation, Rancho Nipomo. It is conveniently attached to the Santa Maria Brewing Company, our next stop. Recently opened by husband and wife team, Richard and Brenda Cowell, Rancho Nipomo serves both barbecue and Mexican dishes. It advertises its special menu as "A taste of California". It is known amongst locals for its pulled pork sandwiches. So all of us were looking for barbecue. But Richard is extremely proud of his chile dishes, made with his own home-grown chiles. When he started pushing the chile verde, I asked him if he had a combo plate. He said, "No. But I've been thinking about it. I tell you what I'm going to do for you."
He lowered his voice, and we put our heads together conspiratorially.
He started describing his food in whispered detail, using subtle hand gestures like a French waiter, "OK, I'm going to make you a plate of the pork ribs and I recommend you get the small pork sandwich. Then I'm going to make you a little plate of chile colorado and chile verde, with our homemade flour tortillas. Then you know what I'd like to do? I'd like to give you my wife's special potato salad." He ended with a flourish, the spell was broken, and I stepped away from the counter.

Johnny and Bob returned from scouting out the brewery. They suggested we get our food to go and eat it on the patio. Although Rancho Nipomo had beer and a patio as well, it was not the Santa Maria Brewery's home brews. I was perusing the variety of sodas in the drink cooler (They had Mexican coca-cola made with cane sugar!), and goofing around with Patti when I noticed Bob standing at the counter ordering. I called over, "I already ordered for you!" He looked so crestfallen, I just said, "Never mind." So we ended up with a huge plate of ribs and two pulled pork sandwiches.
The owner, Richard, produced the sampler plate and we all gathered around, taking little bites. The pork chile verde was good, the tortilla was excellent, but the beef chile colorado kicked ass! There were layers of flavors, deep and complex, smoky and spicy…pure heaven.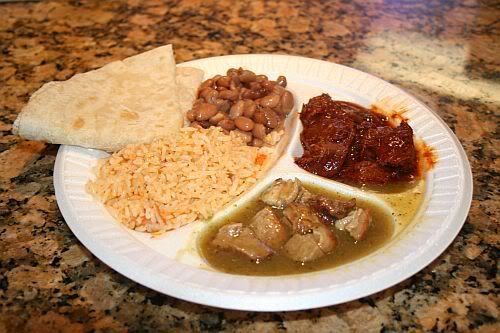 By then, everyone's food was ready and we walked next door to The Santa Maria Brewing Company's patio where we found Ed worrying over Steve, who had just eaten the roasted jalapeno "garnish" on his plate and was in fits. Johnny immediately grabbed another jalapeno off of Steve's plate and chomped on it (See: "boy's pissing contests" in the previous post). Johnny agreed it was the hottest jalapeno he had ever tried, which was pretty impressive because Johnny grows prize-winning jalapenos. He also grows "ornamental" peppers that have almost put Bob in the emergency room.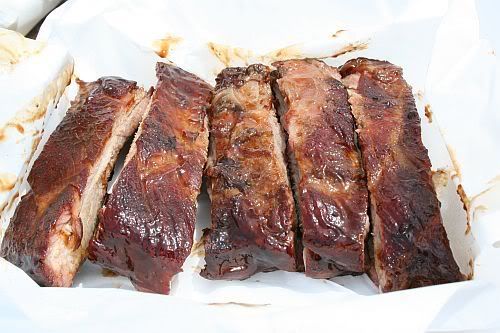 The ribs were falling-off-the-bone tender and slathered in a sweet "16-spices" BBQ sauce. I was really interested in the pulled pork sandwich, topped with the traditional BBQ sauce and cole slaw. It was huge, and I was barely half-way through it before I remembered I had ordered the "Baby" sandwich. I asked Patti and Jeff about their sandwiches. Their full-sized sandwich filled an entire take-out carton. Instead of a hamburger bun, it was served on "teleta" bread, which is Spanish for "bigger than your head". The moist tri-tip sandwich, which contains a mountain of meat, was also served on the football-sized teleta bread. The potato salad was indeed a special recipe. Large chunks of potato were accompanied by bits of black olive and chunks of real dill pickle. It was damn good.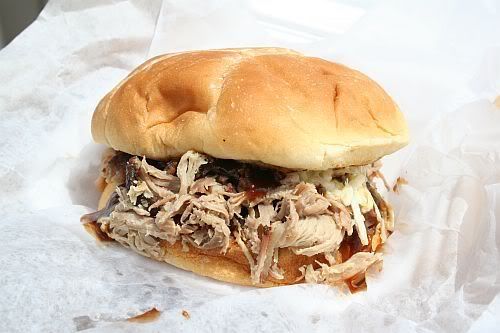 Just off the junction of the 101 and the166, Rancho Nipomo would be a convenient lunch stop when traveling down the coast. I will definitely be back for that chile colorado, and to try the Baja street-style hot dog ("Grilled all-beef frank wrapped with bacon, garnished with mustard, pickle, and grilled onions") and the tri-tip enchiladas.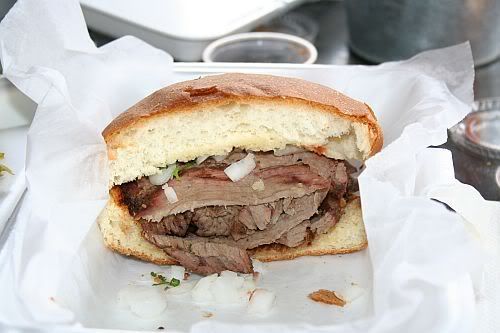 The Santa Maria Brewing Company, which is in the same building as Rancho Nipomo, is owned and operated by Dan Hilker, a retired policeman. It is a labor of love. His hours are flexible, depending on his mood. These are the posted hours:
Wednesday and Thursday 4:00 PM till Approx. 9 PM, Friday 3:00 PM till about 10 PM Saturday and Sunday 12 PM – till about 8 PM
All of the beers are brewed by Dan himself. Don't ask for a Budweiser if you don't want to be kicked out on your ass. The decor is early Fred Sanford, a result of Dan trading beer to customers for random interesting items they bring in, 'That's worth about six beers. I'll take it." A bomb my brother brought in hangs from the ceiling. I have never asked Johnny if it is a real bomb, and it's probably better that I don't know. When we arrived with our take-out containers, the room was cool and dark, with just a few guys hanging out on the barstools. The back patio is bright and comfortable, but pretty dusty in the daylight. The only restroom I saw was a port-a-potty, so it may not be somewhere I want to do too much drinking. It's definitely a man's man's place.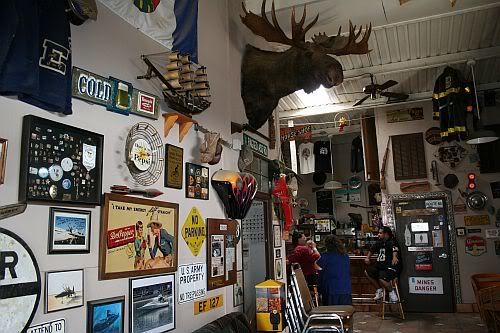 I walked back inside to get a beer, and noticed all of the tap handles, which usually advertise the brand, had clay character's heads on them, or just random figures. I asked, "What do you have on draft? Pilot? Baseball player? Girl in a bikini?" Dan looked at me, sizing me up the way cops do when they are trying to decide if you are carrying a loaded weapon or under the influence of angel dust. He asked about my beer preferences, and recommended the India pale ale if I wanted "something like nothing you have ever tried before". I walked out back to the group on the patio with my Pilsner glass. Everyone else had pint glasses. Steve asked, "How come you got the cool glass?" (Because the bartender wanted to remember which one he spit in?)
The ale was interesting, with an undercurrent of indistinguishable spicy flavors. But the overall effect was not overwhelming. There is nothing worse than some weird novelty beer like pumpkin ale that only tastes like cinnamon. The spices were barely there, and the hops were strong enough to dominate. I also wanted to try the hefeweizen, and the blonde, but I had already gone on a political rant about the state of our social services after only one glass of ale, so I thought it was probably best to slow down. The rest of the crew headed off for wine tasting, and we returned to Johnny's to take a nap before dinner.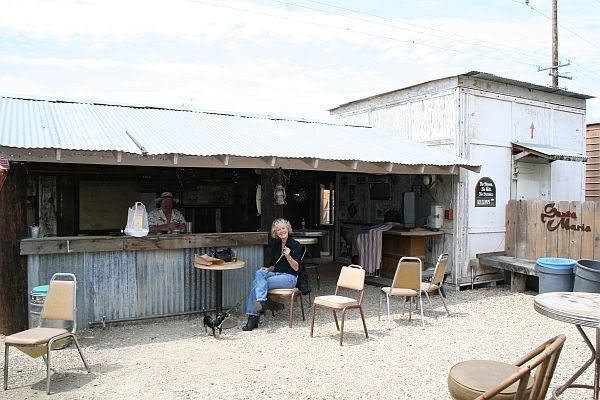 Rancho Nipomo 108 Cuyama Lane Nipomo CA 93444 (805) 925-3500
Santa Maria Brewing Company 112 Cuyama Lane Nipomo, CA 93444
http://www.santamariatimes.com/articles/2006/11/03/lifestyle/life54.txt
Annual "Find a Cure" Chicken Fundraiser http://www.ifopa.org/