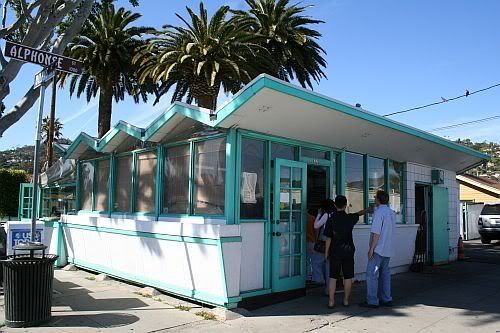 Last weekend Bob and I drove up the coast to spend the weekend in Nipomo, a small town just south of San Luis Obispo. We stopped for lunch at La Super Rica, a much-touted taqueria in Santa Barbara. It was reputedly a favorite of such food greats as Alice Waters and Julia Child. It has been featured in Sunset magazine and the New York Times. Most places would kill for the kind of press that Isador Gonzalez's little family-run taco stand gets.
Just about a mile off of the 101, and a straight shot down Milpas Street from the offramp, La Super Rica is a convenient stop on the way to somewhere else. We missed the little turquoise building on the first pass and had to turn around. There is only a small sign in the window to identify it as La Super Rica. You can usually find it by the line snaking down the block. As we waited, everyone standing in the relatively short line Friday chatted away, recommending their favorites – the #4 seemed to be the most popular recommendation. After studying the menu on the wall, I dutifully ordered the #4 Tacos de Adobado "Strips of marinated pork" as well as the #16 Super-Rica Especial, "Roasted chile pasilla stuffed with cheese". Two specials caught my eye…the Tamale de Verduras, which seems to be a permanent or seasonal special, as well as the Taco de Hongo, which is the special every Friday.
When eating a variety of foods tapas-style, I try to start with the mellowest dish and work my way up in ferocity. the pork was red with seasonings, and the chile special was clearly charred pasillas, so I turned first to the Taco de Hongo. Big mistake. This taco ruined me for all of the food to follow. This taco may have ruined me for all tacos for the rest of my life. Fresh crimini mushrooms were sauteed in a lot of butter, mixed with caramelized onions, and drowned in an epazote cream sauce. There was a faint flavor that I would probably identify as brandy if I had to place a bet. It was unlike any taco I have ever eaten. I could imagine these mushrooms served over pasta in the finest restaurant in town. I ate the mushrooms with a fork until the pile had been winnnowed down enough for me to fold the tiny taco-truck-sized tortillas into a taco. The cream sauce had started to permeate the homemade corn tortilla, and the resultant taco was a bizarre fusion food that confused, yet delighted my palate.
I could have stopped there and been happy, but that would have been unfair to the other little plates jockeying for my attention. Time to check out the tamale de verduras, also doused with a liberal amount of cream sauce. The masa was light and fluffy, probably made with a vegetable shortening. I normally like lots of manteca in my masa, but the lightness was kind of a refreshing change. There could have been a higher filling-to-masa ratio, with bits of chayote squash and corn tumbling out like rare little jewels.

The chile special was just a pasilla chile stuffed with cheese, but it was a perfectly charred chile, stuffed with a soft, ranchero-style cheese. It was not called a "taco", but was served over two corn tortillas, and after eating about half of it, you could fold it into a reasonable facsimile of a taco. The Adobado was somewhat similar to pastor, highly seasoned yet not overwhelming. the chile verde was a good match for the pork without making it spicy enough to be uncomfortable. It was a damn fine taco, as good as any I have had before, yet it was the vegetarian selections that cause me to linger over the sensory memories.
I took advantage of a short lull in the to chat with the cashier. I gushed over the mushroom tacos, and asked, "Is there some region of Mexico I'm not familiar with that makes French cream sauces." He looked around to ensure our privacy, then leaned towards me and shook his head conspiratorially. I asked, "You just felt like making a cream sauce?" He smiled and nodded. By then, a new slew of customers was already queueing up, so I retreated to clear my table and make way for the next wave.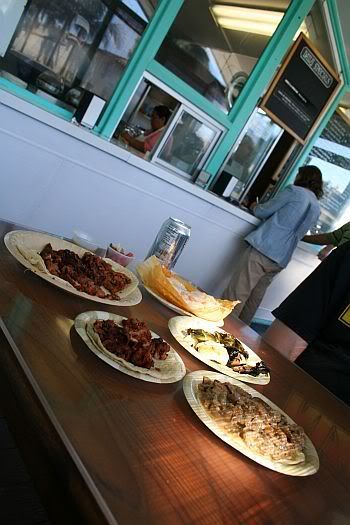 La Super Rica 622 North Milpas Santa Barbara CA 93101 (805) 963-4940 Cash Only