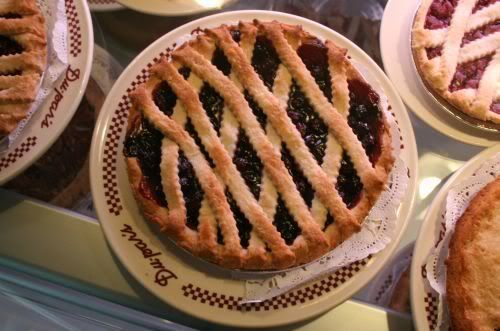 DuPar's has been a Farmer's Market institution since 1938. The Naylor family, as in Tiny Naylor's, reopened this location in December after what appear to be minor renovations, primarily the removal of the counter and the addition of an outdoor dining patio. Holding down the Southwest corner of the Farmer's Market, DuPars can be accessed through a secret back alleyway from the food court.

DuPars is one of those places that has made being trapped in a time warp cool. The pies are the same, the menu is the almost the same, and the waitresses are still wearing the same trippy old-fashioned uniforms.

DuPar's is known for their pancakes, but the real draw here is the pie. I have never had a real meal at this location. I have eaten at the Studio City location and wasn't that impressed. It was all your basic grub, nothing wrong with it, but nothing spectacular. The pies ARE spectacular. Like most places that you frequent often, I have a "route" that I travel through the Farmer's Market. It always starts with a catfish sandwich at the Gumbo Pot, and on special occasions, it ends at the outdoor to-go pie counter at DuPar's. Pies glisten like jewels under the glass, and the splurge is often irresistible. Luckily they sell some cute little mini-pies so you don't have to go whole-hog if you are guilty and indecisive. DuPars is willing to meet you half-way.

The other day I picked up a mini cherry cheesecake. The center is creamy and light; it is not a dense cheesecake. But it's not a bunch of whipped fluff either. It is just right. Even though they are smaller in diameter, the little pies are the standard height, so it cut up nicely into four normal-sized slices. Although there was some bickering as to the evenness of those slices.