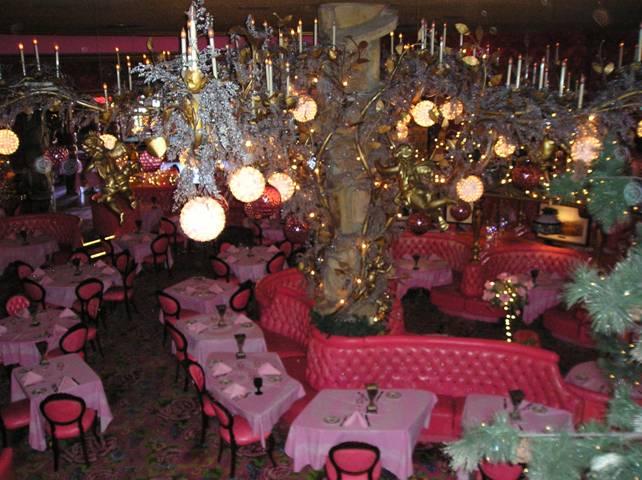 We stopped at the Madonna Inn in Morro bay even though we were still full from the BBQ. Really, I never eat there anyway. The coffee shop isn't very good at the Madonna Inn. The only thing I ever remember eating there was chicken salad. I'll put it this way…it would be a nice place to take your grandmother. There is a very high blue-hair ratio there. There are only two reasons to stop at the Madonna Inn:
1. Freakishly huge pastries
2. To blow people's minds
Since these are two very good reasons, I always stop at the Madonna Inn. It is the kind of place I imagine was created just to freak out people on acid. The Alpine-themed coffee shop has a round counter, with half-moons of wooden booths around it. The restrooms downstairs are a big draw for tourists. The ladies room is reminiscent of the palace at Versailles, while the men's room has a sort of cowboy theme. Their infamous urinal is a big copper trough. There is also a restroom that boasts a waterfall urinal, but I have yet to see that one for myself.
The banquet room of the Madonna Inn is a special shade of hot pink which I have never seen before. And there is such a profusion of this hot pink, I really don't ever need to see it anywhere else ever again. The dining room is anchored by a huge golden tree, with boughs snaking across the entire ceiling, enveloping the room. Oh, and did I mention the golden cherubs, the orb lights, and the swings that hang down from the ceiling, ridden by creepy grinning dolls? That is just a flavor, an appetizer, if you will, of what awaits you at Madonna Inn.
Of course, there is also the "silver bar" in which everything is painted gold, and I have not even started on the guest rooms! Some of the rooms are booked up to a year in advance, so I have never actually stayed there. But conveniently, there are post cards, and now a glossy-paged book allowing you a peek into the psychedelic world of rooms in which every single item is an insane shade of Kelly green, or sky blue, or made of patchwork.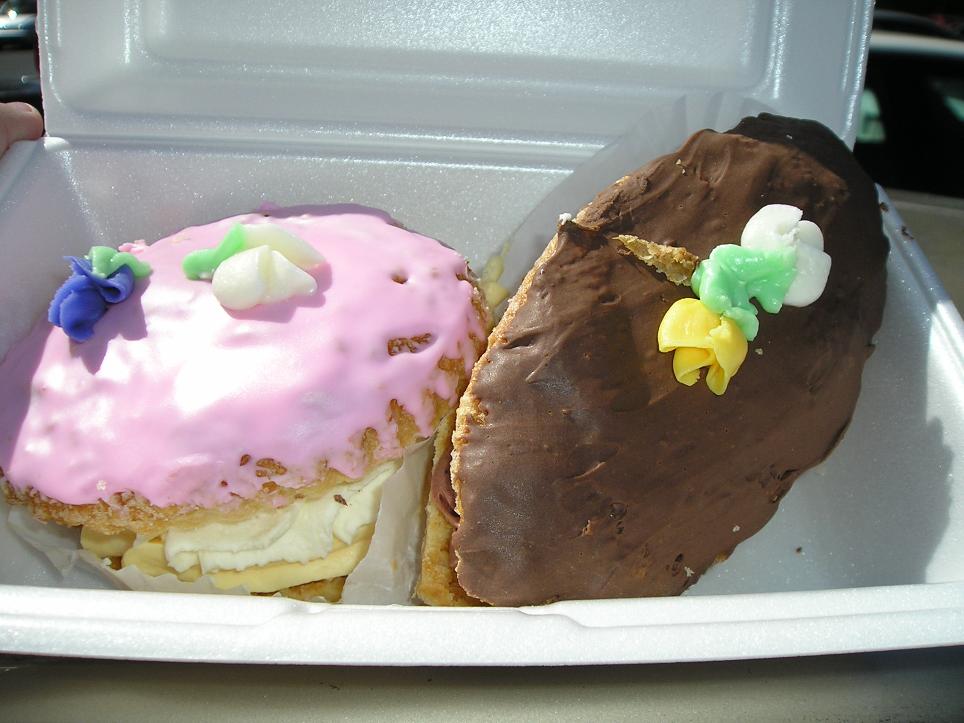 We picked up pastries the size of footballs, and headed off. Later at home, I took a bite of the ironically tall napoleon; puff pastry with a layer of white cream filling and a layer of chocolate cream filling, covered with chocolate royal icing. Bob was unhappy with his cream puff; puff pastry with a layer of white and a layer of yellow identically-tasting cream fillings, topped with a hot pink royal icing that was laden with an indefinable, yet definite flavor. Bob asked to trade. "This one tastes…too..too…" he faltered. "Pink?" I offered. "Exactly! Pink."