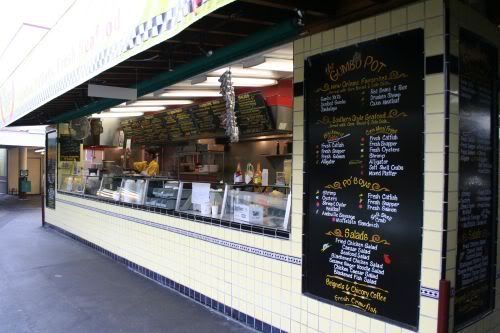 I was worried when they opened the monstrosity known as "The Grove" that my beloved Farmer's Market would be contaminated by it and die a slow, whimpering death. The closure of Dupar's for "renovation" did nothing to allay my fears. But now, well into the "Grove years" the Farmer's Market still shines as a beacon of good food in the face of the franchised blanding of America.
There are certain cravings I get that just cannot be satified by anything else. The Gumbo Pot's blackened catfish po'boy is one of the foods that often calls out to me with its siren song. So what if "blackening" is not a classic New Orleans dish, but is a technique invented by Paul Prudholme in the 80s! So what if it was EVERYWHERE in the 80s, like pesto in the 90s, and lemongrass recently. Blackened catfish ROCKS. And the Gumbo Pot is one of the few places in Los Angeles that actually has food that tastes anything at all like New Orleans. There is something about the bread – they say it's in the water, like New York pizza dough. I hear rumors of a place where you can buy that bread in South Central, but I haven't hunted it down yet.
The Gumbo
Pot puts their own special twist on the catfish po'boy (I refuse to say they "kick it up a notch" no matter how appropos it is here), by sneaking in paper-thin slices of fresh lemon. Just writing this makes me want to eat one now. In fact, if you had one in your hand right now I would knock you down to get it without a second thought.


Their house salad is an ingenius balancing act of flavor…sweet candied pecans, vinegary homemade pickles, tart green apples, and a creamy buttermilk dressing over romaine. It is fucking amazing! You have to ask for the salad with apples. If you accidentally order the plain house salad, you cannot beg borrow or steal a green apple from them to save your life. I just about lost my mind once when the manager refused to let me buy green apple slices. But you know, that is how they do it in New Orleans. What you see is what you get. No substitutions. We are so spoiled in Los Angeles, with our orders like, "Ummm, geee, I can't decide between the chicken and the fish…is that line caught or farmed? Is the chicken grilled? Is it free-range? Organic? Yeah, can you do the chicken without the skin, on a bun instead of bread, oh, and can you put some pesto mayo on it? Oh, that would be great, thanks! Oh, and and can I get fresh fruit on the side instead of fries? You're a doll!" They don't put up with that crap in New Orleans. Your exchange would go something like this:

"Ummm, geee, I can't decide between the…"

"Y'all let me know when ya'll decide what ya want" (walks off)

So, that's kind of the gruff, take-no-shit attitude you can sometimes get at the Gumbo Pot (Actually, one of the guys is a sweetheart, and only one is super-gruff). But their food is so good it is worth it. They can treat me any way they want to, as long as they don't cut me off.

Really, most of their food kicks ass. The gumbos are smoky and intense, and their fried catfish is also a thing of beauty, as is the shrimp po'boy. As much as it pains me to admit it, their red beans and rice are even better than mine. And I pride myself on my red beans and rice. In fact, I am the queen of red beans and rice. But I just handed my pinball crown to him…to him (How do you think he does it? I don't know!).